Anhwylderau Seicolegol Plant (MSc)
Hyd: 1 flwyddyn
Dull astudio: Amser llawn
Mae'r cynnwys hwn ar gael yn Saesneg yn unig.
---
Pam astudio'r cwrs hwn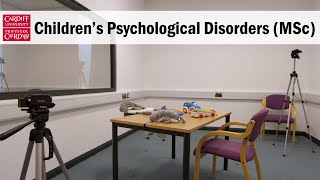 Bydd y rhaglen yn rhoi dealltwriaeth ddamcaniaethol o'r ffactorau seicolegol sy'n achosi ac yn cynnal problemau emosiynol ac ymddygiadol mewn plant.
Ystod anhygoel o gyfleusterau datblygiadol
Bydd ystod o gyfleusterau ar gael i chi gan gynnwys ystafell synhwyraidd, labordai arsylwi a labordai niwroddelweddu.
Hyfforddiant datblygiadol arbenigol
Mae'r cwrs hwn yn darparu hyfforddiant mewn asesiadau emosiynol, gwybyddol a niwroddatblygiadol i blant, yn ogystal â chodio arsylwadol o ymddygiad plant a rhyngweithiadau rhwng rhieni a'u plant.
Addysgu a arweinir gan ymchwil
Addysgir gan ymchwilwyr blaenllaw sy'n cael eu cydnabod yn rhyngwladol yn eu maes.
This MSc in Children's Psychological Disorders will equip you with a thorough theoretical understanding of the psychological factors that cause and maintain emotional and behavioural problems in children.
Taught by leading international experts, you will discover and research how both mental health difficulties and neurodevelopmental conditions, which include anxiety, depression, ADHD, autism and conduct disorder, emerge in childhood. You will gain an in-depth knowledge of how these conditions can be best assessed; enabling you to subsequently inform intervention and advise the best course of treatment.
Located at our dedicated Centre for Human Development Science (CUCHDS), this programme will also equip you with the skills, knowledge and experience to pursue a rewarding career in child neuro – development, clinical psychology or educational psychology.
You will undergo a range of professional training in emotional, cognitive and neurodevelopmental assessments for children, classification systems of childhood disorders and in observational coding of child behaviour and parent-child interaction.
Research training also forms a key focus of this programme, and it is designed to strengthen your credentials for entry to a PhD in developmental psychopathology, or to doctoral training programmes in Clinical or Educational Psychology.
In addition to providing training in basic research, the course aims to integrate research perspectives from clinical and educational psychology.
Ble byddwch yn astudio
Dewch i astudio mewn amgylchedd dysgu deinamig sy'n ysgogi, wedi'i lywio gan ein gwaith ymchwil blaenllaw ym maes seicoleg a niwrowyddoniaeth.
Plas y Parc, Caerdydd, CF10 3AT
Meini prawf derbyn
Academic requirements:
Typically, you will need to have the equivalent of 65% overall in a UK degree in Psychology or a Psychology-related subject, or a recognised equivalent qualification.
You will need to be able to handle scientific concepts, be numerate, and have excellent writing skills. A-levels in Biology, Chemistry, History, Mathematics, and English at grade A are desired.
Other essential requirements:
You will also need to provide:
two references, one of which should be an academic reference. If you are a current Cardiff University student, you are not required to supply references.
a personal statement of no more than 600 words which answers the six questions below.
Why would you like to study the MSc in Children's Psychological Disorders?
Why would you like to do this at the Cardiff University Centre for Human Development Sciences (CUCHDS)?
Which aspect of our course interests you most, and why?
Please discuss a research finding on children's psychological disorders which you found interesting.
How will completion of this course help you to achieve your career goals?
Please describe your familiarity and expertise in psychological research methods in general and SPSS in particular.
English language requirements:
IELTS with an overall score of 7.5 and 6.5 in all subskills, or an acceptable equivalent.
Selection process:
If you meet the entry requirements, you will be made an offer.
Application deadline:
Offers are made on a first come, first served basis and so early application is recommended.
Rhagor o wybodaeth am ofynion Iaith Saesneg.
Mae'n rhaid i ymgeiswyr sydd angen Fisa myfyriwr i astudio yn y DU gyflwyno cymhwyster iaith Saesneg derbyniol er mwyn bodloni gofynion UKVI (Fisâu a Mewnfudo y DU).
Y broses ddewis neu gyfweld
The interview will focus on the need for students on this course to have a variety of skills, including knowledge of psychological theory, interest in and experience with how children think and behave, and ability to relate to a wide range of people including children, patients and colleagues. You'll need to be patient and sympathetic. 
The programme is particularly suitable for students with a strong academic background in psychology and related disciplines, and who have an interest in children's (neuro-) developmental disorders and wish to progress to a PhD or Clinical or Educational Doctorate. Applicants are required to have some relevant research experience and familiarity in particular with empirical research (e.g. data collection, analysis and writing up) is important. The programme is also suitable for those who have already qualified as clinical or educational professionals, or behavioural therapists, but wish to supplement and update their existing experience and knowledge.
Euogfarnau troseddol
Nid yw'n ofynnol i chi gwblhau gwiriad DBS (Gwasanaeth Gwahardd Datgelu) na darparu Tystysgrif Ymddygiad Da i astudio'r cwrs hwn.
Os ydych chi'n destun unrhyw amod trwydded neu gyfyngiad monitro ar hyn o bryd a allai effeithio ar eich gallu i gwblhau'ch astudiaethau yn llwyddiannus, bydd gofyn i chi ddatgelu'ch cofnod troseddol. Mae'r amodau'n cynnwys, ond heb fod yn gyfyngedig i:
mynediad at gyfrifiaduron neu ddyfeisiau sy'n gallu storio delweddau
defnyddio offer / dyfeisiau rhyngrwyd a chyfathrebu
cyrffyw
rhyddid i symud
cyswllt â phobl sy'n gysylltiedig â Phrifysgol Caerdydd.
Strwythur y cwrs
Teaching is organised across three semesters: autumn, spring and summer. Semesters 1 and 2 each have three 20-credit modules, involving lectures, seminars and workshops; in Semester 3 you will do a research placement that results in a research project. Each module lasts 10-weeks and is assessed by means of formative and summative assessments.
Mae'r modiwlau a ddangosir yn esiampl o'r cwricwlwm arferol. Byddant yn cael eu hadolygu cyn blwyddyn academaidd 2021/22. Bydd y modiwlau terfynol yn cael eu cyhoeddi erbyn mis Medi 2021.
Semester 1:
1. Origins of Developmental Psychopathology (20 credits)
2. Introduction to Clinical and Educational Psychology (20 credits)
3. PG research design and statistics, and child assessment methods (20 credits)
Semester 2:
1. Neurodevelopmental Disorders 1: Neurobiology (20 credits)
2. Neurodevelopmental Disorders 2: Cognition and emotion (20 credits)
3. Child assessment and intervention (20 credits)
Dissertation Stage:
Dissertation: Research project (60 credits).
Mae'r Brifysgol wedi ymrwymo i ddarparu amrywiaeth eang o opsiynau modiwl lle'n bosibl. Ond byddwch yn ymwybodol er y byddwn yn gwneud pob ymdrech i gynnig dewis, gall hyn gael ei gyfyngu mewn rhai amgylchiadau. Y rheswm am hyn yw'r ffaith mai dim ond nifer cyfyngedig o leoedd sydd ar gael ar rai modiwlau, a gaiff eu dyrannu ar sail y cyntaf i'r felin. Mae'n ofynnol i fodiwlau eraill sicrhau isafswm nifer o fyfyrwyr cyn gallu eu cynnal, er mwyn gwneud yn siŵr y gellir cyflwyno addysg o ansawdd priodol. Gall modiwlau gael eu cyfyngu oherwydd gwrthdaro yn yr amserlen hefyd, ac er bod y Brifysgol yn ymdrechu i amharu cyn lleied â phosibl ar eich dewis, byddai'n syniad da i chi ofyn am gyngor gan yr Ysgol berthnasol am y dewisiadau modiwl sydd ar gael.
Dysgu ac asesu
Sut y caf fy addysgu?
The School's educational philosophy rests upon the precept that good research benefits good teaching. All teaching and learning is research-led. A diverse range of teaching and learning styles are used throughout the MSc. You will attend lectures, participate in seminars, journal clubs and tutorials, and gain experience in child assessment methods. You will play a leading role in your own training. The School facilitates learning by identifying appropriate reading and organising practical classes.
Workshops and Lab-based practical classes
You will have the opportunity for a significant amount of practical experience (data acquisition and analysis) in various workshops/demonstrations in Semesters 1 and 2, including clinical interviewing, eye-tracking, observational coding, executive functioning and verbal ability testing. The practical skills gained will cement your understanding of the theory presented in the lectures and offer a basis for the research work in Semester 3.
Lectures
Lectures highlight not only what is known, but also what is not known. You are encouraged to think of what needs to be done to advance knowledge. To this end the lectures are of 2 hours' length to allow more complex arguments to be examined, and to encourage more time for discussion and questioning between students and lecturers.
Dissertation
Students undertake a major research project during Semester 3. You are encouraged to identify yourself a supervisor with whom you would like to work on your project and to approach that supervisor to develop and plan a project that is of mutual interest. Tutors can help you identify an appropriate supervisor if necessary.
CPD Seminars
Nationally renowned researchers, clinicians and educational psychologists will give seminars on a monthly basis. This exposes you to cutting edge research and/or relevant practical issues, and helps to prepare you for your future research and work. You are encouraged to attend other seminars around the University that are relevant to your course and general learning. Many of these are advertised through the University's Neuroscience and Mental Health Research Institute. (www.cardiff.ac.uk/research/neuroscience-mental-health)
School Seminars
As well as the monthly CPD Seminars, the School holds regular research seminars throughout the year. These seminars are presented by visiting speakers and members of staff and allow you to keep up to date with the latest research ideas. You are strongly encouraged to attend these seminars.
Sut y caf fy asesu?
You will be assessed in a variety of ways both to inform learning (formative) and to assess learning (summative). Six modules to the value of 20 credits each are studied in Semester 1 and 2. Five of these modules include written examinations (essay format); all modules are also assessed via essays and/or practical assignments. In Semester 3 the Research Project (60 credits) is assessed via a journal article style dissertation (100%).
For the programme as a whole, the assessments include examinations, written assignments, oral presentations, and the dissertation. In addition, during the year you build up a reflective portfolio in which you show evidence of your knowledge of and training experience in a range of approaches and assessments. This assessment strategy aims to ensure that you demonstrate a 'reciprocal critical-exploratory' approach in which you demonstrate your ability to use the skills and knowledge acquired to inform your practical work and also use your experience in practice to critically evaluate your knowledge.
Sut y caf fy nghefnogi?
You will be allocated a personal tutor, who will be one of the module leaders on the course. This tutor will be available to provide pastoral care and general advice and will also be responsible for monitoring your academic progress. The tutor can help in assigning potential supervisors for the Semester 3 research project. The project supervisor will schedule regular meetings to discuss progress and provide advice and guidance
Feedback
Feedback will be provided via tutorials, practical's and coursework comment/mark sheets. There will also be regular meetings with personal tutors.
Pa sgiliau y byddaf yn eu hymarfer a'u datblygu?
You will acquire and develop a range of valuable skills, both those that are discipline specific and more generic 'employability skills'. Through the programme you will develop research- and clinically-based assessment skills, and will be presented with a number of opportunities to extend your communication and presentation skills, both oral and written. Other specific skills that will be acquired, are the ability to design an empirical study in children, to collect, analyse and interpret a range of complex data. A number of valuable research or practical skills will also be developed through completion of the Research Project.
Beth yw deilliannau dysgu'r cwrs/rhaglen?
Knowledge & Understanding:
On successful completion of the Programme you will have gained:
A systematic understanding of knowledge and a critical awareness of current problems and/or new insights, much of which is at, or informed by, the forefront of psychology, research on developmental psychopathology, and/or area of professional practice (clinical and educational psychology);
A comprehensive understanding of techniques applicable to own research or advanced scholarship.
Intellectual Skills:
On successful completion of the Programme you will be able to demonstrate:
Originality in the application of knowledge, together with a practical understanding of how established techniques of research and enquiry are used to create and interpret knowledge in the discipline;
Conceptual understanding (1) to evaluate critically current research and advanced scholarship in the discipline, and (2) to evaluate methodologies and develop critiques of them and, where appropriate, to propose new hypotheses.
Professional Practical Skills:
On successful completion of the Programme you will be able to demonstrate:
Effective communication and listening;
Team working via participation in day-to-day activities of the course and your research group;
Readiness to improve own performance based on reflective learning occurring across the year and in relation to practical activities.
Transferable/Key Skills:
On successful completion of the Programme you will be able to:
Exercise initiative and personal responsibility;
Make decisions in complex and unpredictable situations;
Learn independently to support your continued professional development.
Ffioedd dysgu ar gyfer dechrau astudio yn 2021
Myfyrwyr o'r DU
| Blwyddyn | Ffioedd Dysgu | Blaendal |
| --- | --- | --- |
| Blwyddyn un | £9,700 | Dim |
Myfyrwyr o'r UE, AEE a'r Swistir
Bydd gwladolion yr UE, yr AEE a'r Swistir sy'n dechrau yn 2020/21 yn talu'r un ffioedd dysgu â myfyrwyr y DU drwy gydol eu cwrs.
Os ydych chi'n wladolyn o'r UE/AEE neu'r Swistir, oni bai eich bod yn gymwys i gael statws ffioedd y DU, bydd ffioedd dysgu ar gyfer 2021/22 yn unol â'r ffioedd a godir ar fyfyrwyr rhyngwladol. Mae UKCISA wedi darparu gwybodaeth am Brexit a ffioedd dysgu.
Myfyrwyr o weddill y byd (rhyngwladol)
| Blwyddyn | Ffioedd Dysgu | Blaendal |
| --- | --- | --- |
| Blwyddyn un | £21,950 | £1,000 |
Rhagor o wybodaeth am ffioedd dysgu a blaendaliadau, gan gynnwys ar gyfer myfyrwyr rhan-amser a pharhaus.
Cymorth ariannol
Gallai cymorth ariannol fod ar gael ar gyfer unigolion sy'n bodloni rhai meini prawf. Cewch ragor o wybodaeth yn ein hadran arian. Dim ond hyn a hyn o gymorth ariannol y gall y ffynonellau hyn eu cynnig, felly ni allwn warantu y bydd pawb sy'n bodloni'r meini prawf yn cael arian.
Costau ychwanegol
A fydd angen unrhyw gyfarpar penodol arnaf I astudio'r cwrs hwn?
No
Costau byw
Rydym wedi ein lleoli yn un o ddinasoedd mwyaf fforddiadwy y DU. Rhagor o wybodaeth am gostau byw yng Nghaerdydd.
Gyrfaoedd graddedigion
Research degree (PhD) and academic career in developmental psychopathology.
A career in translational research in practice or in applied research centres, in mental health or educational services.
Work in clinical or educational practice as an assistant psychologist.
The qualification will be helpful for those who will later want to apply for a DClinPsych or DEdPsych degree.
Work in a variety of professional fields involving work with children and young people, such as education, health and social care, family policy, youth work, justice, international development and charity work.
---
Data HESA: Hawlfraint yr Asiantaeth Ystadegau Addysg Uwch Cyfyngedig 2020. Ni all yr Asiantaeth Ystadegau Addysg Uwch Cyfyngedig dderbyn cyfrifoldeb am unrhyw gasgliadau neu benderfyniadau sy'n deillio o drydydd partïon o'i data. Daw'r data o Arolwg Hynt Graddedigion Diweddaraf 2017/18 a gyhoeddwyd gan HESA ym mis Mehefin 2020.