Athroniaeth (MA)
Hyd: 1 flwyddyn
Dull astudio: Amser llawn
Mae'r cynnwys hwn ar gael yn Saesneg yn unig.
---
Pam astudio'r cwrs hwn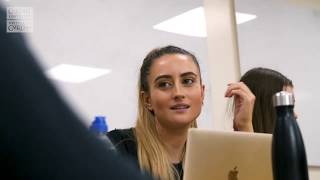 This degree programme will develop your knowledge of philosophical issues and techniques, your independent and collaborative research skills, and your ability to communicate complex and controversial ideas in a professional manner.
Confront and explore
Explore complex problems and confront contemporary issues with comprehensive training across philosophical approaches.
International expertise
Use analytic, continental and empirical philosophy, taught by leaders in their fields.
Specialisms to focus your mind
Our academics lead in epistemology, moral philosophy and philosophy of mind and cognition.
Supportive, tight-knit community
Develop crucial research and communication skills, flourishing through inquiry-led teaching.
Bydd ein rhaglen MA Athroniaeth gwobrwyol yn datblygu eich gwybodaeth o faterion a thechnegau athronyddol, gan ganolbwyntio ar bynciau blaenllaw epistemoleg, athroniaeth foesol, ac athroniaeth y meddwl a gwybyddiaeth.
Gan adeiladu ar sylfaen gadarn drwy archwilio'r casgliad cyfan o ddadleuon athronyddol trwy ddadansoddi gweithiau pwysig ar draws mathau dadansoddol, cyfandirol ac empirig o athroniaeth, byddwch yn symud ymlaen at archwilio materion sydd o ddiddordeb arbennig i chi.
Fe gewch chi'ch meithrin i gyrraedd eich potensial mewn amgylchedd colegol sy'n canolbwyntio ar gyfnewid ystyrlon a chyfranogiad yn ein seminarau arbenigol. Yn fwy na hynny, mae ein rhaglen wedi'i dylunio i'ch helpu i feistroli'r prif sgiliau sy'n hanfodol ar gyfer gyrfa ymchwil lwyddiannus.
Bydd hyfforddiant cynhwysfawr yn adeiladu sgiliau allweddol er mwyn ymgysylltu â phrosiectau ymchwil annibynnol a chydweithredol, sy'n hanfodol yn y byd academaidd ac mewn llawer o yrfaoedd graddedigion. Fe fydd addysgu mewn grwpiau bach gyda phwyslais ar drafodaeth rhwng cymheiriaid yn meithrin eich gallu i gyfathrebu syniadau cymhleth a dadleuol mewn modd proffesiynol. Fel un o raddedigion y rhaglen hon, byddwch chi'n brofiadol yn ymdrin â chwestiynau anodd mewn modd creadigol, beirniadol a cholegol.
Mewn cymuned ymchwil ffyniannus a chefnogol lle cynhelir seminarau am waith sy'n mynd rhagddo i ôl-raddedigion, grwpiau darllen drwy gydol y flwyddyn, gweithdai a chynadleddau, byddwch yn cymryd rhan yn rhaglen siaradwyr gwadd y Sefydliad Athroniaeth Brenhinol sy'n ysgogi'r meddwl, ac mewn cynhadledd flynyddol.
Cyrhaeddom y 4ydd safle ar gyfer effaith ein hymchwil mewn Athroniaeth ar gymdeithas, fel y cyhoeddwyd yn Fframwaith Rhagoriaeth Ymchwil mwyaf diweddar y DU (REF 2014).
Ble byddwch yn astudio
Wedi ein pweru gan ymchwil arloesol, rydym yn dathlu chwilfrydedd, yn ymgysylltu mewn trafodaethau gwybodus a dadansoddi beirniadol ac yn eich annog i feddwl yn greadigol - ar draws a thu hwnt i'n disgyblaethau.
Rhodfa Colum, Caerdydd, CF10 3EU
Meini prawf derbyn
Academic requirements:
Typically, you will need to have either:
a 2:1 honours degree in a relevant subject area such as philosophy or a related discipline such as English literature, language, communication, history, law, modern languages, politics, psychology, religious studies, or social sciences or an equivalent international degree
a university-recognised equivalent academic qualification
Applicants with a degree that is not in philosophy but in a related discipline will be required to submit an essay of 2000 words(maximum) that demonstrates skills in explanation, argumentation and critical analysis, on a topic of your choice.
English Language requirements:
IELTS with an overall score of 7.0 with at least 6.5 in all other subskills.
Other essential requirements:
At least one academic reference, that is on headed paper, signed and stamped
Copy of undergraduate certificate and transcript of module results
Application deadline:
We allocate places on a first-come, first-served basis, so we recommend you apply as early as possible.
Selection process:

We will review your application by looking at the modules you have studied and grades achieved to ensure you have the relevant knowledge to succeed on the programme. If you meet the entry requirements, we will make you an offer.
Rhagor o wybodaeth am ofynion Iaith Saesneg.
Mae'n rhaid i ymgeiswyr sydd angen Fisa myfyriwr i astudio yn y DU gyflwyno cymhwyster iaith Saesneg derbyniol er mwyn bodloni gofynion UKVI (Fisâu a Mewnfudo y DU).
Euogfarnau troseddol
You are not required to complete a DBS (Disclosure Barring Service) check or provide a Certificate of Good Conduct to study this course.
If you are currently subject to any licence condition or monitoring restriction that could affect your ability to successfully complete your studies, you will be required to disclose your criminal record. Conditions include, but are not limited to:
access to computers or devices that can store images
use of internet and communication tools/devices
curfews
freedom of movement
contact with people related to Cardiff University.
Strwythur y cwrs
You will complete 180 credits in total, comprised of six 20-credit taught modules + one 60-credit dissertation.
The two 20-credit modules that underpin the degree programme and provide you with a solid foundation in the discipline are both taught across the two semesters.
Two of the four 20-credit modules on issues in epistemology, moral philosophy, and philosophy of mind are taught in the Autumn semester, the other two are taught in the Spring semester.
The dissertation can be in any area of Philosophy within the range of staff expertise. You will develop your dissertation proposal during the final stage of one of the core modules.
You will take 60 credits each semester and write the dissertation between the end of the Spring semester and the first week of the following September.
Mae'r modiwlau a ddangosir yn esiampl o'r cwricwlwm arferol. Byddant yn cael eu hadolygu cyn blwyddyn academaidd 2022/23. Bydd y modiwlau terfynol yn cael eu cyhoeddi erbyn mis Medi 2022.
Year One comprises the entire degree programme.
Mae'r Brifysgol wedi ymrwymo i ddarparu amrywiaeth eang o opsiynau modiwl lle'n bosibl. Ond byddwch yn ymwybodol er y byddwn yn gwneud pob ymdrech i gynnig dewis, gall hyn gael ei gyfyngu mewn rhai amgylchiadau. Y rheswm am hyn yw'r ffaith mai dim ond nifer cyfyngedig o leoedd sydd ar gael ar rai modiwlau, a gaiff eu dyrannu ar sail y cyntaf i'r felin. Mae'n ofynnol i fodiwlau eraill sicrhau isafswm nifer o fyfyrwyr cyn gallu eu cynnal, er mwyn gwneud yn siŵr y gellir cyflwyno addysg o ansawdd priodol. Gall modiwlau gael eu cyfyngu oherwydd gwrthdaro yn yr amserlen hefyd, ac er bod y Brifysgol yn ymdrechu i amharu cyn lleied â phosibl ar eich dewis, byddai'n syniad da i chi ofyn am gyngor gan yr Ysgol berthnasol am y dewisiadau modiwl sydd ar gael.
Dysgu ac asesu
Sut y caf fy addysgu?
All our MA taught modules are delivered via small-group seminars, with significant emphasis on student engagement via presentations and student-led discussion. This enables continuous consolidation of and feedback on individual and collaborative learning, development of discipline-specific and transferable skills, development of your ability to learn independently and collaboratively, and development of oral communication skills in informal group discussions and formal presentations.
For the dissertation you will conduct independent research on a topic of your choice. This will be supported by regular supervision meetings with a member of academic staff. This develops your ability to plan and deliver a sustained independent research project, to articulate your own detailed analyses and arguments in formal writing, and to develop your ideas through oral discussion of your written drafts.
All modules will make use of Cardiff University's virtual learning environment, Learning Central, where you can access core readings and other course materials.
Sut y caf fy asesu?
A variety of assessment types are used to develop your ability to present your own thoughts in formal speech and writing. The forms of assessment for all modules are set out in the module descriptions.
Your work will be assessed in relation to formal grading criteria set out in the degree handbook, which emphasise knowledge, understanding, critical analysis, and argumentation.
You are encouraged to discuss ideas for your assessed work with the module leader or supervisor.
In each taught module, you will be able to submit a first draft of your work for formative feedback.
The dissertation is developed through formal meetings with your supervisor, who provides feedback on draft sections and discusses any ideas that you present orally at the meeting.
Sut y caf fy nghefnogi?
You will be allocated a personal tutor who will help you reflect on your work and advise you on study techniques, module selection, and career planning. This will include a formal meeting each semester to formulate concrete strategies to help you reach your full academic and professional potential.
Your personal tutor is also your first point of contact if you experience any difficulties.
Module leaders are available in their office hours or by appointment to discuss any matters relating specifically to their module. You are encouraged to discuss topics and readings for assessments with your module leaders.
You can meet with the MA Philosophy programme director to discuss your progress and any difficulties you face.
Reasonable adjustments can be made for disabilities and dyslexia.
Writing skills support is available to all students.
Careers support includes one-to-one career planning advice meetings and information about placement opportunities.
A specialist librarian for Philosophy provides advice in finding books, articles, and other relevant materials.
University support is available for navigating financial, health, and wellbeing difficulties.
Pa sgiliau y byddaf yn eu hymarfer a'u datblygu?
Knowledge & Understanding:
On successful completion of the programme you will be able to demonstrate:
An ability to explain clearly, identify interconnections between, and critically and creatively assess central theories and arguments across the breadth of Philosophy, past and present, including topics at the forefront of Epistemology, Moral Philosophy, and Philosophy of Mind and Cognition.
An ability to evaluate and apply a broad range of techniques of textual interpretation and reasoning.
An ability to evaluate and apply strategies for pursuing large independent and original research projects.
Intellectual Skills:
On successful completion of the Programme you will be able to demonstrate:
An ability to extract the central claims and arguments of complex texts.
An ability to critically and creatively analyse problems arising from claims or reasoning being made.
An ability to identify and critically analyse the literary style deployed in a complex text.
An ability to present arguments and ideas clearly and coherently in writing for a specialist audience.
An ability to present arguments and ideas clearly and coherently in spoken presentations for specialist audiences.
An ability to present arguments and ideas clearly, coherently, and collegially in group conversation.
An ability to present arguments and ideas clearly and coherently in writing for non-specialist audiences.
An ability to plan and write a substantial original paper analysing literature on a complex issue.
An ability to plan and complete a large independent and original research project.
An ability to engage professionally and productively in a collaborative research inquiry.
Professional Practical Skills:
On successful completion of the Programme you will be able to demonstrate:
An ability to present arguments and ideas clearly and coherently in writing for a professional audience.
An ability to present arguments and ideas clearly and coherently in spoken presentations for professional audiences.
An ability to present arguments and ideas clearly, coherently, and professionally in professional conversation.
An ability to plan and write a substantial original report analysing literature on a complex issue.
An ability to plan and complete independent professional research projects.
An ability to engage productively in collaborative professional work.
An ability to organise workload to ensure being well prepared for regular meetings and meeting major deadlines.
Transferable/Key Skills:
On successful completion of the Programme you will be able to demonstrate:
An ability to interpret complex ideas and reasoning presented in a variety of written and spoken forms.
An ability to summarise sophisticated original thinking in brief and engaging writing for online publication.
Ffioedd dysgu ar gyfer dechrau astudio yn 2022
Myfyrwyr o'r DU
| Blwyddyn | Ffioedd Dysgu | Blaendal |
| --- | --- | --- |
| Blwyddyn un | £8,950 | Dim |
Myfyrwyr o'r UE, AEE a'r Swistir
Os ydych chi'n wladolyn o'r UE/AEE neu'r Swistir, oni bai eich bod yn gymwys i gael statws ffioedd y DU, bydd eich ffioedd dysgu yn unol â'r ffioedd a godir ar fyfyrwyr rhyngwladol. Mae UKCISA wedi darparu gwybodaeth am Brexit a ffioedd dysgu.
Myfyrwyr o weddill y byd (rhyngwladol)
| Blwyddyn | Ffioedd Dysgu | Blaendal |
| --- | --- | --- |
| Blwyddyn un | £19,700 | £1,000 |
Rhagor o wybodaeth am ffioedd dysgu a blaendaliadau, gan gynnwys ar gyfer myfyrwyr rhan-amser a pharhaus.
Cymorth ariannol
Gallai cymorth ariannol fod ar gael ar gyfer unigolion sy'n bodloni rhai meini prawf. Cewch ragor o wybodaeth yn ein hadran arian. Dim ond hyn a hyn o gymorth ariannol y gall y ffynonellau hyn eu cynnig, felly ni allwn warantu y bydd pawb sy'n bodloni'r meini prawf yn cael arian.
Costau ychwanegol
We offer the opportunity to attend a Philosophy conference as part of the programme. Previous locations for such events include Gregynog Hall and Bluestone National Park but these events may also be held more locally, in Cardiff. We endeavour to make such activities free to students but at times a financial contribution may be required. Please note, these activities are not compulsory.
A fydd angen unrhyw gyfarpar penodol arnaf I astudio'r cwrs hwn?
You will be provided with essential specialised materials, including computer access and core course materials (books, journal articles) via the library and the cost of printing the dissertation will be covered.
You will be responsible for covering non-essential or basic costs associated with your studies. This can include travel to university, general stationery, laptop computers, copying and printing, and personal copies of books.
Costau byw
Rydym wedi ein lleoli yn un o ddinasoedd mwyaf fforddiadwy y DU. Rhagor o wybodaeth am gostau byw yng Nghaerdydd.
Gyrfaoedd graddedigion
Graduates of the MA Philosophy degree will possess well developed skills in critical thinking, communication, and project planning that are highly valued by all employers. The assessed work for this MA Programme is comparable to the kinds of research projects and report writing central to careers across public sector work (especially civil service, local government), non-governmental organisations, law, publishing, HR, journalism, advertising and marketing, primary and secondary education, management consultancy, banking and insurance, and many more. It is also excellent preparation for doctoral research, potentially leading to an academic career.
---
Data HESA: Hawlfraint yr Asiantaeth Ystadegau Addysg Uwch Cyfyngedig 2020. Ni all yr Asiantaeth Ystadegau Addysg Uwch Cyfyngedig dderbyn cyfrifoldeb am unrhyw gasgliadau neu benderfyniadau sy'n deillio o drydydd partïon o'i data. Daw'r data o Arolwg Hynt Graddedigion Diweddaraf 2017/18 a gyhoeddwyd gan HESA ym mis Mehefin 2020.