Optometreg Glinigol (MSc)
Hyd: 5 mlynedd
Dull astudio: Dysgu cyfunol rhan amser
Mae'r cynnwys hwn ar gael yn Saesneg yn unig.
---
Pam astudio'r cwrs hwn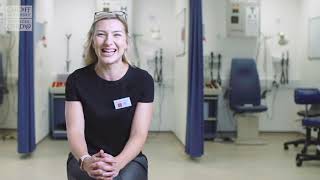 Nod y rhaglen hon yw i ddarparu cyfleoedd i optometryddion gael ymgymryd â rhaglen lefel 7 wobrwyol a heriol mewn optometreg glinigol sy'n ffocysu ar eu datblygiad personol fel arbenigwyr sy'n arwain, rheoli a datblygu ymarferion a modelau darparu gofal ophthalmig.
The aim of this programme is to provide optometrists with the opportunity to undertake a challenging and rewarding level 7 programme in clinical optometry that focuses on their personal development as professionals leading, managing and developing ophthalmic practice roles and models of care delivery.
The MSc level Clinical Optometry course is designed for optometrists in primary, secondary and tertiary settings who wish to advance their knowledge base, and specialist clinical and leadership skills. You will become actively involved in the advancement of optometry.
Students can complete as few as 10 or as many as 180 credits on this programme. It has been designed to meet the continuing education and training needs of the modern eye care professional providing advanced knowledge and facilitating understanding in this rapidly expanding field of healthcare, whilst at the same time achieving a higher degree.
A deliberately wide portfolio of modules is offered in order to recognise the increasing desire for specialist training within optometry, including glaucoma, acute eye care, paediatrics, dry eye, medical retina, clinical teaching and leadership, amongst others. Specific programme pathways are suggested for those wishing to focus on certain areas of practice.
Successful students on this programme will have an advanced standing both clinically and academically, taking them to the forefront of the profession, and enhancing their personal and professional development
Nodweddion unigryw
With an emphasis on independent learning in a research-led environment, this programme will offer:
an innovative flexible modular structure that allows the modern eye care professional to accumulate credit at a speed that suits their continuing professional development and lifestyle needs.
students the opportunity to study as many or as few modules as they are interested in over the course of five years, paying as they go, and exiting with credits or an award.
those wishing to complete an MSc, the flexibility to do so within three to five years.
the ability to create a bespoke and coherent postgraduate course in Clinical Optometry that allows the exploration of the latest evidence base on professional practice and development of advanced clinical skills in specialist areas of optometric practice to suit an individual's career needs.
the opportunity to take a break from study of up to two consecutive years and restart without having to re-apply.
the opportunity to undertake a programme delivered by staff who have developed a considerable national and international reputation in clinical practice and/ or education, in the School of Optometry and Vision Sciences which is one of the leading Optometry Schools in the UK in a purpose-built school, rated excellent for teaching and research.
Ble byddwch yn astudio
Mae ein myfyrwyr yn elwa o addysgu rhagorol ac ymarferol mewn amgylchedd ymchwil arloesol.
Heol Maendy, Cathays, Caerdydd, CF24 4HQ
Meini prawf derbyn
Application stage
Applicants will normally hold either:
UK/EU Students: Full GOC registration.
Overseas Students: Honours degree in Optometry or a professional optometric qualification.
Applicants who are not registered with the GOC will need to provide a written professional reference which is signed, dated, and supplied on the University's reference form or headed paper. The reference will need to comment specifically on your slit lamp and Volk experience. If it is not possible to provide a professional reference, academic references will be considered.
Candidates who have studied at a postgraduate level in clinical optometry elsewhere (such as City or Aston Universities) can be considered for access to the programme at Cardiff University. This will be done via recognition of prior learning (RPL), and candidates must submit documentary evidence to support such an application e.g. through records of achievement documents, portfolios, and clinical records.
In your personal statement, please ensure you clearly state the modules you intend to study. Please see the module list for more information. There is a very high demand for certain modules and places are allocated on the basis of date of application. If a module is full, wherever possible, we will offer the applicant a place on the next available occurrence.
English language requirements: Applicants whose first language is not English are required to obtain a minimum overall IELTS score of 6.5 with at least 5.5 in all subskills, or an accepted equivalent.
Application Deadlines: Places are allocated on a first come, first served basis and so early application is recommended. The deadline for entry to the March term is the beginning of February and the deadline for the September term is the beginning of August. Late applications, or if the intake is full, will automatically be deferred to the next available intake.
Interview Stage
As the scope of optometric practice varies considerably around the world, interviews may be held with non-UK optometrists, in person or using Skype, to ensure practitioners have the relevant clinical skills required to undertake this course. You may be required to have particular clinical skills that will be confirmed through references and interview and/or may need to complete primary care modules prior to completing other modules.
Rhagor o wybodaeth am ofynion Iaith Saesneg.
Mae'n rhaid i ymgeiswyr sydd angen Fisa myfyriwr i astudio yn y DU gyflwyno cymhwyster iaith Saesneg derbyniol er mwyn bodloni gofynion UKVI (Fisâu a Mewnfudo y DU).
Euogfarnau troseddol
You are not required to complete a DBS (Disclosure Barring Service) check or provide a Certificate of Good Conduct to study this course.
If you are currently subject to any licence condition or monitoring restriction that could affect your ability to successfully complete your studies, you will be required to disclose your criminal record. Conditions include, but are not limited to:
access to computers or devices that can store images
use of internet and communication tools/devices
curfews
freedom of movement
contact with people related to Cardiff University.
Strwythur y cwrs
As part of the MSc level Clinical Optometry programme, you can study up to 120 credits of taught modules from a selection of postgraduate modules available from the School of Optometry and Vision Sciences.
If you wish to complete a Master's in Clinical Optometry; you will need to study 'Study and Research Skills' plus a research project module (60 credits) which commences in the September of each academic year. The programme team will advise you on the most appropriate opportunity to study this module.
Your records will remain active for five years, in which time you can complete between 10 and 120 taught credits. If you want to finish your studies at a particular point, there may be an opportunity for you to gain graduate with a PGCert if you have achieved between 60 and 110 credits, or a PGDip if you have achieved 120 credits at level 7.
You will need to enrol each year, but may choose not to study any modules for up to 2 consecutive years. however tTaking time away from your studies will impact on the time available to achieve a full MSc within a 5 year period.
Mae'r modiwlau a ddangosir yn esiampl o'r cwricwlwm arferol. Byddant yn cael eu hadolygu cyn blwyddyn academaidd 2020/21. Bydd y modiwlau terfynol yn cael eu cyhoeddi erbyn mis Medi 2020.
Blwyddyn un
At the start of term in September there is an induction week.
You can choose from the modules available from the School of Optometry and Vision Sciences in September and again in March.
If you do not regularly use a slit lamp, contact tonometry or Volk biomicroscopy, you will be required to complete Primary Eye Care Update: Practical before you can commence any other modules with advanced clinical skills.
Mae'r Brifysgol wedi ymrwymo i ddarparu amrywiaeth eang o opsiynau modiwl lle'n bosibl. Ond byddwch yn ymwybodol er y byddwn yn gwneud pob ymdrech i gynnig dewis, gall hyn gael ei gyfyngu mewn rhai amgylchiadau. Y rheswm am hyn yw'r ffaith mai dim ond nifer cyfyngedig o leoedd sydd ar gael ar rai modiwlau, a gaiff eu dyrannu ar sail y cyntaf i'r felin. Mae'n ofynnol i fodiwlau eraill sicrhau isafswm nifer o fyfyrwyr cyn gallu eu cynnal, er mwyn gwneud yn siŵr y gellir cyflwyno addysg o ansawdd priodol. Gall modiwlau gael eu cyfyngu oherwydd gwrthdaro yn yr amserlen hefyd, ac er bod y Brifysgol yn ymdrechu i amharu cyn lleied â phosibl ar eich dewis, byddai'n syniad da i chi ofyn am gyngor gan yr Ysgol berthnasol am y dewisiadau modiwl sydd ar gael.
Dysgu ac asesu
Sut y caf fy addysgu?
Modules may differ, but you can expect to be taught online via lectures, Xerte tutorials and webinars, and by attending workshops for some clinical modules. Some modules have one to one Skype meetings with a tutor.
You will study alongside other optometrists who are studying part- time.
Lectures and tutorials are supported by the appropriate references and resources and accompanied by assessment exercises. Participation in moderated online discussions is a feature in almost all modules.
Practical workshops for skills training will be held at locations convenient to either the module content or the student cohort enrolled at that time, and instructed by educational leaders in that discipline.
Sut y caf fy asesu?
Each module will be assessed formatively and summatively in line with each specific module assessment strategy. This incorporates a variety of modes of assessment including the following:
Assignment (theoretical and reflective)
Presentations/ Peer reviewed presentations/ seminars
Discussion/ seminars/ workshops
Case scenarios
Simulated clinical workshops
Objective Structured Clinical Examinations
Multiple choice question classroom tests.
Practical examinations.
Key Features Scenarios (used in medical education to test clinical reasoning, problem-solving ability and the ability to apply given knowledge).
OSCEs – Objective Structured Clinical Examinations.
Group wikis.
Blogs
Written research project report.
Assessments used within the programme relate to the measurement of professional, academic and clinical practice.
Feedback will be provided on all assessments, and will be available via Learning Central or in written or verbal formats for written reports and coursework, and written and/or oral for practical examinations and presentations.
Discussion via online forums will be moderated by module leaders, allowing them immediate input and opportunity to offer feedback.
Sut y caf fy nghefnogi?
At the beginning of your course there is an induction module. This will help you find your way around Learning Central and it will also provide general information about how our administration and IT teams will support you.
The University offers a wide range of services and activities designed to support students. These include a student counselling service, a student advisory service, crèche and day facilities, sport and exercise facilities, as well as campus information, library and IT services.
This programme gives students the opportunity to share ideas with health professionals. As well as developing their own intellectual abilities, this sharing of ideas enables them to learn and benefit from the experiences of others. Opportunity is given for this sort of discussion and exchange of ideas through seminars and tutorials.
All students are given a named personal tutor from the School of Optometry and Vision Sciences following registration onto the programme, who is able to assist them with any pastoral care as well as advice on writing style, grammar and academic mentoring.
All modules within the programme make extensive use of Cardiff University's Virtual Learning Environment (VLE) Learning Central, on which students will find course materials, links to related materials and assessment exemplars.
Pa sgiliau y byddaf yn eu hymarfer a'u datblygu?
Knowledge & Understanding:
On successful completion of the Programme you will be able to:
critically reflect a knowledge of complex, controversial and/ or contentious issues related to optometric practice
evaluate and apply modern key concepts of optometric practice to challenges within your own environment and specialist areas of practice
address and reflect on the benefit of inter-professional teamwork in research and / or the delivery of ophthalmic care
Intellectual Skills:
On successful completion of the Programme you will be able to:
explore, critically analyse, synthesise and evaluate evidence-based literature, clinical guidelines and underpinning theories in optometric practice to assess practice and methods of management in ophthalmic care
problem solve clinical ophthalmic issues, and build evidence- based solutions;
present balanced and informed arguments, incorporating
critical judgment and decision making in both written work and presentations/ alternative assessment methods;
effectively reflect on and evaluate learning
Professional Practical Skills:
On successful completion of the Programme you will be able to:
assess the signs and symptoms of eye disease to make a differential diagnosis and to rank options for management
problem solve and develop of solutions/ management plans in complex and specialist areas of practice based on evidence and sound professional and clinical judgment
contribute via your own research to the development of knowledge and evidence base of your profession, demonstrating independence of thought through innovation
Transferable/Key Skills:
On successful completion of the Programme you will be able to demonstrate:
Mastery in academic skills
advance your own knowledge and understanding
collate and synthesise information from several resources to improve learning
write concisely and clearly for the academic and clinical community
interpret data
Mastery in generic skills
manage projects and time
work independently
use a range of IT software packages and online resources
problem solve
Ffioedd dysgu
Myfyrwyr o'r DU
Codir tâl am y cwrs hwn ar sail fesul modiwl. Mae rhagor o wybodaeth ar ein tudalennau ar ffioedd dysgu.
Myfyrwyr o'r UE, AEE a'r Swistir
Os ydych chi'n wladolyn o'r UE/AEE neu'r Swistir, oni bai eich bod yn gymwys i gael statws ffioedd y DU, bydd ffioedd dysgu ar gyfer 2021/22 yn unol â'r ffioedd a godir ar fyfyrwyr rhyngwladol. Mae UKCISA wedi darparu gwybodaeth am Brexit a ffioedd dysgu.
Myfyrwyr o weddill y byd (rhyngwladol)
Codir ffioedd ar gyfer y cwrs hwn fesul modiwl. Ewch i'n tudalen Cyrsiau a godir ffi fesul modiwl am ragor o wybodaeth.
Costau ychwanegol
You will be required to pay for the cost of your travel to the University, subsistence and accommodation for specific contact days
A fydd angen unrhyw gyfarpar penodol arnaf I astudio'r cwrs hwn?
All equipment will be provided.
Costau byw
Rydym wedi ein lleoli yn un o ddinasoedd mwyaf fforddiadwy y DU. Rhagor o wybodaeth am gostau byw yng Nghaerdydd.
Gyrfaoedd graddedigion
This course will enable optometrists to advance their career. In addition, depending on which modules are chosen, it may act as assurance that practitioners are competent to work in specialist clinics as outlined in the Royal College of Ophthalmologists and College of Optometrists joint Competency Framework for Allied Health Professionals. For example, the Medical Retina and Glaucoma module aligns with the Medical Retina and Glaucoma Competency Frameworks respectively.