Ffiseg Lled-ddargludyddion Cyfansawdd (MSc)
Hyd: 1 flwyddyn
Dull astudio: Amser llawn
---
Pam astudio'r cwrs hwn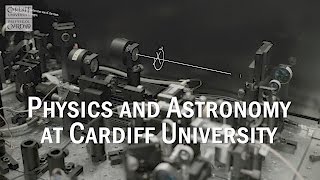 Mae'r radd MSc Ffiseg Lled-ddargludyddion Cyfansawdd wedi'i dylunio i gyflwyno hyfforddiant trylwyr a phrofiad ymarferol ym maes theori Lled-ddargludyddion Cyfansawdd, gwneuthuriad a chymwysiadau ac integreiddio gyda thechnoleg silicon.
The MSc Compound Semiconductor Physics has been designed to deliver thorough training and practical experience in compound semiconductor theory, fabrication, applications, and integration with silicon technology.
The programme is jointly delivered by the School of Physics and Astronomy and the Institute for Compound Semiconductors (ICS). The ICS is an exciting new development at the cutting edge of compound semiconductor technology. The Institute has been established as a founding member of the Compound Semiconductor Cluster, which also includes companies such as IQE plc, SPTS and Newport Wafer Fab, to capitalise on the existing expertise at Cardiff University and to move academic research to a point where it can be introduced reliably and quickly into the production environment. It is a unique facility in the UK, and aims to create a global hub for compound semiconductor technology research, development and innovation.
Our flexible curriculum contains a robust set of required modules and a number of cutting-edge elective modules, which include the latest results, innovations and techniques and are designed to incorporate the most effective teaching and learning techniques.
As part of the course you will undertake a 3 month summer project which will be based either in the School of Physics and Astronomy, within the ICS, or in placement with one of our industrial partners. We have strong, long-established industrial links with companies such as IQE and are therefore in a unique position to be able to offer a portfolio of theoretical, practical, fabrication and applications-centred projects in both academic and industrial placement environments. No other Russell Group university can offer such opportunities in this field.
Upon graduation, you will have the training, skillsets and hands-on experience you need to succeed in the dynamic and highly competitive field of compound semiconductors.
Nodweddion unigryw
Cardiff University's unique position at the forefront of compound semiconductor technology will provide you with the opportunity to develop experience and build contacts with a range of leading companies and organisations.
Our specialist elective modules are delivered by expert scientists, who deliver their courses based on their research expertise and current research portfolio.
We offer a range of specialist modules that give you the opportunity to tailor the programme to suit your interests and ambitions. Whether you're fascinated by superconductivity and magnetism or want to specialise in photonics we have modules to suit you. We also have modules designed to develop commercial skills and more technical options such as advanced LabVIEW programming.
Central to the design of this programme is the opportunity to take ownership of real theoretical or practical projects. You will have acquired a full year's worth of practical research experience by the time you complete your MSc, greatly enhancing your CV and prospects for employment or further study.
You will be trained in the practical use of the LabVIEW programming environment. Recognised by industry this will serve as a solid foundation for preparing for the National Instruments (NI) Certified LabVIEW Associate Developer (CLAD) examination.
We currently offer the opportunity to take the CLAD examination for free as an extra-curricular activity, supported by our certified academic staff. CLAD status is industrially recognised and indicates a broad working knowledge of the LabVIEW environment.
We encourage a "research group" atmosphere within which you'll be given the opportunity to work together, across disciplines, to enhance each other's learning and be a vital part of our thriving, international scientific community.
Ble byddwch yn astudio
Mae ein rhaglenni gradd wedi'u hachredu gan y Sefydliad Ffiseg yn cynnwys meysydd arbenigol sy'n adlewyrchu ein diddordebau ymchwil.
5 The Parade, Heol Casnewydd, Caerdydd, CF24 3AA
Meini prawf derbyn
Academic requirements:
Typically, you will need to have either:
a 2:1 honours degree in a relevant subject area such as physics, electrical engineering, electronic engineering, a related physical science, mathematics, astrophysics, astronomy, engineering or an equivalent international degree
a university-recognised equivalent academic qualification.
or relevant professional experience evidenced by a reference. This should be signed, dated and less than six months old at the time you submit your application. If you are submitting your application based upon relevant professional experience the likelihood of being offered a place on the course is highest for research and development experience in the field of silicon or compound semiconductors, but experience will be carefully considered on a case-by-case basis.
English Language requirements:
IELTS with an overall score of 6.5 with 5.5 in all subskills, or an accepted equivalent.
Other essential requirements:
You will also need to supply two academic references.
Application deadline:
We allocate places on a first-come, first-served basis, so we recommend you apply as early as possible.
Selection process:
We will review your application and if you meet the entry requirements, we will make you an offer.
Rhagor o wybodaeth am ofynion Iaith Saesneg.
Mae'n rhaid i ymgeiswyr sydd angen Fisa myfyriwr i astudio yn y DU gyflwyno cymhwyster iaith Saesneg derbyniol er mwyn bodloni gofynion UKVI (Fisâu a Mewnfudo y DU).
Euogfarnau troseddol
Nid yw'n ofynnol i chi gwblhau gwiriad DBS (Gwasanaeth Gwahardd Datgelu) na darparu Tystysgrif Ymddygiad Da i astudio'r cwrs hwn.
Os ydych chi'n destun unrhyw amod trwydded neu gyfyngiad monitro ar hyn o bryd a allai effeithio ar eich gallu i gwblhau'ch astudiaethau yn llwyddiannus, bydd gofyn i chi ddatgelu'ch cofnod troseddol. Mae'r amodau'n cynnwys, ond heb fod yn gyfyngedig i:
mynediad at gyfrifiaduron neu ddyfeisiau sy'n gallu storio delweddau
defnyddio offer / dyfeisiau rhyngrwyd a chyfathrebu
cyrffyw
rhyddid i symud
cyswllt â phobl sy'n gysylltiedig â Phrifysgol Caerdydd.
Cynllun Cymeradwyaeth Technoleg Academaidd (ATAS)
Bydd angen i fyfyrwyr rhyngwladol sy'n defnyddio unrhyw fath o visa gael cliriad ATAS i astudio'r cwrs hwn.
Strwythur y cwrs
The MSc Compound Semiconductor Physics is a two-stage programme delivered over three terms.
Autumn term (60 credits, taught)
You will undertake two required modules (30 credits total) covering core skills and three elective modules of 10 credits value each covering specialist skills.
Spring term (60 credits, taught)
You will undertake three required modules (40 credits total) covering core skills and two elective modules of 10 credits each covering specialist skills.
You must successfully complete the 120 credits of the taught component of the course before you will be permitted to progress to the research project component.
Summer term (60 credits, research project)
The summer term consists of a single 60 credit research project module of 3 months' duration. You will be required to produce a research dissertation and present your research to the School in order to complete this module.
Mae'r modiwlau a ddangosir yn esiampl o'r cwricwlwm arferol. Byddant yn cael eu hadolygu cyn blwyddyn academaidd 2022/23. Bydd y modiwlau terfynol yn cael eu cyhoeddi erbyn mis Medi 2022.
You will have two weeks at the beginning of the autumn term to attend any elective modules you are interested in so that you can finalise your choice for that term.  You will need to make your final selections for the spring term before the Christmas recess.  You will be supported in generating and negotiating a research project proposal during the spring term in order to prepare for your summer research project.
Mae'r Brifysgol wedi ymrwymo i ddarparu amrywiaeth eang o opsiynau modiwl lle'n bosibl. Ond byddwch yn ymwybodol er y byddwn yn gwneud pob ymdrech i gynnig dewis, gall hyn gael ei gyfyngu mewn rhai amgylchiadau. Y rheswm am hyn yw'r ffaith mai dim ond nifer cyfyngedig o leoedd sydd ar gael ar rai modiwlau, a gaiff eu dyrannu ar sail y cyntaf i'r felin. Mae'n ofynnol i fodiwlau eraill sicrhau isafswm nifer o fyfyrwyr cyn gallu eu cynnal, er mwyn gwneud yn siŵr y gellir cyflwyno addysg o ansawdd priodol. Gall modiwlau gael eu cyfyngu oherwydd gwrthdaro yn yr amserlen hefyd, ac er bod y Brifysgol yn ymdrechu i amharu cyn lleied â phosibl ar eich dewis, byddai'n syniad da i chi ofyn am gyngor gan yr Ysgol berthnasol am y dewisiadau modiwl sydd ar gael.
Dysgu ac asesu
Sut y caf fy addysgu?
You will be taught through a combination of lectures, tutorials, seminars and practical laboratory sessions.
Lectures can take a variety of forms depending on the subject material being taught. Generally, lectures are used to convey concepts, contextualise research activities in the School and to demonstrate key theoretical, conceptual and mathematical methods.
In tutorials and seminars you'll have the opportunity to discuss and reflect upon particular physical, mathematical, coding / practical or specialist concepts, to consolidate and get feedback on your individual learning and to develop skills in oral presentation. Communication skills are developed in tutorials, where you will make individual contributions to group study, for example by summarising and critiquing a recent research article for the group
You will practise and develop critique, reflective, analytical and presentational skills by participating in diverse learning activities such as research group meetings, School seminar discussions and in open group discussions. At all times you will be encouraged to reflect on what you have learned and how it can be combined with other techniques and concepts to tackle novel problems.
In the practical laboratory sessions you will put the breadth of your knowledge and skills to use, whether that be using your coding skills to automate a laboratory experiment, designing components for a large piece of equipment or troubleshooting research hardware. The emphasis on the MSc Compound Semiconductor Physics is squarely on acquiring and demonstrating practical skills which will be of use in a research environment and hence highly sought-after by employers.
Sut y caf fy asesu?
Multiple assessment methods are used in order to enhance learning and accurately reflect your performance on the course. In the required modules, a mixture of problem-based learning, short practical projects, written assignments, coding exercises, written and oral examinations and group work will be used.
In some of the required modules there are weekly assignments. The feedback provided for these allows you to make incremental improvements to the development of your core skillset, giving you ample opportunity to implement the suggestions made by our expert staff.
The methods used on the elective modules vary depending on the most appropriate assessment method for each module, but typically include written and/or practical assignments together with a written and/or oral examination.
All assessments make use of feedback, which can be divided into formative and summative feedback.
Sut y caf fy nghefnogi?
Our MSc Coordinators will act as your personal tutors. They will help you reflect on your performance and advise you on research and study techniques, module selection and career planning (in conjunction with the University's Career Service). They will also provide a first point of contact if you experience any difficulties. Since the MSc Coordinators' office is located within the MSc Teaching Facilities, any issues can be dealt with very quickly.
MSc students are invited to all postgraduate events including the Postgraduate Lecture Series and Postgraduate Research Conference. At these events you can meet and talk with PhD students, researchers and attend key lectures covering the School's research activities, best practice and safety.
When you undertake the summer research project you will be assigned a primary and secondary academic supervisor whose responsibility it will be to keep you properly advised and supported throughout your research project. They will be your first point of contact during the research project and it is usual that your primary supervisor is the lead researcher in the group / sub-group that you join.
This programme is designed to foster a strong community spirit within the MSc cohort. You will often work together in pairs, in groups and as a cohort. MSc groups will meet weekly at which point you will report progress, discuss problems and suggest solutions. This strong peer-support and peer-learning/teaching has proven extremely powerful in enhancing our students' learning.
Pa sgiliau y byddaf yn eu hymarfer a'u datblygu?
As a result of engaging fully with this course, you will acquire and develop a range of valuable skills, both discipline-specific and more generic 'employability skills'.
Knowledge & Understanding:
Students completing the Programme will demonstrate:
A sophisticated level of core knowledge and understanding of the context, concepts and background relating to compound semiconductors and their industrial applications;
Knowledge and understanding of the most effective software packages, programming languages and mathematical techniques in the field of semiconductor physics.
Intellectual Skills:
Students completing the Programme will demonstrate:
A sophisticated theoretical and practical physical, mathematical and semiconductor-specific skillset and the ability to adapt these skills to novel applications;
The ability to critically analyse, critique, curate and synthesise state-of-the-art academic literature and the most up-to-date techniques.
Professional Practical Skills:
Students completing the Programme will be able to:
Efficiently and effectively integrate into a research group environment, including planning, proposing and carrying out a sophisticated research project, concisely reporting progress, negotiating activities and timescales, supporting colleagues and working in a team;
Demonstrate a solid, research-grade semiconductor device theory, design and fabrication skillset across the range of silicon and compound semiconductors and semiconductor photonics.
Transferable/Key Skills:
Students completing the Programme will demonstrate:
Effective communication skills, including literature reviews, literature critiques, academic article writing, long report writing and formal scientific presentations;
Effective and efficient group and team working skills, including negotiation, compromise, contingency planning, time management and record-keeping;
Engagement, liaison and collaboration with expert academic and industrial research scientists and the ability to transfer concepts, methodologies and modes of presentation between both environments.
Ffioedd dysgu ar gyfer dechrau astudio yn 2022
Myfyrwyr o'r DU
| Blwyddyn | Ffioedd Dysgu | Blaendal |
| --- | --- | --- |
| Blwyddyn un | £10,200 | Dim |
Myfyrwyr o'r UE, AEE a'r Swistir
Os ydych chi'n wladolyn o'r UE/AEE neu'r Swistir, oni bai eich bod yn gymwys i gael statws ffioedd y DU, bydd eich ffioedd dysgu yn unol â'r ffioedd a godir ar fyfyrwyr rhyngwladol. Mae UKCISA wedi darparu gwybodaeth am Brexit a ffioedd dysgu.
Myfyrwyr o weddill y byd (rhyngwladol)
| Blwyddyn | Ffioedd Dysgu | Blaendal |
| --- | --- | --- |
| Blwyddyn un | £23,450 | £1,000 |
Rhagor o wybodaeth am ffioedd dysgu a blaendaliadau, gan gynnwys ar gyfer myfyrwyr rhan-amser a pharhaus.
Cymorth ariannol
Gallai cymorth ariannol fod ar gael ar gyfer unigolion sy'n bodloni rhai meini prawf. Cewch ragor o wybodaeth yn ein hadran arian. Dim ond hyn a hyn o gymorth ariannol y gall y ffynonellau hyn eu cynnig, felly ni allwn warantu y bydd pawb sy'n bodloni'r meini prawf yn cael arian.
Costau ychwanegol
If students are required to travel to/from an industrial placement during a summer research project, then there are student mobility bursaries available to cover these costs, which will be considered on a case-by-case basis.
A fydd angen unrhyw gyfarpar penodol arnaf I astudio'r cwrs hwn?
What the student should provide:
The University will provide everything necessary to undertake the degree scheme, but it is strongly recommended that you bring a relatively modern laptop computer in order to be able to tackle the coding, literature review and dissertation writing activities while away from the University facilities.
What the University will provide:
A dedicated MSc Teaching facility with sufficient PCs, laboratory equipment and core textbooks for the entire cohort's activities during the required modules;
Access to the University's research-grade cleanroom facilities for practical instruction in the taught component of the course and a number of the summer research projects;
Access to the Trevithick and other University libraries where textbooks and recommended reading for the required and elective modules;
A 1 year LabVIEW student licence for student PCs, providing access to the full LabVIEW Development System for the duration of the degree programme.  In addition, students will be able to undertake the Certified LabVIEW Associate Developer examination free of charge following successful completion of PXT101 "Advanced Experimental Techniques in Physics".
Costau byw
Rydym wedi ein lleoli yn un o ddinasoedd mwyaf fforddiadwy y DU. Rhagor o wybodaeth am gostau byw yng Nghaerdydd.
Gyrfaoedd a lleoliadau gwaith
An MSc Compound Semiconductor Physics degree will open up opportunities in the following areas:
Technical, research, development and engineering positions in industrial compound semiconductors, silicon semiconductors and semiconductor photonics;
Theoretical, experimental and instrumentational doctoral research;
Numerate, technical, research, development and engineering positions in related scientific fields;
Physics, mathematics and general science education.
Lleoliadau
---
Data HESA: Hawlfraint yr Asiantaeth Ystadegau Addysg Uwch Cyfyngedig 2020. Ni all yr Asiantaeth Ystadegau Addysg Uwch Cyfyngedig dderbyn cyfrifoldeb am unrhyw gasgliadau neu benderfyniadau sy'n deillio o drydydd partïon o'i data. Daw'r data o Arolwg Hynt Graddedigion Diweddaraf 2017/18 a gyhoeddwyd gan HESA ym mis Mehefin 2020.