Ecoleg Bydeang a Chadwraeth (MSc)
Hyd: 1 flwyddyn
Dull astudio: Amser llawn
---
Pam astudio'r cwrs hwn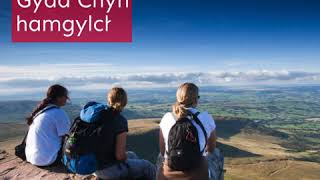 Nod ein MSc mewn Ecoleg a Chadwraeth Fyd-eang yw hyfforddi ecolegwyr a chadwraethwyr y dyfodol.
Latest conservation trends
Learn the concepts and challenges in conservation, including in legislative and NGO contexts, and 'horizon-scanning' for future threats.
Practical training
Use the latest survey technologies such as drones and eDNA for monitoring ecosystems, detecting species declines and diagnosing their causes.
Fieldwork in the UK or abroad
An optional Field Course and Placement module extends the field-based teaching by 10-15 days in a choice of UK and international destinations.
Public outreach
Reach out to scientific colleagues, stakeholders and the wider public through our dedicated science communication module.
Expert contributors
We invite leading external experts and thinkers in conservation to contribute regularly to our course.
With a changing climate, an increasing human population, and growing rates of extinction and habitat loss, the world is facing unprecedented challenges. To meet these challenges and preserve our wildlife and ecosystems, we need innovative and adaptable scientists who can develop conservation strategies with real impact.
Our MSc in Global Ecology and Conservation aims to train the ecologists and conservationists of the future. Covering the complete span from ecological theory and pioneering research, through to practical site assessments and conservation interventions, we will equip you with the skills and knowledge required to tackle major global challenges and make a 'real world' difference.
From the rivers of South Wales to the Bornean rainforest, our MSc covers the major conservation issues affecting habitats across the globe. With training in core areas, such as wildlife surveys, biodiversity assessments and species management, you will learn how to identify current and emerging threats to species and ecosystems, and develop the necessary skills to tackle these threats with effective and scalable solutions.
These core topics are combined with a free choice of optional modules, including Science Communication, Water and Life on Earth, and Frontiers in Biosciences, and wide-ranging options for the research project and many coursework topics, giving you the freedom to tailor your studies to your interests and career aspirations. Several of our core modules include a fieldwork element, whilst our optional Field Research and Placement module comprises an extended field course in the UK or overseas, along with a professional work placement.
The course is delivered by leading academics who work across the world conducting cutting-edge research and addressing key global challenges – from pioneering climate change research, to developing action plans to preserve native species. As well as offering you the excitement of learning in an active research environment, this approach will also demonstrate how your work can be translated into practical conservation measures.
We know that ecology and conservation are constantly evolving, and, in response, we have developed an MSc that is explicitly forward-looking, covering new technology and 'horizon scanning' for future conservation issues. With a flexible and interdisciplinary approach, we aim to train postgraduates who can take on roles in research, practice, policy, consultancy and more, and who have the skills, confidence and knowledge base to adapt to a global job market and changing environment.
Ble byddwch yn astudio
Rydym yn darparu amgylchedd addysgu ysgogol gyda chyfleusterau modern trawiadol, yr offer diweddaraf a staff o'r radd flaenaf.
Rhodfa'r Amgueddfa, Caerdydd, CF10 3AX
Meini prawf derbyn
Academic requirements:
Typically, you will need to have either:
a 2:1 honours degree in a relevant subject area such as biology, botany, ecology, environmental sciences, and zoology, or an equivalent international degree
a university-recognised equivalent academic qualification
or relevant professional experience in conservation or environmental management.
English language requirements:
IELTS with an overall score of 6.5 with 5.5 in all subskills, or an accepted equivalent.
Application deadline:
We allocate places on a first-come, first-served basis, so we recommend you apply as early as possible.
Selection process:
We will review your application and if you meet the entry requirements, we will make you an offer.
Rhagor o wybodaeth am ofynion Iaith Saesneg.
Mae'n rhaid i ymgeiswyr sydd angen Fisa myfyriwr i astudio yn y DU gyflwyno cymhwyster iaith Saesneg derbyniol er mwyn bodloni gofynion UKVI (Fisâu a Mewnfudo y DU).
Euogfarnau troseddol
Nid yw'n ofynnol i chi gwblhau gwiriad DBS (Gwasanaeth Gwahardd Datgelu) na darparu Tystysgrif Ymddygiad Da i astudio'r cwrs hwn.
Os ydych chi'n destun unrhyw amod trwydded neu gyfyngiad monitro ar hyn o bryd a allai effeithio ar eich gallu i gwblhau'ch astudiaethau yn llwyddiannus, bydd gofyn i chi ddatgelu'ch cofnod troseddol. Mae'r amodau'n cynnwys, ond heb fod yn gyfyngedig i:
mynediad at gyfrifiaduron neu ddyfeisiau sy'n gallu storio delweddau
defnyddio offer / dyfeisiau rhyngrwyd a chyfathrebu
cyrffyw
rhyddid i symud
cyswllt â phobl sy'n gysylltiedig â Phrifysgol Caerdydd.
Strwythur y cwrs
The course runs for 12 months full time. Students undertake modules to the value of 180 credits.
The programme consists of four core modules (80 credits), two optional modules (40 credits) and a research project (60 credits). It comprises two stages:
Stage 1: taught modules. There is an exit point at the end of Stage 1 (120 credits), leading to a Postgraduate Diploma. The timing of this point is dependent on the specific modules that the student has selected
Stage 2: Research Projec
Research Project (dissertation)
All MSc students undertake an independent research project which culminates in a report of approximately 8,000-10,000 words.
Mae'r modiwlau a ddangosir yn esiampl o'r cwricwlwm arferol. Byddant yn cael eu hadolygu cyn blwyddyn academaidd 2022/23. Bydd y modiwlau terfynol yn cael eu cyhoeddi erbyn mis Medi 2022.
Mae'r Brifysgol wedi ymrwymo i ddarparu amrywiaeth eang o opsiynau modiwl lle'n bosibl. Ond byddwch yn ymwybodol er y byddwn yn gwneud pob ymdrech i gynnig dewis, gall hyn gael ei gyfyngu mewn rhai amgylchiadau. Y rheswm am hyn yw'r ffaith mai dim ond nifer cyfyngedig o leoedd sydd ar gael ar rai modiwlau, a gaiff eu dyrannu ar sail y cyntaf i'r felin. Mae'n ofynnol i fodiwlau eraill sicrhau isafswm nifer o fyfyrwyr cyn gallu eu cynnal, er mwyn gwneud yn siŵr y gellir cyflwyno addysg o ansawdd priodol. Gall modiwlau gael eu cyfyngu oherwydd gwrthdaro yn yr amserlen hefyd, ac er bod y Brifysgol yn ymdrechu i amharu cyn lleied â phosibl ar eich dewis, byddai'n syniad da i chi ofyn am gyngor gan yr Ysgol berthnasol am y dewisiadau modiwl sydd ar gael.
Dysgu ac asesu
Sut y caf fy addysgu?
The taught component of the programme is delivered through a blend of lectures, seminars, tutorials, computer practicals and field-based teaching, as well as innovative 'virtual' lectures and a virtual field trip to the Bornean rainforest. An optional Field Course and Placement module extends the field-based teaching with a c. 10–15 day field course in a choice of UK and international destinations.
Sut y caf fy asesu?
You will be assessed through a combination of assessment of practical skills, coursework, essays, presentations and a research project (= dissertation; 8,000–10,000 words). Some optional modules may also include exams as part of the assessment.
Sut y caf fy nghefnogi?
You will be provided with a Personal Tutor on your arrival at Cardiff University, and you can request a Welsh-speaking personal tutor if required. You are encouraged to contact your Personal Tutor should you have any academic or pastoral issues that you wish to discuss. You will meet your Personal Tutor within the first two weeks of the course and at regular intervals through the year.
Peer Support for Post Graduate Students
In addition to the personal tutoring system, Cardiff University offers peer-to-peer support specifically for postgraduate students, recognising the particular needs of students studying at this level. Postgraduate Peer Supporters volunteer to support other postgrad students' wellbeing, by facilitating monthly Postgraduate Peer Support Groups. The Postgrad Support Groups run all year round (including over the summer).
Pa sgiliau y byddaf yn eu hymarfer a'u datblygu?
Knowledge & Understanding:
On successful completion of the Programme you will be able to:
Discuss key principles underlying ecology and conservation, especially as they relate to environmental and global change.
Distinguish different facets of biodiversity (e.g. functional, taxonomic) at scales ranging from genes to ecosystems, and explain how to quantify them and their changes through space and/or time
Describe different field survey techniques, with accompanying safe working practices and relevant legislation
Assess current and emerging threats to biodiversity, alongside relevant policy and legislation
Review traditional and innovative conservation strategies, such as re-introduction, re-wilding and creating conservation corridors
Intellectual Skills:
On successful completion of the Programme you will be able to
Devise management strategies, underpinned by ecological principles and evidence, to conserve species and/or manage nature conservation sites
Select suitable methods for analysing data and visualising the results
Diagnose the drivers of biodiversity/ecosystem change from data.
Critically evaluate: i) ecological survey methods and data collected using those methods, ii) environmental impact assessments; iii) the results of data analyses; and iv) published research from the scientific literature
Professional Practical Skills:
On successful completion of the Programme you will be able to:
Design field surveys and research projects to address specific aims or hypotheses
Collect data for different taxa and environments, using established and cutting-edge methods relevant to both research and applied contexts (e.g. ecological consultancy)
Select, and justify the choice of, suitable approaches for measuring different aspects of biodiversity when presented with ecological and conservation scenarios or research questions
Critically evaluate different statistical methods and select appropriate ones when presented with scenarios and associated data sets.
Use industry-standard software (R and geographic information systems (GIS)) to design and construct digital maps, and analyse data
Synthesise, critique and communicate research outputs (e.g. scientific papers, data analyses) to scientific peers in written and oral formats
Transferable/Key Skills:
On successful completion of the Programme you will be able to:
Synthesise complex scientific outputs (e.g. scientific papers, data analyses, environmental impact assessments) into written and oral formats tailored to a non-specialist audience (e.g. policy makers, general public)
Prepare written reports, with clear structures and organising information in a logical manner, using correct grammar/spelling
Format data sets to facilitate collaboration and long-term archiving
Analyse, visualise and interpret complex data
Design and manage research projects
Evaluate, prioritise and apply complex information and data to devise strategies and plans
Apply safe working practices when carrying out fieldwork
Work individually or collaboratively to solve problems
Interpret and apply legal guidelines to project proposals or survey designs
Ffioedd dysgu ar gyfer dechrau astudio yn 2022
Myfyrwyr o'r DU
Nid yw ffioedd ar gyfer mynediad 2022/23 ar gael eto
Myfyrwyr o'r UE, AEE a'r Swistir
Rydym yn aros am gadarnhad o'r ffioedd dysgu ar gyfer blwyddyn academaidd 2022/23.
Myfyrwyr o weddill y byd (rhyngwladol)
Rydym yn aros am gadarnhad o'r ffioedd dysgu ar gyfer blwyddyn academaidd 2022/23.
Costau ychwanegol
If you choose the optional Field Research and Placement module (BIT055), and wish to attend an overseas field course, there will be additional costs associated with travel, accommodation and subsistence. Current locations include Tobago and Borneo, studying marine or rainforest ecology, and costs range from approximately £1100 (Tobago) to £2000–2500 (for different Borneo-based courses). We strive to keep these costs to a minimum: in Borneo we maintain our own Field Station and staff, whose costs are not recovered from charges to students. We also offer excellent Wales-based field courses which do not incur additional costs. Please contact the School for further information on field course costs.
No additional charges are made for other aspects of tuition, although some services (such as student printing on demand) may incur a charge.
A fydd angen unrhyw gyfarpar penodol arnaf I astudio'r cwrs hwn?
No specific equipment is required. The University will provide IT facilities (in a communal space), laboratories equipped with specialist equipment, and all specialist software required for the course.
Students are advised to have a personal laptop computer or equivalent.
Costau byw
Rydym wedi ein lleoli yn un o ddinasoedd mwyaf fforddiadwy y DU. Rhagor o wybodaeth am gostau byw yng Nghaerdydd.
Gyrfaoedd a lleoliadau gwaith
Our MSc offers excellent training for future ecologists and conservationists. Its blend of theory and practical research skills, conservation management and legislation, and identifying emerging threats, will furnish you with the scientific knowledge, hands-on experience and adaptability that are highly valued by employers in today's global job market.
In particular, we expect many of our graduates to enjoy successful careers in research, ecological consultancy, and conservation policy and practice. With its focus on practical training in both subject-specific and generic research skills, our MSc provides the ideal platform for further study and a career in academia. Students who choose the optional Science Communication module will learn how to translate science for a variety of audiences, opening up other exciting avenues, such as journalism, broadcasting and public engagement.
Alongside sound scientific training, this course will enable you to develop transferable skills that are in high demand beyond ecology and conservation. In particular, skills such as data management, analysis and literacy; making complex research accessible to a wide audience; appraising alternative management proposals and policies; and devising evidence-based solutions to problems, are vital in a range of roles across the public, private and third sectors.
We provide a supportive environment in which research can flourish and we are committed to helping you prepare for your post-university career. Throughout the course, you will have a wide range of opportunities to establish contacts with potential employers, whether that's through a work experience placement, collaborations developed during the research project, or guest lectures by leading external experts.
Lleoliadau
---
Data HESA: Hawlfraint yr Asiantaeth Ystadegau Addysg Uwch Cyfyngedig 2020. Ni all yr Asiantaeth Ystadegau Addysg Uwch Cyfyngedig dderbyn cyfrifoldeb am unrhyw gasgliadau neu benderfyniadau sy'n deillio o drydydd partïon o'i data. Daw'r data o Arolwg Hynt Graddedigion Diweddaraf 2017/18 a gyhoeddwyd gan HESA ym mis Mehefin 2020.