Cwnsela Genetig a Genomig (MSc)
Hyd: Tair blynedd
Dull astudio: Rhan amser yn dysgu o bell
---
Nid ydym yn derbyn ceisiadau ar hyn o bryd
Does dim modd gwneud cais ar hyn o bryd. Cysylltwch â ni am ragor o wybodaeth.
Pam astudio'r cwrs hwn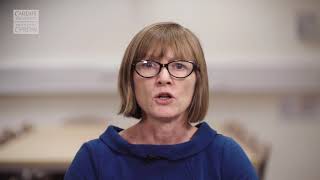 Byddwch yn cael eich trwytho mewn geneteg ddynol, geneteg, dadansoddi genetig a biowybodeg, mewn sgiliau cyfathrebu a chynghori, ac yn y sgiliau sy'n ofynnol iddynt ar gyfer weithio fel rhan o dîm amlddisgyblaethol sy'n rhoi cyngor genetig a genomig i deuluoedd.
Rhaglen e-ddysgu hyblyg
Dysgu o bell, fformat ar-lein sy'n galluogi dysgu hyblyg yn eich pwysau.
Tiwtoriaid arbenigol
Cyfadran academaidd yn cynnwys cynghorwyr genetig gyda phrofiad clinigol helaeth ac arbenigedd byd-eang mewn ymchwil cynghori genetig.
Achrediad gan gorff proffesiynol
Achredir ein rhaglen gan Fwrdd Cofrestru Cynghorwyr Genetig y DU a Bwrdd Geneteg Feddygol Ewrop.
Paratoi ar gyfer ymarfer clinigol
Yn ystod blwyddyn 2, cewch gyfle i gael profiad gwerthfawr yn y gweithle ar leoliad clinigol cymeradwy yn agos at eich lleoliad eich hun.
Cyfleoedd ymchwil
Mae'r gefnogaeth a gynigir gan ein staff arbenigol yn cynnig cyfle i chi gynnal ymchwil safon cyhoeddi yn ystod blwyddyn 3.
The primary aim of this course is to train graduates interested in the clinical application of advances in human genetics and genomics so that they can provide and critically evaluate genetic and genomic counselling services.
This is an innovative, part-time, largely distance-learning course. This opens up our well-established training expertise to an international audience, as it removes the need for you to relocate to Cardiff for full-time study to train as a genetic counsellor. Instead, you will attend short intensive teaching blocks in Wales and engage in online learning throughout the remainder of each year.
The course is particularly suitable for students interested in pursuing a career as a genetic counsellor. It is designed to meet the UK Genetic Counsellor Registration Board (GCRB) Set 'A' educational requirement to submit a Notification of Intention to Register with the GCRB (see www.gcrb.org.uk/), as well as the European Board of Medical Genetics (EBMG Genetic Counsellors division) educational requirement to submit a Notification of Intention to Register with the EBMG.
Ble byddwch yn astudio
Rydym ni'n un o ysgolion meddygaeth fwyaf y DU, wedi ein hymrwymo i geisio gwella iechyd pobl drwy addysg ac ymchwil.
Ysbyty Athrofaol Cymru, Parc y Mynydd Bychan, Caerdydd, CF14 4XN
Meini prawf derbyn
Academic Requirements
You will need to have 2:1 honours degree, or an equivalent international degree, in a biological or (bio)medical science. Equivalent science degrees are also accepted e.g. social science, nursing, psychology.
English language requirements
IELTS with an overall score of 7.0 with 6.5 in all subskills, or an accepted equivalent
Other essential requirements
You will also need to provide:
references that evidence you have gained at least 6 months full-time equivalent (approx. 800 hours) non-family caring experience at the point of application.
an academic reference evidencing your capacity to undertake the demands of the programme
a personal statement that demonstrates your knowledge, motivation, and commitment to a career in genetic and genomic counselling (you must use the below questions as headings in your document)
What motivates you to apply for this course?
What personal qualities and attributes do you possess that would enhance your ability to work as a genetic counsellor?
Please describe any experience you have had working with individuals who might be considered vulnerable.
If you have previously applied for this course and were unsuccessful, please describe what further experience you have gained which may strengthen your application.
Application deadline
The application deadline is 31 March. You must submit all the evidence listed in the entry criteria by the deadline in order to be considered for an interview. If you submit an application after this date, we will only consider it if places are still available post-interview.
Selection Process
Once you have submitted a completed application form, we will review your application and assign it a score based on pre-determined criteria. Applications will then be ranked by score, and the top-scoring applicants will be invited to interview.
At the panel interview, you will need to demonstrate the following:
Knowledge of genetic and genomic counselling
Reflective and self-awareness skills
Ability to reflect on the psychosocial impact of disease and disability
Knowledge and understanding of human genetics
Year 2 placement plans/preferences
Interviewees will be scored based on pre-determined criteria. The application and interview score will be combined, and offers will be made to the top-scoring applicants. Note that offers cannot be issued without a placement agreement in place (this will take place post-interview).
Rhagor o wybodaeth am ofynion Iaith Saesneg.
Mae'n rhaid i ymgeiswyr sydd angen Fisa myfyriwr i astudio yn y DU gyflwyno cymhwyster iaith Saesneg derbyniol er mwyn bodloni gofynion UKVI (Fisâu a Mewnfudo y DU).
Euogfarnau troseddol
You will be required to complete a DBS (Disclosure Barring Service) check if your application is successful. If you are applying from certain countries overseas, a Certificate of Good Conduct may be required.
If you have a relevant criminal conviction, this will be stated in the check and may affect your ability to enrol on the course. Applicants who are on the barred list should be aware that applying to this course is likely to be considered a criminal offence.
Strwythur y cwrs
The MSc programme consists of two stages: The taught stage lasts for a total of 24 months. The dissertation stage R lasts for a further 12 months, following completion of the taught stages. The total normal duration to complete the full MSc programme is three academic years, from the date of initial registration on the programme.
This is a highly intensive programme and a commitment of 2-3 days per week is recommended for general study. There is also the commitment to the face-to-face study blocks, weekly timetabled online tutorials, assignment deadlines, and the placement in Year 2.
Taught Stage
This stage consists of eight modules with credit values of 10, 20 or 50 credits, totalling 180 credits, at Level 7.
You can exit the course after successfully completing 180 credits of the taught (Stage T) component (including all required modules) with a Postgraduate Diploma.
In Year 2, as well as studying modules, you will be required to complete a clinical placement of at least 72 days (full-time equivalent) in a clinical genetic service. This is supported by significant patient interaction. Access to and concrete plans for your genetic counselling placement is a criterion for selection at interview. Please consider discussing your plans for placement with the programme team prior to application, by contacting the Admissions tutor.
Dissertation Stage
This stage will include a dissertation of 60 credits at Level 7, to achieve a combined total of 240 credits at Level 7 to complete the MSc programme.
Mae'r modiwlau a ddangosir yn esiampl o'r cwricwlwm arferol. Byddant yn cael eu hadolygu cyn blwyddyn academaidd 2022/23. Bydd y modiwlau terfynol yn cael eu cyhoeddi erbyn mis Medi 2022.
Blwyddyn un
Cyfanswm y modiwlau blwyddyn un yw 90 credyd.  Yn ogystal â'r modiwlau ar-lein, bydd dau floc addysgu wyneb yn wyneb yng Nghaerdydd ym Mlwyddyn 1, y cyntaf ym mis Medi/Hydref, a'r ail ar ddechrau mis Mehefin.  Bydd gweddill yr addysgu a'r asesu drwy ddysgu o bell gan ddefnyddio ein hamgylchedd dysgu rhithwir.
Blwyddyn dau
Mae'r modiwlau a addysgir ym Mlwyddyn dau yn 90 o gredydau at ei gilydd.  Yn ogystal â'r modiwlau ar-lein, bydd dau floc addysgu wyneb yn wyneb yng Nghymru (DU) ym Mlwyddyn dau, ym mis Rhagfyr a mis Mai.  Bydd gweddill yr addysgu a'r asesu drwy ddysgu o bell gan ddefnyddio amgylchedd dysgu rhithwir Prifysgol Caerdydd.
Elfen bwysig yn yr ail flwyddyn yw'r modiwl lleoliad, lle caiff y wybodaeth a'r sgiliau rydych wedi'u hennill ar yr MSc mewn Cwnsela Genetig a Genomig eu defnyddio a'u hasesu mewn gwasanaeth genetig clinigol / cwnsela genetig.  Rhaid i chi gwblhau lleoliad clinigol sy'n para o leiaf 72 diwrnod mewn gwasanaeth genetig clinigol, gan gyfrannu at weithgareddau rheolaidd y gwasanaeth a chyfrannu at gwnsela genetig i gleientiaid y gwasanaeth yn unol â Chytundeb Lleoliad a drefnir ymlaen llaw.
Blwyddyn tri
I symud ymlaen i'r cam Traethawd Hir, rhaid i chi basio pob elfen o gam a addysgir y rhaglen yn gyntaf.  Ym Mlwyddyn tri, byddwch yn canolbwyntio ar gwblhau eich prosiect traethawd MSc.  Bydd goruchwyliwr traethawd hir yn cael ei neilltuo i chi a fydd yn eich cefnogi i gyflawni nodau'r prosiect.
Bydd blwyddyn tri yn cynnwys un bloc addysgu wyneb yn wyneb tri diwrnod yng Nghaerdydd ym mis Tachwedd.  Diben y bloc hwn yw darparu addysgu, arweiniad a chefnogaeth ar gyfer eich prosiect traethawd hir a'ch cadw mewn cysylltiad â'ch sgiliau cwnsela. Bydd yn cynnwys cydgrynhoi addysgu blaenorol ar ddylunio a methodoleg ymchwil ac yn eich galluogi i drafod eich cynlluniau prosiect gyda'r tiwtoriaid a'r goruchwylwyr.
Mae'r Brifysgol wedi ymrwymo i ddarparu amrywiaeth eang o opsiynau modiwl lle'n bosibl. Ond byddwch yn ymwybodol er y byddwn yn gwneud pob ymdrech i gynnig dewis, gall hyn gael ei gyfyngu mewn rhai amgylchiadau. Y rheswm am hyn yw'r ffaith mai dim ond nifer cyfyngedig o leoedd sydd ar gael ar rai modiwlau, a gaiff eu dyrannu ar sail y cyntaf i'r felin. Mae'n ofynnol i fodiwlau eraill sicrhau isafswm nifer o fyfyrwyr cyn gallu eu cynnal, er mwyn gwneud yn siŵr y gellir cyflwyno addysg o ansawdd priodol. Gall modiwlau gael eu cyfyngu oherwydd gwrthdaro yn yr amserlen hefyd, ac er bod y Brifysgol yn ymdrechu i amharu cyn lleied â phosibl ar eich dewis, byddai'n syniad da i chi ofyn am gyngor gan yr Ysgol berthnasol am y dewisiadau modiwl sydd ar gael.
Dysgu ac asesu
Sut y caf fy addysgu?
You will be taught through a combination of face-to-face and online lectures, tutorials, seminars, self-directed study and experiential learning on placement.
The programme involves mandatory weekly timetabled online tutorials during term time throughout the duration of the course.
Lectures take a range of forms but generally they aim to provide a broad structure for each subject, to introduce key concepts, and to convey relevant up-to-date information. In tutorials and seminars, you'll have the opportunity to discuss particular genetic and genomic counselling topics, to consolidate and receive feedback on your individual learning and to develop skills in oral presentation. Tutorials will enable you to make individual contributions to group study, for example by summarising a particular genetic condition or your dissertation project for the group.
You will have the opportunity to practise and develop counselling, intellectual, team-working and presentational skills by participating in diverse learning activities, such as solving clinical problems, small-group discussions, debates, oral presentations, independent research tasks and written assignments as well as your practical placement activities in year 2.
Sut y caf fy asesu?
You will be assessed through a combination of means including written work (blogs, essays), presentations, reflective pieces, video skills assessment and a dissertation.
The dissertation is based on a literature-review or an empirical study and normally not more than 20,000 words supported by such other material as may be considered appropriate to the subject and should include the results of your period of project work. Topic areas could include, for example: individual, family or patient experiences of genetic or genomic testing and counselling; patient outcomes from genetic or genomic testing and counselling; social and ethical implications of genetic technologies and genetic or genomic counselling; or the professional experiences of genetic counsellors.
Formative Feedback
Formative feedback is feedback that does not contribute to progression or degree classification decisions. The goal of formative feedback is to improve your understanding and learning before you complete your summative assessment. More specifically, formative feedback:
helps you to identify your strengths and weaknesses and target areas that need work;
helps staff to support you and address the problems identified with targeted strategies for improvement.
Summative Feedback
Summative feedback is feedback on assessments that contribute to progression or degree classification decisions. The goal of summative assessment is to indicate how well you have succeeded in meeting the intended learning outcomes of a Module or Programme and will enable you to identify any action required in order to improve.
You will have the opportunity to discuss feedback one-to-one with the course directors, lecturers and tutors as needed. You will also have the opportunity to benefit from peer feedback from your fellow students. Tutorial sessions provide a forum for group feedback to and from the course directors.
Sut y caf fy nghefnogi?
You will be allocated a personal tutor who will help you reflect on your performance on the course and advise you on study techniques and career planning. They will also provide a first point of contact if you experience any difficulties. You will have the opportunity to meet (virtually or otherwise) one-to-one with your personal tutor once per term.
Extensive careers expertise is available within the School. In addition, our programme team members are experienced EBMG and/or GCRB registered genetic counsellors and can provide career guidance where appropriate.
A range of staff are available to provide further support, including an academic support tutor and a specialist medical librarian. A member of academic staff acts as a designated Disability and Diversity Officer and ensures that reasonable adjustments are made for students with disabilities.
All modules within the programme make extensive use of our virtual learning environment, Learning Central, where you can access discussion forums and find course materials including recordings of lectures, links to related materials, multiple-choice tests, past exam papers and examples of student work from previous years. Learning Central will also be used for discussion boards, tutorials, student presentations and class discussions.
You will be allocated a nominated supervisor when undertaking your dissertation, with whom to schedule meetings, which may be via Skype or other online environment, to discuss progress, provide advice and guidance, and will give you written feedback on a single draft dissertation.
The programme team will support you and your peers to develop strong relationships within the class. Your fellow students are a great source of support, and the programme team will work hard to create an environment that will foster this as your classmates will continue to be useful sources of support throughout your career as a genetic counsellor. We will strive to create opportunities for the group to meet and have fun socially during the face-to-face blocks in Wales. The programme team also moderates a Facebook closed group for all current and past students, and you will be encouraged to create your own class Facebook closed group (which the programme team do not access) to foster supportive class relationships.
Pa sgiliau y byddaf yn eu hymarfer a'u datblygu?
The course will provide you with the opportunity to gain a range of valuable skills, both discipline specific skills and more generic employability skills. Through the programme, you will have the opportunity to develop counselling and communication skills, IT and practical clinical skills, and you will be presented with a number of opportunities to extend your communication and analytical skills.
Knowledge & Understanding:
On completing the Programme, you will be able to:
Appreciate ways in which a range of healthcare sciences contribute to the practice of genetic counselling

Combine knowledge of human genetics and genomics including Mendelian inheritance patterns, cytogenetics, molecular genetics and genomics, for the purposes of genetic and genomic counselling.

Assess and calculate individual genetic risks using the principles of probability and statistics.

Predict the psychosocial aspects of genetic conditions using theories of counselling, sociology of health and illness, cultural awareness, family dynamics and decision-making.

Calculate an individual's risk of inheriting or developing a genetic condition that runs or may run in their family, taking in to consideration the inheritance pattern of the condition, their family structure and any conditional events that may have influenced their risk.
Intellectual Skills:
On completing the Programme, you will be able to:
Integrate knowledge of genetics and genomics, including dysmorphology, inherited and multifactorial disorders, cancer genetics, genetic and genomic testing, bioinformatics and screening including prenatal diagnosis for the purposes of genetic and genomic counselling.

Utilise and critically appraise published evidence for the purposes of accurate and appropriate genetic and genomic counselling.

Appreciate and critically appraise the philosophical, legal and ethical issues that arise in genetic and genomic counselling and apply appropriate theoretical frameworks to resolve these issues.

Propose how current counselling theory and research evidence can inform genetic and genomic counselling practice.

Critique the role and development of clinical genetics service within the NHS and internationally

Critically evaluate published research evidence and its role in the delivery of quality genetic and genomic counselling services.

Design, implement and complete a small research, clinical audit, innovation or service evaluation project.
Professional Practical Skills:
On completing the Programme, you will be able to:
Provide safe, effective, patient-centred genetic and genomic counselling with appropriate professionalism.

Apply counselling skills appropriately in genetic and genomic counselling practice.

Critique the wider impact of disability on individuals and families and the services available for these people.

Assess psychosocial responses to the diagnosis of a genetic condition, genetic risk status, genetic or genomic test results or termination of pregnancy, using theories of coping and grief-bereavement.

Defend the importance of confidentiality of genetic information.

Critique ways in which genetic and genomic counselling integrate with other healthcare sciences and health professions.

Apply professional self-awareness and self-reflection to their own professional development in ways that enhance their practice in genetic and genomic counselling, and improve patient outcomes.
Transferable/Key Skills:
On completing the Programme, you will be able to:
Apply problem solving skills to a range of diverse issues

Manage and prioritise workload and time effectively
for the completion of quality projects, including working to deadlines

Demonstrate ability to work effectively with others to develop innovative solutions and solve problems

Demonstrate initiative, taking responsibility for accomplishing objectives and goals

Listen effectively to understand and process important and/or complex information

Communicate accurately, clearly and concisely in variety of styles, using a range of media to a wide variety of audiences
Ffioedd dysgu ar gyfer dechrau astudio yn 2022
Bydd eich ffioedd dysgu a sut y byddwch yn eu talu yn dibynnu ar eich statws ffioedd. Gallai eich statws ffioedd fod yn statws cartref, ynysoedd neu tramor.
Dysgwch sut rydym yn pederfynu eich statws ffioedd
Ffioedd am statws cartref
| Blwyddyn | Ffioedd Dysgu | Blaendal |
| --- | --- | --- |
| Blwyddyn un | £6,950 | £1,000 |
| Blwyddyn dau | £6,950 | Dim |
| Blwyddyn tri | £6,950 | Dim |
Myfyrwyr o'r UE, AEE a'r Swistir
Os ydych chi'n wladolyn o'r UE/AEE neu'r Swistir, bydd eich ffioedd dysgu ar gyfer 2022/23 yn unol â'r ffioedd tramor a godir ar fyfyrwyr rhyngwladol, oni bai eich bod yn gymwys i gael statws ffioedd y DU. Mae UKCISA wedi darparu gwybodaeth am Brexit a ffioedd dysgu.
Ffioedd am statws ynys
Dysgwch ragor am ffioedd ol-raddedig i fyfyrwyr o Ynysoedd y Sianel ac Ynys Manaw.
Ffioedd am statws tramor
| Blwyddyn | Ffioedd Dysgu | Blaendal |
| --- | --- | --- |
| Blwyddyn un | £10,950 | £1,000 |
| Blwyddyn dau | £10,950 | Dim |
| Blwyddyn tri | £10,950 | Dim |
Rhagor o wybodaeth am ffioedd dysgu a blaendaliadau, gan gynnwys ar gyfer myfyrwyr rhan-amser a pharhaus.
Cymorth ariannol
Gallai cymorth ariannol fod ar gael ar gyfer unigolion sy'n bodloni rhai meini prawf. Cewch ragor o wybodaeth yn ein hadran arian. Dim ond hyn a hyn o gymorth ariannol y gall y ffynonellau hyn eu cynnig, felly ni allwn warantu y bydd pawb sy'n bodloni'r meini prawf yn cael arian.
Costau ychwanegol
While most of the costs are incorporated in the fee structure, there are some additional costs that you need to be aware of. You are responsible for all costs of travel (including visas), transportation, subsistence and overnight accommodation, from your home base to:
All face-to-face teaching blocks in Wales; this includes a cost of approx. GBP £230 (2017 prices) for the cost of accommodation and meals at the 4-night ethics component at Gregynog Hall (see http://www.gregynog.org/)
Local genetic counselling clinical placements
Any required re-sit examinations in Cardiff
Additionally there may be an additional cost to you if you require English Language proof reading for your dissertation or other written assessments.
You will also be responsible for the cost of any DBS or local police checks required.
You may also wish to purchase your own copies of core text books.
Applicants proposing placements in the UK or Republic of Ireland must not make direct contact with clinical genetics services in those countries, but can discuss proposed plans with the programme team as part of the application and selection process.
Costau byw
Rydym wedi ein lleoli yn un o ddinasoedd mwyaf fforddiadwy y DU. Rhagor o wybodaeth am gostau byw yng Nghaerdydd.
Gyrfaoedd a lleoliadau gwaith
Mae'r rhaglen hon yn arbennig o addas i'r rhai sydd â diddordeb mewn dilyn gyrfa fel cwnselydd genetig yn y DU, gan ei bod wedi'i chynllunio i fodloni Bwrdd Cofrestru Cwnselwyr Genetig y DU (GCRB) Set A gofyniad addysgol i gyflwyno Hysbysiad o Fwriad i Gofrestru gyda'r GCRB. Mae'r rhaglen wedi'i hachredu gan y GCRB, fel bod yr MSc yn cymhwyso cwnselwyr genetig dan hyfforddiant i wneud cais am Gofrestriad Gwirfoddol Sicr gyda'r GCRB, sy'n galluogi cwnselydd genetig dan hyfforddiant (a delir ar fand 6 agenda ar gyfer Newid) i symud i swydd GIG band 7 AFC yn GIG y DU.
Mae hefyd yn addas i'r rhai sydd â diddordeb mewn dilyn gyrfa fel cwnselydd genetig yn Ewrop ac yn rhyngwladol, gan ei fod wedi'i gynllunio i fodloni gofyniad addysgol Bwrdd Geneteg Feddygol Ewrop (is-adran Cwnselwyr Genetig EBMG) i gyflwyno Hysbysiad o Fwriad i Gofrestru gyda'r EBMG. Mae'r achrediad gan EBMG yn golygu bod y cymhwyster MSc yn cymhwyso cwnselwyr genetig dan hyfforddiant i wneud cais am gofrestriad EBMG.
Mae dros 90% o raddedigion o raglenni hyfforddi cwnselwyr genetig Prifysgol Caerdydd wedi cael gwaith fel cwnselwyr genetig ers dechrau'r cwrs yn 2000.
Yn y DU ac yn UDA, mae'r galw am gwnselwyr genetig wedi cynyddu yn ystod y blynyddoedd diwethaf. Ni fydd graddedigion o gyrsiau MSc mewn Genetig (a Genomeg) presennol y DU yn ddigonol i ddiwallu anghenion GIG y DU dros y blynyddoedd nesaf, gan fod llawer o gwnselwyr genetig y DU yn agos at oed ymddeol.  Mae Cynghrair Trawswladol Cwnselwyr Genetig (partneriaeth o addysgwyr cwnselwyr genetig o ddeunaw gwlad) wedi pwysleisio'n gryf yr angen i hyfforddi mwy o gwnselwyr genetig i ymarfer yn rhyngwladol, yn benodol ar draws yr UE, Asia a De America.
Lleoliadau
In year two, you will be required to complete 72 days of placement work-based experience in a local (to you) genetic or genomic counselling service. This will be discussed as part of the selection process as the ability to arrange it is a prerequisite for being accepted onto the course. The placement allows you the opportunity to apply the knowledge and skills developed on the MSc in Genetic and Genomic Counselling in a clinical genetics / genetic counselling service and be assessed in core competences. You will need to liaise with the MSc programme team about the suitability of your proposed placement, and provide contact details for proposed placement providers to the MSc programme team, who will negotiate an appropriate agreement between you, Cardiff University and the placement provider. You will work with Placement supervisors to complete the requirements of the placement, including a placement supervisor's report, a Case Log and a Skills and Competences Log.
On placement, you will participate in the regular activities of the service and contribute to the genetic counselling of clients of the service. You will have the opportunity to reflect on your developing skills in genetic and genomic counselling, supported by a local placement supervisor and by online genetic counselling supervision (as defined by the UK Association of Genetic Nurses and Counsellors) provided by the MSc programme team.
Applicants proposing placements in the UK or Republic of Ireland must not make direct contact with clinical genetics services in those countries, but can discuss proposed plans with the programme team as part of the application and selection process.
---
Data HESA: Hawlfraint yr Asiantaeth Ystadegau Addysg Uwch Cyfyngedig 2021. Ni all yr Asiantaeth Ystadegau Addysg Uwch Cyfyngedig dderbyn cyfrifoldeb am unrhyw gasgliadau neu benderfyniadau sy'n deillio o drydydd partïon o'i data. Daw'r data o Arolwg Hynt Graddedigion Diweddaraf 2018/19 a gyhoeddwyd gan HESA ym mis Mehefin 2021.