Cerddoriaeth (MA)
Hyd: 1 flwyddyn
Dull astudio: Amser llawn
Mae'r cynnwys hwn ar gael yn Saesneg yn unig.
---
Pam astudio'r cwrs hwn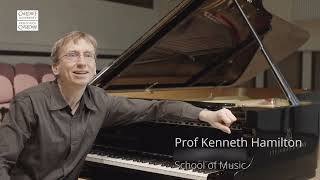 Heriwch eich hun yn academaidd ac yn gerddorol tra'n teilwra'r rhaglen i fodloni'ch dyheadau ar gyfer y dyfodol.
Specialist pathways
Choose Performance, Composition or Music Studies, tailoring your studies to your career aspirations.
Taught by experts
Teaching delivered by internationally-recognised experts in Performance, Composition and Music Studies.
Live and study in a musical city
Cardiff is one of the UK's liveliest musical capitals, with a national opera company, and several professional orchestras and choirs.
Workshops and masterclasses
Regular workshops, seminars and masterclasses given by visiting composers, musicologists and performers.
Mae ein rhaglen MA Cerddoriaeth yn gyfle i chi herio'ch hun yn academaidd ac yn gerddorol, tra'n datblygu arbenigedd mewn perfformio, cyfansoddi neu astudiaethau cerddoriaeth.
Rydym yn rhoi pwyslais ar hyblygrwydd a dewis y myfyriwr. Byddwch yn gallu personoli cyfran sylweddol o'ch astudiaethau, gan deilwra'r rhaglen i fodloni'ch nodau o ran gyrfa a'ch dyheadau.
Byddwch yn astudio mewn amgylchedd prifysgol a arweinir gan ymchwil a chael y cyfle i ymgysylltu ag ymchwil newydd gan ysgolheigion ym Mhrifysgol Caerdydd a thu hwnt.
Mae'r rhaglen hon yn addas i berfformwyr, cyfansoddwyr ac ysgolheigion cerddoriaeth sydd â diddordeb mewn datblygu eu maes arbenigedd, dysgu sgiliau gwerthfawr, ac archwilio cwrs astudio perthnasol.
Byddwch yn dilyn un o dri llwybr ar y rhaglen hon.
Wedi'i ddylunio ar gyfer perfformwyr sydd wedi ymrwymo i wella eu sgiliau fel offerynwyr a/neu gantorion, fel unawdwyr ac mewn ensembles.
Bydd gennych y technegau a'r profiad ymarferol sydd eu hangen i fynd ar drywydd eich nodau creadigol eich hun hyd at lefel broffesiynol gyda hyder a dychymyg.
Astudiaethau Cerddoriaeth
Datblygwch sail gadarn mewn technegau a dulliau ymchwil ym maes Cerddoleg Hanesyddol, Dadansoddi Cerddoriaeth, Cerddoriaeth Boblogaidd ac Ethnogerddoleg, tra'n archwilio arddulliau a thraddodiadau cerddoriaeth gwahanol o ran eu safbwyntiau hanesyddol, dadansoddol a damcaniaethol.
Ble byddwch yn astudio
Mae ein Hysgol fywiog, sydd dan arweiniad y gymuned, yn cynnig hyfforddiant cerddorol trylwyr a chyfleoedd gwerthfawr i berfformio, cyfansoddi ac i astudio cerddoriaeth.
31 Heol Corbett, Cathays, Caerdydd, CF10 3EB
Meini prawf derbyn
Entry requirements - A first or upper second class Honours degree, or equivalent in a relevant related subject area, such as Music, is required.
Applicants whose first language is not English are expected to have reached a minimum IELTS score of 6.5 (with no subscore less than 5.5).
Application process – You should complete the University's online application form and upload your supporting documents (two references (preferably academic) and copies of academic transcripts).
Please supply a personal statement which demonstrates your interest in the programme and your background in the field of study.
You should name the pathway you are interested in applying to in your personal statement and also provide the below supporting materials:
Performance
You will need to provide a link to an online audition showing a video performance of two contrasting pieces of music. Face and hands should be visible at all times to show technique. The video recording must not be edited. Your personal statement will need to discuss and evidence your knowledge of performance, style, and technique.
Composition
Experienced composers with relevant qualifications will be considered for the composition specialism. Please supply a personal statement which addresses your style and rationale for your compositions, looking at techniques, imagination and confidence in approach. You will also need to provide three notated scores in either Sibelius, Finale or PDF. Audio links of these pieces would also be helpful but you will not be penalised if these cannot be provided
Music Studies
We welcome applications from students with backgrounds in music and cognate areas e.g. anthropology, history, politics, cultural studies, philosophy, film and media studies. As well as a personal statement, you will be asked to provide an essay which is the best example of your undergraduate work (in English or Welsh). The essay should be of 1,500-2,000 words about a specific topic (e.g., a composer, piece, musical practice) which demonstrates a knowledge of leading scholars, contemporary theories and relevant literature in the field. The essay should include citations and a comprehensive bibliography. Please note that applicants are advised that unless discussing ethnography, narratives about musical experience should be in the personal statement rather than essay sample.
Rhagor o wybodaeth am ofynion Iaith Saesneg.
Mae'n rhaid i ymgeiswyr sydd angen Fisa myfyriwr i astudio yn y DU gyflwyno cymhwyster iaith Saesneg derbyniol er mwyn bodloni gofynion UKVI (Fisâu a Mewnfudo y DU).
Y broses ddewis neu gyfweld
Decisions are made based on your written application and references which are received on a continuous basis throughout the year.
Applicants are not routinely invited to interview but this is at the discretion of the admissions tutor.
Euogfarnau troseddol
You are not required to complete a DBS (Disclosure Barring Service) check or provide a Certificate of Good Conduct to study this course.
If you are currently subject to any licence condition or monitoring restriction that could affect your ability to successfully complete your studies, you will be required to disclose your criminal record. Conditions include, but are not limited to:
access to computers or devices that can store images
use of internet and communication tools/devices
curfews
freedom of movement, including the ability to travel to outside of the UK or to undertake a placement/studies outside of Cardiff University
contact with people related to Cardiff University.
Strwythur y cwrs
This is a one-year full time programme covering a total of 180 credits.
Stage one
Modules taken vary according to the area of study chosen. All include basic music training via Research Skills and two core modules that are taken in the Autumn term. These are: Disciplining Music (Music Studies pathway) and Music Leadership and Public Engagement (Performance and Composition pathways).
Each pathway also includes specialised modules which are also taken in the Autumn term. These are: Practising Musicology, Studying Popular Music, Composition Portfolio, Doing Ethnomusicology and Closed Recital (subject to availability).
In addition, you choose from a large selection of optional modules in the Spring term which allow you to hone your interests.
Stage two
Modules in stage one are followed by a major project, relevant to your chosen pathway: a public recital (Performance), a thesis composition (Composition) and a musicological dissertation (Music Studies).
Mae'r modiwlau a ddangosir yn esiampl o'r cwricwlwm arferol. Byddant yn cael eu hadolygu cyn blwyddyn academaidd 2021/22. Bydd y modiwlau terfynol yn cael eu cyhoeddi erbyn mis Medi 2021.
Mae'r Brifysgol wedi ymrwymo i ddarparu amrywiaeth eang o opsiynau modiwl lle'n bosibl. Ond byddwch yn ymwybodol er y byddwn yn gwneud pob ymdrech i gynnig dewis, gall hyn gael ei gyfyngu mewn rhai amgylchiadau. Y rheswm am hyn yw'r ffaith mai dim ond nifer cyfyngedig o leoedd sydd ar gael ar rai modiwlau, a gaiff eu dyrannu ar sail y cyntaf i'r felin. Mae'n ofynnol i fodiwlau eraill sicrhau isafswm nifer o fyfyrwyr cyn gallu eu cynnal, er mwyn gwneud yn siŵr y gellir cyflwyno addysg o ansawdd priodol. Gall modiwlau gael eu cyfyngu oherwydd gwrthdaro yn yr amserlen hefyd, ac er bod y Brifysgol yn ymdrechu i amharu cyn lleied â phosibl ar eich dewis, byddai'n syniad da i chi ofyn am gyngor gan yr Ysgol berthnasol am y dewisiadau modiwl sydd ar gael.
Dysgu ac asesu
Sut y caf fy addysgu?
Teaching of academic modules is delivered primarily through seminars and small-group tutorials, and you will have the opportunity to develop your own interests through fieldwork, interdisciplinary study, and other areas of work.
Our regular series of workshops and masterclasses allow you to work directly with distinguished composers and performers.
You will be expected to attend and participate in a weekly Postgraduate Forum and to attend the School's research lecture series, which attracts visiting speakers from around the world.
Performance
In addition to the academic modules delivered through tutorials and seminars, instrumental/vocal tuition is delivered on a one-to-one basis with your allocated instrumental/vocal tutor. Instrumental/vocal teaching will total no more than 24 hours throughout the duration of the programme. In addition, you will be expected to pursue private reading, listening, instrumental/vocal practice, attend and participate in the seminars of the weekly Postgraduate Forum (including presentations) and John Bird research lectures. Attendance at all seminars and tutorials, including the Postgraduate Forum and John Bird lectures is compulsory.
You will also participate in a range of ensembles (e.g. University Orchestra / Choir, Contemporary Music Group) and will be required to perform in the Advanced Performance classes along with the opportunity to take part in Postgraduate Performance seminars.
Recital programmes will be your own choice made in consultation with your allocated instrumental/vocal tutor and the recital module leader who will also give formal approval of the proposed programmes.
The dissertation-equivalent Stage Two Public Recital requires a work composed within the last fifty years to be included. (Exceptions are made for those who may be period instrument specialists, e.g. Baroque flute).
Composition
Teaching of the composition modules is via individual one-to-one tutorials. Teaching of the academic and technical areas of the discipline is delivered through tutorials and seminars (for each module).
Attendance at all seminars and tutorials is compulsory. You will be expected to pursue private study and participate in the seminars of the weekly Postgraduate Forum (including presentations), John Bird research lectures, and Composition Seminars.
For the Stage Two Thesis Composition Portfolio, you will be allocated a supervisor who will guide and advise during the Spring Semester through five 60-minute individual sessions.
Music Studies
Teaching of academic modules is delivered via tutorials and seminars (for each module). Attendance at all seminars and tutorials is compulsory. In addition, you will be expected to pursue private study and attend and participate in the seminars of the weekly Postgraduate Forum (including presentations) and John Bird research lectures.
For the Stage Two Dissertation, you will be allocated a supervisor who will guide and advise during the Spring Semester through a minimum of five 60-minute individual sessions.
Sut y caf fy asesu?
Performance
The taught modules are assessed in a variety of ways including:
Oral presentations
Ensemble performance
Musicianship examinations
Music editing (in musical notation)
Solo performance (involving an accompanist as required) in a 30-minute Closed Recital (Stage One) and a 45-minute Public Performance (Stage Two)
Printed programme with scholarly programme notes and performance diary (Stage Two).
Composition
The taught modules within the programme are assessed through the following:
Composition portfolios
Essays
Written reports and/or commentaries
IT computer-based notational assignments (incl. editing)
Oral presentations
Orchestrations.
Music Studies
The taught modules within the programme are assessed through the following:
Extended essays
Written reports
Field work, as needed
Oral presentations
Dissertation (12–15,000 words).
The opportunity to test knowledge and understanding will also be provided through reflective seminar participation reports.
Sut y caf fy nghefnogi?
At the start of the year you will be given a guide to module aims, learning outcomes, methods of assessment, module syllabuses, and reading and listening lists. Your allocated personal tutor will be able to provide advice and guidance on module choices and you will have regular meetings with them.
For the stage two projects you will have a supervisor to monitor progress and provide individual consultations by arrangement.
Instrumental tuition for performance pathway students is fully funded by the School of Music on your principal study instrument, including accompaniment at recitals. You will receive 24 hour-long lessons over the duration of the course.
You will have access through the Learning Central website to relevant multimedia material, presentations, lecture handouts, bibliographies, further links, electronic exercises and discussion circles.
The University offers a range of services including the Careers Service, the Counselling Service, the Disability and Dyslexia Service, the Student Support Service, and excellent libraries and resource centres.
Feedback
You will receive written feedback on all assessments. The opportunity to test knowledge and understanding will also be provided through the weekly seminars of the Postgraduate Forum.
Pa sgiliau y byddaf yn eu hymarfer a'u datblygu?
You will acquire and develop a range of valuable discipline-specific skills, as well as employability, research, communication and presentation skills.
Performers will acquire specific skills, such as the practical and interpretative musical skills associated with your chosen instrument or voice, an understanding of the relationship between the history and practice of music, knowledge of repertoires and recent developments in performance practice, as well as participating in lecture-recital, public recital and ensemble recitals.
Composers can expect to acquire specific skills, such as knowledge and understanding of contemporary compositional techniques, IT skills in music notation inputting and editing, the ability to rehearse an ensemble, communicate musical intentions to performers via notation and written instructions, direct a rehearsal of your own composition as a conductor, and illustrate how established techniques of research and enquiry are used to create and interpret knowledge.
If you are following the music studies pathway, you will acquire specific skills, such as the ability to analyse and process complex texts, ideas and concepts, develop different forms of academic writing, experience of oral and written presentations, gain an understanding of standard bibliographies, catalogues and other reference material in music, develop research techniques and choice of appropriate sources to aid individual research, undertake complex library-based research, undertake field work and interpret a range of quantitative and qualitative data.
Gwybodaeth arall
Our Postgraduate Suite provides dedicated, 24-hour study facilities for postgraduate students, including computer workrooms with networked Macs and PCs, Sibelius notation software, listening rooms, photocopying facilities, a kitchen, and a social space.
Other facilities include a 250-seat Concert Hall equipped with a concert grand Steinway, Bösendorfer, and organ, chamber organ, period keyboard instruments, electro-acoustic studios, and performance-recording facilities.
An extensive onsite Music Library provides access to books, journals, CDs, and electronic resources covering western music from the medieval period to the present, as well as traditional, classical and popular music from cultures around the world.
Ffioedd dysgu
Myfyrwyr o'r DU
| Ffioedd Dysgu (2021/22) | Blaendal |
| --- | --- |
| £8,450 | Dim |
Myfyrwyr o'r UE, AEE a'r Swistir
Bydd gwladolion yr UE, yr AEE a'r Swistir sy'n dechrau yn 2020/21 yn talu'r un ffioedd dysgu â myfyrwyr y DU drwy gydol eu cwrs.
Os ydych chi'n wladolyn o'r UE/AEE neu'r Swistir, oni bai eich bod yn gymwys i gael statws ffioedd y DU, bydd ffioedd dysgu ar gyfer 2021/22 yn unol â'r ffioedd a godir ar fyfyrwyr rhyngwladol. Mae UKCISA wedi darparu gwybodaeth am Brexit a ffioedd dysgu.
Myfyrwyr o weddill y byd (rhyngwladol)
| Ffioedd Dysgu (2021/22) | Blaendal |
| --- | --- |
| £18,450 | £1,000 |
Rhagor o wybodaeth am ffioedd dysgu a blaendaliadau, gan gynnwys ar gyfer myfyrwyr rhan-amser a pharhaus.
Cymorth ariannol
Gallai cymorth ariannol fod ar gael ar gyfer unigolion sy'n bodloni rhai meini prawf. Cewch ragor o wybodaeth yn ein hadran arian. Dim ond hyn a hyn o gymorth ariannol y gall y ffynonellau hyn eu cynnig, felly ni allwn warantu y bydd pawb sy'n bodloni'r meini prawf yn cael arian.
Costau ychwanegol
If you are on the Music Studies pathway you may choose to undertake fieldwork as part of your stage two Dissertation research. You will need to cover any fieldwork research costs.
A fydd angen unrhyw gyfarpar penodol arnaf I astudio'r cwrs hwn?
Apart from a performer's principal instrument, any equipment required will be supplied by the School.
Costau byw
Rydym wedi ein lleoli yn un o ddinasoedd mwyaf fforddiadwy y DU. Rhagor o wybodaeth am gostau byw yng Nghaerdydd.
Gyrfaoedd graddedigion
Byddwch yn ennill ystod eang o wybodaeth sy'n ymwneud â cherddoriaeth ac amrywiaeth o sgiliau, a fydd yn eich gwneud yn hynod ddeniadol i ddarpar gyflogwyr a sefydliadau ymchwil. Mae'r rhaglen MA wedi'i dylunio i gynnig gwybodaeth, dealltwriaeth a sgiliau uwch yn eich maes astudio dewisol. Mae'n baratoad delfrydol ar gyfer symud ymlaen at ymarfer neu lwybr ymchwil, megis ein PhD mewn Cerddoriaeth.
Mae galw mawr am ein graddedigion ymhlith cyflogwyr, gyda 100% o'n graddedigion mewn cyflogaeth a/neu astudiaethau pellach o fewn chwe mis ar ôl graddio (DLHE 2016/17).
Mae'r graddedigion hynny bellach yn gweithio mewn ystod o rolau, gan gynnwys cerddolegydd, gweinyddwr, rheolwr cerdd, cerddor llawrydd, swyddog datblygu ymchwil ac athro cerdd.
Mae ein cyfres flynyddol o sgyrsiau ar Yrfaoedd mewn Cerddoriaeth yn gyfle gwych i chi gwrdd â phobl broffesiynol mewn amryw feysydd fel perfformio, addysg cerddoriaeth, newyddiaduraeth cerddoriaeth, rheoli'r celfyddydau ac artistiaid, cynhyrchu a thrwyddedu, a chyfansoddi ar gyfer y cyfryngau.
Gwaith maes
Students on the Music Studies pathway may choose to undertake fieldwork as part of their Stage 2 Dissertation research. (Any fieldwork research costs are to be covered by the student).