Trafnidiaeth a Chynllunio (MSc)
Hyd: 1 flwyddyn
Dull astudio: Amser llawn
Mae'r cynnwys hwn ar gael yn Saesneg yn unig.
---
Pam astudio'r cwrs hwn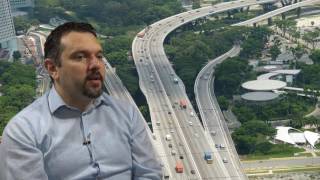 Mae'r MSc hwn yn cynnig cyfle i astudio gwahanol agweddau ar drafnidiaeth sy'n cynnwys cynllunio, polisi, gweithredu a rheoli, yn ogystal â chysylltiadau i gynllunio trefol a materion byd go iawn.
Professionally recognised
Accredited by the Royal Town Planning Institute and the Chartered Institution of Highways and Transportation.
Field study visits
Explore transport and planning issues on location - visits have included the Department of Transport and Transport for London.
Breadth and depth
Develop the knowledge, skills and critical understanding to help create the transport and urban systems of the future.
Expert-led
Learn from and engage with research-active staff who are working at the forefront of the discipline.
Transport touches almost every aspect of our day-to-day lives and our MSc Transport and Planning programme (recognised by the RTPI and CIHT) encourages you to address the challenges ahead for developing the transport systems of tomorrow.
Spanning the disciplines of transport analysis, economics and policy, you will acquire the knowledge and critical understanding to make a significant contribution to the development, scrutiny and management of transport and urban systems. After graduation, you will be well-placed to make your mark in the industry and help transform and innovate transport planning, improving the economic, social, health and environmental well-being of people and places.
You'll receive a broad education with a focus on enabling you to:
Explain and demonstrate the principles and practice of transport scheme appraisal and evaluation.
Collect, retrieve, analyse and interpret data to better understand travel behaviour and aid in the development and assessment of transport policies.
Grasp the principles and key characteristics of transport planning models and related analysis techniques used in the development, design and assessment of transport policies, plans and schemes.
Comprehend the key aspects of sustainable travel options and their promotion to individual transport users to improve economic, social and environment sustainability.
Explore the policy and administrative frameworks within which transport schemes are developed, assessed, financed, monitored, and reviewed.
Examine the legal and regulatory frameworks within which transport planners work.
Accredited by the Royal Town Planning Institute (RTPI) and the Chartered Institution of Highways and Transportation (CIHT). This course is approved by the TPP Professional Standards Committee as meeting the educational requirements for the Transport Planning Professional qualification.
Achrediadau
Ble byddwch yn astudio
Ymunwch â ni wrth i ni archwilio a mynd i'r afael â'r heriau cymdeithasol, gwleidyddol, economaidd, datblygiad ac amgylcheddol sy'n effeithio ar ble a sut yr ydym ni'n byw.
Rhodfa'r Brenin Edward VII, Caerdydd, CF10 3WA
Meini prawf derbyn
Academic requirements:
Typically, you will need to have either:
a 2:2 honours degree in a relevant subject area such as geography, architecture, planning, transport, engineering, science and social science or an equivalent international degree
a university-recognised equivalent academic qualification
or relevant professional experience evidenced by a reference. The reference must be provided by your employer to evidence that you currently work in an area relevant to the programme. This should be signed, dated and less than six months old at the time you submit your application.
English Language requirements:
IELTS with an overall score of 6.5 with 5.5 in all subskills, or an accepted equivalent.
Application deadline:
We allocate places on a first-come, first-served basis, so we recommend you apply as early as possible.

Selection process:

We will review your application and if you meet the entry requirements, we will make you an offer.
Rhagor o wybodaeth am ofynion Iaith Saesneg.
Mae'n rhaid i ymgeiswyr sydd angen Fisa myfyriwr i astudio yn y DU gyflwyno cymhwyster iaith Saesneg derbyniol er mwyn bodloni gofynion UKVI (Fisâu a Mewnfudo y DU).
Euogfarnau troseddol
You are not required to complete a DBS (Disclosure Barring Service) check or provide a Certificate of Good Conduct to study this course.
If you are currently subject to any licence condition or monitoring restriction that could affect your ability to successfully complete your studies, you will be required to disclose your criminal record. Conditions include, but are not limited to:
access to computers or devices that can store images
use of internet and communication tools/devices
curfews
freedom of movement
contact with people related to Cardiff University.
Strwythur y cwrs
The MSc Transport and Planning is offered as a one year full-time course.
It is divided into two parts:
Part one comprises a teaching programme of core and option modules over two semesters. The core modules provide the necessary analytical, economic and planning framework, while the selection of optional modules provides the opportunity to study particular aspects of transport and related topics in depth.
Part two comprises an individual dissertation on a topic related to transport, selected in consultation with members of staff. You have discretion to select topics over a wide area, including, for students from overseas, issues arising in your country of origin.
Mae'r modiwlau a ddangosir yn esiampl o'r cwricwlwm arferol. Byddant yn cael eu hadolygu cyn blwyddyn academaidd 2022/23. Bydd y modiwlau terfynol yn cael eu cyhoeddi erbyn mis Medi 2022.
Mae'r Brifysgol wedi ymrwymo i ddarparu amrywiaeth eang o opsiynau modiwl lle'n bosibl. Ond byddwch yn ymwybodol er y byddwn yn gwneud pob ymdrech i gynnig dewis, gall hyn gael ei gyfyngu mewn rhai amgylchiadau. Y rheswm am hyn yw'r ffaith mai dim ond nifer cyfyngedig o leoedd sydd ar gael ar rai modiwlau, a gaiff eu dyrannu ar sail y cyntaf i'r felin. Mae'n ofynnol i fodiwlau eraill sicrhau isafswm nifer o fyfyrwyr cyn gallu eu cynnal, er mwyn gwneud yn siŵr y gellir cyflwyno addysg o ansawdd priodol. Gall modiwlau gael eu cyfyngu oherwydd gwrthdaro yn yr amserlen hefyd, ac er bod y Brifysgol yn ymdrechu i amharu cyn lleied â phosibl ar eich dewis, byddai'n syniad da i chi ofyn am gyngor gan yr Ysgol berthnasol am y dewisiadau modiwl sydd ar gael.
Dysgu ac asesu
Sut y caf fy addysgu?
The modules are 'M value.' Acquisition of 120 credits will lead to an award of a Diploma in Transport and Planning. Currently this constitutes part one of the MSc course. Part two of the MSc is a Dissertation.
Passing both parts of the programme entitles you to the award of MSc in Transport and Planning (with Distinction if the appropriate standard attained).
The dissertation constitutes a further 60 credits, and the MSc requirement will be 180 credits at M level (with Distinction assessed according to the University's rules for modularised Master's programmes).
Sut y caf fy asesu?
Modules are assessed through continuous assessment (a variety of seminars, essays, project work and practical exercises) and examinations. Where required there is room for flexibility in setting alternative, comparable assessments.
Examinations take place at the end of the semester in which the module is completed. Coursework is submitted on one or more dates in the academic session.
Sut y caf fy nghefnogi?
Student support facilities include:
Access to a dedicated 40 PC laboratory with high quality peripherals including; network account, laser printing, large format colour printing, A4 colour printing
GIS facilities/workstation/access to Edina digimap digital mapping facility and supervised access to a transport modelling package
Dedicated computer technician
A 30 PC open-access laboratory in the Glamorgan Building
An excellent Planning Library containing around 12,000 books, 280 journal titles and stock expenditure of over £90,000 per year
Access to online international databases/computerised library facilities
A detailed and comprehensive personal tutor scheme with student progress reviewed in regular meetings with their personal tutors
Written feedback on formal assessments
English language support for students whose first language is not English
Access to Dyslexia resource facilities
Support for students working/assessed through the medium of Welsh
Professional skills delivery during the induction week to provide students with training on computer use; presentation skills etc.
Feedback
Formative feedback is given in tutorials, discussion classes and problems-based classes as well as through individual written comments on coursework.
Pa sgiliau y byddaf yn eu hymarfer a'u datblygu?
Computer-based Statistical Analysis; GIS; understanding and using transport models; understanding and using simulation models; professional presentation skills (written and verbal); project management with live projects.
Ffioedd dysgu ar gyfer dechrau astudio yn 2022
Myfyrwyr o'r DU
| Blwyddyn | Ffioedd Dysgu | Blaendal |
| --- | --- | --- |
| Blwyddyn un | £9,450 | Dim |
Myfyrwyr o'r UE, AEE a'r Swistir
Os ydych chi'n wladolyn o'r UE/AEE neu'r Swistir, oni bai eich bod yn gymwys i gael statws ffioedd y DU, bydd eich ffioedd dysgu yn unol â'r ffioedd a godir ar fyfyrwyr rhyngwladol. Mae UKCISA wedi darparu gwybodaeth am Brexit a ffioedd dysgu.
Myfyrwyr o weddill y byd (rhyngwladol)
| Blwyddyn | Ffioedd Dysgu | Blaendal |
| --- | --- | --- |
| Blwyddyn un | £20,700 | £1,000 |
Rhagor o wybodaeth am ffioedd dysgu a blaendaliadau, gan gynnwys ar gyfer myfyrwyr rhan-amser a pharhaus.
Cymorth ariannol
Gallai cymorth ariannol fod ar gael ar gyfer unigolion sy'n bodloni rhai meini prawf. Cewch ragor o wybodaeth yn ein hadran arian. Dim ond hyn a hyn o gymorth ariannol y gall y ffynonellau hyn eu cynnig, felly ni allwn warantu y bydd pawb sy'n bodloni'r meini prawf yn cael arian.
Costau ychwanegol
Costau byw
Rydym wedi ein lleoli yn un o ddinasoedd mwyaf fforddiadwy y DU. Rhagor o wybodaeth am gostau byw yng Nghaerdydd.
Gyrfaoedd graddedigion
The course offers the knowledge and expertise for a career in major transport planning and engineering consultancies, local authorities and transport operators.
Gwaith maes
As part of your studies you will take a field study visit within a UK city or a city in mainland Europe, which is fully funded within the advertised fees.
---
Data HESA: Hawlfraint yr Asiantaeth Ystadegau Addysg Uwch Cyfyngedig 2020. Ni all yr Asiantaeth Ystadegau Addysg Uwch Cyfyngedig dderbyn cyfrifoldeb am unrhyw gasgliadau neu benderfyniadau sy'n deillio o drydydd partïon o'i data. Daw'r data o Arolwg Hynt Graddedigion Diweddaraf 2017/18 a gyhoeddwyd gan HESA ym mis Mehefin 2020.