Newyddiaduraeth Darlledu (MA)
Hyd: 1 flwyddyn
Dull astudio: Amser llawn
Mae'r cynnwys hwn ar gael yn Saesneg yn unig.
---
Pam astudio'r cwrs hwn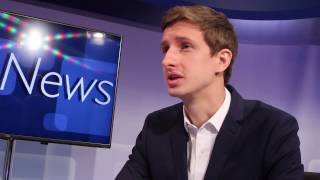 Mae Newyddiaduraeth Darlledu yn rhoi sylw i hyfforddiant newyddiaduraeth teledu a radio. Byddwch hefyd yn dysgu sut i ddefnyddio'r sianeli cyfryngau cymdeithasol fel Twitter, Instagram a Steller, gan eich paratoi ar gyfer gyrfa mewn ystafelloedd newyddion aml-gyfrwng digidol yn broffesiynol.
Get accredited
An accredited course ensures your CV stands out – we are accredited by the Broadcast Journalism Training Council (BJTC).
Placement opportunities
Putting into practice what you have learned builds self-confidence, prepares you for your first job and grows your network of contacts.
All-new facilities
Our new TV and radio studios use industry standard equipment and software - ensuring you're fully prepared for your first day in work.
Join the press pack
Our city centre location means you're next to Cardiff's local and national media companies such as the BBC and Wales Online.
Never miss an interview
You'll be connected to the entire city with Cardiff's main train station Cardiff Central just 100 metres away.
UK's first Journalism School
To be #CardiffTrained means you'll belong to one of the UK's most respected journalism schools with a stellar list of former students.
MA Broadcast Journalism is ideally suited for those who have decided to pursue a career in radio or television news and current affairs. Our aim is to help you to get your first job in a highly competitive industry.
We use digital TV and radio studios in our new Two Central Square home to teach you how to gather, prepare, produce and broadcast your content. We also organise a three-week industry placement for you to put into practice the skills we teach.*
We'll encourage you to originate and distribute your stories through the latest social channels. Are you comfortable using social media in a professional way? You will be by the time you leave us.
You'll gain a broad set of digital production skills as your future employer will expect you to be multi-skilled, familiar with the latest technology and able to work independently.
We are looking for people who can demonstrate a keen interest in news. We expect you to be engaged with what's happening in the world. If you regularly watch and listen to TV and radio news programmes, that's a good starting point.
We also look for people who already have some evidence of their commitment to a career in journalism. This could be acquired through student journalism or work placements in a newsroom. We don't mind what subject you have studied at undergraduate level.
You'll leave us with an MA that is widely recognised as being at the forefront of postgraduate training for a broadcasting career in digital multi-media newsrooms. Your time with us will be hard work, but hopefully it will be rewarding, and the beginning of an exciting career.
*Placement opportunities may be disrupted due to Coronavirus (COVID-19)
Achrediadau
Ble byddwch yn astudio
Rydym yn darparu amgylchedd ysgolheigaidd er mwyn i chi fagu'r wybodaeth a'r sgiliau sydd eu hangen ar gyfer eich maes penodol yn y cyfryngau.
Meini prawf derbyn
Cwrs trosi yw hwn. Mae cyrsiau trosi yn eich galluogi i astudio pwnc nad yw'n gysylltiedig â'ch gradd israddedig neu'ch gyrfa bresennol, a'ch cefnogi gyda newid gyrfa. Nid oes angen gwybodaeth na gradd flaenorol yn y pwnc.
Academic requirements
Typically, you will need to have either:
a 2:2 honours degree, or an equivalent international degree
a university-recognised equivalent academic qualification
or relevant professional experience evidenced by a reference.
English language requirements
IELTS with an overall score of 7.5 with 5.5 in all subskills, or an accepted equivalent.
Other essential requirements
You will also need to provide two references, at least one of which should be academic.
Application Deadline
We allocate places on a first-come, first-served basis following interview, so we recommend you apply as early as possible.
Selection process
If you meet the entry requirements, we will invite you to a panel interview. Interviews normally take place in January each year. Offers are made based on the outcome of the interview.
Rhagor o wybodaeth am ofynion Iaith Saesneg.
Mae'n rhaid i ymgeiswyr sydd angen Fisa myfyriwr i astudio yn y DU gyflwyno cymhwyster iaith Saesneg derbyniol er mwyn bodloni gofynion UKVI (Fisâu a Mewnfudo y DU).
Euogfarnau troseddol
You are not required to complete a DBS (Disclosure Barring Service) check or provide a Certificate of Good Conduct to study this course.
If you are currently subject to any licence condition or monitoring restriction that could affect your ability to successfully complete your studies, you will be required to disclose your criminal record. Conditions include, but are not limited to:
access to computers or devices that can store images
use of internet and communication tools/devices
curfews
freedom of movement
contact with people related to Cardiff University.
Strwythur y cwrs
This is a year-long course.
Broadcast journalism skills are acquired through a series of lectures, demonstrations, practical exercises and feedback sessions of increasing complexity and realism - from 'paper exercises' in the early days to complex radio and television productions that report on real events in real time. These sessions are supplemented by seminars, playbacks, group discussions and industry guests.
Mae'r modiwlau a ddangosir yn esiampl o'r cwricwlwm arferol. Byddant yn cael eu hadolygu cyn blwyddyn academaidd 2022/23. Bydd y modiwlau terfynol yn cael eu cyhoeddi erbyn mis Medi 2022.
Basic writing, reporting and technical skills are taught in the first semester against a background of group listening and viewing to good current professional practice.
The second semester adds editorial and production skills in both radio and television. We use the device of twice weekly 'production days' to integrate newsgathering and production skills with the team working and editorial/resource management skills needed to produce real-time broadcast outputs.
During the Easter break you will test your skills against the real world in a work placement (or placements) of a minimum three weeks duration in a radio or television newsroom of your choice.
Following the Easter recess you will have the opportunity to study from a wide and varied selection of elective modules which include sports, motoring, business and data journalism.
Finally individual writing, reporting and storytelling skills are tested in both media are tested in the final portfolio of work and the final practical examinations.
Your major project will be self-accessed and student-led. You will originate, research and produce a story that will be delivered for radio, television and online.
Mae'r Brifysgol wedi ymrwymo i ddarparu amrywiaeth eang o opsiynau modiwl lle'n bosibl. Ond byddwch yn ymwybodol er y byddwn yn gwneud pob ymdrech i gynnig dewis, gall hyn gael ei gyfyngu mewn rhai amgylchiadau. Y rheswm am hyn yw'r ffaith mai dim ond nifer cyfyngedig o leoedd sydd ar gael ar rai modiwlau, a gaiff eu dyrannu ar sail y cyntaf i'r felin. Mae'n ofynnol i fodiwlau eraill sicrhau isafswm nifer o fyfyrwyr cyn gallu eu cynnal, er mwyn gwneud yn siŵr y gellir cyflwyno addysg o ansawdd priodol. Gall modiwlau gael eu cyfyngu oherwydd gwrthdaro yn yr amserlen hefyd, ac er bod y Brifysgol yn ymdrechu i amharu cyn lleied â phosibl ar eich dewis, byddai'n syniad da i chi ofyn am gyngor gan yr Ysgol berthnasol am y dewisiadau modiwl sydd ar gael.
Dysgu ac asesu
Sut y caf fy addysgu?
You will be taught through a variety of practical workshops, studio time and productions days which replicate an industry environment as well as lecture series to support the more academic elements of the course.
Sut y caf fy asesu?
You will be assessed through a wide range of formative and summative assessments throughout the course. These range from practical class room activities to academic essays and examinations.
Sut y caf fy nghefnogi?
You will be allocated a Personal Tutor, for help and support with academic and pastoral needs, who is available when needed to discuss progress, provide advice and guidance.
You will be supported by the Student Support services in the school and through wider university resources.
You will have regular tutorials with programme directors/personal tutors as well as the opportunity to meet with module co-ordinators on request.
Feedback
Feedback is provided at each assessment point for summative assessments, formative feedback is provided in practical sessions and throughout teaching.
Pa sgiliau y byddaf yn eu hymarfer a'u datblygu?
On completion of the course you will be able to:
Identify, research, produce and distribute news stories targeted at a specific audience to an agreed deadline.
Write accurate, concise copy that is fair, balanced and suitable for broadcast and other digital platforms.
Use a range of software and hardware to record, edit and publish content.
Present live and recorded material confidently, in an accurate and conversational manner.
Knowledge and understanding
On completion of the course you should:
Be able to describe the principles, theory, philosophy, ethics, law and practice of journalism, especially broadcast journalism.
Have developed professional news values and the ability to use them to identify appropriate stories and use this information to write or otherwise produce effective pieces of broadcast and digital journalism.
Understand how to adapt this material to the needs of differing audiences, platforms and editorial objectives.
Be able to display competence in the use of relevant pieces of broadcast software and hardware.
Intellectual skills
On completion of the course you should:
Demonstrate an awareness of the role of the broadcast journalist across a range of outputs across the industry.
Be able to critically analyse material broadcast by different news organisations.
Be able to communicate complex stories effectively for radio, TV and other platforms from a range of primary and secondary sources and background knowledge, using appropriate techniques.
Demonstrate the ability to develop programme ideas and communicate them effectively to a team of journalists.
Understand the editorial, and administrative skills and techniques needed to realise these ideas.
Show an understanding of the managerial skills needed to lead a team of journalists.
An understanding and experience of:
The roles involved in broadcast journalism: editor, producer, reporter, production journalist etc.
The editorial and practical skills needed to create appropriate running orders for programmes and shorter bulletins.
The principles of mobile and digital journalism; practical experience of putting these to use.
Capture/editing/playout software and hardware for radio, TV and other platforms.
The range of roles in the radio studio and TV gallery.
Using online/digital tools to create and manipulate content for a variety of platforms.
The most effective ways to pitch story ideas to colleagues and to operate effectively in a newsroom environment.
Identifying and developing contacts and other sources, either through a specific "patch" or more generally, in order to generate news stories.
How to deliver broadcast scripts, live and pre-recorded, in a professional manner.
Effective interviewing techniques when dealing with contributors.
Using a range of equipment – both for radio and TV – to gather broadcast standard content.
Using a mobile device to gather and distribute content for radio, TV and other platforms.
How to work safely on location.
Shorthand is not a compulsory element of the Broadcast course but it is made available at no extra cost. All broadcast students, and especially those with reporting ambitions, should seriously consider taking advantage of this opportunity to acquire an invaluable journalistic skill.
Ffioedd dysgu ar gyfer dechrau astudio yn 2022
Myfyrwyr o'r DU
| Blwyddyn | Ffioedd Dysgu | Blaendal |
| --- | --- | --- |
| Blwyddyn un | £11,700 | Dim |
Myfyrwyr o'r UE, AEE a'r Swistir
Os ydych chi'n wladolyn o'r UE/AEE neu'r Swistir, oni bai eich bod yn gymwys i gael statws ffioedd y DU, bydd eich ffioedd dysgu yn unol â'r ffioedd a godir ar fyfyrwyr rhyngwladol. Mae UKCISA wedi darparu gwybodaeth am Brexit a ffioedd dysgu.
Myfyrwyr o weddill y byd (rhyngwladol)
| Blwyddyn | Ffioedd Dysgu | Blaendal |
| --- | --- | --- |
| Blwyddyn un | £21,450 | £1,000 |
Rhagor o wybodaeth am ffioedd dysgu a blaendaliadau, gan gynnwys ar gyfer myfyrwyr rhan-amser a pharhaus.
Cymorth ariannol
Gallai cymorth ariannol fod ar gael ar gyfer unigolion sy'n bodloni rhai meini prawf. Cewch ragor o wybodaeth yn ein hadran arian. Dim ond hyn a hyn o gymorth ariannol y gall y ffynonellau hyn eu cynnig, felly ni allwn warantu y bydd pawb sy'n bodloni'r meini prawf yn cael arian.
Costau ychwanegol
Costau byw
Rydym wedi ein lleoli yn un o ddinasoedd mwyaf fforddiadwy y DU. Rhagor o wybodaeth am gostau byw yng Nghaerdydd.
Gyrfaoedd a lleoliadau gwaith
This is a period of great change in all fields of journalism – including broadcast – but our employment record continues to be good.
Our graduates typically leave us to work as broadcast journalists in local radio or regional TV newsrooms. Recent graduates are now working for organisations like BBC and ITV News, SKY, CNN, Reuters, Bloomberg and Al Jazeera English. Over the years we have helped hundreds of people to start their careers in broadcast journalism. Many are now working at the top of the profession.
Lleoliadau
---
Data HESA: Hawlfraint yr Asiantaeth Ystadegau Addysg Uwch Cyfyngedig 2020. Ni all yr Asiantaeth Ystadegau Addysg Uwch Cyfyngedig dderbyn cyfrifoldeb am unrhyw gasgliadau neu benderfyniadau sy'n deillio o drydydd partïon o'i data. Daw'r data o Arolwg Hynt Graddedigion Diweddaraf 2017/18 a gyhoeddwyd gan HESA ym mis Mehefin 2020.