Seiciatreg (MSc)
Hyd: 3 blynedd
Dull astudio: Rhan amser yn dysgu o bell
Mae'r cynnwys hwn ar gael yn Saesneg yn unig.
---
Pam astudio'r cwrs hwn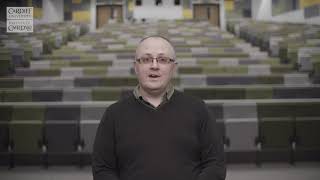 Mae'r cwrs yn addas ar gyfer gweithwyr proffesiynol meddygol ac iechyd eraill sy'n dymuno meithrin gwybodaeth drylwyr o syniadau ac arferion cyfredol mewn seiciatreg.
Cynnwys addysgu rhyngweithiol
Y deunydd yn cynnwys e-gyflwyniadau newydd gan arbenigwyr pwnc, tiwtorialau byw, cyfweliadau arbenigol, grwpiau trafod a mynediad at eLyfrau.
Rhaglen e-ddysgu hyblyg
Dysgu o bell, fformat ar-lein sy'n galluogi dysgu hyblyg yn eich pwysau.
Dysgu ar sail tystiolaeth
Addysgu ac asesiadau hyblyg wedi'u cynllunio i gyfoethogi sgiliau rhesymu clinigol ac ymchwil drwy eu cymhwyso i sefyllfaoedd go iawn.
Cyfleoedd ymchwil pellach
Cyfleoedd i rwydweithio gyda staff ymchwil a chlinigol sy'n arwain y byd ym meysydd seiciatreg a meddygaeth seicolegol.
Dysgu'n canolbwyntio ar y myfyriwr
Cynnwys y cwrs wedi'i gynllunio i fodloni anghenion dysgu myfyrwyr, gyda modiwl traethawd hir yn caniatáu archwilio pellach neu faes diddordeb personol.
Psychiatry is a fascinating and important area of medicine. Due to the nature of psychiatric illness (which may often be present/co-morbid with other conditions and/or affect the way people behave in a variety of situations), improved knowledge of psychiatry would benefit professionals working in fields supplementary to psychiatry and/or likely to come into contact with psychiatric illness on a regular basis.
The programme will be of benefit to such professionals and also to medical doctors training to be psychiatrists or psychiatric specialists.
The programme aims to provide students with:
An in-depth knowledge of the basic science, characteristics and presentation of psychiatric illness.
An understanding of how psychiatric illness is managed and the appropriateness of specific management plans.
The ability to critically appraise, synthesise and evaluate research relating to psychiatric illness.
A developing critical independence and intellectual integrity with specific reference to psychiatry.
The programme is a valuable and detailed introduction to the main types of psychiatric illness but does not at any stage entitle anyone enrolled or graduating from it to call themselves a psychiatrist or psychologist or to prescribe drugs or to otherwise manage psychiatric illness (if they could not previously do so as specified by their specific registration or licence to practice).
---
Rydym wedi ymrwymo i gyflwyno rhaglenni sy'n arloesol ac yn berthnasol, a chynnig y deilliannau dysgu a'r rhagolygon gyrfaol gorau i'n myfyrwyr. O gofio hyn, rydym yn adolygu rhai elfennau o'r rhaglen hon ar hyn o bryd. Felly, mae'r manylion yn rhai dangosol yn unig a gallent gael eu newid. Gallwch gyflwyno cais o hyd. Byddwn yn diweddaru'r dudalen hon ac yn cysylltu â'r holl ddeiliaid cynnig pan fydd yr adolygiad wedi'i gwblhau er mwyn cadarnhau unrhyw newidiadau.
Ble byddwch yn astudio
Rydym ni'n un o ysgolion meddygaeth fwyaf y DU, wedi ein hymrwymo i geisio gwella iechyd pobl drwy addysg ac ymchwil.
Ysbyty Athrofaol Cymru, Parc y Mynydd Bychan, Caerdydd, CF14 4XN
Meini prawf derbyn
Students wishing to enrol on this programme will normally possess an initial degree in medicine awarded by a recognised Institution. Graduates from the following areas of study would also be considered: psychology, nursing or any healthcare related subject or a biological science. Graduates from other disciplines may also be considered.
At the discretion of the University, non-graduates may also be admitted on to the module provided:
You have held, for a minimum period of two years, a position of responsibility relevant to the course.

OR

In exceptional circumstances, you are deemed to be able to demonstrate equivalent skills that are sufficient to meet the demands of the course.
You will be required to provide one academic and one professional reference which detail your suitability for the programme. If you graduated within the last three years, two academic references will be accepted. If you graduated more than three years ago, two professional references will be accepted. References should be signed, dated and less than six months old at the time you submit your application.
English Language Requirements
IELTS with at least 6.5 overall with a minimum of 5.5 in all subskills or equivalent.
Rhagor o wybodaeth am ofynion Iaith Saesneg.
Mae'n rhaid i ymgeiswyr sydd angen Fisa myfyriwr i astudio yn y DU gyflwyno cymhwyster iaith Saesneg derbyniol er mwyn bodloni gofynion UKVI (Fisâu a Mewnfudo y DU).
Euogfarnau troseddol
You are not required to complete a DBS (Disclosure Barring Service) check or provide a Certificate of Good Conduct to study this course.
If you are currently subject to any licence condition or monitoring restriction that could affect your ability to successfully complete your studies, you will be required to disclose your criminal record. Conditions include, but are not limited to:
access to computers or devices that can store images
use of internet and communication tools/devices
curfews
freedom of movement
contact with people related to Cardiff University.
Strwythur y cwrs
This part-time MSc runs over three years. During this time, you will take six compulsory 20-credit modules and complete a 60-credit research dissertation.
As a part-time student, you will be expected to dedicate 10-16 hours a week to your studies. This includes time spent watching and interacting with recorded lectures and videos, consulting supplementary materials, engaging with online tutorials and working on your module coursework.
Mae'r modiwlau a ddangosir yn esiampl o'r cwricwlwm arferol. Byddant yn cael eu hadolygu cyn blwyddyn academaidd 2022/23. Bydd y modiwlau terfynol yn cael eu cyhoeddi erbyn mis Medi 2022.
Blwyddyn un
You will take three compulsory 20 credit modules in year one, providing you with a solid base for the next two years of your degree Programme.
Blwyddyn dau
You will take three compulsory 20 credit Modules in year two.
Blwyddyn tri
You will take one compulsory 60 credit Module in year three which involves the research for and the writing of a 20,000 dissertation.
Mae'r Brifysgol wedi ymrwymo i ddarparu amrywiaeth eang o opsiynau modiwl lle'n bosibl. Ond byddwch yn ymwybodol er y byddwn yn gwneud pob ymdrech i gynnig dewis, gall hyn gael ei gyfyngu mewn rhai amgylchiadau. Y rheswm am hyn yw'r ffaith mai dim ond nifer cyfyngedig o leoedd sydd ar gael ar rai modiwlau, a gaiff eu dyrannu ar sail y cyntaf i'r felin. Mae'n ofynnol i fodiwlau eraill sicrhau isafswm nifer o fyfyrwyr cyn gallu eu cynnal, er mwyn gwneud yn siŵr y gellir cyflwyno addysg o ansawdd priodol. Gall modiwlau gael eu cyfyngu oherwydd gwrthdaro yn yr amserlen hefyd, ac er bod y Brifysgol yn ymdrechu i amharu cyn lleied â phosibl ar eich dewis, byddai'n syniad da i chi ofyn am gyngor gan yr Ysgol berthnasol am y dewisiadau modiwl sydd ar gael.
Dysgu ac asesu
Sut y caf fy addysgu?
The course is taught entirely online, and course material will be delivered using our Virtual Learning Environment. The principal method of teaching is by simulated patient interviews and doctor-doctor discussions based on clinical cases. These are the starting points for you to question your existing understanding and extend your knowledge and skills through active and continuous learning.
These videos are supplemented by online lectures, links to eBooks and a range of external web sites.
Virtual tutorials and other live support sessions will be scheduled during all taught modules, with live sessions providing the opportunity for students to explore material in greater depth with course lecturers and tutors.
Sut y caf fy asesu?
The assessments have been designed to ensure that the intended learning outcomes for the course are met and will provide you with the opportunity to enhance your clinical and research skills.
The coursework assignments developed for each module have been designed in line with the latest research and will enable you to develop the necessary skills to apply in a range of clinical, research and academic settings.
During each of the six taught modules, you will have three coursework assignments to complete and submit at the end of each respective module.
The nature of the coursework varies between modules but will include clinical case reports, academic essays, group (multidisciplinary) projects and personal reflections.
Upon successful completion of the taught modules, you will progress to the dissertation stage, where you will be assigned a supervisor and expected to submit a research dissertation project of 15,000 – 20,000 words.
The classification of your degree will be directly influenced by your performance throughout the year, as assessed through the coursework assigned during each of the taught modules and your final dissertation.
The taught modules combined and the dissertation project carry equal weighting, with the six taught modules combined contributing 50% to your final award and the dissertation contributing to the remaining 50%.
Sut y caf fy nghefnogi?
All modules within the programme are delivered entirely as distance-learning via our virtual learning environment (VLE) Learning Central, where students will find course materials, links to related materials and assessments.
The first week of the course consists of an introductory unit. This will take you through all aspects of the course and includes basic psychology, basic pharmacology and basic psychiatry to bring all students up to speed. During this week there is a live online tutorial with the Course Tutor again aimed at making sure you can access the course and understand how it all works.
In addition to e-mail and online tutorials, you will be supported by a personal tutor for help and support with academic and pastoral needs. There is extensive online material and handouts and links to eBooks and external web resources. You will be assigned to a group tutor who will act as the first line of contact and answers all academic queries or passes them on to the course team.
One-to-one discussion with the course tutor is available by e-mail at any time and by Skype with prior arrangement. The course tutor will be available to answer questions on any aspects of the course.
You will be allocated a nominated supervisor when undertaking your dissertation, who will correspond regularly to discuss progress, provide advice and guidance, and give written feedback on drafts.
We will also support you by:
being responsive to your enquiries
being available for support and advice
giving feedback and delivering marking in a timely manner
providing course materials that are clear, appropriate and correct
assessing course work both comprehensively and accurately
monitoring your progress with the aim of helping you to overcome any difficulties
stimulating you to think and learn!
Formative Feedback
Formative feedback is feedback that does not contribute to progression or degree classification decisions. The goal of formative feedback is to improve your understanding and learning before you complete your summative assessment. More specifically, formative feedback helps you to:
identify your strengths and weaknesses and target areas that need work;
help staff to support you and address the problems identified with targeted strategies for improvement.
Summative Feedback
Summative feedback is feedback that contributes to progression or degree classification decisions. The goal of summative assessment is to indicate how well you have succeeded in meeting the intended learning outcomes of a Module or Programme and will enable you to identify any action required in order to improve. All feedback should directly link to the Module grading/assessment criteria.
Summative feedback will be given following the completion of all coursework.
Beth yw deilliannau dysgu'r cwrs/rhaglen?
The Learning outcomes for this Programme describe what you will be able to do as a result of your study at Cardiff University. They will help you to understand what is expected of you and academic staff will focus on precisely what they want you to achieve within each Module.
Knowledge & Understanding:
Students completing the Programme will demonstrate:
An ability to explain basic science related to the presentation and management of mental illness including behavioural science, human development, neuroscience, genetics and psychopharmacology.
Intellectual Skills:
Students completing the Programme will demonstrate:
An ability to explain the incidence/prevalence, aetiology, classification and progression of these illnesses.
Recognition and evaluation of the signs and symptoms presented by a patient and determine the differential diagnoses and most likely illness.
The ability to select the most appropriate management plan from a given range of possible options, both pharmacological and non-pharmacological, for these illnesses, justify their choice and explain the likely outcome.
The ability to critically appraise psychiatry literature, including appraisal of statistical methods, related to all aspects of these illnesses.
The ability to synthesise and evaluate a wide range of research material of different quality and conclude what the true state of knowledge in a specific area is.
Transferable/Key Skills:
Students completing the Programme will demonstrate:
The ability to successfully undertake academic medical writing and work independently to study a specific area of Psychiatry.
Ffioedd dysgu ar gyfer dechrau astudio yn 2022
Myfyrwyr o'r DU
| Blwyddyn | Ffioedd Dysgu | Blaendal |
| --- | --- | --- |
| Blwyddyn un | £5,100 | £1,000 |
Myfyrwyr o'r UE, AEE a'r Swistir
Os ydych chi'n wladolyn o'r UE/AEE neu'r Swistir, oni bai eich bod yn gymwys i gael statws ffioedd y DU, bydd eich ffioedd dysgu yn unol â'r ffioedd a godir ar fyfyrwyr rhyngwladol. Mae UKCISA wedi darparu gwybodaeth am Brexit a ffioedd dysgu.
Myfyrwyr o weddill y byd (rhyngwladol)
| Blwyddyn | Ffioedd Dysgu | Blaendal |
| --- | --- | --- |
| Blwyddyn un | £8,200 | £1,000 |
Rhagor o wybodaeth am ffioedd dysgu a blaendaliadau, gan gynnwys ar gyfer myfyrwyr rhan-amser a pharhaus.
Cymorth ariannol
Gallai cymorth ariannol fod ar gael ar gyfer unigolion sy'n bodloni rhai meini prawf. Cewch ragor o wybodaeth yn ein hadran arian. Dim ond hyn a hyn o gymorth ariannol y gall y ffynonellau hyn eu cynnig, felly ni allwn warantu y bydd pawb sy'n bodloni'r meini prawf yn cael arian.
Costau ychwanegol
A fydd angen unrhyw gyfarpar penodol arnaf I astudio'r cwrs hwn?
You will need a reliable computer with high speed internet access (and up-to-date virus and malware protection) and appropriate software."
Costau byw
Rydym wedi ein lleoli yn un o ddinasoedd mwyaf fforddiadwy y DU. Rhagor o wybodaeth am gostau byw yng Nghaerdydd.
Gyrfaoedd a lleoliadau gwaith
This programme is particularly suitable for those wishing to increase their knowledge of psychiatry. Psychiatric clinical trainees in the UK will find this course helpful when studying for the MRCPsych exams.
Graduates of the programme have reported that they have gone on to pursue PhDs, further training in preparation to be clinical psychologists, and a range of jobs relevant to psychology and psychiatry.
This MSc programme enables you to demonstrate that you are taking the opportunity to develop your abilities in critical analysis, problem-solving, decision-making, finding and using evidence and in dealing with complex issues. Whilst we do not formally assess clinical skills or competencies in a face-to-face context (so the programme is not a substitute for a formal specialty training programme), studying at this level should help successful students demonstrate numerous academic skills that should be highly regarded in relation to their career development and progression.
In particular, the programme offers opportunities to demonstrate the development of knowledge and skills in relation to the application of evidence-based medicine and the potential enhancement of services and governance frameworks. As such, it should provide evidence of commitment and potential that may assist you in relation to taking on greater responsibilities or perhaps seeking management, research, scholarship, or leadership roles.
Please note that completing this course does not qualify you to practice psychiatry or call yourself a psychiatrist in the UK or elsewhere (as the ability to practice psychiatry is awarded by the relevant regulatory body in your location).
Lleoliadau
---
Data HESA: Hawlfraint yr Asiantaeth Ystadegau Addysg Uwch Cyfyngedig 2020. Ni all yr Asiantaeth Ystadegau Addysg Uwch Cyfyngedig dderbyn cyfrifoldeb am unrhyw gasgliadau neu benderfyniadau sy'n deillio o drydydd partïon o'i data. Daw'r data o Arolwg Hynt Graddedigion Diweddaraf 2017/18 a gyhoeddwyd gan HESA ym mis Mehefin 2020.