Dentistry
Discover your potential and take your education further by joining our innovative school with a family-feel.
Our School
The School of Dentistry is located in the University Dental Hospital on Cardiff University's Heath Park campus, a 53-acre site shared with the University Hospital of Wales.
This means our students gain early clinical exposure, treating real patients in a range of different scenarios under the guidance of experienced professionals.
From the moment you step inside our doors, you'll have everything you need to become the best dental professional you can be; a vibrant student community, state-of-the-art facilities, exceptional teaching and a supportive learning environment.
£2.2 million clinical simulation suite
Our £2.2 million state-of-the-art simulation suite will prepare you perfectly for delivery of dental care to patients in modern clinics.
Early clinical exposure
You'll be taught in the University Dental Hospital, where you'll gain valuable clinical exposure working in a range of scenarios with experienced and supportive staff.
Firm choice
As part of our offer to you, if you choose us as your firm university choice we promise to save your place for the following year's entry if you miss your offer grades to allow you to resit your exams.
Fully funded places available
A full NHS bursary, including tuition fees and non-repayable bursary for living costs, is available for BSc Dental Therapy and Hygiene students and DipHE Dental Hygiene students.
Top 10
The only Dental School in Wales and Top 10 for dentistry in the UK (The Complete University Guide 2022).
An introduction to studying dentistry, dental hygiene and dental therapy
Professor Mike Lewis offers you an insight into what studying dentistry, dental hygiene and dental therapy at Cardiff is like; including tips and hints into how to apply, what happens with our selection process and how to find out more.
Studying dentistry
Our students discuss what it's like studying dentistry at the only dental School in Wales. At the end of this five-year programme, you will have the knowledge, skills and behaviours needed to register with the General Dental Council (GDC). This will allow you to complete your Dental Foundation Training (DFT) year, and join the professional world of dentistry.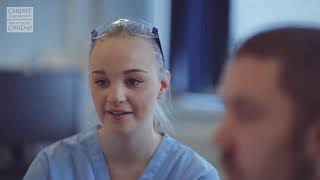 Studying dental therapy and dental hygiene
Our students discuss what it's like studying dental therapy and dental hygiene here at Cardiff University. Our Dental Therapy and Dental Hygiene course will enable you to qualify to practise as a hygienist or a therapist as it is recognised by the General Dental Council.
Universal Clinical Aptitude Test (UCAT)
If you're thinking of applying to study dentistry, this short video offers official advice about how best to go about preparing to sit the UCAT, an admissions test used in the selection process by UK medical and dental schools. It shows the tools available to help you prepare and suggests a rough timeline for you. You can refer to key dates for UCAT.
Facility and location
Heath Park Library
Located in Cochrane Building
A 24 hour library and study space available to all students located on Heath Park Campus.
Brian Cooke Library
Located in The School of Dentistry
The Brian Cooke Library is located in the School of Dentistry and provides a study space and reading material for dentistry students.
Hands-on experience
Studying at the only dental hospital in Wales, you will have the opportunity to serve and manage a diverse group of patients with a wide range of dental diseases.
Clinical skills are developed in the School's state of the art clinical skills laboratory, a facility that closely simulates the real clinical experience, allowing you to prepare and practice for patient care before going out into our many placement areas. This will support your understanding of how your role fits into the dental team. You will be taught by a dedicated team of academic clinical staff and consultants within the dental hospital and clinical staff working in the primary care environment.
Your career
Once you have qualified as a dental professional, there are a number of different career options open to you. On qualification, you are able to register with the General Dental Council and work in various areas of the dental sector to include general dental practice, community dental clinics, general hospitals and dental schools.
There are also opportunities in the armed forces and a variety of masters level programmes if you are interested in postgraduate study.
Explore Cardiff University
---
HESA data: Copyright Higher Education Statistics Agency Limited 2020. The Higher Education Statistics Agency Limited cannot accept responsibility for any inferences or conclusions derived by third parties from its data. Data is from the latest Graduate Outcomes Survey 2017/18, published by HESA in June 2020.