Dental Hygiene (DipHE)
Subject area: Dentistry
UCAS code: B750
Next intake: September 2024
Duration: 2 years
Mode: Full time
Why study this course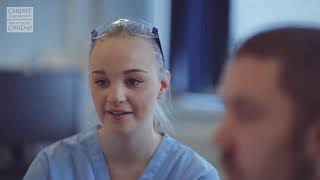 Fully funded places available
A full NHS bursary, including tuition fees and non-repayable bursary for living costs, is available for BSc Dental Therapy and Hygiene students and DipHE Dental Hygiene students.
General Dental Council (GDC)
Our programme is validated by the General Dental Council (GDC).
Real-life clinical skills
You will spend time in outreach facilities across Wales in year two gaining real-life clinical skills.
Top 10
Top 10 for dentistry in the UK (The Complete University Guide 2022).
Working hospital
Because we are based in a working hospital you are instantly surrounded by both public, professionals and researchers plus 100,000 patient contacts per year – 75% of them directly related to clinical training of students.
Studying at the only dental hospital in Wales you will have the opportunity to serve and manage a diverse group of patients with a wide range of dental disease.
Dental hygienists work closely with other members of the dental team. A dental hygienist can carry out treatments such as scaling and polishing, oral health promotion and preventative fissure sealants for both adults and children.
Our programme is a two-year course and is validated by the General Dental Council (GDC). We offer an exciting blend of taught and practical teaching. The modular programme makes integrated use of lecture-style teaching, interactive seminars, clinical simulation and clinical practice.
You will be taught by a dedicated team of dental hygiene staff with further interactions under the supervision and support from consultants and primary care supervisors. Many are internationally renowned in their areas of expertise, as reflected in the School's recent performance in the Research Excellence Framework, ranking first in the UK in its Unit of Assessment.
We have state-of-the-art dental clinics that are available throughout our School which facilitate chair-side teaching in a professional and caring environment. You will also benefit from a £2.2M refurbishment of our pre-clinical (phantom head) teaching facilities. We have a recently renovated and dedicated Dental Library that can be found within the Dental School that houses an extensive collection of books and private study spaces to aid your learning. You will also have access to an undergraduate IT suite and to a £1.5M redevelopment of lecture theatres.
Your opportunity to engage and motivate patients and provide contemporary clinical treatments make dental hygiene a stimulating career. You will be equipped with all the knowledge, skills and behaviours needed to prepare you for the working environment of dental hygiene.
On qualification, clinicians who register with the General Dental Council and are able to work in various areas of the dental sector: general practice; community dental clinics; teaching hospitals and dental schools as well as opportunities in the armed forces.
Accreditations
Heath Park, Cardiff, CF14 4XY
A level
CC-CD. Must include grade C in Biology or Human Biology.
Our grade range covers our standard offer and contextual offer. We carefully consider the circumstances in which you've been studying (your contextual data) upon application.
Eligible students will be given an offer at the lower end of the advertised grade range.
Where there is no grade range advertised and/or where there are selection processes in place (like an interview) you may receive additional points in the selection process or be guaranteed interview/consideration.
Learn about eligible courses and how contextual data is applied.
International Baccalaureate
17 overall or 55 in 2 HL subjects. Must include grade 5 in Biology.
Baccalaureate Wales
From September 2023, there will be a new qualification called the Advanced Skills Baccalaureate Wales (level 3). This qualification will replace the Advanced Skills Challenge Certificate (Welsh Baccalaureate). The qualification will continue to be accepted in lieu of one A-Level (at the grades listed above), excluding any specified subjects.
You must have:
- English language or Welsh language at GCSE grade C/4 or an equivalent (such as A-levels). If you require a Student visa, you must ensure your language qualification complies with UKVI requirements.
- and four other GCSEs at grade C/4, or equivalent qualifications (level and grade).

We do not accept Critical Thinking, General Studies, Citizenship Studies, or other similar equivalent subjects.
We will accept a combination of BTEC subjects, A-levels, and other qualifications, subject to the course specific grade and subject requirements.

ENROLMENT CONDITIONS
Before you start your course, you will need to undergo a health check—including screening for blood-borne viruses—by our Occupational Health Service. If you are non-immune to Hepatitis B, you will need to complete a full immunisation programme before taking part in clinical procedures.

You will also need to have had a Tetanus vaccination within the last 10 years.
Having a blood-borne virus or other infectious diseases won't prevent you from completing this course and obtaining General Dental Council registration, but some specialties won't be open to you during training or in your career.

If you have a health issue that you think might have an impact on your ability to study or practice, please contact us before submitting an application.
GCSE
Grade C or grade 4 in GCSE English Language.
IELTS (academic)
At least 6.5 overall with a minimum of 5.5 in each subskill.
TOEFL iBT
At least 90 overall with a minimum of 17 for writing, 17 for listening, 18 for reading, and 20 for speaking.
PTE Academic
At least 69 overall with a minimum of 59 in all communicative skills.
Trinity ISE II/III
II: at least two Distinctions and two Merits.
III: at least a Pass in all components.
Other accepted qualifications
Please visit our English Language requirements page for more information on our other accepted language qualifications.
You will be required to complete a DBS (Disclosure Barring Service) check if your application is successful. If you are applying from certain countries overseas, a Certificate of Good Conduct may be required. If you have a relevant criminal conviction, this will be stated in the check and may affect your ability to enrol on the course. Applicants who are on the barred list should be aware that applying to this course is likely to be considered a criminal offence.
Other qualifications from inside the UK
BTEC
MM in a BTEC in Applied or Medical Science.
T level
Acceptance of T Levels for this programme will be considered on a case-by-case basis by the Academic School. Consideration will be given to the T Level grade/subject and grades/subjects achieved at GCSE/Level 2.
Please see our admissions policies for more information about the application process.
Interview or selection process
We won't make an offer without an interview.
All applicants must meet the minimum requirements at Level 2 (typically GCSE) and Level 3 (typically A-level) in order to be eligible for consideration for interview.
Applications are typically scored according to the highest 5 achieved GCSEs (or equivalent), including mandatory subjects. The personal statement and reference will also be evaluated. Those who have already met all minimum entry requirements (no predicted grades) will be given 1 additional point. Applicants must submit a satisfactory personal statement and reference to be eligible for consideration for an interview.
We are committed to Widening Participation and fair access, and welcome applications from students of all backgrounds.
The top scoring applicants, with suitable personal statement and references will typically be invited to interview. Where applicants have the same score, other elements of the application may be considered.
Welsh domicile applicants who have completed a Level 3 or 4 science-based Access to Higher Education course with an appropriate amount of Biology will also typically be invited to interview. A minimum of 45 credits at Level 3 are required (15 credits at Distinction and 30 at Merit) to meet the terms of the offer if successful at interview. Level 2 requirements must also be met, and the personal statement and references satisfactory.
Please see our admissions policy for further information on the selection process.
Our interview process
We use the multiple mini interview (MMI) format, which is a series of short, carefully timed interview stations that you will rotate around in turn.
The MMIs help us to determine if you:
can think on your feet
have thought about some of the issues that are important to the profession
can critically appraise information
can communicate ideas effectively.
They also focus on exploring the personal qualities and attributes that are important to your future career development.
These interviews allow us to meet you in person and assess information that isn't always readily forthcoming in the application process—they aren't intended to test the amount of prior knowledge you have about the subject or the profession.
Frequently asked questions
I did not take the correct subjects at A-level (or equivalent). What are my options?
You can take the required qualification at any time. Some alternative Level 3 qualifications may also be considered.
Do you accept resits?
We accept resits for GCSEs (or equivalent) and A-levels (or equivalent).
What do you look for on the personal statement?
The personal statement must show evidence of the following:
evidence of commitment to a career in the dental professions
evidence of qualities and skills required for dental healthcare
evidence of work experience or knowledge of the dental professions
Tuition fees for 2024 entry
Your tuition fees and how you pay them will depend on your fee status. Your fee status could be home, island or overseas.
Learn how we decide your fee status
Fees for home status
A full NHS bursary, including tuition fees and a non-repayable bursary for living costs, is available to applicants from the UK. Full details, including information for applicants from the EU, are available on our NHS funding pages.
Students from the EU, EEA and Switzerland
If you are an EU, EEA or Swiss national, your tuition fees for 2024/25 be in line with the overseas fees for international students, unless you qualify for home fee status. UKCISA have provided information about Brexit and tuition fees.
Fees for island status
Learn more about the undergraduate fees for students from the Channel Islands or the Isle of Man.
Fees for overseas status
An NHS placement is a required part of this course. The NHS only makes placements available to students who are eligible to pay UK fees. Therefore, this course is not available for international students.
Additional costs
Course specific equipment
You do not need any specific equipment.
Accommodation
We have a range of residences to suit your needs and budget. Find out more on our accommodation pages.
Living costs
We're based in one of the UK's most affordable cities. Find out more about living costs in Cardiff.
Course structure
We offer two closely allied programmes: a Diploma in Dental Hygiene (two year programme) and a BSc in Dental Therapy and Dental Hygiene (three year programme), both of which are modular, running in parallel for their first two years.
Throughout the programmes the teaching and implementation of professionalism is critical. You will be taught aspects of law and ethics in dentistry as well as the practicalities of dental treatments, and to recognise the importance and necessity of your lifelong and professional development.
Your opportunity to engage and motivate patients and provide contemporary clinical treatments make dental hygiene a stimulating career.
The modules shown are an example of the typical curriculum and will be reviewed prior to the 2024/2025 academic year. The final modules will be published by September 2024.
Year one
During your first year you will study biomedical sciences, human disease subjects and oral disease and its prevention. An introductory module to clinical practice takes place in term two with the aim of preparing you for your first patient contact in term three.
Year two
During year two your course subjects will include dental radiology, oral medicine, and dental public health. The focus will then turn to periodontology (gum disease) and its clinical treatment. During this year you will also be managing your own patients under supervision.
In year two you will attend clinical placements at 'outreach' dental clinics across Wales, providing treatment to the dental public in situations closely allied to the general practice arena. In some of these areas you will work alongside dental students in a teamwork approach to patient care.
The University is committed to providing a wide range of module options where possible, but please be aware that whilst every effort is made to offer choice this may be limited in certain circumstances. This is due to the fact that some modules have limited numbers of places available, which are allocated on a first-come, first-served basis, while others have minimum student numbers required before they will run, to ensure that an appropriate quality of education can be delivered; some modules require students to have already taken particular subjects, and others are core or required on the programme you are taking. Modules may also be limited due to timetable clashes, and although the University works to minimise disruption to choice, we advise you to seek advice from the relevant School on the module choices available.
Learning and assessment
Teaching on the programme is integrated, so you will learn the scientific and pathological processes underlying oral and dental disease at the same time as you acquire the clinical skills to manage patients appropriately. We use a variety of methods to enrich your learning experience. These include lectures, small-group seminars and tutorials, direct clinical teaching and e-learning packages. You will be encouraged to research topics and on occasions to present work to your peers.
Knowledge, skills and professional attitudes are assessed both formatively and summatively throughout the course, using a range of assessment tools. Assessment tasks include written examinations and assignments, clinical case reports, practical skills tests, projects, portfolios, competency assessments, online assessments, oral presentations and clinical examinations.
How will I be supported?
You will receive the support of personal tutors based at the School of Dentistry. When on placements, you will be supported by an experienced clinical lead.

General communication will be delivered via Learning Central, the University's Virtual Learning Environment, to which all students have access. Notes from lectures and other course material, as well as online assessments, will be available on Learning Central. Our SMS Service also allows important information to be sent directly to mobile phones.
The School of Dentistry operates an inclusive curriculum policy. This means that, for most academic assessments, reasonable adjustments can be made in line with recommendations from Student Support. High professional standards are expected, and although reasonable adjustments will be met as far as possible, the School will need to consider the requirements of the General Dental Council. If you have concerns regarding adjustments you may need, we are happy to discuss the nature, implications and potential solutions as part of the pre-application process.
Feedback
Formative feedback is provided following assessment tasks and during clinical encounters both verbally and as digitally recorded written feedback. Students are encouraged to use personalised feedback to inform their future learning. Assessments at each level are scheduled at appropriate stages, and are identifiable within an assessment blueprint.
How will I be assessed?
The assessment schedule is designed to demonstrate that you have:
attained the standards required by Cardiff University for the award of a Diploma of Higher Education in Dental Hygiene;

achieved the required level of competency to become an independent practising dental hygienist having met the registration standards expected by the General Dental Council (GDC).
This will be measured across four domains identified by the GDC: clinical, communication, professionalism, management and leadership (Preparing for Practise 2015).
For further information please visit the GDC website: www.gdc-uk.org
What skills will I practise and develop?
Clinical Skills. You will develop the clinical skills required to graduate as an independent practising dental hygienist.
Team-working. You will undertake a variety of group-based activities, working in pairs and alternating between operating and assisting. This develops your ability to work collaboratively. We ensure that you work closely with the wider dental team, including: NHS consultants, dental care professionals, dental nurses, dental technicians and administrative staff.
Communication skills. You will develop the ability to communicate effectively throughout the course, from formal lectures to interaction with individuals from different backgrounds. You are expected to demonstrate this ability through a commitment to a reflective practice ePortfolio.
Self-directed learning. You are expected to commit a substantial amount of time to self- directed learning, using the vast information resource provided. Your ability to drive your learning and development will be vital in continued personal and professional development.
Information technology. Skills will be developed through Computer Aided Learning, Word Processing, Statistical Packages, Presentation software, information skills and the computer-based patient booking and electronic record system SALUD.
Upon graduation, as a result of engaging fully with the course, you will be able to:
fulfil the requirements and curriculum presented by the General Dental Council;
understand the main disciplines relevant to the role of dental hygienists;
promote team working skills with an appreciation of working in a multi-cultural environment;
deal with clinical situations and the management of patients;
contribute to the dental workforce;
demonstrate critical independence, intellectual integrity and practical skills in the context of safe clinical practice;
demonstrate competency at the range of procedures identified by the GDC.
Careers and placements
Career prospects
Our students have one the best employability records amongst the UK dental schools, in 2017 100% of our undergraduate students were in employment 6-months post qualification. Key destinations include Primary Dental Practice, Hospital Dental Practice, Academic or Research posts.
On qualification, clinicians register with the General Dental Council and are able to work in various areas of the dental sector: general dental practice; community dental clinics; teaching hospitals and dental schools as well as opportunities in the armed forces.
Graduate careers
Specialist/General dental practice
Community dental practice
Medical research posts
Placements
In years two you will have the opportunity to attend clinical placements at local outreach dental clinics, providing treatment to the dental public in situations closely allied to the general practice arena. In some of these areas you will work alongside dental students in a teamwork approach to patient care.
---
HESA Data: Copyright Higher Education Statistics Agency Limited 2021. The Higher Education Statistics Agency Limited cannot accept responsibility for any inferences or conclusions derived by third parties from its data. Data is from the latest Graduate Outcomes Survey 2019/20, published by HESA in June 2022.