Biosciences
Our postgraduate courses work with your strengths as a scientist. Whether you prefer a laboratory-based environment or lecture-centred learning, we have a postgraduate course that suits you.
Ranked 4th in the UK
We are ranked 4th in the UK and 27th worldwide for Biological Sciences in the 2022 Shanghai Ranking Global Ranking of Academic Subjects.
Research impact
88% our research was deemed "outstanding" for reach and impact in the Research Excellence Framework (REF) 2021 - the system for assessing the quality of research in the UK.
Funding
We offer a number of fully-funded studentships in a variety of research areas.
Our postgraduate taught courses
MSc Big Data Biology
This innovative MSc Big Data Biology will enable you to use cutting-edge, big data platforms to tackle issues from developmental biology to disease surveillance and ecology.
From microbiomes, phenomes and genomes to whole ecosystems, modern biology generates a vast amount of data. The scale and nature of this information requires a new generation of scientists with the skills to harvest, analyse, manipulate and interpret big data, and to link this analysis to underlying mechanisms through mathematical and computational modelling.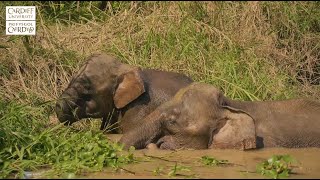 MSc Global Ecology and Conservation
From the rivers of South Wales to the Bornean rainforest, our MSc in Global Ecology and Conservation covers the major conservation issues affecting various habitats across the globe.
With training in core areas, such as wildlife surveys, biodiversity assessments and species management, you will learn how to identify current and emerging threats to species and ecosystems, and develop the necessary skills to tackle these threats with effective and scalable solutions.
Our postgraduate research programmes
Our Master of Research (MRes) is a valuable postgraduate qualification is designed to help you improve and develop your skills as a scientific researcher. Our PhD and MPhil research degrees offer the freedom to investigate a cutting-edge topic in depth, working with leading researchers and enjoying access to first-class facilities.
A PhD with the Otter Project
What can found dead otters teach you about contaminants, disease, and population biology across the UK? Emily is completing her PhD with Cardiff University's Otter Project, a long term environmental surveillance scheme, using otters found dead to create conservation strategies.
Our research
Our research ranges across the biological and biomedical sciences and is led by internationally-renowned researchers using state-of-the-art facilities.
Key areas of focus include global change and its impact, molecular mechanisms of life and disease, and modelling and engineering living systems.
Our research has a real impact across many areas - from the conservation of endangered species and transforming the way freshwater ecosystems are managed to investigating new drugs for prostate cancer.
Explore Cardiff University