Global Ecology and Conservation (MSc)
Duration: 1 year
Mode: Full time
---
Why study this course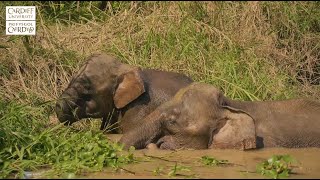 Our MSc in Global Ecology and Conservation aims to train the ecologists and conservationists of the future.
Latest conservation trends
Learn the concepts and challenges in conservation, including in legislative and NGO contexts, and 'horizon-scanning' for future threats.
Practical training
Use the latest survey technologies such as drones and eDNA for monitoring ecosystems, detecting species declines and diagnosing their causes.
Fieldwork in the UK or abroad
An optional Field Course and Placement module extends the field-based teaching by 10-15 days in a choice of UK and international destinations.
Public outreach
Reach out to scientific colleagues, stakeholders and the wider public through our dedicated science communication module.
Expert contributors
We invite leading external experts and thinkers in conservation to contribute regularly to our course.
With a changing climate, an increasing human population, and growing rates of extinction and habitat loss, the world is facing unprecedented challenges. To meet these challenges and preserve our wildlife and ecosystems, we need innovative and adaptable scientists who can develop conservation strategies with real impact.
Our MSc in Global Ecology and Conservation aims to train the ecologists and conservationists of the future. Covering the complete span from ecological theory and pioneering research, through to practical site assessments and conservation interventions, we will equip you with the skills and knowledge required to tackle major global challenges and make a 'real world' difference.
From the rivers of South Wales to the Bornean rainforest, our MSc covers the major conservation issues affecting habitats across the globe. With training in core areas, such as wildlife surveys, biodiversity assessments and species management, you will learn how to identify current and emerging threats to species and ecosystems, and develop the necessary skills to tackle these threats with effective and scalable solutions.
These core topics are combined with a free choice of optional modules, including Science Communication, Water and Life on Earth, and Frontiers in Biosciences, and wide-ranging options for the research project and many coursework topics, giving you the freedom to tailor your studies to your interests and career aspirations. Several of our core modules include a fieldwork element, whilst our optional Field Research and Placement module comprises an extended field course in the UK or overseas, along with a professional work placement.
The course is delivered by leading academics who work across the world conducting cutting-edge research and addressing key global challenges – from pioneering climate change research, to developing action plans to preserve native species. As well as offering you the excitement of learning in an active research environment, this approach will also demonstrate how your work can be translated into practical conservation measures.
We know that ecology and conservation are constantly evolving, and, in response, we have developed an MSc that is explicitly forward-looking, covering new technology and 'horizon scanning' for future conservation issues. With a flexible and interdisciplinary approach, we aim to train postgraduates who can take on roles in research, practice, policy, consultancy and more, and who have the skills, confidence and knowledge base to adapt to a global job market and changing environment.
Where you'll study
We provide a dynamic and stimulating teaching environment with impressive modern facilities, up-to-date equipment and high-calibre staff.
Museum Avenue, Cardiff, CF10 3AX
Admissions criteria
In order to be considered for an offer for this programme you will need to meet all of the entry requirements. Your application will not be progressed if the information and evidence listed is not provided.
With your online application you will need to provide:
A copy of your degree certificate and transcripts which show you have achieved a 2:1 honours degree in a relevant subject area such as Biology, Botany, Ecology, Environmental Sciences or Zoology, or an equivalent international degree. If your degree certificate or result is pending, please upload any interim transcripts or provisional certificates.
A copy of your IELTS certificate with an overall score of 6.5 with 5.5 in all subskills, or evidence of an accepted equivalent. Please include the date of your expected test if this qualification is pending. If you have alternative acceptable evidence, such as an undergraduate degree studied in the UK, please supply this in place of an IELTS.
If you do not have a degree in a relevant area, your application may be considered on the basis of your professional experience in conservation or environmental management. Please provide additional evidence to support your application such as signed and dated employer references.
Application Deadline
We allocate places on a first-come, first-served basis, so we recommend you apply as early as possible. Applications normally close at the end of August but may close sooner if all places are filled.
Selection process
We will review your application and if you meet all of the entry requirements, we will make you an offer.
Find out more about English language requirements.
Applicants who require a Student visa to study in the UK must present an acceptable English language qualification in order to meet UKVI (UK Visas and Immigration) requirements.
Criminal convictions
You are not required to complete a DBS (Disclosure Barring Service) check or provide a Certificate of Good Conduct to study this course.
If you are currently subject to any licence condition or monitoring restriction that could affect your ability to successfully complete your studies, you will be required to disclose your criminal record. Conditions include, but are not limited to:
access to computers or devices that can store images
use of internet and communication tools/devices
curfews
freedom of movement
contact with people related to Cardiff University.
Course structure
The course runs for 12 months full time. Students undertake modules to the value of 180 credits.
The programme consists of four core modules (80 credits), two optional modules (40 credits) and a research project (60 credits). It comprises two stages:
Stage 1: taught modules. There is an exit point at the end of Stage 1 (120 credits), leading to a Postgraduate Diploma. The timing of this point is dependent on the specific modules that the student has selected
Stage 2: Research Projec
Research Project (dissertation)
All MSc students undertake an independent research project which culminates in a report of approximately 8,000-10,000 words.
The modules shown are an example of the typical curriculum and will be reviewed prior to the 2024/25 academic year. The final modules will be published by September 2024.
The University is committed to providing a wide range of module options where possible, but please be aware that whilst every effort is made to offer choice this may be limited in certain circumstances. This is due to the fact that some modules have limited numbers of places available, which are allocated on a first-come, first-served basis, while others have minimum student numbers required before they will run, to ensure that an appropriate quality of education can be delivered; some modules require students to have already taken particular subjects, and others are core or required on the programme you are taking. Modules may also be limited due to timetable clashes, and although the University works to minimise disruption to choice, we advise you to seek advice from the relevant School on the module choices available.
Learning and assessment
How will I be taught?
The taught component of the programme is delivered through a blend of lectures, seminars, tutorials, computer practicals and field-based teaching, as well as innovative 'virtual' lectures and a virtual field trip to the Bornean rainforest. An optional Field Course and Placement module extends the field-based teaching with a c. 10–15 day field course in a choice of UK and international destinations.
How will I be assessed?
You will be assessed through a combination of assessment of practical skills, coursework, essays, presentations and a research project (= dissertation; 8,000–10,000 words). Some optional modules may also include exams as part of the assessment.
How will I be supported?
You will be provided with a Personal Tutor on your arrival at Cardiff University, and you can request a Welsh-speaking personal tutor if required. You are encouraged to contact your Personal Tutor should you have any academic or pastoral issues that you wish to discuss. You will meet your Personal Tutor within the first two weeks of the course and at regular intervals through the year.
Peer Support for Post Graduate Students
In addition to the personal tutoring system, Cardiff University offers peer-to-peer support specifically for postgraduate students, recognising the particular needs of students studying at this level. Postgraduate Peer Supporters volunteer to support other postgrad students' wellbeing, by facilitating monthly Postgraduate Peer Support Groups. The Postgrad Support Groups run all year round (including over the summer).
What skills will I practise and develop?
Knowledge & Understanding:
On successful completion of the Programme you will be able to:
Discuss key principles underlying ecology and conservation, especially as they relate to environmental and global change.
Distinguish different facets of biodiversity (e.g. functional, taxonomic) at scales ranging from genes to ecosystems, and explain how to quantify them and their changes through space and/or time
Describe different field survey techniques, with accompanying safe working practices and relevant legislation
Assess current and emerging threats to biodiversity, alongside relevant policy and legislation
Review traditional and innovative conservation strategies, such as re-introduction, re-wilding and creating conservation corridors
Intellectual Skills:
On successful completion of the Programme you will be able to
Devise management strategies, underpinned by ecological principles and evidence, to conserve species and/or manage nature conservation sites
Select suitable methods for analysing data and visualising the results
Diagnose the drivers of biodiversity/ecosystem change from data.
Critically evaluate: i) ecological survey methods and data collected using those methods, ii) environmental impact assessments; iii) the results of data analyses; and iv) published research from the scientific literature
Professional Practical Skills:
On successful completion of the Programme you will be able to:
Design field surveys and research projects to address specific aims or hypotheses
Collect data for different taxa and environments, using established and cutting-edge methods relevant to both research and applied contexts (e.g. ecological consultancy)
Select, and justify the choice of, suitable approaches for measuring different aspects of biodiversity when presented with ecological and conservation scenarios or research questions
Critically evaluate different statistical methods and select appropriate ones when presented with scenarios and associated data sets.
Use industry-standard software (R and geographic information systems (GIS)) to design and construct digital maps, and analyse data
Synthesise, critique and communicate research outputs (e.g. scientific papers, data analyses) to scientific peers in written and oral formats
Transferable/Key Skills:
On successful completion of the Programme you will be able to:
Synthesise complex scientific outputs (e.g. scientific papers, data analyses, environmental impact assessments) into written and oral formats tailored to a non-specialist audience (e.g. policy makers, general public)
Prepare written reports, with clear structures and organising information in a logical manner, using correct grammar/spelling
Format data sets to facilitate collaboration and long-term archiving
Analyse, visualise and interpret complex data
Design and manage research projects
Evaluate, prioritise and apply complex information and data to devise strategies and plans
Apply safe working practices when carrying out fieldwork
Work individually or collaboratively to solve problems
Interpret and apply legal guidelines to project proposals or survey designs
Tuition fees for 2024 entry
Your tuition fees and how you pay them will depend on your fee status. Your fee status could be home, island or overseas.
Learn how we decide your fee status
Fees for home status
| Year | Tuition fee | Deposit |
| --- | --- | --- |
| Year one | £11,450 | None |
Students from the EU, EEA and Switzerland
If you are an EU, EEA or Swiss national, your tuition fees for 2024/25 be in line with the overseas fees for international students, unless you qualify for home fee status. UKCISA have provided information about Brexit and tuition fees.
Fees for island status
Learn more about the postgraduate fees for students from the Channel Islands or the Isle of Man.
Fees for overseas status
| Year | Tuition fee | Deposit |
| --- | --- | --- |
| Year one | £27,450 | £2,500 |
More information about tuition fees and deposits, including for part-time and continuing students.
Financial support
Financial support may be available to individuals who meet certain criteria. For more information visit our funding section. Please note that these sources of financial support are limited and therefore not everyone who meets the criteria are guaranteed to receive the support.
Additional costs
If you choose the optional Field Research and Placement module (BIT055), and wish to attend an overseas field course, there will be additional costs associated with travel, accommodation and subsistence. Current locations include Tobago and Borneo, studying marine or rainforest ecology, and costs range from approximately £1100 (Tobago) to £2000–2500 (for different Borneo-based courses). We strive to keep these costs to a minimum: in Borneo we maintain our own Field Station and staff, whose costs are not recovered from charges to students. We also offer excellent Wales-based field courses which do not incur additional costs. Please contact the School for further information on field course costs.
No additional charges are made for other aspects of tuition, although some services (such as student printing on demand) may incur a charge.
Will I need any specific equipment to study this course/programme?
No specific equipment is required. The University will provide IT facilities (in a communal space), laboratories equipped with specialist equipment, and all specialist software required for the course.
Students are advised to have a personal laptop computer or equivalent.
Living costs
We're based in one of the UK's most affordable cities. Find out more about living costs in Cardiff.
Careers and placements
Our MSc offers excellent training for future ecologists and conservationists. Its blend of theory and practical research skills, conservation management and legislation, and identifying emerging threats, will furnish you with the scientific knowledge, hands-on experience and adaptability that are highly valued by employers in today's global job market.
In particular, we expect many of our graduates to enjoy successful careers in research, ecological consultancy, and conservation policy and practice. With its focus on practical training in both subject-specific and generic research skills, our MSc provides the ideal platform for further study and a career in academia. Students who choose the optional Science Communication module will learn how to translate science for a variety of audiences, opening up other exciting avenues, such as journalism, broadcasting and public engagement.
Alongside sound scientific training, this course will enable you to develop transferable skills that are in high demand beyond ecology and conservation. In particular, skills such as data management, analysis and literacy; making complex research accessible to a wide audience; appraising alternative management proposals and policies; and devising evidence-based solutions to problems, are vital in a range of roles across the public, private and third sectors.
We provide a supportive environment in which research can flourish and we are committed to helping you prepare for your post-university career. Throughout the course, you will have a wide range of opportunities to establish contacts with potential employers, whether that's through a work experience placement, collaborations developed during the research project, or guest lectures by leading external experts.
Placements
This course offers multiple opportunities to develop your practical research skills via fieldwork modules and a professional placement.
Direct experience of different habitats and fieldwork techniques is an important part of an ecologist's training, and several of our core modules include a fieldwork element, which involves practising field skills in locations around South Wales. Depending on the topic selected, your research project may also offer the opportunity for extensive fieldwork.
Students who select the optional Field Research and Placement module can choose from a range of field courses (approximately 10-15 days), both here in the UK and in international locations, such as Tobago and Borneo. Our international field courses incur additional costs, but these are partly subsidised by the School of Biosciences. This module also includes a five-day placement at a relevant, UK-based organisation, such as a conservation NGO, research laboratory, field centre, museum or zoological institute. Students arrange their own placements, with support and guidance from University staff.
In total, you can choose to spend approximately one month in the field as part of your taught modules (not including the research project, which can also be field-based), enabling you to develop practical ecology and conservation skills that can be taken all over the world.
---
HESA Data: Copyright Higher Education Statistics Agency Limited 2021. The Higher Education Statistics Agency Limited cannot accept responsibility for any inferences or conclusions derived by third parties from its data. Data is from the latest Graduate Outcomes Survey 2019/20, published by HESA in June 2022.