Master of Design Administration (MDA)
Duration: 1 year
Mode: Full time blended learning
---
Why study this course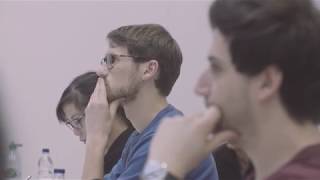 The aim of this programme is to provide students with in-depth knowledge and understanding of the management and legal aspects of design, and the skills necessary to successfully administer the procurement of design services and building projects.
The Master of Design Administration (MDA) aims to equip graduates with the expertise necessary for the successful administration and management the design process in the procurement of buildings. It is intended to fulfil the growing need for experts in design management, working within consultancies, or in contracting or specialist contractor firms, or in client bodies.
The programme combines management and legal aspects of procurement with a unique focus on design aspects, addressing current topics of key interest to construction professionals. It is taught by blended learning methods, which comprise distance learning supplemented by Cardiff-based short courses, and is undertaken while students are working in practice. The distance learning element is supported by regular online seminars and tutorials with written feedback on all course assignments. The short courses are a wonderful opportunity for the students to meet each other and those that teach on the programme.
Although new, the MDA has been developed from an existing degree that has been running very successfully for over twelve years. It receives excellent feedback and has been commended by the RIBA over successive visits. We have taken the best elements of the existing degree and combined them with several new features, to create an exciting and unique programme. The particular blend of topics offered, and the title MDA, are unique so far as we are aware.
This programme is led by Professor Sarah Lupton, a well-known expert and author of books on specialist topics relevant to the course, such as 'Design Liability in the Construction Industry', and a popular series on standard form building contracts. Her strong links with industry (for example as Liability Champion for the Construction Industry Council) and involvement in practice (as a partner in Lupton Stellakis architects) ensure that the course encompasses current topics of direct relevance to those involved in procuring construction projects, and managing the design process. Sarah is dual qualified as an architect and as a lawyer, and is a Chartered Arbitrator and adjudicator.
The MDA is intended for those who have a degree in a design, construction or building management field, for example architects, engineers, contractors and client representatives. All those registered on the course would normally be in employment, with several years' experience, but may be looking for promotion to a more senior design management position, or perhaps to set up their own firm. Many graduates from the existing degree have gone on to become partners or directors of a firm within a relatively short time.
Distinctive features
Combines management and legal aspects of procurement, with a unique focus on design aspects
Addresses current topics of key interest to construction professionals, including cutting edge procurement arrangements
Based on acclaimed research expertise within the Welsh School of Architecture and run by a leading author and expert in the field
Delivered by a team of invited expert academics and professionals
Study while you work in practice; this course is taught by distance learning and Cardiff-based short courses
Benefit from a small cohort size, interactive workshops and master classes, group working and peer review
Assessment methods via a wide variety of written assignments, no examinations
Supported by an active alumni network.
Available as a one year full-time or three year part-time qualification
Where you'll study
We aim to make the world a better place through contextually sensitive, sustainable and beautiful architecture.
King Edward VII Avenue, Cardiff, CF10 3NB
Admissions criteria
We welcome applications from candidates with a minimum 2:2 degree in architecture, engineering, contracting, facilities management or similar construction industry or built environment related field, plus a minimum of three years' work experience in building design or the construction industry, or as a client of the construction industry. This should include experience of managing or liaising with a multi-disciplinary team, either internal to the firm or comprised of representatives of various firms.
Entry with advanced standing (i.e. exemption from taking some taught modules) may be permitted for registered architects who have recently completed an ARB prescribed Part 3 course, or other construction professionals who are registered in their profession and have an equivalent qualification.
Candidates who are intending to become registered architects are advised to consider the Postgraduate Diploma in Architecture: Professional Practice
Applicants whose first language is not English or Welsh must satisfy the English Language requirements for entry to the University by attainment of the standard IELTS requirement of 6.5 overall in IELTS with 5.5 in each subscore.
Find out more about English language requirements.
Applicants who require a Tier 4 visa to study in the UK must present an acceptable English language qualification in order to meet UKVI (UK Visas and Immigration) requirements
Criminal convictions
You are not required to complete a DBS (Disclosure Barring Service) check or provide a Certificate of Good Conduct to study this course.
If you are currently subject to any licence condition or monitoring restriction that could affect your ability to successfully complete your studies, you will be required to disclose your criminal record. Conditions include, but are not limited to:
access to computers or devices that can store images
use of internet and communication tools/devices
curfews
freedom of movement
contact with people related to Cardiff University.
Course structure
This course is available on a one year full-time basis and is undertaken while students are in an approved employment setting.
This course is made up of six 20 credit modules plus one dissertation of 20,000 words (60 credits). The six 20 credit modules are delivered over one academic year, with the dissertation completed over the summer if you are undertaking this course on a full-time basis.
The modules shown are an example of the typical curriculum and will be reviewed prior to the 2020/21 academic year. The final modules will be published by September 2020.
You will complete all modules in one academic year and undertake your dissertation during the summer. The modules completed are: Industry Context, Professional Services, Construction Contracts, Design Delivery, Project Delivery and International Procurement, all 20 credits.
The University is committed to providing a wide range of module options where possible, but please be aware that whilst every effort is made to offer choice this may be limited in certain circumstances. This is due to the fact that some modules have limited numbers of places available, which are allocated on a first-come, first-served basis, while others have minimum student numbers required before they will run, to ensure that an appropriate quality of education can be delivered; some modules require students to have already taken particular subjects, and others are core or required on the programme you are taking. Modules may also be limited due to timetable clashes, and although the University works to minimise disruption to choice, we advise you to seek advice from the relevant School on the module choices available.
Learning and assessment
How will I be taught?
On this course you will be taught through blended learning: a combination of distance learning methods and on-site courses.
The distance learning methods will mainly be delivered through detailed course notes and guided reading. We will also send you regular written feedback on your work. There will be one half-day on-line seminar event for each module. Recordings of lectures and seminars will also be available on-line through the University's virtual learning environment, Learning Central.
The distance learning element is supplemented by on-site courses, normally two days per module, where the aim is to build on the base knowledge established through course notes and through advanced seminars given by leading experts. These will normally be interactive and involve group workshops, which are designed to encourage you to share experience and knowledge gained in practice. These short courses play an important role in our teaching, as they offer you an opportunity to interact with fellow students.
Due to the nature of this course, you are responsible for reading any emails sent by module tutors or announcements made through Learning Central on a frequent basis
How will I be assessed?
You will be assessed through a range of course work, including structured assignments, case studies, reports and essays (see module descriptions for more details). There are no examinations or class tests.
How will I be supported?
All of our students are allocated a personal tutor when they enrol on the course. A personal tutor is there to support you during your studies, help you reflect on your performance on the course and advise you on study techniques, module selection and career planning (in conjunction with the University's Career Service). You should have regular meetings with your personal tutor to ensure that you are fully supported.
You will normally receive at least three individual tutorials, at least one of which will be face-to face in Cardiff, with the others being by Skype.
All modules make use of the University's Virtual Learning Environment, Learning Central, where you can access discussion forums and find course materials including recordings of lectures, links to related materials, past exam papers and examples of student work from previous years.
Cardiff University also offers a wide range of support services which are open to our students, such as the Graduate Centre, counselling and wellbeing, financial and careers advisors, the international office and the Student Union.
Feedback
Formative Feedback
Formative feedback is feedback that does not contribute to progression or degree classification decisions. The goal of formative feedback is to improve your understanding and learning before you complete your summative assessment. More specifically, formative feedback helps you to:
identify your strengths and weaknesses and target areas that need work;
help staff to support you and address the problems identified with targeted strategies for improvement.
Formative feedback will be given on all assignments in the form of written feedback with guide grades.
Summative Feedback
Summative feedback is feedback that contributes to progression or degree classification decisions. The goal of summative assessment is to indicate how well you have succeeded in meeting the intended learning outcomes of a Module or Programme and will enable you to identify any action required in order to improve. All feedback should directly link to the Module grading / assessment criteria.
Summative feedback on this course will be given on all assignments except for those submitted immediately before the final assessment period.
Summative assessment is made through a variety of course work assignments, depending on the module (there are no examinations or class tests). These include a feasibility study, essays, structured assignments, and case studies, as set out in the module descriptions.
What skills will I practise and develop?
The Learning outcomes for this Programme describe what you will be able to do as a result of your study at Cardiff University. They will help you to understand what is expected of you and academic staff will focus on precisely what they want you to achieve within each Module.
Knowledge & Understanding:
On completing the Programme you will be able to demonstrate knowledge and understanding of:
The structure and regulation of the construction industry and design services within the UK.
The constraints on and enablers of development, including the main economic and legislative controls.
The methods of procuring design services, the use of appropriate terms of appointment, the meaning and extent of professional and design liability and the requirements of PI insurance.
Different methods of procurement and the role of designers within each, appropriate standard and non-standard contract types (traditional and complex), the implications for risk distribution, quality management and methods of handling claims and resolving disputes.
How design objectives are identified and articulated and realised through design team management and early supply chain involvement, collaborative working, effective communication and information exchange, including electronic communication.
Methods for ensuring delivery of project objectives during construction, for example through handling of change control procedures, and how achievement is assessed following completion.
The construction industry and development control in selected other countries.
Intellectual Skills:
On completing the Programme you will be able to:
Identify and evaluate sources of information (including current research work), relating to the construction industry within and outside the UK
Reflect on and critically evaluate the management of a real-life practice and project.
Analyse complex situations, including construction disputes, and exercise independent judgement in evaluating and reaching decisions regarding those situations, explain reasoning behind this evaluation clearly and logically.
Exercise initiative and personal responsibility in managing tasks at a professional level
Professional Practical Skills:
On completing the Programme you will be able to:
Undertake a comprehensive analysis of the constraints and enablers relevant to the feasibility of a proposed development project
Assess the design services required for a project, and propose appropriate procurement arrangements, terms of appointment and fee arrangements.
Critically evaluate procedures for managing design development and design teams in the pre-construction stages of a project.
Critically evaluate and compare simple and complex procurement arrangements and contract forms, in terms of distribution of risk and design liability, including collaborative contracts, turnkey contracts, and Build Own Operate Transfer arrangements, and the implications for design management.
Administer a construction contract of a small to medium scale and contribute to the administration of a large and complex construction contract;
Make informed judgements when presented with complex and difficult contract administration problems, including the assessment of claims, explain reasoning behind this evaluation clearly and logically, and communicate the conclusions to the rest of the project team.
Critically evaluate procedures for managing design development during the construction stages of a project; propose appropriate procedures for the handover, maintenance and post-occupancy phases of a building project.
Transferable/Key Skills:
On completing the Programme you will be able to:
Propose appropriate methodologies for tackling a selected topic; plan and execute the work necessary to further knowledge and/or understanding in the selected field; communicate the results of the study clearly and in a manner which would be accessible to the profession and other researchers
Tuition fees
UK and EU students (2020/21)
| Tuition fee | Deposit |
| --- | --- |
| £9,700 | None |
More information about tuition fees and deposits, including for part-time and continuing students.
Financial support may be available to individuals who meet certain criteria. For more information visit our funding section. Please note that these sources of financial support are limited and therefore not everyone who meets the criteria are guaranteed to receive the support.
EU students entering in 2020/21 will pay the same tuition fee as UK students for the duration of their course. Please be aware that fees may increase annually in line with inflation. The Welsh Government has not yet confirmed fees and funding for EU students starting in 2021/22. We will provide further details as soon as we can.
Students from outside the EU (2020/21)
| Tuition fee | Deposit |
| --- | --- |
| £21,950 | £1,000 |
More information about tuition fees and deposits, including for part-time and continuing students.
Financial support may be available to individuals who meet certain criteria. For more information visit our funding section. Please note that these sources of financial support are limited and therefore not everyone who meets the criteria are guaranteed to receive the support.
Additional costs
The University will cover any additional costs that are essential for you to pass the programme. For this reason, you will be provided with a small financial allocation for model making and study visits as required. The details of this will be provided by your Programme Lead throughout the academic year.
Will I need any specific equipment to study this course/programme?
What the student should provide:
You will need access to a computer with word processing software and access to the internet in order to study on this distance learning course. We recommend that you use a laptop, which you can travel with when you come to the School for tuition. A USB or hard drive to store your work is also recommended.
You will be required to be in employment before you enrol on the course, and also be able to fund travel and accommodation expenses for the short courses you attend at the School.
You may also wish to purchase some of the key texts for the course. Although the texts required for study are available in the School's library, and many of these are available in electronic downloadable format, there are benefits to owning your personal copy of key works so that you may access them whenever they wish.
Careers and placements
Students who undertake this course are required to already be in employment. However, this course is designed to enhance their professional development, and aid in career progression.
Placements
You are required to be in employment in a related field as part of this course. You are required to find your own employment location before the course begins, such as an architects' practice, or an approved construction industry firm.