Transport and Planning (MSc)
Duration: 1 year
Mode: Full time
---
Why study this course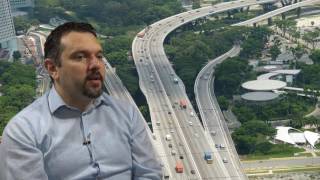 Gain the skills, knowledge and confidence to create the transport systems of the future.
Professionally recognised
Accredited by the Royal Town Planning Institute and the Chartered Institution of Highways and Transportation.
Field study visits
Explore transport and planning issues on location - visits have included the Department of Transport and Transport for London.
Breadth and depth
Develop the knowledge, skills and critical understanding to help create the transport and urban systems of the future.
Expert-led
Learn from and engage with research-active staff who are working at the forefront of the discipline.
Transport touches almost every aspect of our day-to-day lives and our MSc Transport and Planning programme (recognised by the RTPI and CIHT) encourages you to address the challenges ahead for developing the transport systems of tomorrow.
Spanning the disciplines of transport analysis, economics and policy, you will acquire the knowledge and critical understanding to make a significant contribution to the development, scrutiny and management of transport and urban systems. After graduation, you will be well-placed to make your mark in the industry and help transform and innovate transport planning, improving the economic, social, health and environmental well-being of people and places.
You'll receive a broad education with a focus on enabling you to:
Explain and demonstrate the principles and practice of transport scheme appraisal and evaluation.
Collect, retrieve, analyse and interpret data to better understand travel behaviour and aid in the development and assessment of transport policies.
Grasp the principles and key characteristics of transport planning models and related analysis techniques used in the development, design and assessment of transport policies, plans and schemes.
Comprehend the key aspects of sustainable travel options and their promotion to individual transport users to improve economic, social and environment sustainability.
Explore the policy and administrative frameworks within which transport schemes are developed, assessed, financed, monitored, and reviewed.
Examine the legal and regulatory frameworks within which transport planners work.
Accredited by the Royal Town Planning Institute (RTPI) and the Chartered Institution of Highways and Transportation (CIHT). This course is approved by the TPP Professional Standards Committee as meeting the educational requirements for the Transport Planning Professional qualification.
Accreditations
Where you'll study
Join us as we explore and tackle the social, political, economic, development and environmental challenges which affect where and how we live.
King Edward VII Avenue, Cardiff, CF10 3WA
Admissions criteria
In order to be considered for an offer for this programme you will need to meet all of the entry requirements. Your application will not be progressed if the information and evidence listed is not provided.
With your online application you will need to provide:
A copy of your degree certificate and transcripts which show you have achieved a 2:2 honours degree in a relevant subject area such as architecture, engineering, geography planning, science and social science, transport, or an equivalent international degree. If your degree certificate or result is pending, please upload any interim transcripts or provisional certificates.
A copy of your IELTS certificate with an overall score of 6.5 with 5.5 in all subskills, or evidence of an accepted equivalent. Please include the date of your expected test if this qualification is pending. If you have alternative acceptable evidence, such as an undergraduate degree studied in the UK, please supply this in place of an IELTS.
If you do not have a degree in a relevant area, your application may be considered on the basis of your professional experience. A reference must be provided by your employer to evidence that you currently work in an area relevant to the programme. This should be signed, dated and less than six months old at the time you submit your application.
Application Deadline
We allocate places on a first-come, first-served basis, so we recommend you apply as early as possible. Applications normally close at the end of August but may close sooner if all places are filled.
Selection process
We will review your application and if you meet all of the entry requirements, we will make you an offer.
Find out more about English language requirements.
Applicants who require a Student visa to study in the UK must present an acceptable English language qualification in order to meet UKVI (UK Visas and Immigration) requirements.
Criminal convictions
You are not required to complete a DBS (Disclosure Barring Service) check or provide a Certificate of Good Conduct to study this course.
If you are currently subject to any licence condition or monitoring restriction that could affect your ability to successfully complete your studies, you will be required to disclose your criminal record. Conditions include, but are not limited to:
access to computers or devices that can store images
use of internet and communication tools/devices
curfews
freedom of movement
contact with people related to Cardiff University.
Course structure
The MSc Transport and Planning is offered as a one year full-time course.
It is divided into two parts:
Part one comprises a teaching programme of core and option modules over two semesters. The core modules provide the necessary analytical, economic and planning framework, while the selection of optional modules provides the opportunity to study particular aspects of transport and related topics in depth.
Part two comprises an individual dissertation on a topic related to transport, selected in consultation with members of staff. You have discretion to select topics over a wide area, including, for students from overseas, issues arising in your country of origin.
The modules shown are an example of the typical curriculum and will be reviewed prior to the 2024/25 academic year. The final modules will be published by September 2024.
The University is committed to providing a wide range of module options where possible, but please be aware that whilst every effort is made to offer choice this may be limited in certain circumstances. This is due to the fact that some modules have limited numbers of places available, which are allocated on a first-come, first-served basis, while others have minimum student numbers required before they will run, to ensure that an appropriate quality of education can be delivered; some modules require students to have already taken particular subjects, and others are core or required on the programme you are taking. Modules may also be limited due to timetable clashes, and although the University works to minimise disruption to choice, we advise you to seek advice from the relevant School on the module choices available.
Learning and assessment
How will I be taught?
The modules are 'M value.' Acquisition of 120 credits will lead to an award of a Diploma in Transport and Planning. Currently this constitutes part one of the MSc course. Part two of the MSc is a Dissertation.
Passing both parts of the programme entitles you to the award of MSc in Transport and Planning (with Distinction if the appropriate standard attained).
The dissertation constitutes a further 60 credits, and the MSc requirement will be 180 credits at M level (with Distinction assessed according to the University's rules for modularised Master's programmes).
How will I be assessed?
Modules are assessed through continuous assessment (a variety of seminars, essays, project work and practical exercises) and examinations. Where required there is room for flexibility in setting alternative, comparable assessments.
Examinations take place at the end of the semester in which the module is completed. Coursework is submitted on one or more dates in the academic session.
How will I be supported?
Student support facilities include:
Access to a dedicated 40 PC laboratory with high quality peripherals including; network account, laser printing, large format colour printing, A4 colour printing
GIS facilities/workstation/access to Edina digimap digital mapping facility and supervised access to a transport modelling package
Dedicated computer technician
A 30 PC open-access laboratory in the Glamorgan Building
An excellent Planning Library containing around 12,000 books, 280 journal titles and stock expenditure of over £90,000 per year
Access to online international databases/computerised library facilities
A detailed and comprehensive personal tutor scheme with student progress reviewed in regular meetings with their personal tutors
Written feedback on formal assessments
English language support for students whose first language is not English
Access to Dyslexia resource facilities
Support for students working/assessed through the medium of Welsh
Professional skills delivery during the induction week to provide students with training on computer use; presentation skills etc.
Feedback
Formative feedback is given in tutorials, discussion classes and problems-based classes as well as through individual written comments on coursework.
What skills will I practise and develop?
Computer-based Statistical Analysis; GIS; understanding and using transport models; understanding and using simulation models; professional presentation skills (written and verbal); project management with live projects.
Tuition fees for 2024 entry
Your tuition fees and how you pay them will depend on your fee status. Your fee status could be home, island or overseas.
Learn how we decide your fee status
Fees for home status
Fees for entry 2024/25 are not yet available.
Students from the EU, EEA and Switzerland
We are currently awaiting confirmation on tuition fees for the 2024/25 academic year.
Fees for island status
Learn more about the postgraduate fees for students from the Channel Islands or the Isle of Man.
Fees for overseas status
We are currently awaiting confirmation on tuition fees for the 2024/25 academic year.
Additional costs
Living costs
We're based in one of the UK's most affordable cities. Find out more about living costs in Cardiff.
Career prospects
The programme offers the knowledge and expertise for a career in major transport planning and engineering consultancies, local authorities and transport operators. Its accredited status also means you will have the opportunity to develop your professional profile and network (e.g. through the CIHT Young Professional Network).
The course offers the knowledge and expertise for a career in major transport planning and engineering consultancies, local authorities and transport operators.
Fieldwork
As part of your studies you will take a field study visit within a UK city or a city in mainland Europe, which is fully funded within the advertised fees.
---
HESA Data: Copyright Higher Education Statistics Agency Limited 2021. The Higher Education Statistics Agency Limited cannot accept responsibility for any inferences or conclusions derived by third parties from its data. Data is from the latest Graduate Outcomes Survey 2019/20, published by HESA in June 2022.