Translation Studies (MA)
Duration: 2 years
Mode: Part time
---
Why study this course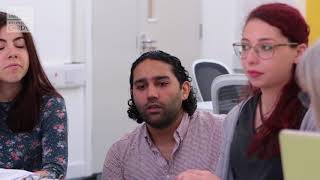 Gain core training in the theory and practice of translation and work in a language that suits you.
Work in a language that suits you
Study translation methodologies alongside one or two languages (Japanese and Chinese may not be studied together).
Carry out a placement
You will have the opportunity to carry out work placements, honing your practical skills and gaining valuable experience.
Tailor your research
You will develop research skills related to your specialist area of interest, preparing you for the dissertation or translation project.
Prepare for your translation career
This course is ideal for students who wish to pursue a career as professional translators in the public and private sectors.
Our MA in Translation Studies offers core training in the theory and practice of translation. Its design was informed by various protocols and best practice guidelines for the study of translation, to ensure it meets the standards and expectations of the contemporary translation service and industry.
The aim is to provide you with a full understanding of the development of the discipline of translation studies and of the translation industry, allowing you to pursue specialist or vocational interests within a general framework.
We'll introduce you to the main theoretical issues of translation studies which will allow you to demonstrate how they have a bearing on your specialist area of study, be that the practical translation of literary, legal, medical or administrative texts, or the academic study of translation e.g. its theory and history, or the complex, cultural transactions it involves.
You'll gain an awareness of the problems of understanding and interpretation raised by the practice of translation and explore them in relation to key theoretical approaches. As a result, you'll develop analytical, practical, evaluative, aesthetic and expository skills that will serve to address these problems in both applied and theoretical contexts.
The programme also offers grounding in different forms of specialised translation, including interpreting, computer-assisted translation and subtitling. You'll also have the opportunity to gain experience of different aspects of the translation industry through a series of guest lectures by leading practitioners and tailored placements with a range of national and international employers.
We'll encourage you to develop research skills specifically related to your specialist area of interest in order, as appropriate, to prepare the theoretical and methodological groundwork for a dissertation or for an annotated translation project. You'll also develop skills in the balanced interpretation of the cultural and linguistic contexts for the practice of translation, helping you to understand the practical implications of political and cultural arguments in the context of translation studies.
Where you'll study
One of the most dynamic modern languages schools in the UK. We actively engage with a range of stakeholders to promote the benefits of multilingualism.
Cathays, Cardiff, CF10 3AS
Admissions criteria
In order to be considered for an offer for this programme you will need to meet all of the entry requirements. Your application will not be progressed if the information and evidence listed is not provided.
With your online application you will need to provide:
A copy of your degree certificate and transcripts which show you have achieved a 2:1 honours degree in a relevant subject area such as humanities, language, literature, translation studies, or an equivalent international degree. If your degree certificate or result is pending, please upload any interim transcripts or provisional certificates.
A copy of your IELTS certificate with an overall score of 6.5 with 5.5 in all subskills, or evidence of an accepted equivalent. Please include the date of your expected test if this qualification is pending. If you have alternative acceptable evidence, such as an undergraduate degree studied in the UK, please supply this in place of an IELTS.
If you do not have a degree in a relevant area, your application may be considered on the basis of your linguistic skills and competences for the programme in the context of a written language test and interview.
Application Deadline
We allocate places on a first-come, first-served basis, so we recommend you apply as early as possible. Applications normally close at the end of August but may close sooner if all places are filled.
Selection process
We will review your application and if you meet all of the entry requirements, we will make you an offer. If you do not have a degree in a relevant area, you will be invited to take part in an interview or a written language test.
Find out more about English language requirements.
Applicants who require a Student visa to study in the UK must present an acceptable English language qualification in order to meet UKVI (UK Visas and Immigration) requirements.
Criminal convictions
You are not required to complete a DBS (Disclosure Barring Service) check or provide a Certificate of Good Conduct to study this course.
If you are currently subject to any licence condition or monitoring restriction that could affect your ability to successfully complete your studies, you will be required to disclose your criminal record. Conditions include, but are not limited to:
access to computers or devices that can store images
use of internet and communication tools/devices
curfews
freedom of movement, including the ability to travel to outside of the UK or to undertake a placement/studies outside of Cardiff University
contact with people related to Cardiff University.
Course structure
The part-time MA Translation studies is two years long for the taught module stage (part one) with a dissertation module (part two), which is submitted in January the following year. It offers a balanced combination of theory and practice modules.
Part one consists of a range of modules, the majority of which are optional. However, two of the modules listed (MLT401 and MLT076) are 'core' modules and must be studied. You are required to study both of these and will study one in each year of your degree programme.
Part Two of the course requires either a research-based dissertation of approximately 20,000 words or an annotated translation project comprising a translation of approximately 8,000 words in the source text and 12,000 words of reflective commentary.
The modules shown are an example of the typical curriculum and will be reviewed prior to the 2024/25 academic year. The final modules will be published by September 2024.
Year one
Year two
The University is committed to providing a wide range of module options where possible, but please be aware that whilst every effort is made to offer choice this may be limited in certain circumstances. This is due to the fact that some modules have limited numbers of places available, which are allocated on a first-come, first-served basis, while others have minimum student numbers required before they will run, to ensure that an appropriate quality of education can be delivered; some modules require students to have already taken particular subjects, and others are core or required on the programme you are taking. Modules may also be limited due to timetable clashes, and although the University works to minimise disruption to choice, we advise you to seek advice from the relevant School on the module choices available.
Learning and assessment
How will I be taught?
You will be taught via lectures, seminar preparation and participation, independent reading, preparation of essays and presentations, feedback on essays and presentations, and revision for examinations.
How will I be assessed?
You will be assessed mainly by essays and examinations. Other forms of assessment include seminar presentations, class tests, Annotated Translation Project (ATP) and Dissertation.
How will I be supported?
You will be allocated a personal tutor at the start of the course. You will retain this tutor throughout the two years.
All modules make extensive use of Learning Central, our Virtual Learning Environment, where you will find your course materials.
You will be given the chance to reflect on your abilities and performance through the Personal Development Planning module, available on Learning Central, through the Professional Development module that forms an integral part of the third semester experience, and through personal tutor meetings.
Feedback
You will be given written feedback for written coursework assignments, and generic class feedback for exams.
What skills will I practise and develop?
Knowledge and Understanding
Understand how the boundaries of knowledge and practice are advanced through Translation Studies research, and be able to deal with complex issues in translation both systematically and creatively, while demonstrating originality in addressing and solving problems.
Demonstrate a specialist knowledge of the latest scholarly research in the area of Translation Studies, as well as show an ability to reflect upon empirical and theoretical issues in a sophisticated manner; demonstrate conceptual understanding of, and evaluate critically, current research and advanced scholarship in the discipline.
Display a comprehensive understanding of translation strategies and techniques applicable to your own research or advanced practical scholarship.
Intellectual Skills
Evaluate translation theories and methodologies, developing critiques of them and, where appropriate, proposing new hypotheses or strategies.
Demonstrate an ability to appreciate and offer balanced assessments of arguments and theories, and present the findings and conclusions in the assessment essays and, as appropriate, the dissertation.
Demonstrate an ability to evaluate arguments and theories through reflective commentary in the practical translation exercises completed in Part 1 and, as appropriate, in the Part 2 annotated translation project.
Practical Skills
Analyse arguments in your written assignments and, as appropriate to the Part 2 assessment pathway chosen, demonstrate a capacity for independent research in the choice and execution of your dissertation topic.
Deploy appropriate translation strategies to produce translations, which meet professional standards.
Demonstrate a high level of proficiency in translation practice and critical reflection.
Transferable Skills
Demonstrate skills of communication and reflection through participation in seminars and through the creation of an independent translation portfolio.
Apply skills of independent research and/or practice to small and large-scale projects.
Evaluate evidence and sources in the context of a substantial and original research project.
Use IT e.g. the Internet, databases, translation software to develop translation skills.
Demonstrate a commitment to Lifelong Learning through engaging in the process of Personal Development Planning.
Tuition fees for 2024 entry
Your tuition fees and how you pay them will depend on your fee status. Your fee status could be home, island or overseas.
Learn how we decide your fee status
Fees for home status
| Year | Tuition fee | Deposit |
| --- | --- | --- |
| Year one | £4,850 | None |
| Year two | £4,850 | None |
Students from the EU, EEA and Switzerland
If you are an EU, EEA or Swiss national, your tuition fees for 2024/25 be in line with the overseas fees for international students, unless you qualify for home fee status. UKCISA have provided information about Brexit and tuition fees.
Fees for island status
Learn more about the postgraduate fees for students from the Channel Islands or the Isle of Man.
Fees for overseas status
| Year | Tuition fee | Deposit |
| --- | --- | --- |
| Year one | £11,600 | £2,500 |
| Year two | £11,600 | None |
More information about tuition fees and deposits, including for part-time and continuing students.
Financial support
Financial support may be available to individuals who meet certain criteria. For more information visit our funding section. Please note that these sources of financial support are limited and therefore not everyone who meets the criteria are guaranteed to receive the support.
Additional costs
Living costs
We're based in one of the UK's most affordable cities. Find out more about living costs in Cardiff.
Careers and placements
The programme is aimed at students wishing to pursue a career as professional translators in both public and private sectors as well as in international institutions (such as the European Community and the United Nations) or those who are interested in translation as a basis to pursue a PhD in such disciplines as translation studies, comparative literature, cultural studies or history.
Our graduates enter a variety of professions: freelance translation, in-house translation for a large corporation, PhD study, Government administration, University administration, a range of roles in large trans-national organisations such as the United Nations World Health Organisation.
Placements
As part of the optional Training Placement module, you will have the opportunity to carry out work placements, honing your practical skills and gaining valuable experience.
---
HESA Data: Copyright Higher Education Statistics Agency Limited 2021. The Higher Education Statistics Agency Limited cannot accept responsibility for any inferences or conclusions derived by third parties from its data. Data is from the latest Graduate Outcomes Survey 2019/20, published by HESA in June 2022.