Sustainability Planning and Environmental Policy (MSc)
Duration: 2 years
Mode: Part time
---
Why study this course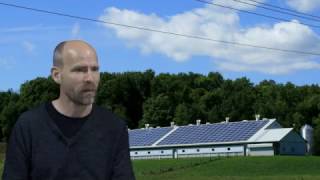 This MSc enables students to develop critical learning and applied skills in the field of contemporary sustainability.
Professionally recognised
Accredited by the Royal Town Planning Institute and the Royal Institution of Chartered Surveyors.
Balance theory, policy and practice
Link theoretical debates about sustainability at different spatial scales with practical dimensions of policy creation and implementation.
Follow your interests
The scope to focus on environmental problems and environmental policy in a range of sectors, including planning, food/agriculture, transport and housing.
Transferable skills
Develop sustainability-relevant research skills ideal for academic progression or professional practice.
Develop your knowledge and understanding of sustainability theory, principles and practice and be empowered to influence and progress policy and planning solutions for the environmental and sustainability challenges faced by government, business and regulatory bodies.
Our MSc in Sustainability, Planning and Environmental Policy (accredited by RICS and partially accredited by the RTPI), addresses three key dimensions that will provide you with the skills and knowledge to contribute to future policy development and help tackle sensitive environmental and sustainability issues. We will consider:
Principles and process - asking how policies may, or may not, achieve more sustainable development.
Resource sector studies – comparative and in-depth analysis of sustainability issues in key economic sectors (including food, transport, renewable energy and housing).
Research training – helping you to develop sustainability-relevant research skills ideal for academic progression, and professional practice.
You'll benefit from teaching which links together theoretical debates about sustainability at different spatial scales, informed by the latest social science research around environmental problems, with the practical dimensions of policy formulation and implementation. The planning system is given particular attention because it provides one of the most sophisticated contemporary mechanisms for regulating environmental change.
Accreditations
Where you'll study
Join us as we explore and tackle the social, political, economic, development and environmental challenges which affect where and how we live.
King Edward VII Avenue, Cardiff, CF10 3WA
Admissions criteria
In order to be considered for an offer for this programme you will need to meet all of the entry requirements. Your application will not be progressed if the information and evidence listed is not provided.
With your online application you will need to provide:
A copy of your degree certificate and transcripts which show you have achieved a 2:2 honours degree in a relevant subject area such as economics, geography, politics and sociology, or an equivalent international degree. If your degree certificate or result is pending, please upload any interim transcripts or provisional certificates.
A copy of your IELTS certificate with an overall score of 6.5 with 5.5 in all subskills, or evidence of an accepted equivalent. Please include the date of your expected test if this qualification is pending. If you have alternative acceptable evidence, such as an undergraduate degree studied in the UK, please supply this in place of an IELTS.
If you do not have a degree in a relevant area, your application may be considered on the basis of your professional experience. A reference must be provided by your employer to evidence that you currently work in an area relevant to the programme. This should be signed, dated and less than six months old at the time you submit your application.
Application Deadline
We allocate places on a first-come, first-served basis, so we recommend you apply as early as possible. Applications normally close at the end of August but may close sooner if all places are filled.
Selection process
We will review your application and if you meet all of the entry requirements, we will make you an offer.
Find out more about English language requirements.
Applicants who require a Student visa to study in the UK must present an acceptable English language qualification in order to meet UKVI (UK Visas and Immigration) requirements.
Criminal convictions
You are not required to complete a DBS (Disclosure Barring Service) check or provide a Certificate of Good Conduct to study this course.
If you are currently subject to any licence condition or monitoring restriction that could affect your ability to successfully complete your studies, you will be required to disclose your criminal record. Conditions include, but are not limited to:
access to computers or devices that can store images
use of internet and communication tools/devices
curfews
freedom of movement
contact with people related to Cardiff University.
Course structure
This course is offered in part-time mode normally for 2 years (though this may be extended to 3 years), leading to the award of an MSc in Sustainability, Planning and Environmental Policy.
A Diploma is awarded to students who successfully complete the taught part of the Programme but who do not wish to undertake a dissertation.
It is divided into two parts:
Part one comprises a teaching programme of core and optional modules over four semesters.
Part two comprises an individual dissertation on a topic selected you will select in consultation with members of staff. Whilst there are few constraints on the choice of topic, it must address the core course themes of sustainability, environmental policy and planning.
Course modules address three key dimensions:
Principles and processes - how policies may (or may not) achieve more sustainable development.
Resource sector studies - comparative and in-depth analysis of sustainability issues in key economic sectors (including food, transport and housing).
Research training - the development of sustainability and planning research skills.
You will be required to take taught modules to a value of 120 credits altogether, as well as the dissertation which is worth 60 credits.
The modules shown are an example of the typical curriculum and will be reviewed prior to the 2024/25 academic year. The final modules will be published by September 2024.
Year one
Year two
The University is committed to providing a wide range of module options where possible, but please be aware that whilst every effort is made to offer choice this may be limited in certain circumstances. This is due to the fact that some modules have limited numbers of places available, which are allocated on a first-come, first-served basis, while others have minimum student numbers required before they will run, to ensure that an appropriate quality of education can be delivered; some modules require students to have already taken particular subjects, and others are core or required on the programme you are taking. Modules may also be limited due to timetable clashes, and although the University works to minimise disruption to choice, we advise you to seek advice from the relevant School on the module choices available.
Learning and assessment
How will I be assessed?
Assessment methods include:
Examinations
Essays
Reports
project work
verbal presentations.
Written examinations are used to test your understanding of key environmental policy frameworks, knowledge of substantive law and ability to construct legal arguments.
Essays and reports will allow you to employ knowledge generated during the modules in pieces of policy evaluation or sustainable development in action.
Seminar presentations and debates are used to encourage you both to develop and clarify you understanding of a contemporary sustainability issues (in order to defend a debating a position) and give you an opportunity to enhance your oral presentation skills.
How will I be supported?
You will have access to a range of facilities and resources, including:
A dedicated 40 PC laboratory with high quality peripherals including; network account laser printing, large format colour printing, A4 colour printing.

GIS facilities/workstation/access to Edina digimap digital mapping facility.

An additional 30 PC open-access laboratory in the Glamorgan Building.

An excellent Planning library containing around 12,000 books, 280 journal titles and substantial annual stock expenditure.

Access to online international databases/computerised library facilities.

Access to Dyslexia resource facilities.

Use of Learning Central in all modules to provide module information and learning resources.
You will have regular meetings with your allocated personal tutor to review your progress.
English language support will be available if your first language is not English.
Support will also be available if you are working/being assessed through the medium of Welsh.
We will support the development of your professional skills during induction week by providing training on computer use and presentation skills.
Feedback
Formative feedback is given in tutorials, discussion classes and problems classes as well as through individual written comments on coursework.

What skills will I practise and develop?
You will acquire a range of skills in the analysis and critical appraisal of literature, policy and practice, in the construction and presentation of written arguments, and in the oral presentation of work.
You will also be introduced to relevant skills in the environmental assessment of projects and policies. Throughout the course, you will acquire skills in a range of environmental research methodologies.
As a graduate from this programme you will be able to:
Understand the philosophical, economic, political and social dimensions of sustainable development.
Be alert to strengths and weaknesses of the concept of sustainable development, particularly as these apply in 'real life' situations.
Interpret contemporary developments in planning through broader theoretical understanding of socio-economic political and environmental change.
Develop a detailed and critical understanding of environmental policy and environmental planning processes at the global level, within Europe and in particular within the UK; and of the links between environmental policy and the land use planning system.
Familiarise themselves with sustainability issues within a range of special fields, including: environmental assessment, climate change, transport and the environment, sustainability and the agri-food system, environmental management and regulation, and environmental management in practice.
Tuition fees for 2024 entry
Your tuition fees and how you pay them will depend on your fee status. Your fee status could be home, island or overseas.
Learn how we decide your fee status
Fees for home status
| Year | Tuition fee | Deposit |
| --- | --- | --- |
| Year one | £5,350 | None |
| Year two | £5,350 | None |
Students from the EU, EEA and Switzerland
If you are an EU, EEA or Swiss national, your tuition fees for 2024/25 be in line with the overseas fees for international students, unless you qualify for home fee status. UKCISA have provided information about Brexit and tuition fees.
Fees for island status
Learn more about the postgraduate fees for students from the Channel Islands or the Isle of Man.
Fees for overseas status
| Year | Tuition fee | Deposit |
| --- | --- | --- |
| Year one | £11,725 | £2,500 |
| Year two | £11,725 | None |
More information about tuition fees and deposits, including for part-time and continuing students.
Financial support
Financial support may be available to individuals who meet certain criteria. For more information visit our funding section. Please note that these sources of financial support are limited and therefore not everyone who meets the criteria are guaranteed to receive the support.
Additional costs
Living costs
We're based in one of the UK's most affordable cities. Find out more about living costs in Cardiff.
Career prospects
This course offers the knowledge and expertise for developing a research career or taking advantage of the increasing professionalisation of environmental jobs in the private and public sectors, including government departments and environmental agencies; the business sector; consultancy, and environmental non-governmental organisations.
---
HESA Data: Copyright Higher Education Statistics Agency Limited 2021. The Higher Education Statistics Agency Limited cannot accept responsibility for any inferences or conclusions derived by third parties from its data. Data is from the latest Graduate Outcomes Survey 2019/20, published by HESA in June 2022.