Public Health (MPH)
Duration: 2 years
Mode: Part time
---
Why study this course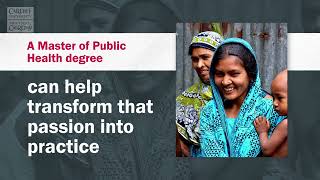 The Master's in Public Health programme is multi-disciplinary and trans-professional in both its content and the students it generally attracts. The MPH has been run successfully in Cardiff since 1989 and has a national and international reputation.
Delivered by leading experts in the broad field of public health, our Master of Public Health (MPH) programme provides a high quality, evidence based, multi-disciplinary learning experience.
A well-established and internationally renowned programme, the MPH develops public health professionals to become leaders in the protection and promotion of population and planetary health and wellbeing.
Applicants are encouraged to apply from a range of backgrounds, from medical and health professionals to analysts, computer and data scientists, engineers, architects, planners, environmental health officers, journalists, lawyers, economists, innovators, entrepreneurs and business professionals. This represents the interdisciplinary nature of public health research and practice, in line with the World Health Organisation Health In All Policies approach.
This part-time, face to face programme is supported by eLearning material housed on a modern web interface, suitable for traditional computers and tablets and using flipped teaching approaches to learning. You will experience a large range of learning approaches in this programme including debates, discussion forums and plenary sessions delivered by key experts in the field. The use of multiple approaches for you to learn will build a community of practice and enhance your collaboration with your peer and the faculty while respective that individuals will have different learning styles and needs.
This programme is delivered in 2 academic years and will consist of 4 core modules (year one) in which you explore the fundamentals of epidemiology, critically apply statistical methods in public health, apply epidemiological principles in a public health context and examine the role of health policy and planning with an introduction to health economics. You will also complete 2 speciality modules of your choice (year 2), enabling you to develop your public health interests.
There are 4 speciality modules to choose from. They offer you the opportunity to develop expertise to promote and lead change through engaging with health policy, leadership and management research and theory, examiner the importance of communicable disease surveillance, the impact of the environment on public health and methods for assessing and promoting health strategies, to maintain and improve population health, from both the UK and global perspectives. These modules will support you in making informed, strategic decisions in population health and will allow you to apply your learning on the programme by the critical evaluation of relevant case study scenarios in these fields of public health.
To gain the Master's qualification, you will be required to undertake a final dissertation project on a suitable public health topic. This will be supported through negotiation with the programme faculty and your supervisor.
It is a required course for public health trainees in Wales preparing for the examination for membership of the Faculty of Public Health.
The course aims to provide you with the knowledge to:
Quantitatively and qualitatively assess the population's health and health needs, including the determinants and status of health and well-being and development of effective action.
Critically evaluate the evidence relating to the effectiveness of health and healthcare interventions, programmes and services.
Reflect on theory and evidence, synthesising findings to promote the health of populations by influencing lifestyle and socio-economic, physical and cultural environment through methods of health promotion, including health education.
Synthesise contemporaneous evidence bases and key guidelines to protect the public's health from communicable and environmental hazards.
Collect, generate, synthesise, appraise, analyse, interpret and communicate intelligence that measures the health status, risks, needs and health outcomes of defined populations.
Strategically develop, manage, and lead innovative and inter-sectoral solutions to tackle contemporary problems, such as global climate change, environmental pollution, antimicrobial resistance, obesity and non-communicable diseases.
Distinctive features
The MPH is a required course for public health trainees in Wales preparing for the examination for membership of the Faculty of Public Health.
Course content fits closely with the syllabus of the UK Faculty of Public Health Membership examination. A long-running programme with a national and international reputation, the curriculum takes account of the changing nature of public health practice globally.
Our public health case study workshops give you an opportunity to reflect on your learning to tackle a range of scenarios. We focus on contemporary issues that can be as far-ranging as planetary health, antimicrobial resistance, mental health, lifestyle-related non-communicable diseases, to Big Data, the Internet of Things, artificial intelligence, machine learning, blockchain and digital health.
Uniquely, Cardiff University's position in the heart of the Welsh capital provides students with access to a full range of public bodies including the Welsh Assembly Government, NHS Trusts and Public Health Wales.
Our collaboration with Public Health Wales offers opportunities to join the Health Intelligence Team and participate in real-world public health investigations and applied research.
Cardiff University's position within the heart of the Welsh capital provides students with outstanding access to public bodies including the Welsh Assembly Government, NHS Trusts and Public Health Wales.
Where you'll study
We are of the largest medical schools in UK, committed to the pursuit of improved human health through education and research.
University Hospital of Wales, Heath Park, Cardiff, CF14 4XN
Admissions criteria
The course is suitable for those from a wide range of health backgrounds, including dentistry, environmental health, health information, health planning, health promotion, health service evaluation, health service management, social work, medicine, veterinary medicine, nutrition, and nursing. In addition to satisfying the Cardiff University General Entrance Requirements, including English Language requirements, applicants will normally possess an initial degree in Medicine, Dentistry, Public Health or other related field or a cognate subject, awarded by a recognised Institution, at 2:1 level or higher.
Non-graduates may also be accepted provided the applicant is able to demonstrate to the satisfaction of the Head of School or nominee that they have held, for a minimum period of two years, a position of responsibility relevant to the programme.
You will also need to provide an academic or professional reference to support your application. Your referee should comment on your academic ability, motivation for public health, work ethic, and general character. References should be signed, dated and less than six months old at the time you submit your application.
English Language Requirements
IELTS with at least 6.5 overall with a minimum of 6.0 in all subskills or equivalent.
All applications will be considered on an individual basis by the selection committee. Overseas applications should be received in good time before the start of the programme, preferably by June. UK-based applicants may be invited to attend for an informal discussion.
Find out more about English language requirements.
Applicants who require a Student visa to study in the UK must present an acceptable English language qualification in order to meet UKVI (UK Visas and Immigration) requirements.
Criminal convictions
You are not required to complete a DBS (Disclosure Barring Service) check or provide a Certificate of Good Conduct to study this course.
If you are currently subject to any licence condition or monitoring restriction that could affect your ability to successfully complete your studies, you will be required to disclose your criminal record. Conditions include, but are not limited to:
access to computers or devices that can store images
use of internet and communication tools/devices
curfews
freedom of movement
contact with people related to Cardiff University.
Course structure
The part-time MPH lasts for a total of twenty-two months and consists of two stages – "stage T" (taught stage) and "stage R" (research dissertation stage).
Taught stage
This stage lasts for approximately fourteen months, and consists of six core 20-credit modules, totalling 120 credits, at Level 7.
You will study four core modules plus choose two speciality modules.
You may exit after this stage with a Postgraduate Certificate if you have gained at least 60 credits, only where this includes the award of credit for three out of four of the required modules.
You may exit with a Postgraduate Diploma if you have gained at least 120 credits, only where this includes the award of credit for all required modules.
Research Dissertation stage
This stage lasts for a further six months and includes a dissertation of 60 credits at Level 7, to achieve a combined total of 180 credits at Level 7 to complete the MPH programme.
The modules shown are an example of the typical curriculum and will be reviewed prior to the 2023/24 academic year. The final modules will be published by September 2023.
Year one
Part-time students need to attend 1 day of teaching per week, in addition to independent study. These are scheduled for Wednesday each week. The Course Handbook will provide the course content for these days.
Year two
Part-time students need to attend 1 day equivalent of teaching per week, in addition to independent study, days dependent upon module choices. The Course Handbook will provide the course content for these days.
The University is committed to providing a wide range of module options where possible, but please be aware that whilst every effort is made to offer choice this may be limited in certain circumstances. This is due to the fact that some modules have limited numbers of places available, which are allocated on a first-come, first-served basis, while others have minimum student numbers required before they will run, to ensure that an appropriate quality of education can be delivered; some modules require students to have already taken particular subjects, and others are core or required on the programme you are taking. Modules may also be limited due to timetable clashes, and although the University works to minimise disruption to choice, we advise you to seek advice from the relevant School on the module choices available.
Learning and assessment
How will I be taught?
Each module involves e-learning and face-to-face teaching sessions, fireside chats, small group exercises and practical sessions. We utilise a range of learning approaches including debates, discussion forums and plenary sessions delivered by key experts in the field. The use of multiple learning approaches will build a community of practice and enhance your collaboration with your peers and the faculty while respective that individuals will have different learning styles and needs. The course is supported by a suite of eLearning material housed on a modern web interface, suitable for traditional computers and tablets and using flipped teaching approaches to learning.
Statistical methodology is taught alongside statistical software. This enables you to learn theoretical concepts and their application.
The communication of ideas and team-work are an integral part of all modules, and form part of the formative assessments in all modules. The promotion of basic IT skills is integrated into modules and learning technology support is available to those who need it.
Each module has its learning outcomes. These outcomes are achieved through such means as interactive teaching sessions, recommended reading texts, self-directed learning and self-assessed tasks, formative and summative assignments and the final dissertation.
Studies at the MPH dissertation level will largely consist of guided independent study and research, making use of the extensive learning and research facilities available. A project supervisor will be allocated to support and advise you on researching and writing up your specific dissertation topic.
How will I be assessed?
Knowledge and understanding is assessed through a combination of the following assessment types:
Unseen written class tests
Online MCQs (formative)
Group and individual oral presentations (formative & summative)
Peer review (formative & summative)
Individual written assignments (formative & summative)
The dissertation stage will be assessed based on a written report. Your dissertation will embody the results of your period of project work.
How will I be supported?
We emphasise supporting students with independent learning in a research- and service-informed environment, acquiring high-quality practical skills and developing innovative ideas.
A team of academic, administrative, learning technology and library staff are available throughout the year to support you. Each student is allocated a personal tutor and also will have access to the module lead tutor for further support whenever the need arises. The module lead oversees the student's academic performance throughout the module.
You will be allocated a personal tutor, for help and support with academic and pastoral needs, who you can contact to discuss progress and for advice and guidance as needed.
Feedback is provided throughout the modules via formative exercises and class interaction. Formative assessment is through practical exercises and class presentations and written feedback is provided. Feedback is also provided on summative assessments, and where appropriate through on-line discussion boards and simulation exercises.
Formative feedback will be communicated through electronic and written means in a timely manner. Summative feedback on assessment will be delivered within the timeframe set by the University.
What skills will I practise and develop?
The Learning Outcomes for this Programme describe what you will be able to do as a result of your study at Cardiff University. They will help you to understand what is expected of you.
The Learning Outcomes for this Programme can be found below:
Knowledge & Understanding:
On successful completion of the Programme you will be able to demonstrate the ability to:
Critically evaluate routine epidemiological measures of health and disease, including public health and epidemiological research methods and methodologies, critically appraising the rigour and validity of such to address population health questions and inform decision making.
Reflect on the role of epidemiology and its' contribution to public health, including health surveillance, health protection and health promotion using contemporaneous evidence to support discussions and implementation, appreciating the different political and economic contexts and how and why interventions must be tailored to different situations.
Critically analyse and interpret the distributions and determinants of health and disease grounding these in theoretical perspectives that help understand the impact of behaviour and social determinants of health and well-being.
Strategically plan the investigation of public health problems, integrating the ability to develop a robust health needs assessment with valid measures to control disease and promote well-being through critical evaluation using high-quality evidence and clinical judgement and addressing issues of equality, efficiency and healthcare planning.
Synthesise management and leadership theory to explore their impact on change on management, teamworking, policy, strategy and organisational function, including health service financing.
Critically debate the concepts that underpin heath economics and synthesise to practice, the most appropriate health economic models to use in the healthcare context justifying models to practical scenario.
Critically reflect on the major infectious agents, environmental and occupational hazards of public health importance and implications of exposures to these including the role of risk assessment, and the communication and management of risk using communicable disease concepts and supporting emergency planning and preparedness.
Synthesise quality improvement theory and research to facilitate critical review of clinical practice, including the critique of different theoretical approaches to designing and evaluating public health improvement interventions
Debate concepts of health education, health literacy, and health consciousness and the processes by which they determine health-related lifestyle behaviours and choices synthesising models around the social determinants of health and wellbeing.
Intellectual Skills:
On successful completion of the Programme you will be able to demonstrate the ability to:
critically debate with informed colleagues on key public health matters
undertake robust searches, identify pertinent literature and critically appraise the outcomes
evaluate the effectiveness of interventions through audit, service evaluation and research
assess the appropriateness of various statistical techniques for inferential analysis of data, apply appropriately, using the logical progression of data analysis effectively and interpret results in a statistical context, appreciating the results from a public health perspective
use epidemiological data to analyse a problem and formulate an appropriate response, providing a rationale for the actions proposed
Professional Practical Skills:
On successful completion of the Programme you will be able to demonstrate the ability to:
assess practical approaches to contemporaneous and specific health challenges
use statistical software to produce appropriate tables, diagrams and summary statistics for presentation of data
perform appropriate statistical analyses to interrogate public health data and data collected in research studies using statistical software
appreciate a stakeholder perspective on defining and addressing public health issues, and understand the roles and responsibilities of different domestic and international agencies
demonstrate fluency in health economic terminology
reflect on the role of epidemiology in assessing community exposure to environmental chemical releases
use epidemiological techniques to evaluate surveillance systems and to undertake field investigation
apply fundamental principles of emergency planning and preparedness
develop, deliver and evaluate health promotion activities being cognisant of the ideological dilemmas, behaviour, social factors and policy assumptions underlying different approaches
critically assess the role of the media in health promotion and respond appropriately to media led requests for information
appreciate different political and economic contexts and how and why interventions must be tailored to different situations
synthesise and judge the appropriate level of information to communicate to a range of public health audiences including senior managers, groups or individuals representing the public, politicians and the media
Transferable/Key Skills:
On successful completion of the Programme you will be able to demonstrate the ability to:
communicate information clearly both orally and in writing, especially in relation to media responses
search for and critically evaluate evidence and synthesise to practice
problem-solve and plan logically, solving problems independently and in small working groups
demonstrate negotiation skills and work well within a team setting, consulting with colleagues and acting professionally at all times
recognise and work within the limits of professional competence
use the internet to source current information about local, national and global health issues
reference correctly using Harvard convention
debate effectively in a multi-stakeholder environment in order to promote public health concerns
Tuition fees for 2023 entry
Your tuition fees and how you pay them will depend on your fee status. Your fee status could be home, island or overseas.
Learn how we decide your fee status
Fees for home status
| Year | Tuition fee | Deposit |
| --- | --- | --- |
| Year one | £5,475 | £2,000 |
| Year two | £5,475 | None |
Students from the EU, EEA and Switzerland
If you are an EU, EEA or Swiss national, your tuition fees for 2023/24 be in line with the overseas fees for international students, unless you qualify for home fee status. UKCISA have provided information about Brexit and tuition fees.
Fees for island status
Learn more about the postgraduate fees for students from the Channel Islands or the Isle of Man.
Fees for overseas status
| Year | Tuition fee | Deposit |
| --- | --- | --- |
| Year one | £12,725 | £2,000 |
| Year two | £12,725 | None |
More information about tuition fees and deposits, including for part-time and continuing students.
Financial support
Financial support may be available to individuals who meet certain criteria. For more information visit our funding section. Please note that these sources of financial support are limited and therefore not everyone who meets the criteria are guaranteed to receive the support.
Additional costs
Will I need any specific equipment to study this course/programme?
You will need a reliable computer with high speed internet access (and up-to-date virus and malware protection) and appropriate software.
Living costs
We're based in one of the UK's most affordable cities. Find out more about living costs in Cardiff.
Career prospects
MPH graduates can choose to enter the workforce, either in the public health or healthcare sector, or indeed apply public health principles in any other sector (e.g., housing, engineering, urban design, architecture, computer science, business, entrepreneurship, law, or journalism). Graduates may also apply for further training in research (e.g., PhD) or practice (e.g., fellowships, specialist training, etc).
The course helps students in their preparation for the UK Faculty of Public Health Part A examinations, enabling graduates to pursue professional careers in public health as well as a wide range of other careers, including postgraduate research.
This Masters programme enables you to demonstrate you are taking the opportunity to develop your abilities in critical analysis, problem-solving, decision-making, finding and using evidence and in dealing with complex issues. The programme is not a substitute for a formal specialty training programme but studying at this level should help successful students demonstrate numerous academic skills that should be highly regarded in relation to their career development and progression. In particular, the programme offers opportunities to demonstrate the development of knowledge and skills in relation to the application of evidence-based medicine and the potential enhancement of services and governance frameworks. As such, it should provide evidence of commitment and potential that may assist you in relation to taking on greater responsibilities or perhaps seeking management, research, scholarship, or leadership roles.
"Studying the Master of Public Health (MPH) course at Cardiff University provided me with invaluable knowledge and skills when it came to applying for Public Health Specialty Training. I recently secured a place to start the specialty training, and I'm certain that having already commenced study of the MPH made the difference between being successful or not."
Oliver Williams, MPH student (enrolled 2018)
'With a background in Environmental Geoscience I had a lot to learn about Public Health. However, with the enthusiasm and supportiveness of staff and public health experts, I completed the MPH feeling proud of what I had achieved. The comprehensive nature of the taught modules provided a detailed grounding, enabling me to apply and explore the wider context based on this knowledge. The culmination of my studies was the dissertation, where I had the opportunity to analyse raw data from Médecins Sans Frontières (Doctors Without Borders), to explore risk factors in severity and death from Hepatitis E in refugee camps in South Sudan. Upon completion of my MPH, I was motivated to continue my Public Health research and took up a PhD studentship at the University of Birmingham, with the objective to inform health interventions for indoor air pollution in Urban Rwanda. The skills and knowledge gained from the MPH have been invaluable during my first months of my PhD, enabling me write a paper for publication using pilot data.'
Katherine Woolley, MPH 2017-18
---
HESA Data: Copyright Higher Education Statistics Agency Limited 2021. The Higher Education Statistics Agency Limited cannot accept responsibility for any inferences or conclusions derived by third parties from its data. Data is from the latest Graduate Outcomes Survey 2019/20, published by HESA in June 2022.