Music (MA)
Duration: 1 year
Mode: Full time
---
Why study this course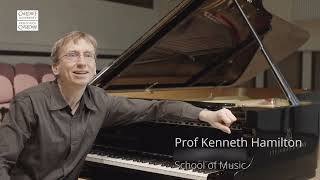 Challenge yourself academically and musically while tailoring the programme, and its rich opportunities, to meet your ambitions for the future.
Specialist pathways
Choose Performance, Composition or Music Studies, tailoring your studies to your career aspirations.
Taught by experts
Teaching delivered by internationally-recognised experts in Performance, Composition, Music Studies and Music Education.
Live and study in a musical city
Cardiff is one of the UK's liveliest musical capitals, with a national opera company, and several professional orchestras and choirs.
Workshops and masterclasses
Regular workshops, seminars and masterclasses given by visiting composers, musicologists and performers.
Our MA in Music is an opportunity to challenge yourself academically and musically in our lively and creative community, while developing a specialism in performance, composition, music studies or music education.
Placing an emphasis on flexibility and student choice, you'll be able to personalise a significant proportion of your study, tailoring the programme to meet your career goals and ambitions.
You'll also study in a research-led environment offering opportunities to engage with new research from scholars within the university, and beyond.
This programme is suited to performers, composers, music scholars and aspiring educators with an interest in developing their area of expertise, learning valuable skills, and exploring a relevant course of study.
You'll choose to follow one of four pathways on this programme.
Designed for performers who are committed to improving their skills as instrumentalists and/or singers, both as soloists and in ensembles.
You'll be equipped with the techniques and practical experience needed to pursue your own creative goals to a professional level with confidence and imagination.
Develop a solid basis in research techniques and methods in the fields of historical musicology, music analysis, popular music, and ethnomusicology, whilst exploring different music styles and traditions in their historical, analytical, and theoretical perspectives.
Designed for passionate and aspiring educators. This pathway enables you to develop and deliver teaching skills in a wide range of disciplines, culminating in a specialised project. Notable themes considered during the course include leadership, professional development, adaptability, safeguarding, research, presentation and engagement skills.
Where you'll study
Our lively, community-led School offers rigorous musical training and rich opportunities for performance, composition and music studies.
31 Corbett Road, Cathays, Cardiff, CF10 3EB
Admissions criteria
Academic requirements:
Typically, you will need to have either:
a 2:1 honours degree in music or other relevant subject area such as anthropology, cultural studies, film and media studies, history, politics, or philosophy, or an equivalent international degree
a university-recognised equivalent academic qualification.
English Language requirements:
IELTS with an overall score of 6.5 with 5.5 in all subskills, or an accepted equivalent.
Other essential requirements:
You will also need to provide:
two references, at least one of which should be an academic reference
a personal statement which

demonstrates your interest in the programme and your background in the field of study
states the name of the pathway you are interested in applying to - Composition, Music Studies, or Performance
covers specific requirements for your chosen pathway (one of the following)

Composition - addresses your style and rationale for your compositions, looking at techniques, imagination and confidence in approach
Music Studies - information on your musical experience
Performance - discussion and evidence of your knowledge of performance, style, and technique

additional evidence for your chosen pathway

Composition - provide three notated scores in either Sibelius, Finale, or PDF. Audio links of these pieces would also be helpful but you will not be penalised if these cannot be provided
Music Studies - provide an essay which is the best example of your undergraduate work (in English or Welsh). The essay should be of 1500-2000 words about a specific topic (e.g., a composer, piece, musical practice) which demonstrates your knowledge of leading scholars, contemporary theories, and relevant literature in the field. The essay should include citations and a comprehensive bibliography. Unless discussing ethnography, narratives about musical experience should be in your personal statement rather than essay sample
Performance - provide a link to an online audition showing an unedited video performance of two contrasting pieces of music, with your face and hands visible at all times to show technique (performance evidence).
Application deadline:
We allocate places on a first-come, first-served basis, so we recommend you apply as early as possible.
Selection process:
We will review your application including all evidence you have provided and if you meet the requirements, we will make you an offer.
Find out more about English language requirements.
Applicants who require a Student visa to study in the UK must present an acceptable English language qualification in order to meet UKVI (UK Visas and Immigration) requirements.
Selection or interview process
Decisions are made based on your written application and references which are received on a continuous basis throughout the year.
Applicants are not routinely invited to interview but this is at the discretion of the admissions tutor.
Criminal convictions
You are not required to complete a DBS (Disclosure Barring Service) check or provide a Certificate of Good Conduct to study this course.
If you are currently subject to any licence condition or monitoring restriction that could affect your ability to successfully complete your studies, you will be required to disclose your criminal record. Conditions include, but are not limited to:
access to computers or devices that can store images
use of internet and communication tools/devices
curfews
freedom of movement, including the ability to travel to outside of the UK or to undertake a placement/studies outside of Cardiff University
contact with people related to Cardiff University.
Course structure
This is a one-year full time programme totalling 180 credits.
Stage one
Modules taken vary according to the pathway/area of study chosen.
In the Autumn Term all students will undertake general research skills training via the MA Research Skills module. In addition, there are core specialist pathway modules:
Performance: Music Leadership & Public Engagement, Closed Recital
Composition: Music Leadership & Public Engagement, Composition Portfolio
Music Studies: Music Research in Practice, Introducing Music Studies
Music Education: Music Leadership & Public Engagement, The Theory and Practice of Teaching Music
In the Spring term you choose from a selection of optional modules which are available to students across all pathways, and which allow you to hone your skills and interests.
Stage two
Modules in stage one are followed by a major project, relevant to your chosen pathway:
Performance: a public recital
Composition: a thesis composition
Music Studies: a dissertation
Music Education: a specialist education project
The modules shown are an example of the typical curriculum and will be reviewed prior to the 2024/25 academic year. The final modules will be published by September 2024.
The University is committed to providing a wide range of module options where possible, but please be aware that whilst every effort is made to offer choice this may be limited in certain circumstances. This is due to the fact that some modules have limited numbers of places available, which are allocated on a first-come, first-served basis, while others have minimum student numbers required before they will run, to ensure that an appropriate quality of education can be delivered; some modules require students to have already taken particular subjects, and others are core or required on the programme you are taking. Modules may also be limited due to timetable clashes, and although the University works to minimise disruption to choice, we advise you to seek advice from the relevant School on the module choices available.
Learning and assessment
How will I be taught?
Teaching of academic modules is delivered primarily through seminars and small-group tutorials, and you'll have the opportunity to develop your own interests through fieldwork, interdisciplinary study, and other areas of work.
Our regular series of workshops and masterclasses allow you to work directly with distinguished composers and performers.
All postgraduate taught students are expected to attend and participate in a regular postgraduate forum and to attend the school's research lecture series, which attracts visiting speakers from around the world.
Performance
In addition to the academic modules delivered through tutorials and seminars, instrumental/vocal tuition is delivered on a one-to-one basis with your allocated instrumental/vocal tutor. Instrumental/vocal teaching will total no more than 24 hours throughout the duration of the programme. In addition, you'll be expected to pursue private reading, listening, instrumental/vocal practice.
You'll also participate in a range of ensembles (refer to the School of Music website for a list of professionally led ensembles) and will perform in the School's Performance classes and Postgraduate Performance Seminars.
Recital programmes will be your own choice made in consultation with your allocated instrumental/vocal tutor and the recital module leader.
For the Stage Two Public Recital you will give a 45-50 minute public performance. This is in addition to a 25 minute Closed Recital which you will perform at the end of Stage One of the programme.
Composition
Teaching of the composition modules is via individual one-to-one tutorials. Teaching of the academic and technical areas of the discipline is delivered through tutorials and seminars (for each module).
Attendance at all seminars and tutorials is compulsory. You will be expected to pursue private study and participate in the Postgraduate Composition Seminars and Composition Workshops.
For the Stage Two Thesis Composition Portfolio, you will be allocated a supervisor who will guide and advise through five 60-minute individual sessions.
Music Studies
Teaching of academic modules is delivered via tutorials and seminars (for each module). Attendance at all seminars and tutorials is compulsory. In addition, you will be expected to pursue private study and attend and participate in the Postgraduate Research Seminars.
For the Stage Two Dissertation, you'll be allocated a supervisor who will guide and advise through a minimum of five 60-minute individual sessions.
Music Education
Teaching of academic modules is delivered via tutorials and seminars (for each module). Attendance at all seminars and tutorials is compulsory. In addition, you'll be expected to pursue private study and attend and participate in the Postgraduate Music Education Seminars.
One of the advantages of this pathway is you can collaborate with students on the performance and composition pathways and engage in leadership and engagement projects that can bring together your interests in music education.
For the Stage Two Specialist Project, you'll be allocated a supervisor who will guide and advise through a minimum of five 60-minute individual sessions.
How will I be assessed?
Taught modules are assessed in a variety of ways. Specific assessment methods differ depending on the pathway that you've selected, as follows:
Performance
oral presentations
ensemble performance
solo performance
lecture recital
written report
practical portfolio
printed programme with scholarly programme notes and performance diary
Composition
composition portfolios
essays
written reports and/or commentaries
IT computer-based notational assignments (incl. editing)
oral presentations
orchestrations
Music Studies
extended essays
written reports
field work, as needed
oral presentations
dissertation (12–15,000 words)
Music Education
oral presentations
written reports and commentaries
extended essays and/or projects
lesson plans
digital/Technology-based projects
specialist project
How will I be supported?
At the start of the year, you'll be given a guide to module aims, learning outcomes, methods of assessment, module syllabuses, and reading and listening lists. Your allocated personal tutor will be able to provide advice and guidance on module choices and you'll have regular meetings with them.
For the stage two projects you'll have a supervisor to monitor progress and provide individual consultations by arrangement.
Instrumental tuition for performance pathway students is fully funded by the School of Music on your principal study instrument, including accompaniment at recitals. You'll receive 24, hour-long lessons over the duration of the course.
You'll have access through the Learning Central website to relevant multimedia material, presentations, lecture handouts, bibliographies, further links, electronic exercises and discussion circles.
You'll also benefit from excellent libraries and resource centres.
The university offers a range of services including Student Futures (careers and employability) and the broader Student Life services which include support related to health and wellbeing, disability and dyslexia, equality, diversity and inclusion, and advice related to money matters.
Feedback
You'll receive written feedback on all assessments. The opportunity to test knowledge and understanding will also be provided through the weekly seminars of the postgraduate forum.
What skills will I practise and develop?
You'll acquire and develop a range of valuable discipline-specific skills, as well as employability, research, communication, and presentation skills.
Performers will acquire specific skills, such as the practical and interpretative musical skills associated with your chosen instrument or voice, an understanding of the relationship between the history and practice of music, knowledge of repertoires and recent developments in performance practice, as well as participating in lecture-recital, public recital, and ensemble recitals.
Composers can expect to acquire specific skills, such as knowledge and understanding of contemporary compositional techniques, IT skills in music notation inputting and editing, the ability to rehearse an ensemble, communicate musical intentions to performers via notation and written instructions, direct a rehearsal of your own composition as a conductor, and illustrate how established techniques of research and enquiry are used to create and interpret knowledge.
If you are following the music studies pathway, you'll acquire specific skills, such as the ability to analyse and process complex texts, ideas and concepts, develop different forms of academic writing, experience of oral and written presentations, gain an understanding of standard bibliographies, catalogues and other reference material in music, develop research techniques and choice of appropriate sources to aid individual research, undertake complex library-based research, undertake field work and interpret a range of quantitative and qualitative data.
Students on the music education pathway can expect to exhibit knowledge and understanding of a range of oral communication skills suitable to teaching; link pedagogical theory and research with practical skills; demonstrate fluency in mixed-media demonstrations; demonstrate a critical self-awareness of their teaching; and show understanding of the pastoral, administrative and assessment responsibilities within the teaching profession.
The Learning Outcomes for this Programme describe what you will achieve by the end of your programme at Cardiff University and identify the knowledge and skills that you will develop. They will also help you to understand what is expected of you.
On successful completion of your Programme, you will be able to:
Knowledge & Understanding:
KU 1 Demonstrate in-depth and rigorous specialist knowledge, creativity, imagination, flair, skill and understanding in one of the following: performance, composition, music studies or music education.
KU 2 Possess a critical awareness of, and sensitivity towards the component sub-disciplines within their specialist field of music.
KU 3 Demonstrate a broad contextual knowledge relevant to a specialist discipline within music, including the relationship to wider historical, philosophical and cultural issues and practices.
KU 4 Demonstrate knowledge and understanding of techniques and scholarship with analytical and critical awareness.
Intellectual Skills:
IS 1 Demonstrate the ability and confidence to see a major project through to completion while being aware of intellectual or artistic growth to ensure continuing creativity and scholarship.
IS 2 Develop reasoned, coherent arguments about specific problems, utilising and applying methodologies, evidence, appraisal techniques and skills effectively in order to carry out tasks.
IS 3 Think critically, analytically, sensitively and reflectively about music, identifying significant formal, historical, and cultural patterns in the way it is performed, composed, or used.
Professional Practical Skills:
PS 1 Have a strong ability to find creative links between the results of personal research or scholarship, textual and musical analysis, reflection and listening skills.
PS 2 Demonstrate the relationship between theory and practice in music, using relevant techniques and methods to explain and exemplify interrelationships.
PS 3 Demonstrate a confident ability to work closely with other musicians in the preparation and delivery of collaborative projects.
PS 4 Exercise initiative and personal responsibility in planning and implementing tasks, and demonstrate enterprise skills such as creativity, problem-solving and independent learning.
PS 5 Display artistic, technical and/or critical skills in planning, evaluating and reflecting critically on work in progress, with an ability to assimilate and summarise complex information and ideas.
Transferable/Key Skills:
KS 1 Communicate intentions clearly, economically and persuasively in a variety of formats including written, oral and/or notated work.
KS 2 Engage effectively in debate in a professional manner and prepare and present work to a professional standard for a range of assessment types and formats.
KS 3 Possess academic and personal skills such as critical thinking, writing, oral presentation, problem solving, collaborative group work, time-management, and the use of information and/or digital technologies.
KS 4 Have the capacity for problem-solving and originality in thinking by using knowledge and skills to tackle familiar and unfamiliar problems.
Other information
Our Postgraduate Suite provides dedicated, 24-hour study facilities for postgraduate students, including computer workrooms with networked Macs and PCs, Sibelius notation software, listening rooms, photocopying facilities, a kitchen, and a social space.
Tuition fees for 2024 entry
Your tuition fees and how you pay them will depend on your fee status. Your fee status could be home, island or overseas.
Learn how we decide your fee status
Fees for home status
Fees for entry 2024/25 are not yet available.
Students from the EU, EEA and Switzerland
We are currently awaiting confirmation on tuition fees for the 2024/25 academic year.
Fees for island status
Learn more about the postgraduate fees for students from the Channel Islands or the Isle of Man.
Fees for overseas status
We are currently awaiting confirmation on tuition fees for the 2024/25 academic year.
Additional costs
If you are on the Music Studies pathway you may choose to undertake fieldwork as part of your stage two Dissertation research. You will need to cover any fieldwork research costs.
Will I need any specific equipment to study this course/programme?
Apart from a performer's principal instrument, any equipment required will be supplied by the school.
Living costs
We're based in one of the UK's most affordable cities. Find out more about living costs in Cardiff.
Careers and placements
You'll gain a broad spectrum of knowledge relating to music and a variety of skills, making you highly attractive to both potential employers and research establishments. The MA programme has been designed to provide you with advanced knowledge, understanding, and skills in your chosen area of study. It is ideal preparation for progression into practice or a research pathway, such as our PhD in Music.
Our graduates are sought after by employers, across a wide range of roles and sectors. Recent graduates have taken on roles including musicologist, administrator, music manager, freelance musician, research development officer and music teacher.
Our annual series of talks on Careers in Music offers a great chance to meet professionals active in a range of fields such as performance, music education, music journalism, arts and artist management, production and licensing, and composing for media.
Placements
While there are no placements for the Music Education pathway, the School of Music may facilitate optional half-day site visits to pre-tertiary institutes that will offer opportunities for students to address a specific educational need, experience. and interest. Activities may include teaching, taking workshops, rehearsing/directing, or observing, all with a teacher present. There will also be the possibility of hosting school visits to the School of Music.
---
HESA Data: Copyright Higher Education Statistics Agency Limited 2021. The Higher Education Statistics Agency Limited cannot accept responsibility for any inferences or conclusions derived by third parties from its data. Data is from the latest Graduate Outcomes Survey 2019/20, published by HESA in June 2022.