Children's Psychological Disorders (MSc)
Duration: 1 year
Mode: Full time
---
Why study this course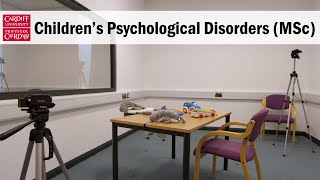 This programme will equip you with a theoretical understanding of the psychological factors that cause and maintain emotional and behavioural problems in children.
Incredible range of developmental facilities
You will have access to a range of facilities including a sensory room, observation labs and neuroimaging labs.
Specialist developmental training
This course provides training in emotional, cognitive and neurodevelopmental assessments for children, as well as observational coding of child behaviour and parent-child interaction.
Research-active staff involved in course design and delivery
Most of our teaching staff are practising researchers and, in many cases, leading experts in their fields.
This MSc in Children's Psychological Disorders will equip you with a thorough theoretical understanding of the psychological factors that cause and maintain emotional and behavioural problems in children.
Taught by leading international experts, you will discover and research how both mental health difficulties and neurodevelopmental conditions, which include anxiety, depression, ADHD, autism and conduct disorder, emerge in childhood. You will gain an in-depth knowledge of how these conditions can be best assessed; enabling you to subsequently inform intervention and advise the best course of treatment.
Located at our dedicated Centre for Human Development Science (CUCHDS), this programme will also equip you with the skills, knowledge and experience to pursue a rewarding career in child neuro – development, clinical psychology or educational psychology.
You will undergo a range of professional training in emotional, cognitive and neurodevelopmental assessments for children, classification systems of childhood disorders and in observational coding of child behaviour and parent-child interaction.
Research training also forms a key focus of this programme, and it is designed to strengthen your credentials for entry to a PhD in developmental psychopathology, or to doctoral training programmes in Clinical or Educational Psychology.
In addition to providing training in basic research, the course aims to integrate research perspectives from clinical and educational psychology.
Where you'll study
Study in a dynamic and stimulating learning environment, informed by our leading research in psychology and neuroscience.
70 Park Place, Cardiff, CF10 3AT
Admissions criteria
Academic requirements:
Typically, you will need to have the equivalent of 65% overall in a UK degree in Psychology or a Psychology-related subject, or a recognised equivalent qualification.
You will need to be able to handle scientific concepts, be numerate, and have excellent writing skills. A-levels in Biology, Chemistry, History, Mathematics, and English at grade A are desired.
Other essential requirements:
You will also need to provide:
two references, one of which should be an academic reference. If you are a current Cardiff University student, you are not required to supply references.
a personal statement of no more than 600 words which answers the six questions below.
Why would you like to study the MSc in Children's Psychological Disorders?
Why would you like to do this at the Cardiff University Centre for Human Development Sciences (CUCHDS)?
Which aspect of our course interests you most, and why?
Please discuss a research finding on children's psychological disorders which you found interesting.
How will completion of this course help you to achieve your career goals?
Please describe your familiarity and expertise in psychological research methods in general and SPSS in particular.
English language requirements:
IELTS with an overall score of 7.5 and 6.5 in all subskills, or an acceptable equivalent.
Selection process:
If you meet the entry requirements, you will be made an offer.
Application deadline:
Offers are made on a first come, first served basis and so early application is recommended.
Find out more about English language requirements.
Applicants who require a Student visa to study in the UK must present an acceptable English language qualification in order to meet UKVI (UK Visas and Immigration) requirements.
Criminal convictions
You are not required to complete a DBS (Disclosure Barring Service) check or provide a Certificate of Good Conduct to study this course.
If you are currently subject to any licence condition or monitoring restriction that could affect your ability to successfully complete your studies, you will be required to disclose your criminal record. Conditions include, but are not limited to:
access to computers or devices that can store images
use of internet and communication tools/devices
curfews
freedom of movement
contact with people related to Cardiff University.
Course structure
Teaching is organised across three semesters: autumn, spring and summer. Semesters 1 and 2 each have three 20-credit modules, involving lectures, seminars and workshops; in Semester 3 you will do a research placement that results in a research project. Each module lasts 10-weeks and is assessed by means of formative and summative assessments.
The modules shown are an example of the typical curriculum and will be reviewed prior to the 2024/25 academic year. The final modules will be published by September 2024.
Semester 1:
1. Origins of Developmental Psychopathology (20 credits)
2. Introduction to Clinical and Educational Psychology (20 credits)
3. PG research design and statistics, and child assessment methods (20 credits)
Semester 2:
1. Neurodevelopmental Disorders 1: Neurobiology (20 credits)
2. Neurodevelopmental Disorders 2: Cognition and emotion (20 credits)
3. Child assessment and intervention (20 credits)
Dissertation Stage:
Dissertation: Research project (60 credits).
The University is committed to providing a wide range of module options where possible, but please be aware that whilst every effort is made to offer choice this may be limited in certain circumstances. This is due to the fact that some modules have limited numbers of places available, which are allocated on a first-come, first-served basis, while others have minimum student numbers required before they will run, to ensure that an appropriate quality of education can be delivered; some modules require students to have already taken particular subjects, and others are core or required on the programme you are taking. Modules may also be limited due to timetable clashes, and although the University works to minimise disruption to choice, we advise you to seek advice from the relevant School on the module choices available.
Learning and assessment
How will I be taught?
The School's educational philosophy rests upon the precept that good research benefits good teaching. All teaching and learning is research-led. A diverse range of teaching and learning styles are used throughout the MSc. You will attend lectures, participate in seminars, journal clubs and tutorials, and gain experience in child assessment methods. You will play a leading role in your own training. The School facilitates learning by identifying appropriate reading and organising practical classes.
Workshops and Lab-based practical classes
You will have the opportunity for a significant amount of practical experience (data acquisition and analysis) in various workshops/demonstrations in Semesters 1 and 2, including clinical interviewing, eye-tracking, observational coding, executive functioning and verbal ability testing. The practical skills gained will cement your understanding of the theory presented in the lectures and offer a basis for the research work in Semester 3.
Lectures
Lectures highlight not only what is known, but also what is not known. You are encouraged to think of what needs to be done to advance knowledge. To this end the lectures are of 2 hours' length to allow more complex arguments to be examined, and to encourage more time for discussion and questioning between students and lecturers.
Dissertation
Students undertake a major research project during Semester 3. You are encouraged to identify yourself a supervisor with whom you would like to work on your project and to approach that supervisor to develop and plan a project that is of mutual interest. Tutors can help you identify an appropriate supervisor if necessary.
CPD Seminars
Nationally renowned researchers, clinicians and educational psychologists will give seminars on a monthly basis. This exposes you to cutting edge research and/or relevant practical issues, and helps to prepare you for your future research and work. You are encouraged to attend other seminars around the University that are relevant to your course and general learning. Many of these are advertised through the University's Neuroscience and Mental Health Research Institute. (www.cardiff.ac.uk/research/neuroscience-mental-health)
School Seminars
As well as the monthly CPD Seminars, the School holds regular research seminars throughout the year. These seminars are presented by visiting speakers and members of staff and allow you to keep up to date with the latest research ideas. You are strongly encouraged to attend these seminars.
How will I be assessed?
You will be assessed in a variety of ways both to inform learning (formative) and to assess learning (summative). Six modules to the value of 20 credits each are studied in Semester 1 and 2. Five of these modules include written examinations (essay format); all modules are also assessed via essays and/or practical assignments. In Semester 3 the Research Project (60 credits) is assessed via a journal article style dissertation (100%).
For the programme as a whole, the assessments include examinations, written assignments, oral presentations, and the dissertation. In addition, during the year you build up a reflective portfolio in which you show evidence of your knowledge of and training experience in a range of approaches and assessments. This assessment strategy aims to ensure that you demonstrate a 'reciprocal critical-exploratory' approach in which you demonstrate your ability to use the skills and knowledge acquired to inform your practical work and also use your experience in practice to critically evaluate your knowledge.
How will I be supported?
You will be allocated a personal tutor, who will be one of the module leaders on the course. This tutor will be available to provide pastoral care and general advice and will also be responsible for monitoring your academic progress. The tutor can help in assigning potential supervisors for the Semester 3 research project. The project supervisor will schedule regular meetings to discuss progress and provide advice and guidance
Feedback
Feedback will be provided via tutorials, practical's and coursework comment/mark sheets. There will also be regular meetings with personal tutors.
What skills will I practise and develop?
You will acquire and develop a range of valuable skills, both those that are discipline specific and more generic 'employability skills'. Through the programme you will develop research- and clinically-based assessment skills, and will be presented with a number of opportunities to extend your communication and presentation skills, both oral and written. Other specific skills that will be acquired, are the ability to design an empirical study in children, to collect, analyse and interpret a range of complex data. A number of valuable research or practical skills will also be developed through completion of the Research Project.
What are the learning outcomes of this course/programme?
Knowledge & Understanding:
On successful completion of the Programme you will have gained:
A systematic understanding of knowledge and a critical awareness of current problems and/or new insights, much of which is at, or informed by, the forefront of psychology, research on developmental psychopathology, and/or area of professional practice (clinical and educational psychology);
A comprehensive understanding of techniques applicable to own research or advanced scholarship.
Intellectual Skills:
On successful completion of the Programme you will be able to demonstrate:
Originality in the application of knowledge, together with a practical understanding of how established techniques of research and enquiry are used to create and interpret knowledge in the discipline;
Conceptual understanding (1) to evaluate critically current research and advanced scholarship in the discipline, and (2) to evaluate methodologies and develop critiques of them and, where appropriate, to propose new hypotheses.
Professional Practical Skills:
On successful completion of the Programme you will be able to demonstrate:
Effective communication and listening;
Team working via participation in day-to-day activities of the course and your research group;
Readiness to improve own performance based on reflective learning occurring across the year and in relation to practical activities.
Transferable/Key Skills:
On successful completion of the Programme you will be able to:
Exercise initiative and personal responsibility;
Make decisions in complex and unpredictable situations;
Learn independently to support your continued professional development.
Tuition fees for 2024 entry
Your tuition fees and how you pay them will depend on your fee status. Your fee status could be home, island or overseas.
Learn how we decide your fee status
Fees for home status
Fees for entry 2024/25 are not yet available.
Students from the EU, EEA and Switzerland
We are currently awaiting confirmation on tuition fees for the 2024/25 academic year.
Fees for island status
Learn more about the postgraduate fees for students from the Channel Islands or the Isle of Man.
Fees for overseas status
We are currently awaiting confirmation on tuition fees for the 2024/25 academic year.
Additional costs
Will I need any specific equipment to study this course/programme?
No
Living costs
We're based in one of the UK's most affordable cities. Find out more about living costs in Cardiff.
Career prospects
Research degree (PhD) and academic career in developmental psychopathology.
A career in translational research in practice or in applied research centres, in mental health or educational services.
Work in clinical or educational practice as an assistant psychologist.
The qualification will be helpful for those who will later want to apply for a DClinPsych or DEdPsych degree.
Work in a variety of professional fields involving work with children and young people, such as education, health and social care, family policy, youth work, justice, international development and charity work.
---
HESA Data: Copyright Higher Education Statistics Agency Limited 2021. The Higher Education Statistics Agency Limited cannot accept responsibility for any inferences or conclusions derived by third parties from its data. Data is from the latest Graduate Outcomes Survey 2019/20, published by HESA in June 2022.