Broadcast Journalism (MA)
Duration: 1 year
Mode: Full time
---
Why study this course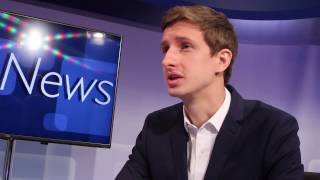 Our MA in Broadcast Journalism is a challenging, practical programme, designed to prepare you for a career in broadcast news in the UK.
Get accredited
An accredited course ensures your CV stands out – we are accredited by the Broadcast Journalism Training Council (BJTC).
Placement opportunities
Putting into practice what you have learned builds self-confidence, prepares you for your first job and grows your network of contacts.
All-new facilities
Our new TV and radio studios use industry standard equipment and software - ensuring you're fully prepared for your first day in work.
Join the press pack
Our city centre location means you're next to Cardiff's local and national media companies such as the BBC and Wales Online.
Never miss an interview
You'll be connected to the entire city with Cardiff's main train station Cardiff Central just 100 metres away.
UK's first Journalism School
To be #CardiffTrained means you'll belong to one of the UK's most respected journalism schools with a stellar list of former students.
The MA in Broadcast Journalism is an intensive year-long course covering radio, television, social and digital journalism.
Purpose built TV and radio studios will allow you to gain hands-on experience as you learn how to gather, prepare, publish and broadcast your content. We're not looking for ready-made journalists, but you will need to demonstrate a keen interest in news and evidence your commitment to a career in journalism through prior work experience or placements, whether paid or unpaid.
We expect you to be engaged with what's happening in the world; if you regularly watch and listen to TV and radio news programmes, that's a good start.
Your time with us will be hard work but rewarding and will hopefully be the beginning of an exciting career in the UK media. We know employers look for talent that is multi-skilled, familiar with the latest technology and able to work independently. With that in mind, we aim to equip you with a broad set of digital production skills to support your future ambitions.You will also undertake a three-week industry placement to put these skills into practice.
This course is professionally accredited by the Broadcast Journalism Training Council and prepares students to work in the UK News media. International students who meet the entry criteria and have career ambitions to work in the UK are welcome to apply, but those with broader journalism ambitions may prefer our MA International Journalism programme.
Accreditations
Where you'll study
We provide a scholarly environment to help you acquire both the knowledge and skills needed to enter your chosen area of the media.
Central Square, Cardiff, CF10 1FS
Admissions criteria
Academic requirements
Typically, you will need to have either:
a 2:2 honours degree, in any subject, or an equivalent international degree
a university-recognised equivalent academic qualification
or relevant professional experience evidenced by a reference.
English language requirements
IELTS with an overall score of 7.5 with 7.5 in all subskills, or an accepted equivalent.
Other essential requirements
You will also need to provide:
a personal statement of no more than 400 words to support your application. Your personal statement will be assessed on the following three questions:

Why do you want to apply for this course at Cardiff University? (150 words)
What journalism or media experience do you have? (150 words)

This may include experience working in student media, in a voluntary capacity, or while on placement. It doesn't have to be paid work experience.

What are your career aspirations? (100 words)

contact details of a referee who may be contacted to verify any information you have provided.
Application Deadline
We allocate places on a first-come, first-served basis following a successful interview, so we recommend you apply as early as possible. Interviews are scheduled between January and June.
Selection process
If you meet the entry criteria and pass the screening process, you will be invited to the next stage of the selection process. This comprises one-to-one or small group interviews and exercises to assess your skills relevant to the discipline, and to careers in journalism and media. This may include writing skills, broadcast skills (i.e. voice tests), your understanding of the discipline, and your ability to determine news priorities.
Find out more about English language requirements.
Applicants who require a Student visa to study in the UK must present an acceptable English language qualification in order to meet UKVI (UK Visas and Immigration) requirements.
Criminal convictions
You are not required to complete a DBS (Disclosure Barring Service) check or provide a Certificate of Good Conduct to study this course.
If you are currently subject to any licence condition or monitoring restriction that could affect your ability to successfully complete your studies, you will be required to disclose your criminal record. Conditions include, but are not limited to:
access to computers or devices that can store images
use of internet and communication tools/devices
curfews
freedom of movement
contact with people related to Cardiff University.
Course structure
This is a year-long course.
Broadcast journalism skills are acquired through a series of lectures, demonstrations, practical exercises and feedback sessions of increasing complexity and realism - from 'paper exercises' in the early days to complex radio and television productions that report on real events in real time. These sessions are supplemented by seminars, playbacks, group discussions and industry guests.
The modules shown are an example of the typical curriculum and will be reviewed prior to the 2023/24 academic year. The final modules will be published by September 2023.
Basic writing, reporting and technical skills are taught in the first semester against a background of group listening and viewing to good current professional practice.
The second semester adds editorial and production skills in both radio and television. We use the device of twice weekly 'production days' to integrate newsgathering and production skills with the team working and editorial/resource management skills needed to produce real-time broadcast outputs.
During the Easter break you will test your skills against the real world in a work placement (or placements) of a minimum three weeks duration in a radio or television newsroom of your choice.
Following the Easter recess you will have the opportunity to study from a wide and varied selection of elective modules which include sports, motoring, business and data journalism.
Finally individual writing, reporting and storytelling skills are tested in both media are tested in the final portfolio of work and the final practical examinations.
Your major project will be self-accessed and student-led. You will originate, research and produce a story that will be delivered for radio, television and online.
The University is committed to providing a wide range of module options where possible, but please be aware that whilst every effort is made to offer choice this may be limited in certain circumstances. This is due to the fact that some modules have limited numbers of places available, which are allocated on a first-come, first-served basis, while others have minimum student numbers required before they will run, to ensure that an appropriate quality of education can be delivered; some modules require students to have already taken particular subjects, and others are core or required on the programme you are taking. Modules may also be limited due to timetable clashes, and although the University works to minimise disruption to choice, we advise you to seek advice from the relevant School on the module choices available.
Learning and assessment
How will I be taught?
You will be taught through a variety of practical workshops, studio time and productions days which replicate an industry environment as well as lecture series to support the more academic elements of the course.
How will I be assessed?
You will be assessed through a wide range of formative and summative assessments throughout the course. These range from practical class room activities to academic essays and examinations.
How will I be supported?
You will be allocated a Personal Tutor, for help and support with academic and pastoral needs, who is available when needed to discuss progress, provide advice and guidance.
You will be supported by the Student Support services in the school and through wider university resources.
You will have regular tutorials with programme directors/personal tutors as well as the opportunity to meet with module co-ordinators on request.
Feedback
Feedback is provided at each assessment point for summative assessments, formative feedback is provided in practical sessions and throughout teaching.
What skills will I practise and develop?
On completion of the course you will be able to:
Identify, research, produce and distribute news stories targeted at a specific audience to an agreed deadline.
Write accurate, concise copy that is fair, balanced and suitable for broadcast and other digital platforms.
Use a range of software and hardware to record, edit and publish content.
Present live and recorded material confidently, in an accurate and conversational manner.
Knowledge and understanding
On completion of the course you should:
Be able to describe the principles, theory, philosophy, ethics, law and practice of journalism, especially broadcast journalism.
Have developed professional news values and the ability to use them to identify appropriate stories and use this information to write or otherwise produce effective pieces of broadcast and digital journalism.
Understand how to adapt this material to the needs of differing audiences, platforms and editorial objectives.
Be able to display competence in the use of relevant pieces of broadcast software and hardware.
Intellectual skills
On completion of the course you should:
Demonstrate an awareness of the role of the broadcast journalist across a range of outputs across the industry.
Be able to critically analyse material broadcast by different news organisations.
Be able to communicate complex stories effectively for radio, TV and other platforms from a range of primary and secondary sources and background knowledge, using appropriate techniques.
Demonstrate the ability to develop programme ideas and communicate them effectively to a team of journalists.
Understand the editorial, and administrative skills and techniques needed to realise these ideas.
Show an understanding of the managerial skills needed to lead a team of journalists.
An understanding and experience of:
The roles involved in broadcast journalism: editor, producer, reporter, production journalist etc.
The editorial and practical skills needed to create appropriate running orders for programmes and shorter bulletins.
The principles of mobile and digital journalism; practical experience of putting these to use.
Capture/editing/playout software and hardware for radio, TV and other platforms.
The range of roles in the radio studio and TV gallery.
Using online/digital tools to create and manipulate content for a variety of platforms.
The most effective ways to pitch story ideas to colleagues and to operate effectively in a newsroom environment.
Identifying and developing contacts and other sources, either through a specific "patch" or more generally, in order to generate news stories.
How to deliver broadcast scripts, live and pre-recorded, in a professional manner.
Effective interviewing techniques when dealing with contributors.
Using a range of equipment – both for radio and TV – to gather broadcast standard content.
Using a mobile device to gather and distribute content for radio, TV and other platforms.
How to work safely on location.
Shorthand is not a compulsory element of the Broadcast course but it is made available at no extra cost. All broadcast students, and especially those with reporting ambitions, should seriously consider taking advantage of this opportunity to acquire an invaluable journalistic skill.
Tuition fees for 2023 entry
Your tuition fees and how you pay them will depend on your fee status. Your fee status could be home, island or overseas.
Learn how we decide your fee status
Fees for home status
| Year | Tuition fee | Deposit |
| --- | --- | --- |
| Year one | £11,700 | None |
Students from the EU, EEA and Switzerland
If you are an EU, EEA or Swiss national, your tuition fees for 2023/24 be in line with the overseas fees for international students, unless you qualify for home fee status. UKCISA have provided information about Brexit and tuition fees.
Fees for island status
Learn more about the postgraduate fees for students from the Channel Islands or the Isle of Man.
Fees for overseas status
| Year | Tuition fee | Deposit |
| --- | --- | --- |
| Year one | £21,450 | £2,000 |
More information about tuition fees and deposits, including for part-time and continuing students.
Financial support
Financial support may be available to individuals who meet certain criteria. For more information visit our funding section. Please note that these sources of financial support are limited and therefore not everyone who meets the criteria are guaranteed to receive the support.
Additional costs
Living costs
We're based in one of the UK's most affordable cities. Find out more about living costs in Cardiff.
Careers and placements
This is a period of great change in all fields of journalism – including broadcast – but our employment record continues to be good.
Our graduates typically leave us to work as broadcast journalists in local radio or regional TV newsrooms. Recent graduates are now working for organisations like BBC and ITV News, SKY, CNN, Reuters, Bloomberg and Al Jazeera English. Over the years we have helped hundreds of people to start their careers in broadcast journalism. Many are now working at the top of the profession.
Placements
You will undertake a 15 day industry placement during the Easter break. Placements are co-ordinated by the course tutors and take into account your geographical preferences. Placements may be in radio or TV newsrooms, or both.
Studing in Welsh
Up to 10% of this course is available through the medium of Welsh. Please contact the Admissions tutor for more information.
---
HESA Data: Copyright Higher Education Statistics Agency Limited 2021. The Higher Education Statistics Agency Limited cannot accept responsibility for any inferences or conclusions derived by third parties from its data. Data is from the latest Graduate Outcomes Survey 2019/20, published by HESA in June 2022.