Astrophysics (MSc)
Duration: 1 year
Mode: Full time
---
Why study this course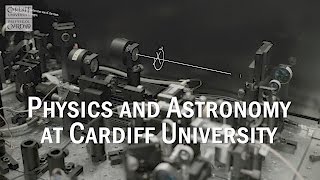 Taught topics reflect our world-leading strengths in theoretical, observational and instrumentational research and include Cosmology, Advanced General Relativity and Gravitational Waves, Instrumentation for Astronomy and Techniques in Astrophysics.
Our MSc in Astrophysics is a full-time degree course which aims to provide specialist training and an edge in a highly competitive recruitment market to students who wish to work in the field of astrophysics. On the course, we will cover theoretical, observational and instrumental areas in astrophysics and other scientific disciplines. We encourage you to develop a critical awareness of current research problems and new insights at the forefront of astronomy and astrophysics. We will also discuss the working context of the modern astrophysicist, including the safety, ethical, and research environments.
On completing the course students should be able to pursue a career in academic research, physical science industrial practice, research and development, or in other highly-skilled numerate careers.
Distinctive features
Tailor the course to your interests with our broad range of optional modules.
Benefit from our School-based facilities including laboratories and computing facilities.
Research-led MSc programme, with taught components delivered by experts in their field.
You will be part of the School's postgraduate community and will have the support of a personal tutor.
The high level analytical and numeracy skills that are the basis of this course will open up opportunities in a wide range of professions.
Where you'll study
Our institute of Physics accredited degree programmes include specialised topics which reflect our research interests.
5 The Parade, Newport Road, Cardiff, CF24 3AA
Admissions criteria
In order to be considered for an offer for this programme you will need to meet all of the entry requirements. Your application will not be progressed if the information and evidence listed is not provided.
With your online application you will need to provide:
A copy of your degree certificate and transcripts which show you have achieved a 2:1 honours degree in a relevant subject area such as astronomy, astrophysics, computer science, engineering, mathematics, physics, or related physical science, or an equivalent international degree. If your degree certificate or result is pending, please upload any interim transcripts or provisional certificates.
A copy of your IELTS certificate with an overall score of 6.5 with 5.5 in all subskills, or evidence of an accepted equivalent. Please include the date of your expected test if this qualification is pending. If you have alternative acceptable evidence, such as an undergraduate degree studied in the UK, please supply this in place of an IELTS.
If you do not have a degree in a relevant area, your application may be considered on the basis of your professional experience. Please provide additional evidence to support your application such as signed and dated employer references.
Application Deadline
We allocate places on a first-come, first-served basis, so we recommend you apply as early as possible. Applications normally close at the end of August but may close sooner if all places are filled.
Selection process
We will review your application and if you meet all of the entry requirements, we will make you an offer.
Find out more about English language requirements.
Applicants who require a Student visa to study in the UK must present an acceptable English language qualification in order to meet UKVI (UK Visas and Immigration) requirements.
Criminal convictions
You are not required to complete a DBS (Disclosure Barring Service) check or provide a Certificate of Good Conduct to study this course.
If you are currently subject to any licence condition or monitoring restriction that could affect your ability to successfully complete your studies, you will be required to disclose your criminal record. Conditions include, but are not limited to:
access to computers or devices that can store images
use of internet and communication tools/devices
curfews
freedom of movement
contact with people related to Cardiff University.
Course structure
There are two stages to this programme. The first stage consists of core and optional taught modules which total 120 credits. These are split across the autumn and spring semester.
Once you have successfully passed the first stage, you may progress onto the second stage of the programme which is a research project (60 credits). You will undertake a 4-month research project, either with one of the research groups in our School or externally during a placement with one of our industrial partners. You will then complete a dissertation outlining your research. The dissertation should be carried out independently under supervision from an appropriate member of academic staff with research interests in your chosen area.
The modules shown are an example of the typical curriculum and will be reviewed prior to the 2024/25 academic year. The final modules will be published by September 2024.
This is a full 12-month programme. You will undertake all core and optional taught modules in year one. You will also complete a 4-month summer research project which will be assessed through a dissertation.
The University is committed to providing a wide range of module options where possible, but please be aware that whilst every effort is made to offer choice this may be limited in certain circumstances. This is due to the fact that some modules have limited numbers of places available, which are allocated on a first-come, first-served basis, while others have minimum student numbers required before they will run, to ensure that an appropriate quality of education can be delivered; some modules require students to have already taken particular subjects, and others are core or required on the programme you are taking. Modules may also be limited due to timetable clashes, and although the University works to minimise disruption to choice, we advise you to seek advice from the relevant School on the module choices available.
Learning and assessment
How will I be taught?
At Cardiff we provide dedicated taught master's teaching facilities including a dedicated teaching laboratory, seminar and meeting rooms and quiet study space. PCs for the exclusive use of the taught master's cohort are provided throughout.
Our MSc programmes are designed around the central idea of building a taught master's community which works together as a group to enhance learning. This innovative design was presented to the wider UK Higher Education Teaching Specialist Community at the Variety in Chemistry Education / Physics Education (ViCE/PHEC) Conference in 2016 alongside our undergraduate and outreach innovations. You can therefore be assured that your MSc course has been designed and implemented with reference to the latest developments in educational research and methodology.
The methods of teaching we employ will vary from module to module, as appropriate depending on the backgrounds of the students present, the subject matter and the method(s) of assessment. Our teaching contact time is typically a mixture of lectures, seminars, tutorials, group sessions and practicals.
From the outset of the autumn term, we will introduce you to our dedicated teaching facilities, open-access areas and our research laboratories. This will allow you to easily integrate into the School community. Our MSc cohort also meets regularly as a group to discuss research topics, present papers and to tackle group exercises and undergo advanced practical skills training together.
We will allocate both a supervisor and mentor to you for your summer research project. Usually your supervisor will be a member of academic staff with an internationally-recognised expertise in the field of research. You will meet regularly with your supervisor and their group throughout your project. Your project mentor is an impartial member of academic staff who will monitor your progress, provide advice and ensure the smooth running of your summer research project.
How will I be assessed?
Your achievement of the learning outcomes in our taught modules will be assessed in examinations each semester.
Your research project at the end of the course will be assessed through a dissertation. Your research topic can be chosen from a range of project titles proposed by academic staff, usually in areas of current research interest. You are also encouraged to put forward your own project idea.
How will I be supported?
All of our students are allocated a personal tutor when they enrol on the course. A personal tutor is there to support you during your studies, and can advise you on academic and personal matters that may be affecting you. You should have regular meetings with your personal tutor to ensure that you are fully supported.
You will have access to the Trevithick Library, which holds our collection of physics and astrophysics resources, as well as resources from Engineering and Computer Sciences disciplines.
We will provide you with a copy of the Student Handbook, which contains details of the School's policies and procedures. We also support students through the University's virtual learning environment, Learning Central, where you can ask questions in a forum or find course-related documents.
Cardiff University also offers a wide range of support services which are open to our students, such as the Graduate Centre, counselling and wellbeing, financial and careers advisors, the international office and the Student Union.
Feedback
We offer written and oral feedback, depending on the coursework or assessment you have undertaken. You will usually receive timely feedback from the module leader. If you have questions regarding your feedback, module leaders are usually happy to give advice and guidance on your progress.
What skills will I practise and develop?
Understand the fundamental laws and principles of physics, and be able to apply them to variety of areas in astronomy and astrophysics.
Possess a working knowledge of a variety of experimental, mathematical and computational techniques applicable to current research within astrophysics.
Understand the limitations of current knowledge, and technologies and the need to gain new knowledge through further study.
Know how to plan, execute and report the results of an investigation or experiment and to analyse and evaluate its outcomes in relation to underlying current theories.
Have the ability to communicate complex scientific ideas, the conclusions of an experiment, investigation or project concisely, accurately and informatively.
Tuition fees for 2024 entry
Your tuition fees and how you pay them will depend on your fee status. Your fee status could be home, island or overseas.
Learn how we decide your fee status
Fees for home status
| Year | Tuition fee | Deposit |
| --- | --- | --- |
| Year one | £11,700 | None |
Students from the EU, EEA and Switzerland
If you are an EU, EEA or Swiss national, your tuition fees for 2024/25 be in line with the overseas fees for international students, unless you qualify for home fee status. UKCISA have provided information about Brexit and tuition fees.
Fees for island status
Learn more about the postgraduate fees for students from the Channel Islands or the Isle of Man.
Fees for overseas status
| Year | Tuition fee | Deposit |
| --- | --- | --- |
| Year one | £28,200 | £2,500 |
More information about tuition fees and deposits, including for part-time and continuing students.
Financial support
Financial support may be available to individuals who meet certain criteria. For more information visit our funding section. Please note that these sources of financial support are limited and therefore not everyone who meets the criteria are guaranteed to receive the support.
Additional costs
The School covers the cost of everything that is an essential part of the programme, this will be clearly detailed in all programme information and in any verbal instructions given by tutors.
The University considers that the following costs do not need to be covered by schools as they are either not essential or are basic costs that a student should be expected to cover themselves:
Laptop computers
Calculators
General stationery
Text books (assumed to be available in the library)
Basic copying / printing.
If there are optional costs/fees to be covered by the student, these are not a requirement to pass the degree.
Will I need any specific equipment to study this course/programme?
We will provide equipment that is essential to the course. However, we recommend that you bring a laptop computer with appropriate software (e.g. Office applications), USB or a hard drive, general stationery and some basic drawing equipment.
You will be given access to all relevant IT-related software and equipment on our networked computers. You will also have access to experimental equipment in related laboratory sessions.
Living costs
We're based in one of the UK's most affordable cities. Find out more about living costs in Cardiff.
Careers and placements
An MSc in Astrophysics can open the door to a wide variety of possible future careers. Our past graduates have secured employment in the fields of photonics, biophysics, instrumentation research and development, semiconductor physics both within academic science and industrial practice. You may also choose to undertake further postgraduate study or academic research within the field of astrophysics, or enter a highly-skilled numerate career in another discipline.
Placements
We have strong and established links with industry and may be able to offer you a placement with one of these partners for your research project. We may also have some academic summer placements available within the School, which can be extremely valuable to students seeking to continue in academic research.
---
HESA Data: Copyright Higher Education Statistics Agency Limited 2021. The Higher Education Statistics Agency Limited cannot accept responsibility for any inferences or conclusions derived by third parties from its data. Data is from the latest Graduate Outcomes Survey 2019/20, published by HESA in June 2022.