Psychology with Professional Placement (BSc)
UCAS code: C810
Next intake: September 2022
Duration: 4 years
Mode: Full time with sandwich year
Why study this course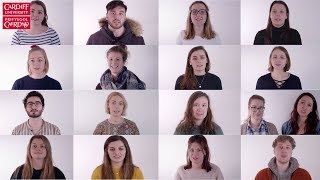 Opportunity to gain professional experience as part of your degree
We are one of only a few psychology schools who offer the opportunity to gain professional experience on our Psychology with Professional Placement (BSc) course.
Ranked 5th in the UK and 38th in the world for Psychology
We are ranked 5th in the UK and 38th in the world for Psychology in the Times Higher Education World University Rankings 2021.
Internationally acclaimed researchers involved in course design and delivery
Most of our teaching staff are practicing researchers; in many cases leading experts in their fields.
Opportunity to study abroad in Florida or Hong Kong for a semester
We have paired up with the University of Florida and the University of Hong Kong to offer you the opportunity to study abroad for one semester.
Accredited by the British Psychological Society (BPS)
This programme meets the high quality standards in education set out by the BPS.
Psychology is the systematic and scientific study of mind and behaviour. Psychologists study how we think, feel and act, both individually and as part of a social group. Psychology has a wide range of applications in the health and social services, in industry and commerce, and in education.
On this four-year programme you will study psychology from a scientific stand point with an emphasis on its social, cognitive and biological aspects.
Embedded into an active research environment, this course will develop critical quantitative and qualitative skills, which will enable you to predict and explain human behaviour.
In your third year, you will embark on your professional placement. This will give you the opportunity to gain relevant experience in a professional psychology setting to further enhance your skills and improve your employability prospects after graduation.
This course is accredited by the British Psychological Society and is delivered by our enthusiastic, research-active lecturers from one of the UK's leading psychology research departments (Ranked 2nd in the latest Research Excellence Framework).
70 Park Place, Cardiff, CF10 3AT
Entry requirements
Please see our admissions policies for more information about the application process.
Tuition fees for 2022 entry
Students from the UK and Ireland
| Year | Tuition fee | Deposit |
| --- | --- | --- |
| Year one | £9,000 | None |
| Year two | £9,000 | None |
| Year three (sandwich year) | Reduced fee | None |
| Year four | £9,000 | None |
Students from the EU, EEA and Switzerland
If you are an EU/EEA/Swiss national, unless you qualify for UK fee status, tuition fees will be in line with the fees charged for international students. UKCISA have provided information about Brexit and tuition fees.
Students from the rest of the world (international)
| Year | Tuition fee | Deposit |
| --- | --- | --- |
| Year one | £23,450 | None |
| Year two | £23,450 | None |
| Year three (sandwich year) | Reduced fee | None |
| Year four | £23,450 | None |
Financial support
Financial support may be available to individuals who meet certain criteria. For more information visit our funding section. Please note that these sources of financial support are limited and therefore not everyone who meets the criteria are guaranteed to receive the support.
Costs for sandwich years
During a sandwich year (e.g. year in industry, placement year or year abroad) a lower fee will apply. Full details can be found on our fees pages.
Additional costs
Course specific equipment
You will not need any specific equipment.
Accommodation
We have a range of residences to suit your needs and budget. Find out more on our accommodation pages.
Living costs
We're based in one of the UK's most affordable cities. Find out more about living costs in Cardiff.
Course structure
This is a four-year full-time degree, with a September entry point, accredited by the British Psychological Society as conferring Graduate Basis for Chartered Membership. The School typically has 195 undergraduate places.
You will take 60 credits in the first semester of year one at level four, which do not count towards the final degree classification. In level five (commencing in the second semester of year one and continuing through year two) you will take modules to the value of 180 credits.
You will spend year three on a professional placement; and at level six, the final year, you will take 120 credits.
Modules are compulsory at level five and optional at level six (with the exception of the research project).
Performance in level five contributes 30% towards honours classification, the placement report contributes 10% and level six contributes 60%.
The modules shown are an example of the typical curriculum and will be reviewed prior to the 2022/23 academic year. The final modules will be published by September 2022.
Year one
Level four of the degree occupies the autumn semester of year one and is designed to help you make the transition from school to university level study. It consists of three modules. These modules will:
introduce scientific thinking skills and use example research topics to help you learn the differences between good and bad science;
provide an overview of the main subject areas of psychology;
introduce the basics of research methodology through practicals and research design teaching.
Year two
Level five occupies three semesters, starting in the spring of the first year. This level covers the main psychology areas in depth, combined with further teaching of research design and statistical analysis, practical work, and tutorials.
Year three: Sandwich year
You will spend your third year in a professional placement approved by the School, subject to availability. Students complete placements in diverse environments in the UK and overseas. These include prisons, hospitals, research units at other universities, rehabilitation clinics, counselling centres and industrial placements.
Year four
Level six is the final year. Here, you will undertake a supervised research project that runs over two semesters. The research project is an opportunity to carry out an independent piece of research with individual supervision from a member of academic staff with expertise in the research area. In addition to the project, students at level six complete a range of final year modules (commonly around six depending on whether the modules selected are single or double modules). The option modules offer the opportunity for deeper exploration of topics that are close to the research interests of staff.
The University is committed to providing a wide range of module options where possible, but please be aware that whilst every effort is made to offer choice this may be limited in certain circumstances. This is due to the fact that some modules have limited numbers of places available, which are allocated on a first-come, first-served basis, while others have minimum student numbers required before they will run, to ensure that an appropriate quality of education can be delivered; some modules require students to have already taken particular subjects, and others are core or required on the programme you are taking. Modules may also be limited due to timetable clashes, and although the University works to minimise disruption to choice, we advise you to seek advice from the relevant School on the module choices available.
Learning and assessment
The degree is based on a range of core (mandatory) and optional modules. Each module is supported by electronic teaching materials (such as lecture recordings) shared via Learning Central, part of the University's virtual learning environment.
Modules are likely to include lectures, seminars and group discussions, tutorials, and group work, and you will be expected to apply the skills you learn through tutorial presentations, research practicals and a research project.
At levels four and five you will receive detailed guidance to ensure that you have a firm foundation in relevant experimental skills. Tutors will ensure that you have achieved an acceptable level of competence before you progress to level six. At level six, you have an element of independence and are required to design, conduct, analyse and report individual project work. You will meet regularly with a supervisor to discuss methodologies and practical work.
Year 1
Scheduled learning and teaching activities
22%
Guided independent study
78%
Year 2
Scheduled learning and teaching activities
24%
Guided independent study
76%
Year 3
Scheduled learning and teaching activities
7%
Guided independent study
93%
Year 4
Scheduled learning and teaching activities
16%
Guided independent study
84%
How will I be supported?
You will have access through the Learning Central website to relevant multimedia material, presentations, lecture handouts, bibliographies, further links, electronic exercises and discussion boards.
The University offers a range of services including the Careers Service, the Counselling Service, the Disability and Dyslexia Service, the Student Support Service, and excellent libraries and resource centres.

Feedback
You will gain feedback on your academic progress in many ways throughout your studies: for example, during your project supervision or practical classes, tutorials and seminars, and Q & A sessions with lecturers. You will also receive written comments on the coursework you submit and have ample opportunities to discuss issues with teaching staff. We encourage you to use every opportunity to interact with staff in this way. You will receive detailed generic feedback on examinations via written question-by-question analyses of students' answers, together with a breakdown of your marks. You should also examine and understand the basis of our marking criteria and familiarise yourself with how the contribution of different cognitive skills are captured by the grading system. While formal written feedback is clearly an important feature in supporting your intellectual development, it is not the only source and indeed you may also find it useful to test your own knowledge and understanding with friends or make use of the blogs/discussion boards associated with each module.
The main purpose of written feedback on coursework is to provide evaluative information to help you understand the strengths and weaknesses of your work – not to provide a definitive model answer. Feedback is therefore important in the context of improving and enhancing your cognitive skills. It is also intended to support your development as independent learners. In order for feedback to serve this function, it is not only important that markers provide useful comments in a timely fashion, but also that sufficient attention is paid to the feedback by the person receiving it. In order to support this process, you will be asked to reflect on the feedback you have received from previous (relevant) coursework and to comment on how this feedback has been incorporated into your current assignment.
What skills will I practise and develop?
You will acquire and develop a range of valuable skills, both those that are discipline specific and more generic 'employability skills'.
As a result of engaging fully with this course, you should be able to:
demonstrate knowledge and understanding of psychological facts, theories, ideas, methods, concepts and principles and appreciate their significance;
demonstrate an understanding of psychology as a coherent and developing scientific discipline;
demonstrate the skills/abilities necessary for scientific research in psychology, including abilities to formulate research hypotheses, design and conduct empirical studies, analyse data, and interpret findings;
demonstrate the skills in comprehending and evaluating psychological material, including the abilities to communicate clearly and concisely the concepts of literature and critically appraise the literature, in both written and oral presentation;
conduct safely, ethically and competently psychological research studies involving human and non-human animals;
record, analyse statistically, present (written and orally) and interpret data from psychological experiments;
communicate ideas, principles and theories effectively by both oral and written means;
use information technology e.g. the Internet, reference database, spreadsheets, word processing, graphics and statistics packages;
perform and interpret statistical analyses of data;
work and communicate effectively both as an individual and in a team;
demonstrate effective time-management skills and the ability to meet deadlines;
be aware of ethical guidelines.
Careers and placements
Career prospects
Achieving a BSc in Psychology can prepare you for a wide range of careers including academia, human factors, and education.
The School of Psychology, in liaison with the University Careers Service, provides Careers Management Sessions (at year two) and an annual careers talk at final year.
Graduate careers
Pyschologist
Counsellor
Educational Psychologist
Recruitment Consultant
Placements
You will spend your third year in a professional placement approved by the School, subject to availability. Students complete placements in diverse environments in the UK and overseas. These include prisons, hospitals, research units at other universities, rehabilitation clinics, counselling centres and industrial placements.
---
HESA data: Copyright Higher Education Statistics Agency Limited 2020. The Higher Education Statistics Agency Limited cannot accept responsibility for any inferences or conclusions derived by third parties from its data. Data is from the latest Graduate Outcomes Survey 2017/18, published by HESA in June 2020.