Wireless and Microwave Communication Engineering with a Research Year (MSc)
Duration: 2 years
Mode: Full time
---
Why study this course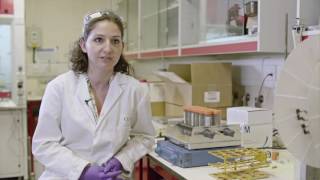 An MSc course with an emphasis on research which also aims to provide you with the necessary advanced level knowledge and skills that will allow you to succeed in the rapidly growing wireless and microwave communication industry.
An MSc course with an emphasis on research which also aims to provide you with the necessary advanced level knowledge and skills that will allow you to succeed in the rapidly growing wireless and microwave communication industry. It will provide you with an excellent platform for career development, whether that be within industry or academic research.
The course will provide you with the opportunity to:
Develop your expertise in new and evolving areas of microwave engineering including mobile communications and medical applications of microwaves.
Focus on areas such as advanced computer aided design (CAD), measurement and characterisation and communication systems engineering.
Cover laboratory work and advanced engineering management alongside modules in radio frequency engineering, advanced fabrication and test, advanced communication systems and non-linear RF design and concepts.
Gain expertise in the areas of micro and nano-technology and optoelectronics.
Develop your research skills by completing a major project as part of an intensive Research Year either in Cardiff University or with another suitable university partner or research institute.
Distinctive features
This course will provide you with:
The opportunity to learn in a research-led teaching institution, taught by staff in one of the highest ranked university units in the 2014 Research Excellence Framework (REF).
The opportunity to work in modern facilities and commensurate with a top-class research university.
The opportunity to learn in an environment graded as Silver in the first TEF assessment, meaning that the University "consistently exceeds rigorous national quality requirements for UK higher education".
The participation of research-active staff in programme design and delivery.
MSc teaching complemented by guest lectures given by industrial professionals.
A 120-credit Research Year which enables the programme to meet the Bologna requirements for a Master's programme length of 2 years.
A research group atmosphere within which students will enhance each other's learning
The opportunity to be a vital part of our scientific research community.
Upon graduation, you will have the training, skillsets and hands-on experience you need to succeed in this dynamic and highly competitive field, and will have a distinct edge when applying for PhD studentships or employment in industry.
Accreditations
Where you'll study
Study in one of the UK's leading engineering Schools for the quality of research and teaching.
5 The Parade, Newport Road, Cardiff, CF24 3AA
Admissions criteria
​In order to be considered for an offer for this programme you will need to meet all of the entry requirements. Your application will not be progressed if the information and evidence listed is not provided.
With your online application you will need to provide:
A copy of your degree certificate and transcripts which show you have achieved a 2:2 honours degree in a relevant degree subject such as communication engineering, communication technology, electrical or electronic engineering or wireless engineering, or an equivalent international degree. If your degree certificate or result is pending, please upload any interim transcripts or provisional certificates.
A copy of your IELTS certificate with an overall score of 6.5 with 5.5 in all subskills, or evidence of an accepted equivalent. Please include the date of your expected test if this qualification is pending. If you have alternative acceptable evidence, such as an undergraduate degree studied in the UK, please supply this in place of an IELTS.
If you do not have a degree in a relevant area, your application may be considered on the basis of your professional experience. Please provide additional evidence to support your application such as signed and dated employer references.
Application Deadline
We allocate places on a first-come, first-served basis, so we recommend you apply as early as possible. Applications normally close at the end of August but may close sooner if all places are filled.
Selection process
We will review your application and if you meet all of the entry requirements, we will make you an offer.
Find out more about English language requirements.
Applicants who require a Student visa to study in the UK must present an acceptable English language qualification in order to meet UKVI (UK Visas and Immigration) requirements.
Criminal convictions
You are not required to complete a DBS (Disclosure Barring Service) check or provide a Certificate of Good Conduct to study this course.
If you are currently subject to any licence condition or monitoring restriction that could affect your ability to successfully complete your studies, you will be required to disclose your criminal record. Conditions include, but are not limited to:
access to computers or devices that can store images
use of internet and communication tools/devices
curfews
freedom of movement, including the ability to travel to outside of the UK or to undertake a placement/studies outside of Cardiff University
contact with people related to Cardiff University.
Course structure
The course is presented as a two-year full-time Masters level programme, in two stages. In Stage 1, students follow two semesters of taught modules to the value of 120 credits. Stage 2 consists of a Research Year of 8 months, leading to the submission of a significant research project of 120 credits.
The modules shown are an example of the typical curriculum and will be reviewed prior to the 2024/25 academic year. The final modules will be published by September 2024.
Year one
The course is presented as a two-year full-time Masters level programme. In Year 1 (Stage 1) students follow two semesters of taught modules to the value of 120 credits.
During the Spring semester you will be supported in generating and negotiating a research project proposal in order to prepare for your Research Year.
Students completing 120 credits at the end of Stage 1 will be permitted to proceed onto the Research Year for Stage 2.
Year two
Year 2 will consist of the 120-credit Research Year and project report submission. You will be allocated an Academic Project Supervisor for Year 2, who will guide your work and project report write-up. You will be visited by your Academic Project Supervisor at least once, but preferably twice, if you are based elsewhere in the UK (at a partner HEI). At the end of the Research Year you will submit a significant research project.
The University is committed to providing a wide range of module options where possible, but please be aware that whilst every effort is made to offer choice this may be limited in certain circumstances. This is due to the fact that some modules have limited numbers of places available, which are allocated on a first-come, first-served basis, while others have minimum student numbers required before they will run, to ensure that an appropriate quality of education can be delivered; some modules require students to have already taken particular subjects, and others are core or required on the programme you are taking. Modules may also be limited due to timetable clashes, and although the University works to minimise disruption to choice, we advise you to seek advice from the relevant School on the module choices available.
Learning and assessment
How will I be taught?
A wide range of teaching styles are used to deliver the diverse material forming the curriculum of the programme. You will attend lectures and take part in lab and tutorial based study during the Autumn and Spring semesters of Stage 1. You will also be able to develop ideas for your individual research project.
At the beginning of Stage 2, you will be allocated an Academic Project Supervisor and a Research Year Supervisor. Dissertation topics are normally chosen from a range of project titles proposed by academic and research staff, in areas of cutting-edge research interest. You will be encouraged to put forward your own project ideas where possible. You will be provided with training in the utilisation of laboratory resources throughout the project.
How will I be assessed?
The course is assessed through examinations, written coursework, and a final individual research dissertation.
Achievement of learning outcomes in the majority of modules is assessed by a combination of coursework assignments, plus University examinations set in January and May. Examinations count for 60–70% of assessment in Stage 1 of the programme, the remainder being largely project work and elements of coursework.
How will I be supported?
You will be allocated a personal tutor to assist you with both academic progress and pastoral support when required. For your research year, you will be allocated a Academic Project Supervisor and a Research Year Supervisor of relevant expertise.
Learning Central, the Cardiff University virtual learning environment (VLE), will be used extensively to communicate with students, support lectures and provide general programme materials such as reading lists and module descriptions. It may also be used to provide self-testing assessment and give feedback.
Feedback
You will receive written feedback for written coursework assignments and oral feedback for assessed presentations.
What skills will I practise and develop?
Knowledge & Understanding:
On successful completion of the Programme you will be able to demonstrate:
Apply the principles of Wireless and Microwave Communication Engineering to the design, implementation and management of systems that are able to collect, manipulate, interpret, synthesise, present and report data.
Select and make use of appropriate IT-based system development tool for a given task. Examples of applicable tools include those deployed within current research into microwave and radio frequency systems, electromagnetic applications, communication systems and software engineering.
Intellectual Skills:
On successful completion of the Programme you will be able to demonstrate:
Exemplify the stages involved in the realisation of a key wireless microwave communications sub-system - including characterisation and measurement, modelling, computer aided design, optimisation, fabrication and test.
Evaluate the hardware and software infrastructures used in the development of computer networks - including an appreciation of relevant industry standards and the use of current software tools associated with the widening role of internet-based communication.
Professional Practical Skills:
On successful completion of the Programme you will be able to demonstrate:
Understand detailed device level design and characterisation of communications system components based upon an in-depth understanding of the major issues surrounding architecture and structures.
Utilise industry-standard computer-aided design tools and techniques, at an advanced level.
Engage fully with a research project, applying skills in research and appraisal, including measurement, data collection, investigation and analysis by fully engaging with their project activity and other related applications, and/or the production of research strategies, policies and plans related to their project.
Show an advanced level knowledge and understanding of a wide range of microwave engineering related materials and components.
Demonstrate an awareness of that engineers need to take account of the commercial and social contexts in which they operate.
Transferable/Key Skills:
On successful completion of the Programme you will be able to demonstrate:
The ability to plan, run and report upon a significant research project at the leading edge of your discipline
The ability to communicate your own ideas, research findings, underlying principles and theories effectively by oral, written and practical means.
The ability to work effectively in a team and as an individual.
Tuition fees for 2024 entry
Your tuition fees and how you pay them will depend on your fee status. Your fee status could be home, island or overseas.
Learn how we decide your fee status
Fees for home status
| Year | Tuition fee | Deposit |
| --- | --- | --- |
| Year one | £11,700 | None |
| Year two | £5,850 | None |
Students from the EU, EEA and Switzerland
If you are an EU, EEA or Swiss national, your tuition fees for 2024/25 be in line with the overseas fees for international students, unless you qualify for home fee status. UKCISA have provided information about Brexit and tuition fees.
Fees for island status
Learn more about the postgraduate fees for students from the Channel Islands or the Isle of Man.
Fees for overseas status
| Year | Tuition fee | Deposit |
| --- | --- | --- |
| Year one | £28,200 | £2,500 |
| Year two | £12,725 | None |
More information about tuition fees and deposits, including for part-time and continuing students.
Financial support
Financial support may be available to individuals who meet certain criteria. For more information visit our funding section. Please note that these sources of financial support are limited and therefore not everyone who meets the criteria are guaranteed to receive the support.
Additional costs
During the Research Year, students may have to fund travel costs to and from any partner institution, and should consider costs of accommodation where this is away from Cardiff – living costs could be higher. Additionally, students travelling to undertaken a Project at a different institution may incur visa application costs which would be additional to tuition fees.
Will I need any specific equipment to study this course/programme?
The University will provide all equipment necessary to undertake the degree programme, but it is strongly recommended that the student should have a relatively modern laptop computer at their disposal, in order to be able to make progress on activities while away from the University facilities.
Living costs
We're based in one of the UK's most affordable cities. Find out more about living costs in Cardiff.
Careers and placements
Career prospects are generally excellent, with graduating students following paths either into research or related industry.
If you are interested in working in industry, many of our graduating MSc students achieve excellent employment opportunities in organisations including Infineon, Huawei, Cambridge Silicon Radio, Vodafone and International Rectifier.
In terms of research, Cardiff University has many electrical, electronic and microwave related research areas that require PhD students, and this MSc will provide you with an excellent platform if this is your chosen career path.
Placements
Stage 2 of this course comprises a Research Year which would usually be undertaken at Cardiff University, but may also be undertaken, with suitable agreements, at a suitable partner HEI or research institute (subject to approval by the School).
---
HESA Data: Copyright Higher Education Statistics Agency Limited 2021. The Higher Education Statistics Agency Limited cannot accept responsibility for any inferences or conclusions derived by third parties from its data. Data is from the latest Graduate Outcomes Survey 2019/20, published by HESA in June 2022.