Philosophy (MA)
Duration: 1 year
Mode: Full time
---
Why study this course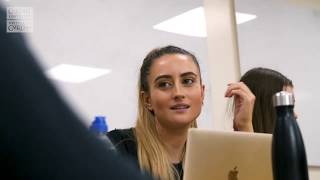 Explore intriguing and complex contemporary issues with philosophers internationally recognised for their work in a wide range of specialist areas.
Confront and explore
Explore complex problems and confront contemporary issues with comprehensive training across philosophical approaches.
International expertise
Use analytic, continental and empirical philosophy, taught by leaders in their fields.
Specialisms to focus your mind
Our academics lead in epistemology, moral philosophy and philosophy of mind and cognition.
Supportive, tight-knit community
Develop crucial research and communication skills, flourishing through inquiry-led teaching.
Our rewarding MA Philosophy programme will develop your knowledge of philosophical issues and techniques, with a focus on topics at the forefront of epistemology, moral philosophy, and philosophy of mind and cognition.
Building on a solid foundation by exploring the gamut of philosophical arguments through analysis of landmark works across the breadth of analytic, continental, and empirical varieties of philosophy, you'll progress to investigate issues of real interest to you.
You'll be nurtured to reach your potential in a collegiate environment with a focus on meaningful exchange and participation in our specialist seminars. Moreover, our programme is designed to help you to master the key skills essential for a successful research career.
Comprehensive training will build key skills for engaging in independent and collaborative research projects, essential in academia and in many graduate careers. Small group teaching with an emphasis on peer-to-peer discussion will foster your ability to communicate complex and controversial ideas in a professional manner. As a graduate of this programme, you'll be experienced in addressing difficult questions creatively, critically, and collegially.
Embedded in a thriving and supportive research community with its postgraduate work-in progress seminars, year-round reading groups, workshops and conferences, you'll participate in the thought-provoking Royal Institute of Philosophy visiting speaker programme and an annual conference.
We ranked fourth for the impact on society of our research in Philosophy, as published in the UK's most recent Research Excellence Framework (REF 2014).
Where you'll study
Powered by pioneering research, we celebrate curiosity, engage in informed debate and critical analysis, and encourage creative thinking - across and beyond our disciplines.
Colum Drive, Cardiff, CF10 3EU
Admissions criteria
In order to be considered for an offer for this programme you will need to meet all of the entry requirements. Your application will not be progressed if the information and evidence listed is not provided.
With your online application you will need to provide:
A copy of your degree certificate and transcripts which show you have achieved a 2:1 honours degree in a relevant subject area such as philosophy or a related discipline such as communication, English literature, history, language, law, modern languages, politics, psychology, religious studies, or social sciences or an equivalent international degree. If your degree certificate or result is pending, please upload any interim transcripts or provisional certificates.
A copy of your IELTS certificate with an overall score of 7.0 with 6.5 in all subskills, or evidence of an accepted equivalent. Please include the date of your expected test if this qualification is pending. If you have alternative acceptable evidence, such as an undergraduate degree studied in the UK, please supply this in place of an IELTS.
If your degree is not in philosophy, you also need to provide an essay of 2000 words (maximum) that demonstrates skills in explanation, argumentation and critical analysis, on a topic of your choice.
One reference which demonstrates your suitability for the programme. Your reference should be signed, dated and less than six months old at the time you submit your application.
Application Deadline
We allocate places on a first-come, first-served basis, so we recommend you apply as early as possible. Applications normally close at the end of August but may close sooner if all places are filled.
Selection process
We will review your application and if you meet all of the entry requirements, we will make you an offer.
Find out more about English language requirements.
Applicants who require a Student visa to study in the UK must present an acceptable English language qualification in order to meet UKVI (UK Visas and Immigration) requirements.
Criminal convictions
You are not required to complete a DBS (Disclosure Barring Service) check or provide a Certificate of Good Conduct to study this course.
If you are currently subject to any licence condition or monitoring restriction that could affect your ability to successfully complete your studies, you will be required to disclose your criminal record. Conditions include, but are not limited to:
access to computers or devices that can store images
use of internet and communication tools/devices
curfews
freedom of movement
contact with people related to Cardiff University.
Course structure
You will complete 180 credits in total, comprised of six 20-credit taught modules + one 60-credit dissertation.
The two 20-credit modules that underpin the degree programme and provide you with a solid foundation in the discipline are both taught across the two semesters.
Two of the four 20-credit modules on issues in epistemology, moral philosophy, and philosophy of mind are taught in the Autumn semester, the other two are taught in the Spring semester.
The dissertation can be in any area of Philosophy within the range of staff expertise. You will develop your dissertation proposal during the final stage of one of the core modules.
You will take 60 credits each semester and write the dissertation between the end of the Spring semester and the first week of the following September.
The modules shown are an example of the typical curriculum and will be reviewed prior to the 2024/25 academic year. The final modules will be published by September 2024.
Year One comprises the entire degree programme.
The University is committed to providing a wide range of module options where possible, but please be aware that whilst every effort is made to offer choice this may be limited in certain circumstances. This is due to the fact that some modules have limited numbers of places available, which are allocated on a first-come, first-served basis, while others have minimum student numbers required before they will run, to ensure that an appropriate quality of education can be delivered; some modules require students to have already taken particular subjects, and others are core or required on the programme you are taking. Modules may also be limited due to timetable clashes, and although the University works to minimise disruption to choice, we advise you to seek advice from the relevant School on the module choices available.
Learning and assessment
How will I be taught?
All our MA taught modules are delivered via small-group seminars, with significant emphasis on student engagement via presentations and student-led discussion. This enables continuous consolidation of and feedback on individual and collaborative learning, development of discipline-specific and transferable skills, development of your ability to learn independently and collaboratively, and development of oral communication skills in informal group discussions and formal presentations.
For the dissertation you will conduct independent research on a topic of your choice. This will be supported by regular supervision meetings with a member of academic staff. This develops your ability to plan and deliver a sustained independent research project, to articulate your own detailed analyses and arguments in formal writing, and to develop your ideas through oral discussion of your written drafts.
All modules will make use of Cardiff University's virtual learning environment, Learning Central, where you can access core readings and other course materials.
How will I be assessed?
A variety of assessment types are used to develop your ability to present your own thoughts in formal speech and writing. The forms of assessment for all modules are set out in the module descriptions.
Your work will be assessed in relation to formal grading criteria set out in the degree handbook, which emphasise knowledge, understanding, critical analysis, and argumentation.
You are encouraged to discuss ideas for your assessed work with the module leader or supervisor.
In each taught module, you will be able to submit a first draft of your work for formative feedback.
The dissertation is developed through formal meetings with your supervisor, who provides feedback on draft sections and discusses any ideas that you present orally at the meeting.
How will I be supported?
You will be allocated a personal tutor who will help you reflect on your work and advise you on study techniques, module selection, and career planning. This will include a formal meeting each semester to formulate concrete strategies to help you reach your full academic and professional potential.
Your personal tutor is also your first point of contact if you experience any difficulties.
Module leaders are available in their office hours or by appointment to discuss any matters relating specifically to their module. You are encouraged to discuss topics and readings for assessments with your module leaders.
You can meet with the MA Philosophy programme director to discuss your progress and any difficulties you face.
Reasonable adjustments can be made for disabilities and dyslexia.
Writing skills support is available to all students.
Careers support includes one-to-one career planning advice meetings and information about placement opportunities.
A specialist librarian for Philosophy provides advice in finding books, articles, and other relevant materials.
University support is available for navigating financial, health, and wellbeing difficulties.
What skills will I practise and develop?
Knowledge & Understanding:
On successful completion of the programme you will be able to demonstrate:
An ability to explain clearly, identify interconnections between, and critically and creatively assess central theories and arguments across the breadth of Philosophy, past and present, including topics at the forefront of Epistemology, Moral Philosophy, and Philosophy of Mind and Cognition.
An ability to evaluate and apply a broad range of techniques of textual interpretation and reasoning.
An ability to evaluate and apply strategies for pursuing large independent and original research projects.
Intellectual Skills:
On successful completion of the Programme you will be able to demonstrate:
An ability to extract the central claims and arguments of complex texts.
An ability to critically and creatively analyse problems arising from claims or reasoning being made.
An ability to identify and critically analyse the literary style deployed in a complex text.
An ability to present arguments and ideas clearly and coherently in writing for a specialist audience.
An ability to present arguments and ideas clearly and coherently in spoken presentations for specialist audiences.
An ability to present arguments and ideas clearly, coherently, and collegially in group conversation.
An ability to present arguments and ideas clearly and coherently in writing for non-specialist audiences.
An ability to plan and write a substantial original paper analysing literature on a complex issue.
An ability to plan and complete a large independent and original research project.
An ability to engage professionally and productively in a collaborative research inquiry.
Professional Practical Skills:
On successful completion of the Programme you will be able to demonstrate:
An ability to present arguments and ideas clearly and coherently in writing for a professional audience.
An ability to present arguments and ideas clearly and coherently in spoken presentations for professional audiences.
An ability to present arguments and ideas clearly, coherently, and professionally in professional conversation.
An ability to plan and write a substantial original report analysing literature on a complex issue.
An ability to plan and complete independent professional research projects.
An ability to engage productively in collaborative professional work.
An ability to organise workload to ensure being well prepared for regular meetings and meeting major deadlines.
Transferable/Key Skills:
On successful completion of the Programme you will be able to demonstrate:
An ability to interpret complex ideas and reasoning presented in a variety of written and spoken forms.
An ability to summarise sophisticated original thinking in brief and engaging writing for online publication.
Tuition fees for 2024 entry
Your tuition fees and how you pay them will depend on your fee status. Your fee status could be home, island or overseas.
Learn how we decide your fee status
Fees for home status
| Year | Tuition fee | Deposit |
| --- | --- | --- |
| Year one | £10,700 | None |
Students from the EU, EEA and Switzerland
If you are an EU, EEA or Swiss national, your tuition fees for 2024/25 be in line with the overseas fees for international students, unless you qualify for home fee status. UKCISA have provided information about Brexit and tuition fees.
Fees for island status
Learn more about the postgraduate fees for students from the Channel Islands or the Isle of Man.
Fees for overseas status
| Year | Tuition fee | Deposit |
| --- | --- | --- |
| Year one | £22,700 | £2,500 |
More information about tuition fees and deposits, including for part-time and continuing students.
Financial support
Financial support may be available to individuals who meet certain criteria. For more information visit our funding section. Please note that these sources of financial support are limited and therefore not everyone who meets the criteria are guaranteed to receive the support.
Additional costs
We offer the opportunity to attend a Philosophy conference as part of the programme. Previous locations for such events include Gregynog Hall and Bluestone National Park but these events may also be held more locally, in Cardiff. We endeavour to make such activities free to students but at times a financial contribution may be required. Please note, these activities are not compulsory.
Will I need any specific equipment to study this course/programme?
You will be provided with essential specialised materials, including computer access and core course materials (books, journal articles) via the library and the cost of printing the dissertation will be covered.
You will be responsible for covering non-essential or basic costs associated with your studies. This can include travel to university, general stationery, laptop computers, copying and printing, and personal copies of books.
Living costs
We're based in one of the UK's most affordable cities. Find out more about living costs in Cardiff.
Career prospects
From the public to the private sector, we enable careers in an impressively wide range of fields. Our graduates use their newly-acquired skills in a broad spectrum of jobs, particularly in the media and creative economies, education and health sectors.
86% of postgraduates from the School of English, Communication and Philosophy were in employment or further studies within six months of graduation (DLHE 2016/17).
---
HESA Data: Copyright Higher Education Statistics Agency Limited 2021. The Higher Education Statistics Agency Limited cannot accept responsibility for any inferences or conclusions derived by third parties from its data. Data is from the latest Graduate Outcomes Survey 2019/20, published by HESA in June 2022.