International Public Relations and Global Communications Management (MA)
Duration: 1 year
Mode: Full time
---
Conversion course
This is a conversion course. Conversion courses allow you to study a subject unrelated to your undergraduate degree or current career, and support you with a change of career path.
Why study this course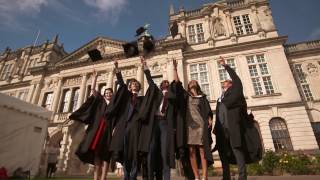 Prepare for your future as a public relations (PR) professional through a mix of practice, theory and academic study, all while deepening your understanding of the PR practitioner's role, and the strategic and operational contributions we make to organisations.
Cardiff central
The school is based in the heart of Cardiff's vibrant media quarter in a purpose-built facility adjacent to the new BBC Cymru/Wales building.
A global viewpoint
Your fellow students will come from a range of national and cultural backgrounds allowing you to gain a global perspective of PR practice.
Research excellence
You will study with one of the UK's leading schools for communications research, classed by the Government as the 2nd best in the UK.
Professional accreditation
This course is accredited by the Chartered Institute of Public Relations (CIPR).
The advance of digital technology as a result of the 4th industrial revolution means public relations (PR) and reputation and brand management are critical components of organisational planning and strategy.
Our MA International Public Relations and Global Communications Management programme will help you develop the skills and techniques you'll need to succeed as a PR and Communications professional in any industry, at an international level. We can help you pave the way for success in this thriving industry, in which we're seeing an increasing need for skilled, dynamic professionals.
You will be introduced to PR knowledge, skills and theory by a faculty comprised of academic staff and PR practitioners, all of whom bring their unique and diverse perspectives into their teaching. It is this blend of research and experience, spanning multiple decades and countries, that makes our programme distinctive.
You will gain theoretical understanding of how media and PR have evolved and work in practice, balanced with unrivalled practical activation and experiences. You will cover a range of PR specialisms, including crisis management, content campaign development and implementation, corporate social responsibility, media relations, corporate and consumer communication strategy and internal communication approaches.
Assignments will help you to apply theory and research in a practical and analytical way and your dissertation will provide the opportunity to apply what you have learnt to an area of personal interest – allowing depth and analysis that results in further understanding of a particular practice area.
Whatever your future aspirations in the PR and communications field, you will benefit from graduating from a CIPR-accredited programme. This not only looks great on your CV alongside your academic qualification, but also allows you take your place amongst a network of forward-thinking, respected PR and communications professionals.
Accreditations
Where you'll study
We provide a scholarly environment to help you acquire both the knowledge and skills needed to enter your chosen area of the media.
Central Square, Cardiff, CF10 1FS
Admissions criteria
This is a conversion course. Conversion courses allow you to study a subject unrelated to your undergraduate degree or current career, and support you with a change of career path. No prior knowledge or degree in the subject is required.
Academic requirements
Typically, you will need to have either:
a 2:2 honours degree, or an equivalent international degree, in any subject. As this is a conversion programme, you don't need to have a specific professional background or degree to apply. However, you do need an interest or career aspirations in public relations and communications, an understanding of the discipline and a motivation to do well.
a university-recognised equivalent academic qualification
or relevant professional experience evidenced by a reference.
English language requirements
IELTS with an overall score of 7.0 with 6.0 in all subskills, or an accepted equivalent.
Application Deadline
We allocate places on a first-come, first-served basis, so we recommend you apply as early as possible.
Selection process
If you meet the entry requirements, we will make you an offer.
Find out more about English language requirements.
Applicants who require a Student visa to study in the UK must present an acceptable English language qualification in order to meet UKVI (UK Visas and Immigration) requirements.
Criminal convictions
You are not required to complete a DBS (Disclosure Barring Service) check or provide a Certificate of Good Conduct to study this course.
If you are currently subject to any licence condition or monitoring restriction that could affect your ability to successfully complete your studies, you will be required to disclose your criminal record. Conditions include, but are not limited to:
access to computers or devices that can store images
use of internet and communication tools/devices
curfews
freedom of movement
contact with people related to Cardiff University.
Course structure
This is a full-time course and is taught across two semesters (Autumn and Spring) from the end of September to the beginning of June.
The dissertation can be practice-based - providing you with an opportunity to apply theory to the practice of communications management and public relations.
The modules shown are an example of the typical curriculum and will be reviewed prior to the 2024/25 academic year. The final modules will be published by September 2024.
The University is committed to providing a wide range of module options where possible, but please be aware that whilst every effort is made to offer choice this may be limited in certain circumstances. This is due to the fact that some modules have limited numbers of places available, which are allocated on a first-come, first-served basis, while others have minimum student numbers required before they will run, to ensure that an appropriate quality of education can be delivered; some modules require students to have already taken particular subjects, and others are core or required on the programme you are taking. Modules may also be limited due to timetable clashes, and although the University works to minimise disruption to choice, we advise you to seek advice from the relevant School on the module choices available.
Learning and assessment
How will I be taught?
You will be taught through workshops, lectures and seminars which complement the practical and academic elements of the course. You will also have access to industry leading professionals through the courses guest lecture series.
How will I be assessed?
You will be assessed through a range of formative and summative assessments throughout the course. The main method of assessment on this programme is coursework.
How will I be supported?
You will be allocated a Personal Tutor, for help and support with academic and pastoral needs, who is available when needed to discuss progress, provide advice and guidance.
You will be supported by the Student Support services in the school and through wider university resources.
You will have regular tutorials with programme directors/personal tutors as well as the opportunity to meet with module co-ordinators on request.
Feedback
Feedback is provided at each assessment point for summative assessments, formative feedback is provided in practical sessions and throughout teaching.
What skills will I practise and develop?
You will develop skills in the following areas:
Professional writing
Media research
Key public relations skills
Presenting to a range of audiences
Business networking skills
Work placement opportunities in public relations and marketing communications
Diversity and cultural awareness skills
Report writing
Cross cultural communications
Time management
International team working
Independent research
Social media management skills
Personal reputation management skills
Tuition fees for 2024 entry
Your tuition fees and how you pay them will depend on your fee status. Your fee status could be home, island or overseas.
Learn how we decide your fee status
Fees for home status
Fees for entry 2024/25 are not yet available.
Students from the EU, EEA and Switzerland
We are currently awaiting confirmation on tuition fees for the 2024/25 academic year.
Fees for island status
Learn more about the postgraduate fees for students from the Channel Islands or the Isle of Man.
Fees for overseas status
We are currently awaiting confirmation on tuition fees for the 2024/25 academic year.
Additional costs
Living costs
We're based in one of the UK's most affordable cities. Find out more about living costs in Cardiff.
Career prospects
Graduates of MA International Public Relations and Global Communications Management are employed in a range of occupations; roles can range from Public Relations Executives, Press Officers, Communications Managers and Copywriters for global and UK corporations.
---
HESA Data: Copyright Higher Education Statistics Agency Limited 2021. The Higher Education Statistics Agency Limited cannot accept responsibility for any inferences or conclusions derived by third parties from its data. Data is from the latest Graduate Outcomes Survey 2019/20, published by HESA in June 2022.