English Literature (MA)
Duration: 1 year
Mode: Full time
---
Why study this course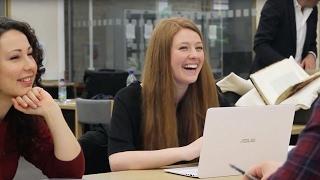 Pursue your passion for English Literature, inspired by experts at the forefront of world-leading research.
Our eclectic and rewarding MA English Literature programme is designed to enable you to explore your true passions.
You have the freedom to assemble a programme tailored to your personal and professional interests, drawn from one of five engaging Research Pathways. Choosing Medieval and Early Modern, Romantic and Victorian, Modern and Contemporary, Gender and Sexuality, or Critical and Cultural Theory, you'll find a diverse and exciting range of research-led modules to explore.
Our academics teach across the whole chronological span of English Literature, from Middle English to literature of the twenty-first century, sharing their latest research in our varied module portfolio. Drawing connections between literature, popular culture and theory, topics range from fan fiction to contemporary women's writing, from romance to travel, and from poststructuralist and postcolonial ways of reading to theories of gender and queer studies.
While immersing yourself in your chosen field, you will also develop advanced skills in the latest research methods, critical theory and scholarly writing, as well as your ability to communicate research to a variety of audiences. Topics range from writing at Master's level to developing research proposals and preparing for interviews, to name but a few.
Each pathway is complemented by a research seminar series, featuring national and international speakers, plus reading groups and conferences. You are encouraged to take advantage of the world-class Special Collections and Archives on our doorstep, housed in the University's neighbouring Arts and Social Sciences library.
A highlight remains our MA conference, enabling you to present short papers and exchange ideas in a supportive environment.
English Literature at Cardiff is ranked in the world top 100 (QS World University Rankings by Subject 2020).
Distinctive features
A wide-ranging programme of research-led modules taught by specialists in the field
A series of dedicated research pathways, including Medieval and Renaissance Studies; Romantic and Victorian Studies; Modern and Contemporary Literature; Gender and Sexuality Studies; Cultural and Critical Theory
Access to skills training and various research activities
The freedom to assemble a programme of study tailored to personal and professional interests
High-level training in the latest research methods, critical theory and scholarly writing and presentation skills in a non-assessed core module
Popular two-day residential conference and workshop at Gregynog Hall, where you will present short 15-minute papers in a supportive and lively atmosphere
One-day symposium dedicated to increasing your employability skills
Opportunities to take part in a series of dynamic research seminar series
Access to specialist library collections
Where you'll study
Powered by pioneering research, we celebrate curiosity, engage in informed debate and critical analysis, and encourage creative thinking - across and beyond our disciplines.
Colum Drive, Cardiff, CF10 3EU
Admissions criteria
A 1st or upper 2nd class UK honours degree, or equivalent, in a related discipline is usually required.
Early application is strongly advised, normally well before the end of June. Later applications will be considered, but international students must bear in mind the time needed to obtain a visa.
Typical IELTS offer:
A score of band 7 on IELTS with a minimum of 6.5 in each category is required for non-native English speakers or those who have not had a substantial part of their education taught in the English language.
Find out more about English language requirements.
Applicants who require a Tier 4 visa to study in the UK must present an acceptable English language qualification in order to meet UKVI (UK Visas and Immigration) requirements
Criminal convictions
You are not required to complete a DBS (Disclosure Barring Service) check or provide a Certificate of Good Conduct to study this course.
If you are currently subject to any licence condition or monitoring restriction that could affect your ability to successfully complete your studies, you will be required to disclose your criminal record. Conditions include, but are not limited to:
access to computers or devices that can store images
use of internet and communication tools/devices
curfews
freedom of movement
contact with people related to Cardiff University.
Course structure
Our flexible structure allows you to assemble programmes of study tailored to your personal and professional interests. You can opt for the open pathway, or choose one of our specialist pathways: Medieval and Renaissance; Romantic and Victorian Studies; Modern and Contemporary Literature; Gender and Sexuality Studies; Cultural and Critical Theory, which groups together groups of taught modules with related research activities and skills training available in the School.

The degree is structured in two parts.
Part one
You choose four modules from a range of specialist options. You take two modules per semester.
All teaching is by seminars and workshops structured around student participation, featuring opportunities to present your work. Each module consists of a two-hour seminar per week and is assessed by a 5,000-word essay (or equivalent).
In addition to the taught modules, you attend weekly workshops on research methods and scholarly presentation.
Part Two
You undertake a dissertation of 15,000-20,000 words on a subject of your choice, developed in consultation with a supervisor in the field. You begin to plan and research your dissertation in the second semester for submission in September.
The modules shown are an example of the typical curriculum and will be reviewed prior to the 2021/22 academic year. The final modules will be published by September 2021.
The University is committed to providing a wide range of module options where possible, but please be aware that whilst every effort is made to offer choice this may be limited in certain circumstances. This is due to the fact that some modules have limited numbers of places available, which are allocated on a first-come, first-served basis, while others have minimum student numbers required before they will run, to ensure that an appropriate quality of education can be delivered; some modules require students to have already taken particular subjects, and others are core or required on the programme you are taking. Modules may also be limited due to timetable clashes, and although the University works to minimise disruption to choice, we advise you to seek advice from the relevant School on the module choices available.
Learning and assessment
How will I be taught?
Teaching is delivered in seminar groups for all modules. The teaching for each module is text-based and revolves around the exploration of concepts and ideas from a range of literary, historical, and theoretical perspectives within the broad field of English Literature.
The learning activities vary from module to module as appropriate, but will include such as activities as interactive discussions of prepared texts/topics and, in some cases, student-led presentations.
Encouraged to explore our excellent library resources, you are expected to undertake preparation including wide-ranging reading to enable full participation.
How will I be assessed?
Each module on Part One is assessed by a 5,000-word essay or equivalent (which can include up to 10% of the module being assessed by oral presentation).
Part Two is examined by a 15,000-20,000-word dissertation.
How will I be supported?
You are encouraged to discuss your ideas with module tutors both in seminars and on a one-to-one basis in office hours and in consultation with allocated personal tutors.
The second part of the MA is examined by dissertation, for which you receive individual one-to-one supervision after the Easter vacation and up to the end of July, alongside fortnightly dissertation workshops.
Feedback
Discussion of essay plans and dissertation proposals is offered throughout the programme, and written feedback is provided on both formative and summative assessments.


What skills will I practise and develop?
Knowledge and understanding
Fundamental grounding in a number of discrete research areas and the critical debate surrounding them
Fundamental grounding in research and bibliographic methods
Awareness of the historical and cultural contexts of literary texts
Intellectual skills
Ability to identify, gather and evaluate a wide range of materials appropriate to the topic
Analyse and interpret material drawn from a diversity of sources
Demonstrate and exercise independence of thought and ideas
Ability to reason in a critically sustained manner
Ability to plan and execute an individual research topic
Subject-specific (writing) skills
Ability to apply techniques of close analysis to both historical and literary texts
Ability to challenge, review or question received ideas about the meanings of historical and/or literary texts
Ability to demonstrate a good knowledge of academic systems of the presentation of arguments
Ability to sustain a critical argument that engages with the nuances of a literary text
Ability to write at a level appropriate to research work
Preparation for advanced academic study
Tuition fees
UK and EU students (2021/22)
Fees for entry 2021/22 are not yet available.
Students from outside the EU (2021/22)
We are currently awaiting confirmation on tuition fees for the 2021/22 academic year.
Career prospects
From the public to the private sector, we enable careers in an impressively wide range of fields. Our graduates use their newly acquired skills in a broad spectrum of jobs, particularly in the media and creative economies, education and health sectors.
86% of postgraduates from the School of English, Communication and Philosophy were in employment or further studies within six months of graduation (DLHE 2016/17).