Creative Writing (MA)
Duration: 1 year
Mode: Full time
---
Conversion course
This is a conversion course. No prior knowledge or degree in the subject is required.
Why study this course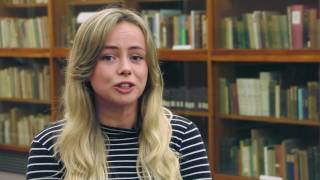 Develop your portfolio of writing in our prestigious programme designed for emerging and more experienced writers.
Expand your creative writing abilities and ideas with our MA in Creative Writing, designed to evolve your knowledge and perfect your writing skills in one or more literary genres.
Mastering the ability to produce literary works of refinement and skill, you'll be encouraged to submit work for both publication and showcasing as a developing professional writer.
Our Creative Industries Day and Creative Writing Visiting Writers Series are programmed with you in mind. As a student with us, you will attend workshops, experience classes in various topics in creative writing and develop your own practice in editing and revision.
A trailblazer for Creative Writing in the UK, we nurture new talent with Open Mic nights and our Visiting Writer programme while poetry and literature ring across the city in initiatives such as Cardiff Poetry Experiment. Academics and creatives shed new light on our greatest literary works in our public book club with a difference, Cardiff Book Talk.
A highlight remains our residential writing retreat, enabling you to focus on a range of writing techniques and to present your own creative work in a supportive environment.
You can also make the most of opportunities to gain experience in creative writing teaching for undergraduates.
At Cardiff, we are intrigued by the connections between literature, popular culture and theory. Our English Literature experts teach across the whole chronological span, from Middle English to literature of the twenty-first century, bringing latest research into a varied module portfolio. English Literature at Cardiff is ranked in the world top 100 (QS World University Rankings by Subject 2020).
Distinctive features
Dedicated teaching staff of professional writers;
Opportunities for hands-on experience in teaching Creative Writing;
Workshops and readings by eminent authors, along with Open Mic nights at a city centre venue, enabling you to share your writing with an audience to enhance your skills and confidence in public presentations;
Small Group workshops;
You will have the opportunity to attend a residential writing retreat at Gregynog Hall, a country mansion with a distinguished artistic heritage in mid-Wales.
Where you'll study
Powered by pioneering research, we celebrate curiosity, engage in informed debate and critical analysis, and encourage creative thinking - across and beyond our disciplines.
Colum Drive, Cardiff, CF10 3EU
Admissions criteria
This is a conversion course. Conversion courses allow you to study a subject unrelated to your undergraduate degree or current career, and support you with a change of career path. No prior knowledge or degree in the subject is required.
1st or 2:1 UK Honours degree, or equivalent.
Applicants are not required to have a degree in a particular subject area; emphasis is placed on the quality of the portfolio of creative writing submitted with the application.
Applicants whose first language is not English
You must obtain a British Council IELTS score of at least 7.0 (with a minimum subscore of 6.5 in each component), or an equivalent English language qualification. An IELTS score of 6.5 (with a minimum subscore of 6.0 in each component) will be considered where you successfully complete the University's ten-week pre-sessional English course. The extra element may be waived where you can provide sufficient evidence of suitable proficiency in the use of English.
Decisions are made on a continuous basis throughout the year, on the basis of written application and references received.
In addition to the application form and supporting documents you should also provide:
Copies of recent creative work (undergraduate work is welcome).
Around 3000 words of prose or 10 to 15 poems. Obviously, the number of pages will vary according to the genre or work you are submitting. Something you have previously submitted as part of your BA degree is acceptable.
We strongly advise that you have your application finalised by the end of July prior to starting in September.
Find out more about English language requirements.
Applicants who require a Student visa to study in the UK must present an acceptable English language qualification in order to meet UKVI (UK Visas and Immigration) requirements.
Criminal convictions
You are not required to complete a DBS (Disclosure Barring Service) check or provide a Certificate of Good Conduct to study this course.
If you are currently subject to any licence condition or monitoring restriction that could affect your ability to successfully complete your studies, you will be required to disclose your criminal record. Conditions include, but are not limited to:
access to computers or devices that can store images
use of internet and communication tools/devices
curfews
freedom of movement
contact with people related to Cardiff University.
Course structure
The degree programme consists of four modules which are assessed at separate stages of the academic year. Overall, the degree is worth 180 credits. This is split by a portfolio of writing (60 credits), two essays (60 credits) and a second portfolio (60 credits).
From May to September, you will devote your time to completing your second portfolio of writing, produced exclusively during the course.
You must successfully complete the second portfolio to gain your Master's degree.
Throughout both semesters you will attend a writer's workshop, which leads to the first portfolio of written work (approximately 6,000 words, with a critical commentary of 1,000 words). One-to-one sessions with portfolio tutors also run in your second semester.
The Research and Process in Creative Writing module explores the creative process from a range of perspectives: including as a theoretical construct, in the work of established writers, and in relation to the student writer. Assessment is in the form of a critical essay.
On the Teaching Creative Writing module, you will have the chance to sit in on undergraduate classes and to teach a session and to visit local schools and colleges. To complete the module you will successfully pass an essay on teaching creative writing.
The modules shown are an example of the typical curriculum and will be reviewed prior to the 2021/22 academic year. The final modules will be published by September 2021.
Semester one
Research and Process in Creative Writing (submitted in January)
Portfolio One (to be completed in late March/early April)
Semester two
Teaching Creative Writing (submitted in May)
Portfolio Two (to be completed by mid-September at the end of the MA programme)
The University is committed to providing a wide range of module options where possible, but please be aware that whilst every effort is made to offer choice this may be limited in certain circumstances. This is due to the fact that some modules have limited numbers of places available, which are allocated on a first-come, first-served basis, while others have minimum student numbers required before they will run, to ensure that an appropriate quality of education can be delivered; some modules require students to have already taken particular subjects, and others are core or required on the programme you are taking. Modules may also be limited due to timetable clashes, and although the University works to minimise disruption to choice, we advise you to seek advice from the relevant School on the module choices available.
Learning and assessment
How will I be taught?
Teaching is by a combination of small-group seminars, workshops, tutor led one-to-ones, placements in undergraduate classes and visits to outside schools and colleges and a three-day residential at Gregynog Hall.
You will be expected to read and analyse a range of critical and literary texts, read and assess peer work and develop self-reflective skills.
The learning activities will vary from module to module, but may include writing exercises, critical reading, analysis of craft, the presentation of critical and creative work to others, micro-teaching, etc. You are expected to give focused and constructive feedback in our supportive group workshops.
Additional information
Attending the portfolio one workshop is required. These workshops take place every Monday throughout each semester, between 2 p.m. – 6 p.m.
The Visiting Writer programme and Open Mic sessions also take place on Mondays. A schedule of visiting writers is supplied at induction.
The Writers' Retreat at Gregynog usually takes place for four days in the first two weeks of December.
Run by alumni, Cardiff Review, a literary magazine of contemporary graduate writing, publishing fiction, nonfiction and poetry accepts monthly submissions from current Cardiff University students and alumni.
How will I be assessed?
You will be assessed through submission of two portfolios and two essays over the course of your degree.
The second portfolio, completed between May-September in your second semester, must be successfully completed and passed for you to gain your Master's degree.
How will I be supported?
You will be assigned a personal tutor for the course of your studies. You are encouraged to regularly meet with your tutors to discuss your creative and critical (essay) projects.
In addition, you will have one-to-one supervision sessions with your allocated supervisor for portfolio two in the spring semester at times arranged directly with your supervisor.
Feedback
Written formative feedback is given weekly in the writer's workshop, and in portfolio one-to-ones.
Detailed summative feedback for the autumn and spring semester modules is provided in a collated and detailed review from the module leader and an assigned second marker. Formative feedback for portfolio two will be given via a supervision log, following each one-to-one supervision meeting.
Detailed summative feedback for Portfolio 2 will include two detailed reports from both markers.
You will have one-to-one supervision sessions with your allocated supervisor for Portfolio 2 in the spring semester.

What skills will I practise and develop?
Many of the skills you will gain through studying this course are transferable, especially in the spheres of teaching and the Creative Industry (e.g. editing, publishing and Arts Administration).
Through engagement with your programme of study, you will have the opportunity to practise and develop a number of skills. You will:
Develop oral and presentation skills, and the ability to address an audience
Become practised at working to weekly deadlines
Hone editing skills and think more analytically
Learn to communicate effectively, both orally and in writing
Take responsibility for your own learning programme and professional development
Network informally and formally with writers, publishers and teaching organisations
You will demonstrate knowledge and understanding, skills, qualities and attributes in the following areas:
Knowledge and Understanding
Awareness of the writing practice and creative process of published writers, past and present
Awareness of the subtleties and craft of specific genres
Increased awareness of, and skill in handling, voice, narrative point of view, character, setting and plot
Understanding of, and ability to discuss, the key components of creative writing pedagogy and practice
Intellectual (analytic and cognitive) skills
Ability to select and organise material purposefully
Ability to handle complex ideas with clarity in both essay and creative work
Ability to evaluate the strengths and weaknesses of peer work
Ability to reflect on own writing and redraft effectively
Subject specific skills
Ability to apply high level critical skills of close analysis to published creative and critical work
Ability to apply the same analysis to the student's own creative text
For the essays, ability to sustain a critical argument and use a critical vocabulary and terminology
For the essay, awareness of the bibliographic conventions of the discipline and their role in communicating information
In all work – especially the creative: responsive to the workings of language, and especially to the nuances and subtleties of meaning
Tuition fees
Students from the UK
| Tuition fee (2021/22) | Deposit |
| --- | --- |
| £8,200 | None |
Students from the EU, EEA and Switzerland
EU, EEA and Swiss nationals starting in 2020/21 will pay the same tuition fee as UK students for the duration of their course.
If you are an EU/EEA/Swiss national, unless you qualify for UK fee status, tuition fees for 2021/22 will be in line with the fees charged for international students. UKCISA have provided information about Brexit and tuition fees.
Students from the rest of the world (international)
| Tuition fee (2021/22) | Deposit |
| --- | --- |
| £18,200 | £1,000 |
More information about tuition fees and deposits, including for part-time and continuing students.
Financial support
Financial support may be available to individuals who meet certain criteria. For more information visit our funding section. Please note that these sources of financial support are limited and therefore not everyone who meets the criteria are guaranteed to receive the support.
Additional costs
Living costs
We're based in one of the UK's most affordable cities. Find out more about living costs in Cardiff.
Career prospects
Graduates of our long-standing programme are working across the Creative Industries as authors, editors, screenwriters, playwrights and other creative professional roles.
Among our roll-call of alumni are Susmita Bhattacharya (Table Manners, Dahlia), Wales Book of the Year winner Deborah Kay Davies (True Things About Me, Canongate) and science fiction novelist James Smythe (I Still Dream, HarperCollins).
86% of postgraduates from the School of English, Communication and Philosophy were in employment or further studies within six months of graduation (DLHE 2016/17).