Applied and Experimental Clinical Immunology (MSc)
Duration: 1 year
Mode: Full time
---
Why study this course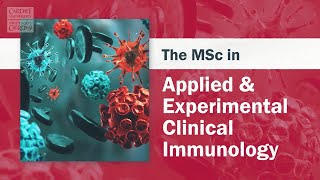 Designed by international experts working in the areas of Infection, Immunity and Inflammation. Studying on this full-time programme will enable you to maximise your exposure to the research expertise in the Division of Infection and Immunity and the Systems Immunity University Research Institute.
Contribution by experts
Biotechnology and biomedical sciences sector experts ensure that the MSc continues to meet the changing demands of the future job market.
In-depth knowledge and understanding
Upon completion of this MSc, you will have developed a critical awareness of current issues and developments in clinical and basic science subjects aligned with Infection, Immunity and Inflammation.
Multi-discipline study
You will be further characterised by your ability to study independently, and use of a range of state-of-the-art biotechniques and research methods.
Multiple career pathways
You will be equipped to enter a variety of types of employment or to continue academic study at a higher level.
The programme was designed by international experts working in the areas of Infection, Immunity and Inflammation Studying on this full-time programme will enable you to maximise your exposure to the research expertise in the Division of Infection and Immunity and the Systems Immunity University Research Institute. You will benefit from their enthusiasm and commitment to lead and deliver high-quality research-led teaching activities on this MSc programme. This MSc provides comprehensive coverage of immunity research giving you a holistic view of chronic disease progression, the control of infection and the mechanisms affecting our capacity to mount an effective immune response. This will enable you to evaluate the impact of research on the life-course of the immune system in health and disease and to explore the immune system in greater depth by learning how it can be manipulated to treat cancer, autoimmune and inflammatory diseases.
Biotechniques are evolving fast, and new approaches that enable the generation and analysis of vast amounts of data are being applied to address immunological problems. Immunology research is now embracing the full range of 'omics' including genomics, transcriptomics, proteomics, lipidomics and metabolomics. You will examine 'omics' approaches and use them to resolve Infection-, Immunity- and Inflammation-based research questions by learning the computational and statistical methods used by scientists to analyse and interpret data from the assays.
The frontier of biomedical science has rarely been as exciting and as full of opportunities as it is today. You will be taken on a journey from the fundamentals of science through clinical research to health services research that highlights the impressive advances of recent decades and emphasize the vulnerability of human health to new and re-emerging infectious diseases. The 'arms race' between host and pathogen poses a new threat to global health so it is important for you also to learn about the evolution of immune evasion strategies and the development of new drugs that stop pathogen replication. The pivotal role of research in improving scientific knowledge (e.g. for advising on best practices in pandemic planning) and the development of life-saving vaccines and treatments will be clear to you by the end of this MSc.
Where you'll study
We are of the largest medical schools in UK, committed to the pursuit of improved human health through education and research.
University Hospital of Wales, Heath Park, Cardiff, CF14 4XN
Admissions criteria
In order to be considered for an offer for this programme you will need to meet all of the entry requirements. Your application will not be progressed if the information and evidence listed is not provided.
With your online application you will need to provide:
A copy of your degree certificate and transcripts which show you have achieved a 2:1 honours degree in a relevant subject area such as bio or natural science, medicine and healthcare, pharmacology, pharmacy, or an equivalent international degree. If your degree certificate or result is pending, please upload any interim transcripts or provisional certificates.
A copy of your IELTS certificate with an overall score of 7.5 with 6.5 in all subskills, or evidence of an accepted equivalent. Please include the date of your expected test if this qualification is pending. If you have alternative acceptable evidence, such as an undergraduate degree studied in the UK, please supply this in place of an IELTS.
An up-to-date CV which includes your full academic and work history.
A personal statement using the questions below as headings:
What attracted you to apply for this programme? (150 words)
Why do you think that advanced knowledge of immunology is important in medicine? (300 words)
How will this programme support your future career progression and/or address your training needs? (200 words)
If you do not have a degree in a relevant area or have a 2:2 honours degree you may still apply but should provide additional evidence to support your application such as employer references and professional registration.
Application Deadline
We allocate places on a first-come, first-served basis, so we recommend you apply as early as possible. Applications normally close at the end of August but may close sooner if all places are filled.
Selection process
We will review your application and if you meet the entry requirements we will make you an offer.
Find out more about English language requirements.
Applicants who require a Student visa to study in the UK must present an acceptable English language qualification in order to meet UKVI (UK Visas and Immigration) requirements.
Criminal convictions
You may be required to complete a DBS (Disclosure Barring Service) check or provide a Certificate of Good Conduct to study this course due to school engagement activities where individuals will need to work with children (supervised).
If you are currently subject to any licence condition or monitoring restriction that could affect your ability to successfully complete your studies, you will be required to disclose your criminal record. Conditions include, but are not limited to:
access to computers or devices that can store images
use of internet and communication tools/devices
curfews
freedom of movement
contact with people related to Cardiff University.
Course structure
This is a one-year full-time course that starts in the Autumn. You will take taught courses in the first two semesters. In the final semester (Summer) you complete a dissertation.
There are six core modules (120 credits), while the third term is spent on a research project that leads to a dissertation (60 credits). This project will take place within a Cardiff University laboratory.
Students are expected to undertake self-directed learning, including pre-reading for lectures and revision of lecture notes. Continuing professional development classes take place throughout both taught semesters. These include presentation and IT skills, statistical methods for research, animal and human research ethics, and clinical trial methodologies.
The modules shown are an example of the typical curriculum and will be reviewed prior to the 2024/25 academic year. The final modules will be published by September 2024.
In the first semester, you will discover the core academic components of experimental Immunology, such as new and emerging technologies for generating immunological data and methodologies that enable the manipulation of the immune system for developing therapeutics. In the second semester you'll complete more advanced training in applied and clinical Immunology, such as the Immunology of multimorbidity and microbial resistance. Teaching is informed by current practice, scholarship and research so there is a requirement for a high degree of self-directed learning on this course.
The University is committed to providing a wide range of module options where possible, but please be aware that whilst every effort is made to offer choice this may be limited in certain circumstances. This is due to the fact that some modules have limited numbers of places available, which are allocated on a first-come, first-served basis, while others have minimum student numbers required before they will run, to ensure that an appropriate quality of education can be delivered; some modules require students to have already taken particular subjects, and others are core or required on the programme you are taking. Modules may also be limited due to timetable clashes, and although the University works to minimise disruption to choice, we advise you to seek advice from the relevant School on the module choices available.
Learning and assessment
How will I be taught?
This MSc uses a blended learning approach that will use online e-learning software, voice over narrations in PowerPoints, live and recorded webinars to reinforce the seminars, lectures and tutorials delivered by faculty and external invited speakers. You will work in groups and you will also be expected to work independently. A learner-centered model is used intentionally to explore material in greater depth at journal clubs, using a problem-based approach. During group discussions you will be encouraged to share and articulate any content or resource that you've discovered independently to support your peers in their learning. Each taught module has built-in formative assessment check points to ensure that your learning is on track for the summative assessments in each module.
The dissertation at MSc level largely consist of guided independent study and research. It makes use of the extensive learning and research facilities available to you at Cardiff University. A project supervisor will be allocated to support and advise you on researching and writing up your specific dissertation topic.
The traditional model for teaching Immunology is mapped onto Medicine and/or Infection; you will benefit from this established approach whilst studying in Cardiff. You will also be taught by specialists from industry on this programme. This feature distinguishes it from other courses. By working in partnership with academic staff in the School of Medicine and external experts from the biotechnology and biomedicine sectors we've created an innovative educational environment for personal development that is far removed from the historical framework.
How will I be assessed?
Taught Modules will be assessed using diverse approaches that are dependent upon the learning outcomes for each module. These include written work (long documents, brief reports and a rapid review article), presentations (oral & poster). The research project assessment is based upon the final dissertation and the presentation of its major findings.
How will I be supported?
All students are allocated a personal tutor, for help and support with academic and pastoral needs, who will be in regular contact to discuss progress and to provide advice and guidance as needed. Extensive written feedback is given on all assessments.
You will also be allocated a personal supervisor during the dissertation period. They will be able to give written feedback on dissertation drafts and provide you with the opportunity to discuss any queries you may have.
Feedback
Formative feedback will be communicated verbally and/or through electronic and written means in a timely manner. Summative feedback on assessment will be delivered within the timeframe set by the University.
What skills will I practise and develop?
Knowledge & Understanding:
On successful completion of the Programme you will be able to:
Express a systematic understanding of a wide range of immunology theories and application.
Synthesise and apply knowledge of communication pathways within the Immune system to show understanding of new developments and/or comprehension of their impact upon health and disease.
Analyse the relationship between basic statistics and immunological data and then use this knowledge to justify your selection of a statistical methodology to solve a research question.
Intellectual Skills:
On successful completion of the Programme you will be able to:
Explain how and why new and emerging techniques of immunology-based research and enquiry are used to create and interpret original knowledge in the discipline
Critically evaluate current and complex issues related to the modulation of the immune system for maintenance of health and the treatment of diseases
Compare and contrast research methods, biotechnologies and computational analytics and select the most appropriate research tools to delineate the role of Immune cells and their signalling pathways in the diagnosis, prognosis and treatment of Infection and immune-mediated diseases
Transferable/Key Skills:
On successful completion of the Programme you will be able to:
Reflect on appropriate formats to select pertinent approach(es) to deliver well-structured presentations that are appropriate for the task for example, using slideshows, panel and roundtable settings, infographic visuals, short videos, concise reports or writing long documents.
Show proficiency for self-direction and autonomous working in addition to working with others
Show a high level of competency in laboratory based skills
Manage complex immunology-based problems both systematically and creatively, make sound judgements in the absence of complete data, and communicate conclusions clearly to specialist and non-specialist audiences.
Tuition fees for 2024 entry
Your tuition fees and how you pay them will depend on your fee status. Your fee status could be home, island or overseas.
Learn how we decide your fee status
Fees for home status
| Year | Tuition fee | Deposit |
| --- | --- | --- |
| Year one | £11,450 | None |
Students from the EU, EEA and Switzerland
If you are an EU, EEA or Swiss national, your tuition fees for 2024/25 be in line with the overseas fees for international students, unless you qualify for home fee status. UKCISA have provided information about Brexit and tuition fees.
Fees for island status
Learn more about the postgraduate fees for students from the Channel Islands or the Isle of Man.
Fees for overseas status
| Year | Tuition fee | Deposit |
| --- | --- | --- |
| Year one | £27,450 | £2,500 |
More information about tuition fees and deposits, including for part-time and continuing students.
Financial support
Financial support may be available to individuals who meet certain criteria. For more information visit our funding section. Please note that these sources of financial support are limited and therefore not everyone who meets the criteria are guaranteed to receive the support.
Additional costs
Will I need any specific equipment to study this course/programme?
To pursue this programme of study you will need regular a reliable computer (desktop or laptop) running an operating system that is still actively supported by the developer i.e. Microsoft, Apple, etc.
This system must have:
an up-to-date internet browser installed
any other software specifically required for the course
regular access to a stable internet connection.
Living costs
We're based in one of the UK's most affordable cities. Find out more about living costs in Cardiff.
Career prospects
This Programme is suitable for graduates or experienced practitioners in related disciplines, such as subjects allied to medicine.
Employability options:
Research and development (industry/academia)
Lecturer (university)
Clinical biochemistry/immunology/microbiology
Technical e.g. quality control, research technician
Specialist e.g. bioinformatician Patent attorney
Regulatory affairs/technology transfer
Teaching (school/college/university)
Science communication/journalism/publishing
Research management and administration
Scientific sales and marketing
Doctoral education programme (PhD)
---
HESA Data: Copyright Higher Education Statistics Agency Limited 2021. The Higher Education Statistics Agency Limited cannot accept responsibility for any inferences or conclusions derived by third parties from its data. Data is from the latest Graduate Outcomes Survey 2019/20, published by HESA in June 2022.