Conservation of Objects in Museums and Archaeology (BSc)
Why study this course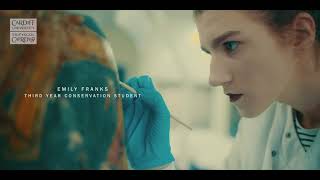 Purpose-built laboratories
Use our suite of laboratories and access our digital illustration and photographic suite.
Experience a conservation lab
Enjoy eight weeks working in a conservation lab - in the UK or abroad.
Connected
Benefit from our relationships with museums and heritage organisations.
Community driven
Dive into a range of activities including visits from international speakers, the Archaeology Society and events.
Our BSc Conservation of Objects in Museums and Archaeology will equip you with the skill set required to be a practising conservator. As a graduate of this programme, you will be able to develop, execute, report and record evidence based strategies and actions for preserving historic and archaeological objects.
We specialise in the conservation of historic and archaeological museum objects, using both preventive and interventive conservation procedures. All of our teaching is set against the cultural context of the objects undergoing treatment by students, which are genuine museum pieces. Working on these objects, you will consider the needs of owners, and current and future end users in designing your treatments.
Working in our laboratories from day one, you will have access to a wide range of state of the art conservation and scientific facilities.
This degree delivers a broad transferable skill set that encompasses discursive writing, imaging, practical work, communication and investigation using analytical instrumentation. Together these skills produce graduates who use evidence-based thought processes to deliver outcomes aimed at preserving our cultural heritage.
Colum Drive, Cardiff, CF10 3EU
A level
BBC-BCC
Extended/International Project Qualification: Applicants with grade A in the EPQ/IPQ will typically receive an offer one grade lower than the standard offer. Please note that any subject specific requirements must still be met.
Our grade range covers our standard offer and contextual offer. We carefully consider the circumstances in which you've been studying (your contextual data) upon application.
Eligible students will be given an offer at the lower end of the advertised grade range.
Where there is no grade range advertised and/or where there are selection processes in place (like an interview) you may receive additional points in the selection process or be guaranteed interview/consideration.
Learn about eligible courses and how contextual data is applied.
International Baccalaureate
30-29 overall or 655 in 3 HL subjects.
Baccalaureate Wales
From September 2023, there will be a new qualification called the Advanced Skills Baccalaureate Wales (level 3). This qualification will replace the Advanced Skills Challenge Certificate (Welsh Baccalaureate). The qualification will continue to be accepted in lieu of one A-Level (at the grades listed above), excluding any specified subjects.
You must have or be working towards:
- English language or Welsh language at GCSE grade C/4 or an equivalent (such as A-levels). If you require a Student visa, you must ensure your language qualification complies with UKVI requirements.

We do not accept Critical Thinking, General Studies, Citizenship Studies, or other similar equivalent subjects.
We will accept a combination of BTEC subjects, A-levels, and other qualifications, subject to the course specific grade and subject requirements.
GCSE
Grade C or grade 4 in GCSE English Language.
IELTS (academic)
At least 6.5 overall with a minimum of 5.5 in each subskill.
TOEFL iBT
At least 90 overall with a minimum of 17 for writing, 17 for listening, 18 for reading, and 20 for speaking.
PTE Academic
At least 69 overall with a minimum of 59 in all communicative skills.
Trinity ISE II/III
II: at least two Distinctions and two Merits.
III: at least a Pass in all components.
Other accepted qualifications
Please visit our English Language requirements page for more information on our other accepted language qualifications.
You are not required to complete a DBS (Disclosure Barring Service) check or provide a Certificate of Good Conduct to study this course.
If you are currently subject to any licence condition or monitoring restriction that could affect your ability to successfully complete your studies, you will be required to disclose your criminal record. Conditions include, but are not limited to:
access to computers or devices that can store images
use of internet and communication tools/devices
curfews
freedom of movement, including the ability to travel to outside of the UK or to undertake a placement/studies outside of Cardiff University
contact with people related to Cardiff University.
Other qualifications from inside the UK
BTEC
DMM in a BTEC Extended Diploma in Applied Science, Computing, Humanities, or Social Science. We will consider BTECs in alternative subjects alongside other academic qualifications and any relevant work or volunteer experience.
T level
Acceptance of T Levels for this programme will be considered on a case-by-case basis by the Academic School. Consideration will be given to the T Level grade/subject and grades/subjects achieved at GCSE/Level 2.
Tuition fees for 2024 entry
Your tuition fees and how you pay them will depend on your fee status. Your fee status could be home, island or overseas.
Learn how we decide your fee status
Fees for home status
| Year | Tuition fee | Deposit |
| --- | --- | --- |
| Year one | £9,000 | None |
| Year two | £9,000 | None |
| Year three | £9,000 | None |
Students from the EU, EEA and Switzerland
If you are an EU, EEA or Swiss national, your tuition fees for 2024/25 be in line with the overseas fees for international students, unless you qualify for home fee status. UKCISA have provided information about Brexit and tuition fees.
Fees for island status
Learn more about the undergraduate fees for students from the Channel Islands or the Isle of Man.
Fees for overseas status
| Year | Tuition fee | Deposit |
| --- | --- | --- |
| Year one | £25,700 | None |
| Year two | £25,700 | None |
| Year three | £25,700 | None |
Learn more about our tuition fees
Financial support
Financial support may be available to individuals who meet certain criteria. For more information visit our funding section. Please note that these sources of financial support are limited and therefore not everyone who meets the criteria are guaranteed to receive the support.
Additional costs
You should be prepared to invest in some key text books and to cover the costs of photocopying. You may also want to buy copies of other books, either because they are particularly important for your course or because you find them particularly interesting. You may wish to consider taking out student membership of relevant conservation professional bodies which will gain access to additional on-line resources and events. Staff can advise you on this.
Software is provided on all networked PC's and there are additional education discounts available to students purchasing software. Specialist software will be made accessible to students.
Accommodation
We have a range of residences to suit your needs and budget. Find out more on our accommodation pages.
Living costs
We're based in one of the UK's most affordable cities. Find out more about living costs in Cardiff.
Course structure
We are currently working with our students to update and improve the content of this course. The information shown below reflects the current curriculum and is likely to change. The review of the course is expected to be completed by August 2024 and this page will be updated by end of October 2024 to reflect the changes.
This is a three-year degree programme. You will take 120 credits in each year.
The modules shown are an example of the typical curriculum and will be reviewed prior to the 2024/2025 academic year. The final modules will be published by September 2024.
Year one
Year one conservation modules are designed to develop an underpinning knowledge of conservation theory and practice. This includes developing academic and practical skills within investigative practices such as x-radiography, microscopy, photography and instrumental analysis.
An introduction to archaeology is provided via optional modules which you select.
Year two
The second and third year builds on this platform via theory modules, practical laboratory work and museum vacation placements in conservation.
Year three
In your third year you will undertake theory modules to complement the modules from year two ensuring that over the course of your degree you will have covered a broad range of materials considering metals, organics, inorganics and wet and dry conditions. You will continue to work on your practical projects in the supervised practical projects module and as your confidence increases you will work on more complex challenging problems.
In your third year you will participate in the research module where you will work with staff and students to design, deliver and evaluate a specific piece of conservation related research.
The University is committed to providing a wide range of module options where possible, but please be aware that whilst every effort is made to offer choice this may be limited in certain circumstances. This is due to the fact that some modules have limited numbers of places available, which are allocated on a first-come, first-served basis, while others have minimum student numbers required before they will run, to ensure that an appropriate quality of education can be delivered; some modules require students to have already taken particular subjects, and others are core or required on the programme you are taking. Modules may also be limited due to timetable clashes, and although the University works to minimise disruption to choice, we advise you to seek advice from the relevant School on the module choices available.
Learning and assessment
The School of History, Archaeology and Religion enables you to develop in a high-quality learning environment, supported by a student-orientated approach to the acquisition of knowledge and skills.
Teaching methods include lectures, seminars, practical, field trips, and one-to-one tutorials. You will also undertake independent study and research, with guidance from tutors.
Lectures provide an overview of the key concepts and frameworks for a topic, equipping you to carry out independent research for generating treatment regimes in laboratory sessions where you conserve objects, as well as for contributing to seminars using your own ideas. Laboratory practice is taught using object-based learning techniques and one to one support in designated practical sessions, as all objects you work on are unique. Larger group teaching is in place for instructional classes on equipment use and data interpretation, as well as for lectures.
How will I be supported?
A personal tutor will guide you for the duration of your studies. The tutors are available to discuss progress and provide advice and guidance on your academic studies. The School office, located on the 4th Floor of the John Percival Building, is also open every day and can provide advice on how to access university services.
All modules within the course make use of Cardiff University's Virtual Learning Environment (VLE) Learning Central, on which you will find course materials, links to related materials and information relating to assessment tasks including, for example, assessment criteria, links to past papers, and guidelines for submitting assessments.
Additional module-specific support is provided by seminar tutors, lecturers and/or module convenors. Students receive close support from conservation staff due to the large amount of contact time they spend with them in laboratory and skill set classes. Consequently, you will get to know your conservation lecturers and tutors very well.
How will I be assessed?
Modules are assessed by various methods, including practical work, written reports, critical reviews, class tests, oral presentations, coursework, essays and examinations.
These assessments provide a means of developing your capacities to gather, organise, evaluate and deploy relevant information and ideas from a variety of sources in reasoned arguments. They also develop essential skill sets that are valued by employers and are essential for this vocational degree.
Progression is built into assessment. Its format and difficulty is matched to the progressive development of skills and knowledge, gained as you deal with more complex conservation problems and build research skills through the degree. Coursework and modular data is provided electronically and assessments are submitted electronically.
What skills will I practise and develop?
Knowledge & Understanding:
On successful completion of the Programme you will be able to demonstrate:
Understanding of the key ideas, theories and principles used in conservation and the wider contexts of conservation.
How to integrate themes, theories and findings from cognate disciplines into conservation planning, practice and research.
Understanding of research methods and scientific thought processes used within conservation and the ethical, cultural, philosophical and management issues that inform their application in practice.
Understanding of the structure, properties and decay of metallic, inorganic and organic materials and how this knowledge informs conservation practice.
Intellectual Skills:
On successful completion of the Programme you will be able to demonstrate:
The ability to critically evaluate existing knowledge, scholarship, standards and guidelines and research in conservation and use this knowledge to reach a balanced judgement about the merits and limitations of conservation procedures.
Knowledge and skills to understand, explain and modify conservation processes.
The ability to develop evidence based argument to identify and evaluate conservation options, consider a range of methods and approaches and to rationalise decision making processes.
Professional Practical Skills:
On successful completion of the Programme you will be able to demonstrate:
The ability to develop, execute, report and record evidence based strategies for preventive and interventive conservation of historic and archaeological objects.
The professional and personal skills, knowledge and experience needed to implement conservation measures ensuring high standards are maintained in professional conservation contexts.
The ability to critically evaluate, synthesise and interpret primary and secondary data generated using different methods, using specialist equipment and software where necessary.
The ability to work both individually collaboratively and on theoretically informed and empirically-grounded conservation projects that draw on appropriate and relevant research evidence.
Transferable/Key Skills:
On successful completion of the Programme you will be able to demonstrate:
Capacity for problem-solving, evidence based decision making and originality in thinking by using knowledge and skills to tackle familiar and unfamiliar problems.
Academic and personal skills such as critical thinking, writing, oral presentations, problem solving, group work, time-management, self-sufficiency, care of the cultural heritage and the use of information technology.
The ability to negotiate courses for action and communicate complex information in a variety of formats including reports, oral presentations, conversation, posters and dissertations.
The ability to investigate and transfer theory into practice using a range of motor skills, equipment and instrumentation.
Careers and placements
Career prospects
The strong vocational nature of the programme is recognised within the conservation profession and this factor provides conservation students with good job opportunities. Some conservation graduates move into research degrees, many choosing to take MSc or higher qualifications with us. Other graduates utilise their extensive transferable skills in communication, problem solving, project management, independent thinking, and scientific theory and practice to compete very successfully in a wide range of other fields.
We believe in giving our graduates the best opportunities to find employment. We organise interactive workshops with the Careers Service to help you identify your skills and attributes and have our own, in-School Workplace Placements and employability officer.
Graduate careers
Placements
The School of History, Archaeology and Religion has a dedicated Work Placements Officer who supports students with work experience opportunities both in and out of term time, while in the second year of study there is the option to take a credit-bearing module on employability which has placement opportunities.
Students on this degree will be offered support to undertake eight weeks of vacation placement in an approved conservation laboratory in the UK or abroad.
---
HESA Data: Copyright Higher Education Statistics Agency Limited 2021. The Higher Education Statistics Agency Limited cannot accept responsibility for any inferences or conclusions derived by third parties from its data. Data is from the latest Graduate Outcomes Survey 2019/20, published by HESA in June 2022.