Practical Dermatology (PgDip)
Duration: 1 year
Mode: Full time distance learning
---
Why study this course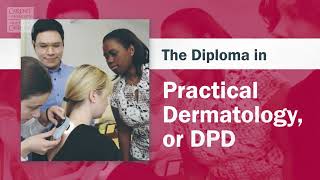 The PgDip is a highly interactive, online distance learning programme designed to provide the participant with a sound understanding of skin disease as it presents in practice, and to enable GPs to successfully manage dermatological problems in patients. The one year MSc is designed specifically for those who have completed our PgDip in Practical Dermatology and wish to pursue further studies in this field.
Flexible e-learning programme
Distance-learning, online format enables flexible learning at your own pace.
Relevant to your clinical practice
Equips learner with sound understanding of skin disease presenting in practice and enables doctors to successfully manage cutaneous conditions
Highly interactive programme
Rapid and efficient communication, including dedicated online tutorial support and discussion forums, ensuring a collaborative community
Professional accreditation
Programme holds international accreditation, including from the Hong Kong College of Family Physicians and Hong Kong Medical Association
The Postgraduate Diploma in Practical Dermatology is for practising General Practitioners or other practising doctors who regularly deal with patients with dermatological problems.
This one-year, full-time distance learning course aims to enable doctors to successfully manage dermatological problems in patients presenting to their surgeries. It is a highly interactive programme designed to equip the general practitioner with a sound understanding of skin disease as it presents in practice.
It is delivered entirely online, allowing you the flexibility to balance your studies with your professional and personal commitments, and there is no requirement to travel to Cardiff for a final exam.
Those who successfully complete the PgDip and wish to pursue further studies in this field may be able to apply to progress to our one-year MSc in Practical Dermatology students are expected to use their individual study time to complete the modular learning material, which is available online, and complete further reading from dermatology text books and searches for material in journal articles and libraries. The success of the course therefore depends, to a large extent, on the input and enthusiasm of course participants.
Where you'll study
We are of the largest medical schools in UK, committed to the pursuit of improved human health through education and research.
University Hospital of Wales, Heath Park, Cardiff, CF14 4XN
Admissions criteria
In order to be considered for an offer for this programme you will need to meet all of the entry requirements. Your application will not be progressed if the information and evidence listed is not provided.
With your online application you will need to provide:
A copy of your degree certificate and transcripts which show you have achieved an undergraduate degree in clinical medicine (MBBCh, BMBS, MBBS, or equivalent) awarded by a recognised institution, or an equivalent international degree.
A copy of your IELTS certificate with an overall score of 6.5 with 5.5 in all subskills, or evidence of an accepted equivalent. Please include the date of your expected test if this qualification is pending. If you have alternative acceptable evidence, such as an undergraduate degree studied in the UK, please supply this in place of an IELTS.
A personal statement which confirms that you are currently working and actively managing patients, with part of your clinical practice involving the care of patients with skin problems. This is required in order to complete the case histories required on the course.
Evidence that you hold continuing professional registration with a relevant medical body prior to and for the full duration of the programme.
Application Deadline
We allocate places on a first-come, first-served basis, so we recommend you apply as early as possible. Applications normally close at the end of August but may close sooner if all places are filled.
Selection process
We will review your application and if you meet all of the entry requirements, we will make you an offer.
Find out more about English language requirements.
Applicants who require a Student visa to study in the UK must present an acceptable English language qualification in order to meet UKVI (UK Visas and Immigration) requirements.
Criminal convictions
You are not required to complete a DBS (Disclosure Barring Service) check or provide a Certificate of Good Conduct to study this course.
If you are currently subject to any licence condition or monitoring restriction that could affect your ability to successfully complete your studies, you will be required to disclose your criminal record. Conditions include, but are not limited to:
access to computers or devices that can store images
use of internet and communication tools/devices
curfews
freedom of movement
contact with people related to Cardiff University.
Course structure
All students must register initially for the Postgraduate Diploma (PgDip).
The course lasts for two academic years for part-time students or one year for full-time students, and consists of six 20-credit modules, totalling 120 credits, at Level 7.
You will study six 20-credit modules, one per term on the part-time PgDip over two years (Three modules per year).
Students who obtain a minimum of 60 credits at Level 7, including any 'required core modules', will be eligible for the exit award of Postgraduate Certificate.
The modules shown are an example of the typical curriculum and will be reviewed prior to the 2019/20 academic year. The final modules will be published by September 2019.
Those who successfully complete the PgDip and wish to pursue further studies in this field may apply to progress to our one-year MSc in Practical Dermatology.
The modules shown are an example of the typical curriculum and will be reviewed prior to the 2024/25 academic year. The final modules will be published by September 2024.
The University is committed to providing a wide range of module options where possible, but please be aware that whilst every effort is made to offer choice this may be limited in certain circumstances. This is due to the fact that some modules have limited numbers of places available, which are allocated on a first-come, first-served basis, while others have minimum student numbers required before they will run, to ensure that an appropriate quality of education can be delivered; some modules require students to have already taken particular subjects, and others are core or required on the programme you are taking. Modules may also be limited due to timetable clashes, and although the University works to minimise disruption to choice, we advise you to seek advice from the relevant School on the module choices available.
Learning and assessment
How will I be taught?
The course is delivered entirely online via our virtual learning environment (VLE), allowing regular, rapid and efficient communication between colleagues, tutors and course administrators, reducing the isolation commonly associated with distance learning.
Through dedicated online tutorial support, discussion forums and online assessments, you will become a member of an enthusiastic and supportive online community of doctors with an interest in dermatology. This environment allows collaboration, both academic and clinical, which can extend beyond the life of the programme.
To take advantage of the wealth of experience that already exists among these practitioners the course uses methods that promote co-operative, purposeful learning. This includes the use of small group techniques, problem solving and peer review all within an efficient online environment.
How will I be assessed?
Each module will be assessed by written work, objective structured tests/questions and online activities.
How will I be supported?
The academic staff who teach and oversee the Postgraduate Diploma in Practical Dermatology are assisted by a dedicated postgraduate administrator team and learning technology team. All can be contacted by telephone or e-mail to ensure good communication between students and the University. Most of the communication is via the VLE, where there are discussion boards that also allow the students to support each other.
Each educational or assessment activity is designed such that students receive support and encouragement from the academics and a team of external tutors. The students are divided into tutor groups of approximately 12 people supported in the educational activities by tutors and academics.
Feedback
Depending on the module and assessments, feedback may include:
Written comments on assessments
Electronic feedback on online tests and quizzes
Sample answers
Whole-class general feedback – e.g. via discussion forums
Peer feedback, either formally as part of an assessment or informally outside of the classroom
Group online meetings with course tutors.
What skills will I practise and develop?
Studying at Postgraduate Diploma level should provide you with a wealth of skills and abilities you can apply to any professional setting. In addition to greater conceptual understanding of current knowledge, issues and methods, you will have the opportunity to practice and develop abilities in critical analysis, in the application of evidence based medicine and in dealing with complex issues systematically and creatively.
Your studies should also help you develop your problem-solving and decision-making abilities by enabling you to utilise evidence effectively and communicate important concepts to colleagues and others. Through research focused elements you will have the opportunity to develop and enhance your skills and understanding in aspects such as literature review, critical evaluation, research design, research methodologies, data collection, data analysis and research principles.
After fully engaging in the diploma course, you should be able to:
Solve diagnostic problems involving skin rashes and lesions
Postulate management strategies and treatment solutions for inflammatory dermatoses and skin lesions
Critically appraise evidence supporting management plans in dermatology
Propose improvements to treatment strategies
Design learning materials for use in patient and carer education for skin diseases
Modify treatment approaches by incorporating new developments in the dermatology literature as part of lifelong learning
Tuition fees for 2024 entry
Your tuition fees and how you pay them will depend on your fee status. Your fee status could be home, island or overseas.
Learn how we decide your fee status
Fees for home status
| Year | Tuition fee | Deposit |
| --- | --- | --- |
| Year one | £11,450 | None |
Students from the EU, EEA and Switzerland
If you are an EU, EEA or Swiss national, your tuition fees for 2024/25 be in line with the overseas fees for international students, unless you qualify for home fee status. UKCISA have provided information about Brexit and tuition fees.
Fees for island status
Learn more about the postgraduate fees for students from the Channel Islands or the Isle of Man.
Fees for overseas status
| Year | Tuition fee | Deposit |
| --- | --- | --- |
| Year one | £18,900 | £2,500 |
More information about tuition fees and deposits, including for part-time and continuing students.
Financial support
Financial support may be available to individuals who meet certain criteria. For more information visit our funding section. Please note that these sources of financial support are limited and therefore not everyone who meets the criteria are guaranteed to receive the support.
Additional costs
Will I need any specific equipment to study this course/programme?
You will need a reliable computer with high speed internet access (and up-to-date virus and malware protection) and appropriate software.
Living costs
We're based in one of the UK's most affordable cities. Find out more about living costs in Cardiff.
Career prospects
This programme is particularly suitable for doctors who wish to increase their knowledge of dermatology in order to help improve patient care, prescribe more effectively, and better manage referrals to secondary care.
The Postgraduate Diploma can form part of the portfolio of a general practitioner wishing to practice as a GPwSI in dermatology.
This Masters programme enables you to demonstrate you are taking the opportunity to develop your abilities in critical analysis, problem-solving, decision-making, finding and using evidence and in dealing with complex issues. Whilst we do not formally assess clinical skills or competencies in a face-to-face context (so the programme is not a substitute for a formal specialty training programme), studying at this level should help successful students demonstrate numerous academic skills that should be highly regarded in relation to their career development and progression. In particular, the programme offers opportunities to demonstrate the development of knowledge and skills in relation to the application of evidence-based medicine and the potential enhancement of services and governance frameworks. As such, it should provide evidence of commitment and potential that may assist you in relation to taking on greater responsibilities or perhaps seeking management, research, scholarship, or leadership roles.
---
HESA Data: Copyright Higher Education Statistics Agency Limited 2021. The Higher Education Statistics Agency Limited cannot accept responsibility for any inferences or conclusions derived by third parties from its data. Data is from the latest Graduate Outcomes Survey 2019/20, published by HESA in June 2022.