Magazine Journalism (MA)
Duration: 1 year
Mode: Full time
---
Conversion course
This is a conversion course. No prior knowledge or degree in the subject is required.
Why study this course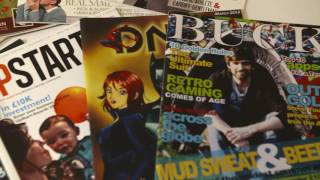 Our intensive Magazine Journalism course prepares you for your first job in magazine media. Whether that is print, online, digital, apps or social media – you will learn how to use the multimedia platforms a modern magazine uses.
Get accredited
An accredited course ensures your CV stands out – we are accredited by the Professional Publishers Association (PPA).
Placement opportunities
Putting into practice what you have learned builds self-confidence, prepares you for your first job and grows your network of contacts.
Latest trends
Guest lectures from experienced writers, designers and editors ensure you hear first-hand about the latest developments in the industry.
Join the press pack
Our location in the city centre means you're located next to Cardiff's local and national media companies such as the BBC and Wales Online.
Never miss an interview
You'll be connected to the entire city with Cardiff's main train station Cardiff Central just 100 metres away.
UK's first Journalism School
To be #CardiffTrained means you'll belong to one of the UK's most respected journalism schools with a stellar list of former students.
Magazines today offer a wide range of possibilities for anyone looking to start a career in journalism.
From glossy fashion monthlies and quirky independent quarterlies to weekly titles for business people, customer magazines for retailers and brands, purely digital magazines, websites and even freelancing – our MA Magazine Journalism prepares you for all these possibilities.
When you finish studying Magazine Journalism with us, you'll feel prepared to meet any challenge your first job on a magazine might throw at you. Print, digital, social media – you'll know how to handle the multimedia platforms a modern magazine uses.
You'll be prepared to sit in your first editorial conference and know what is expected of you and how to pitch your ideas clearly and confidently.
You'll gain knowledge and a set of skills that will not only enable you to compete effectively for any entry-level job in magazine journalism but also set you up for a rapid career trajectory.
Accreditations
Magazine Journalism is accredited by the Professional Publishers Association (PPA)
Where you'll study
We provide a scholarly environment to help you acquire both the knowledge and skills needed to enter your chosen area of the media.
Central Square, Cardiff, CF10 1FS
Admissions criteria
This is a conversion course. Conversion courses allow you to study a subject unrelated to your undergraduate degree or current career, and support you with a change of career path. No prior knowledge or degree in the subject is required.
Academic requirements
Typically, you will need to have either:
a 2:2 honours degree, or an equivalent international degree
a university-recognised equivalent academic qualification
or relevant professional experience evidenced by a reference.
English language requirements
IELTS with an overall score of 7.5 with 5.5 in all subskills, or an accepted equivalent.
Other essential requirements
You will also need to provide two references, at least one of which should be academic.
Application Deadline
We allocate places on a first-come, first-served basis following interview, so we recommend you apply as early as possible.
Selection process
If you meet the entry requirements, we will invite you to a panel interview. Interviews normally take place in January each year. Offers are made based on the outcome of the interview.
Find out more about English language requirements.
Applicants who require a Student visa to study in the UK must present an acceptable English language qualification in order to meet UKVI (UK Visas and Immigration) requirements.
Criminal convictions
You are not required to complete a DBS (Disclosure Barring Service) check or provide a Certificate of Good Conduct to study this course.
If you are currently subject to any licence condition or monitoring restriction that could affect your ability to successfully complete your studies, you will be required to disclose your criminal record. Conditions include, but are not limited to:
access to computers or devices that can store images
use of internet and communication tools/devices
curfews
freedom of movement
contact with people related to Cardiff University.
Course structure
The course is one year long and covers:
Feature and news writing in print and online
Interviewing techniques
Cross-platform media and multimedia
Design & layout
Subediting and production
Magazine brand development
How to be a successful freelance
Magazine journalism skills are acquired through a series of lectures, workshops, practical exercises and feedback sessions of increasing complexity and realism - from 'paper exercises' in the early days to complex features that report on real events. These sessions are supplemented by seminars, group discussions and guests from the magazine industry.
Basic writing, reporting and technical skills for both print and digital are taught in the first semester against a background of Media law and journalism Ethics. Shorthand is also available as an option.
The second semester offers more creative practice where you will plan, create and launch a brand new magazine brand across print and digital platforms, producing three issues to a fortnightly deadline.
During the Easter break you will test your skills against the real world in a work placement (or placements) of a minimum two weeks' duration.
The Major Project core module provides you with the opportunity to undertake:
a Feature Project in which you will employ investigative journalism techniques and research skills acquired during the taught element of the course to explore a topic in depth by writing long-form feature articles, or
an Enterprise Project in which you will develop the editorial and business plan for an innovative media product in print or purely digital/online.
You will also create a brand new magazine in groups. Starting from scratch you will:
Research the market
Develop an effective design
Plan and write editorial content
Create and execute a comprehensive digital and social media policy
Produce three issues of the magazine
The modules shown are an example of the typical curriculum and will be reviewed prior to the 2022/23 academic year. The final modules will be published by September 2022.
The University is committed to providing a wide range of module options where possible, but please be aware that whilst every effort is made to offer choice this may be limited in certain circumstances. This is due to the fact that some modules have limited numbers of places available, which are allocated on a first-come, first-served basis, while others have minimum student numbers required before they will run, to ensure that an appropriate quality of education can be delivered; some modules require students to have already taken particular subjects, and others are core or required on the programme you are taking. Modules may also be limited due to timetable clashes, and although the University works to minimise disruption to choice, we advise you to seek advice from the relevant School on the module choices available.
Learning and assessment
How will I be taught?
You will be taught through a variety of practical workshops, seminars and lectures as well as production days that replicate an industry environment.
You will be required to find and research stories in and around the local area, interviewing sources via a mix of methods and producing original multimedia content and photography.
How will I be assessed?
You will be assessed through a wide range of formative and summative assessments throughout the course. These range from practical classroom activities, varied journalistic articles and packages, class tests and examinations.
How will I be supported?
You will be allocated a Personal Tutor, for help and support with academic and pastoral needs, who is available when needed to discuss progress, provide advice and guidance.
You will be supported by the Student Support services in the school and through wider university resources.
You will have regular tutorials with programme directors/personal tutors as well as the opportunity to meet with module co-ordinators on request.
Feedback
Feedback is provided at each assessment point for summative assessments, formative feedback is provided in practical sessions and throughout teaching.
What skills will I practise and develop?
Graduating students will have demonstrated achievement of the following outcomes:
News writing, reporting and interviewing
The audience, news sense, writing for a specific context, accuracy, balance, the importance of the intro, clarity and directness
Sources of news, working a specialist beat
Types of interview, interview techniques
Handling audio recorders and archiving notes
Producing weekly content for a website to style and by set deadlines
Shorthand skills for those who opt to take shorthand classes (highly recommended)
Feature writing
The many formats of features, finding the right format for a story, finding the right format for a platform
Finding the right tone, developing a repertoire of styles
Follow-ups, how-tos, travel and action pieces
Pulling a piece together with pictures and multimedia, graphics and layout in print and online
How to pitch ideas to editors, work as a freelancer
Production
Bi-platform skills using Apple Macs and digital devices
Software packages, learning Adobe InDesign, Photoshop, Premiere Elements, iMovie as well as Content Management Systems and digital apps
Pursuing accuracy, fact checking, sub-editing, page production and proofing.
Developing visual awareness for print and online publications
Learning to craft effective page furniture, headlines, captions
Laying out extended features
Finding the right format for print and online versions of a feature
Creation, development and production of a new magazine
Working in teams towards a common goal. Leading a team
Knowledge and Understanding
Describe the principles, theory, philosophy, ethics, law and practice of journalism, especially magazine journalism
Use an effective professional news sense and the ability to use it to create effective pieces of magazine journalism
Adapt this news sense to the needs of differing audiences and editorial objectives
Demonstrate understanding and awareness of the historical, social and cultural roots of this professional skill
Display competence in the use of relevant software and hardware
Display an awareness and understanding of critical issues current in the industry
Intellectual Skills
Sensitivity to the debates within the industry and society about the importance, functions and future possibilities of print and online magazine journalism in a 21st century democracy
Awareness of the role of the magazine journalist across the full range of magazines, print and online, from the smallest not-for-profit magazine operation to the major national and international magazine publishing houses
Critically analyse current published material against the above criteria
Communicate information clearly, effectively and appropriately for a range of magazine readerships
Communicate complex stories effectively from a range of primary and secondary sources and background knowledge, using appropriate techniques
Develop a feature idea, or a complete print or online magazine, intellectualise its rationale, envisage the final product and communicate this insight effectively
Understand the managerial, administrative and editorial skills and techniques needed to realise the idea in both print and online forms
Tuition fees for 2022 entry
Students from the UK
| Year | Tuition fee | Deposit |
| --- | --- | --- |
| Year one | £11,700 | None |
Students from the EU, EEA and Switzerland
If you are an EU/EEA/Swiss national, unless you qualify for UK fee status, tuition fees will be in line with the fees charged for international students. UKCISA have provided information about Brexit and tuition fees.
Students from the rest of the world (international)
| Year | Tuition fee | Deposit |
| --- | --- | --- |
| Year one | £21,450 | £1,000 |
More information about tuition fees and deposits, including for part-time and continuing students.
Financial support
Financial support may be available to individuals who meet certain criteria. For more information visit our funding section. Please note that these sources of financial support are limited and therefore not everyone who meets the criteria are guaranteed to receive the support.
Additional costs
Living costs
We're based in one of the UK's most affordable cities. Find out more about living costs in Cardiff.
Careers and placements
Graduates of the MA in Magazine Journalism at Cardiff University have an excellent track record when it comes to getting jobs.
Potential entry-level jobs in magazine media range from editorial assistants to web editors, community managers and content producers to sub-editors, staff writers and even self-starting entrepreneurs!
We are passionate about the industry and maintain an excellent alumni network, plus students have won several publishing awards for their work in the past.
As a graduate of MA Magazine Journalism you may move into almost any industry to produce in-house or public magazines or digital content. Typical industries include: fashion, craft, food, sport, film, music, games, news, wildlife, finance, business, history, travel, TV, health and celebrity.
Possible job opportunities include: Editorial assistant, Editorial intern, Features writer, Freelance reporter, Web and Social Media Editor, Junior reporter, Chief sub, Online content coordinator and Production assistant.
Placements
---
HESA data: Copyright Higher Education Statistics Agency Limited 2020. The Higher Education Statistics Agency Limited cannot accept responsibility for any inferences or conclusions derived by third parties from its data. Data is from the latest Graduate Outcomes Survey 2017/18, published by HESA in June 2020.