Clinical Dermatology (MSc)
Duration: 1 year
Mode: Full time
---
Why study this course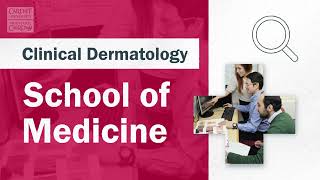 Designed for doctors with at least one year of general medical experience, this MSc offers a structured education in dermatology and gives a firm grounding in the fundamentals of clinical and scientific dermatology. It gives priority to clinical instruction, but also emphasises the scientific content of dermatology.
Taught by world-renowned experts
Our interprofessional, international evidence-based approach is delivered by a faculty of experts.
Clinical exposure
Supplement your understanding by observing clinics with experts, clerk patients in the day treatment unit, present findings to tutors.
Practical workshops
Develop your skills in practical aspects including suturing, doppler assessment and dermoscopy. Attend regular regional CPD meetings.
Interactive learning
Multiple modes of teaching to suit all styles of learning including lectures, small groups, workshops and tutorials.
The MSc in Clinical Dermatology is designed specifically for doctors with a special interest in dermatology after gaining at least one year of general medical experience.
It aims to give a firm grounding in the fundamentals of clinical and scientific dermatology, with priority given to clinical instruction but also an emphasis on the scientific content of dermatology.
It is particularly suitable for overseas medical graduates, but is also appropriate as an additional course to contribute to any dermatology specialist training programme.
Teaching is delivered face-to-face at the Welsh Institute of Dermatology at the University Hospital of Wales in Cardiff.
Where you'll study
We are of the largest medical schools in UK, committed to the pursuit of improved human health through education and research.
University Hospital of Wales, Heath Park, Cardiff, CF14 4XN
Admissions criteria
Applicants must hold an undergraduate degree in clinical medicine (MBBCh, BMBS, MBBS, or equivalent) awarded by a recognised institution.
AND
have a minimum of one year' full-time equivalent post-qualification general medical experience (evidenced by a reference or internship certificate).

Decisions will be made on a continuous basis throughout the year. Places are limited, so early application is recommended.

English Language Requirements
IELTS 7.0 overall with 6.5 in writing and 6.0 in all other subskills, or equivalent qualification.
Find out more about English language requirements.
Applicants who require a Student visa to study in the UK must present an acceptable English language qualification in order to meet UKVI (UK Visas and Immigration) requirements.
Criminal convictions
You are not required to complete a DBS (Disclosure Barring Service) check or provide a Certificate of Good Conduct to study this course.
If you are currently subject to any licence condition or monitoring restriction that could affect your ability to successfully complete your studies, you will be required to disclose your criminal record. Conditions include, but are not limited to:
access to computers or devices that can store images
use of internet and communication tools/devices
curfews
freedom of movement
contact with people related to Cardiff University.
Course structure
The MSc is a full-time course, consisting of two stages.
Teaching stage:
This lasts for eight months, and consists of six 20-credit modules, totalling 120 credits, at Level 7. You will be required to attend daily teaching sessions (Monday-Friday, and some Saturdays).
A practical skills module runs throughout the duration of this stage. This is supported by significant patient interaction. You will be allocated to the Dermatology Day Treatment Unit for a 1 – 2 week period to gain valuable practical clinical experience.
You will be required to attend regular general outpatient dermatology clinics in Cardiff and the surrounding area. There are also day visits to other dermatology centres in Wales.
You may leave the course after successfully completing 60 credits with a Postgraduate Certificate, or after successfully completing 120 credits with a Postgraduate Diploma.
Dissertation stage:
This lasts for a further four months, to a total of one academic year, and will include a dissertation of 60 credits at Level 7, to achieve a combined total of 180 credits to complete the MSc programme.
The dissertation is based on a literature-review and normally not more than 20,000 words supported by such other material as may be considered appropriate to the subject. It is worth 60 credits and is weighted 50% for the purpose of calculating your final mark.
Topic areas could include (but are not limited to): clinical immunology, cosmetic dermatology, cutaneous manifestations of systemic diseases, diagnostic techniques, disorders of skin and mucous membranes, environmental factors, evidence based medicine, immunology and biology, inflammatory dermatology, microbiology of the skin, photobiology, pigmented skin diseases, practical skills, research methods, skin cancer, skin histopathology, surgical intervention, tropical skin diseases.
The modules shown are an example of the typical curriculum and will be reviewed prior to the 2023/24 academic year. The final modules will be published by September 2023.
The University is committed to providing a wide range of module options where possible, but please be aware that whilst every effort is made to offer choice this may be limited in certain circumstances. This is due to the fact that some modules have limited numbers of places available, which are allocated on a first-come, first-served basis, while others have minimum student numbers required before they will run, to ensure that an appropriate quality of education can be delivered; some modules require students to have already taken particular subjects, and others are core or required on the programme you are taking. Modules may also be limited due to timetable clashes, and although the University works to minimise disruption to choice, we advise you to seek advice from the relevant School on the module choices available.
Learning and assessment
How will I be taught?
The course is delivered via:
Lectures
Workshops
Self-directed learning
Journal clubs
Clinical attachments
All course tutors are doctors, other health care professionals, and scientists, who collectively have a wealth of experience and skills in dermatology. To take advantage of this valuable resource, the course promotes collaborative small group work with an emphasis on a problem-based approach to the study of dermatology. Didactic methods such as the lecture format are also utilised on the programme. There is emphasis on clinical teaching in the form of demonstrations in clinics, in the Dermatology Day Care Treatment Centre, in clinical workshops and interactive clinical tutorials.
How will I be assessed?
The course is assessed through a combination of written work, presentations, objective structured questions, mini clinical exams and a dissertation.
Students are not required to be called for a viva voce examination.
How will I be supported?
All modules within the programme make extensive use of our virtual learning environment, on which you will find course materials, links to related materials and support resources. You will be allocated a nominated supervisor when undertaking your dissertation, who will schedule regular meetings to discuss progress, provide advice and guidance, and give written feedback on a draft.
There will be opportunities to reflect on your abilities and performance through scheduled meetings with your personal tutor.
Feedback
Depending on the module and assessments, feedback may include:
Written comments on assessments
Oral feedback in lectures, seminars, and tutorials
Oral feedback in clinical situations
Sample answers
Whole-class general feedback
Peer feedback, either formally as part of an assessment task or informally outside of the classroom
Meetings with personal and/or academic tutors

What skills will I practise and develop?
The course will provide you with the opportunity to gain a range of valuable skills, both those which are discipline specific and more generic 'employability skills'.
Through the programme, you will have the opportunity to develop IT and practical medical skills, and will be presented with a number of opportunities to extend your communication and analytical skills.
By fully engaging in this course, you should also be able to:
Critically appraise dermatology literature and evaluate the integration of evidence-based medicine in patient management.
Interpret the histopathology of a wide range of dermatological conditions with specific reference to current developments in the area.
Investigate, conceptualise and solve diagnostic problems integrating the history and clinical features of a wide range of dermatological conditions, including problematic situations involving many interacting factors.
Critically appraise management plans and develop broad autonomy and judgement for a wide variety of dermatological conditions.
Critically evaluate actions, methods and results and their short and long-term implications.
Take responsibility for diagnostic and management decisions in clinical dermatology, persuading / influencing colleagues as to appropriate clinical care using sound scientific principles and best available evidence.
Plan and organise a literature review in a coherent and scientific manner on a specific topic in dermatology.
Design and undertake research, development or strategic activities to inform the theory and practice of dermatology, determining and using appropriate methodologies and approaches.
Feel confident in treating and managing patients with skin disease.
Tuition fees for 2023 entry
Your tuition fees and how you pay them will depend on your fee status. Your fee status could be home, island or overseas.
Learn how we decide your fee status
Fees for home status
| Year | Tuition fee | Deposit |
| --- | --- | --- |
| Year one | £28,950 | £5,000 |
Students from the EU, EEA and Switzerland
If you are an EU, EEA or Swiss national, your tuition fees for 2023/24 be in line with the overseas fees for international students, unless you qualify for home fee status. UKCISA have provided information about Brexit and tuition fees.
Fees for island status
Learn more about the postgraduate fees for students from the Channel Islands or the Isle of Man.
Fees for overseas status
| Year | Tuition fee | Deposit |
| --- | --- | --- |
| Year one | £28,950 | £5,000 |
More information about tuition fees and deposits, including for part-time and continuing students.
Financial support
Financial support may be available to individuals who meet certain criteria. For more information visit our funding section. Please note that these sources of financial support are limited and therefore not everyone who meets the criteria are guaranteed to receive the support.
Additional costs
While most of the costs are incorporated in the fee structure, there may be additional costs for transportation to clinical attachments. Additionally there may be a cost for students requiring English Language proof reading for the dissertation or other written assessments.
Will I need any specific equipment to study this course/programme?
Students will need a computer with Internet access and up-to-date virus and malware protection. An up-to-date, suitably secured web browser and Adobe Reader will be required to view course materials. A word processor, compatible with Microsoft Word, will be required to complete the summative and formative exercises. Other software may also be useful at some points in the programme for conducting data collection/analysis, for instance Microsoft Excel.
A dermatoscope may aid, but is not essential for the programme.
Living costs
We're based in one of the UK's most affordable cities. Find out more about living costs in Cardiff.
Careers and placements
This programme is particularly suitable for qualified doctors who wish to pursue a specialist career in dermatology.
The programme can be a stepping stone towards a career as clinical academic, consultant dermatologist, cosmetic dermatologist, or private practitioner.
This Masters programme enables you to demonstrate you are taking the opportunity to develop your abilities in critical analysis, problem-solving, decision-making, finding and using evidence and in dealing with complex issues. The programme is not a substitute for a formal specialty training programme but studying at this level should help successful students demonstrate numerous academic skills that should be highly regarded in relation to their career development and progression. In particular, the programme offers opportunities to demonstrate the development of knowledge and skills in relation to the application of evidence-based medicine and the potential enhancement of services and governance frameworks. As such, it should provide evidence of commitment and potential that may assist you in relation to taking on greater responsibilities or perhaps seeking management, research, scholarship, or leadership roles.
Placements
Weekly observational clinical placements in local dermatology centres.
---
HESA Data: Copyright Higher Education Statistics Agency Limited 2021. The Higher Education Statistics Agency Limited cannot accept responsibility for any inferences or conclusions derived by third parties from its data. Data is from the latest Graduate Outcomes Survey 2019/20, published by HESA in June 2022.