"If I wrote a book I'd want cycling to be one chapter, not the whole thing"
Commonwealth Games athlete Lewis Oliva talks about how studying medicine has given him a new perspective.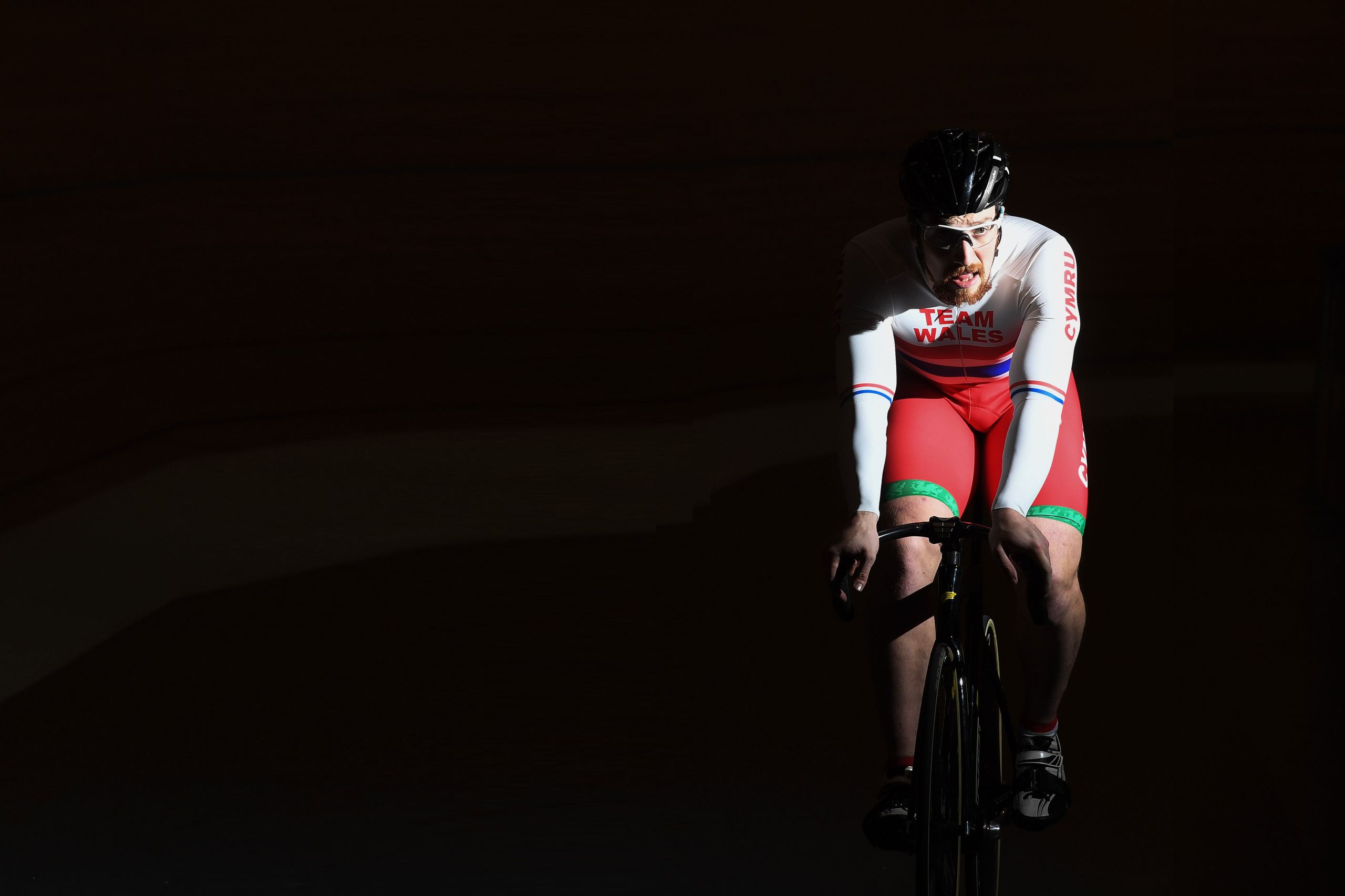 You don't spend seven years on the British Cycling programme without becoming fairly single-minded. However, walking the wards as a second year medical student has given Welsh sprint cyclist Lewis Oliva a more balanced perspective on elite sport.
"You think that doing standing starts on a Monday morning is actually that important — and it's not. When you get marched round the children's oncology ward up at the Heath, that's a real sense of perspective. That's some real serious stuff."
Lewis left the Manchester-based British Cycling programme in September 2016 to take up a place on the undergraduate Medicine programme at Cardiff University and join Welsh Cycling.
"After I was in Manchester for six years, I got to the point where I was riding around and around in circles both spiritually and metaphorically... it just cracked me, you know?
"I needed something else to do. I'd been doing work experience up in Chester and the consultant anaesthetist there took me under his wing and gave me loads of days on the ward. I just found it hugely inspirational. So that was very much what I wanted to do. I was absolutely hooked from there."
For Lewis, 25, studying medicine has opened up an aspect of his performance he wasn't able to access before. 
"Seeing stuff on the wards is a real eye opener and for some reason that just seems to unlock this no holds barred attitude which allows you to just come on to the track and rip it.
"You've got no black clouds over you. You're not thinking 'Oh, what if I go rubbish?'"
The decision to leave one of the best-known cycling programmes in the world came from a feeling that he could do more as a cyclist, as well as a desire to get more from life.
"I was convinced in British Cycling that I wasn't doing things properly. I wasn't getting the most out of myself. It would come to races and I'd physically be in good shape, but then tactically let myself down.
"There's obviously a weakness there that lies outside of physicality — it's a tactical thing. It's that race experience and unfortunately, in British Cycling, if you're not in the team sprint, you won't get exposed to the sprint and keirin races — the individual races which I'm better at."
Coming to Welsh Cycling was an opportunity for Lewis to focus on the tactical side of his racing and build experience through competing in national races and World Cups. The move also meant finding more balance by committing time to something outside the pressure-cooker world of professional sport. 
"The culture in British Cycling — which obviously works — you get to the point where you feel guilty for walking around Sainsbury's being on your feet. You get told to sit whenever you can, stay off your feet, and if you can, lie down. I don't think it's a very healthy way to live.
"There are definitely things I'm appreciative of in my experience with British Cycling. I'd do the whole thing again, but I'm happy I swapped.
"For it all to come together and to start getting what we needed, tactically and race-craft wise, to then start delivering on the world stage was a really sweet feeling."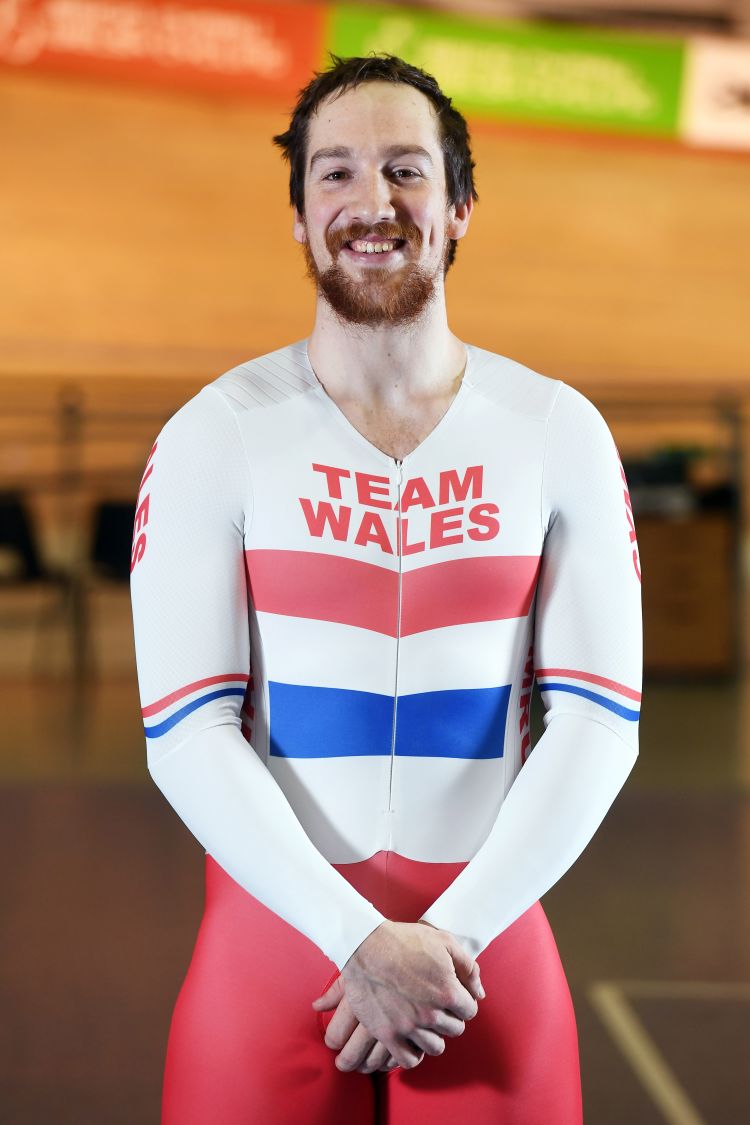 Remarkably, since Lewis left British Cycling, his racing has gotten better and better. British Keirin Champion two years running, he's also performing consistently on the world stage, winning four World Cup medals over the last two years. 
In the run up to the 2018 Gold Coast Commonwealth Games, Lewis has been training at the Newport Velodrome with the rest of the Team Wales squad. Sessions include chasing a motorbike around the steeply sloped track at speeds of over 80 kilometres per hour. He's at the track two or three times a week as well as fitting in sessions on the turbo trainer, on the roads and in the gym.
Welsh Cycling provides the team with their own marginal gains facilities at the Welsh Institute of Sport in Cardiff. Athletes have access to strength and conditioning, psychology, nutrition, and physiotherapy.
There are some key differences to the set up at British Cycling. There's less budget, less focus on mechanics and engineers, and more emphasis on riders looking after their own kit.
"We don't have as much scientific input — we don't have the power monitoring, the data monitoring and all that — but we're a lot more focused. Because we're a smaller team you get one-to-one coaching."
"We're quite experimental down here. There's no one judging us, no one watching us, there's no selection pressures and we're guaranteed to ride the races — it allows you that confidence to try things out. Not everything works — of course it doesn't — but you've got to try it otherwise it will be niggling at you the whole time."
Lewis has used the knowledge he's acquired as a medical student to make further changes to his training. The course explores the endocrine system, including how hormones regulate physiology and behaviour, insight he's used to understand the effects of cortisol on his body during training and how eating and sleeping at different times influence how his body performs. He's changed his recovery strategies and warm-up protocols and used nutrition understanding to tweak his diet — but says he likes to keep the details of at least a few of his training methods to himself.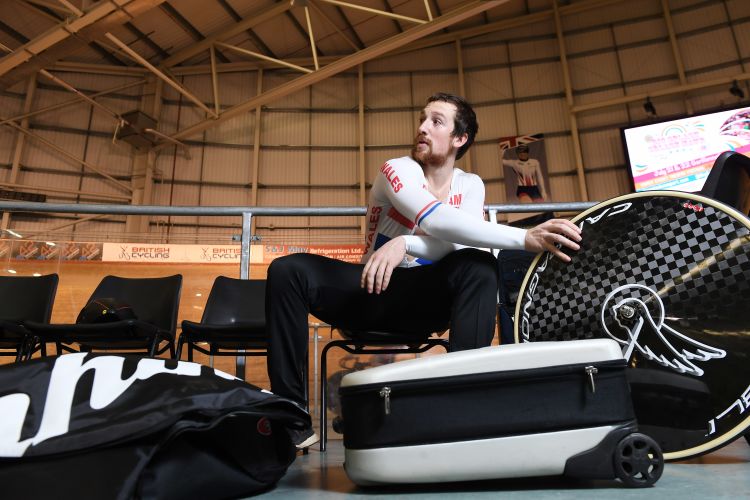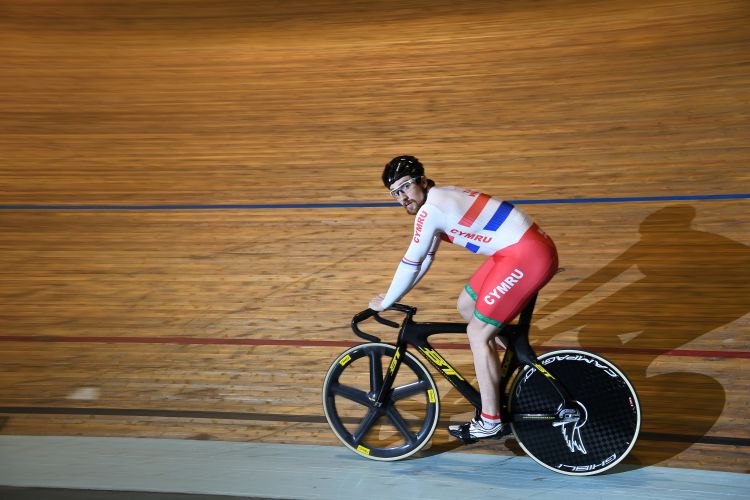 Getting accepted onto the medical programme at the University was a defining moment for Lewis.
"It's a big eye-opener. It's a big perspective shift. I used to think that doing standing starts out of the electronic gate here was important, and then you go to the wards and you see, unfortunately, people with quite debilitating conditions, and that has had a massive shift in my perspective and what's actually important.
"I can't wait to get out on the wards. We do placement once a week and when we get that opportunity I absolutely relish it and love it."
After six years out of education, he came onto the programme as a mature student. His experiences at British Cycling gave him insights into the workings of a big organisation and how to build relationships with colleagues and patients. He found that the discipline he developed as an elite athlete could be applied to the intensive medicine programme.
The pressures of competitions also prepared him for the stresses of sitting exams.
"I really enjoy exams. I'm probably more confident about my exams than the Commonwealths!"
"I think that the funny thing about exams is that the work you put in equals the results you get out. Cycling can be a little more subjective. Yeah you can control what you can, you can physically get better, you can tactically improve, but you can't control what someone else is going to do on the day."
Lewis is supported at the University by the High Performance Programme who help him to balance his full-time training with the demands of his course. 
"They'll often have the difficult conversations with tutors on my behalf.
"On the flip side, I've been very lucky with the medical school. They've been fantastic, really understanding. My tutor, Dr Jeff Allen, has been absolutely brilliant along the way."
It's been a challenging time for professional cycling following the doping report published by the Digital, Culture, Media and Sport Committee in February 2018. The report follows their inquiry into the use of performance enhancing drugs in sport and examines the use of Therapeutic Use Exemptions (TUEs) in professional cycling.
TUEs can be awarded to athletes suffering from medical conditions to allow them to be treated with drugs that would otherwise be prohibited under anti-doping rules. Some teams have been accused of abusing the TUEs system to enhance performance. 
As an elite cyclist and second year medical student, Lewis has a unique perspective on TUEs and the use of performance-enhancing drugs. He explains the difference between drugs used specifically to treat an illness and drugs that can be used to treat an illness but also have other effects on performance.
"A lot of these drugs that are branded as asthma drugs — they're not asthma drugs. They are used to treat asthma.
"That's a big difference, because asthma drugs that are usually in the form of Ventolin, Salbutamol — those sorts of bronchodilators — they are asthma drugs. They are only used to treat asthma. But other more powerful, steroidal anti-inflammatories are not asthma drugs — they are used to treat asthma.
"In some situations, you can have a medically qualified physician who says, 'Let's try you on this drug' — and it can certainly prevent relapse, or it can cure the symptomatic effects of the illness — but those are often very powerful drugs."
Using these stronger drugs can affect an athlete's performance, creating a benefit that goes beyond the therapeutic needs of the drug and moves into performance enhancement.
Governing bodies have to balance the needs of athletes whose medical conditions might prevent them from engaging in professional sport and the ability to effectively monitor the illegal use of drugs to enhance performance and gain unfair advantages.
Lewis explains both sides of the debate.
"It's easy for those of us who don't have TUEs to say, 'Ban them — don't need them'."
"In some ways that's unfair, because those people that have got genuine medical conditions — people who have asthma or arthritis, who can't even get out of bed in the morning, because they're so in pain and debilitated by their conditions — there is a genuine medical need for some pharmacological intervention. So it's easy for them to say, 'We need to keep them in'."
The problem that Lewis sees is that "if there's ever a grey line it's going to get exploited."
"Does it get to the point where, unfortunately, if you have a medical condition that prevents you from doing sport, should it just prevent you from doing sport? It's terrible and it's unfortunate, but unfortunate things happen."
"There needs to be some independent body that monitors the administration of TUEs and how they run tests to diagnose athletes with medical conditions.
"How you measure that, I don't know — I'm only year two at the minute, so ask me in a few more years." 
In the upcoming Commonwealth Games, Lewis's third, he'll compete in both the keirin and individual sprint races. His coaches are positive about his chances of a spot on the podium.
"I'm more excited about this than I have been the two previous times, I think. We're in a really good position this time to do some damage."
Choosing between the two events, his preference is for keirin. It's all about the big gears. It's not just about speed and strength. The jostling and bump and barge of the riders make it a more tactical race and maybe, just a little bit, about the guts of the riders prepared to risk a crash to get the best position.
"It's great for guys who push big gears."
"In my event, the keirin, it can be a bit of a, not a lottery, because you can make your own luck, but it's not just a case of doing everything physically. It's a case of tactically putting yourself in the right position, having your head screwed on and then last, and probably least, is the physical element.
"You can put yourself in the right position, but the strongest guy doesn't always win. It's quite motivating from my point of view, because I don't have to be the fastest."
Lewis heads out to Australia with his fiancée and fellow Team Wales cyclist, Ciara Horne. A qualified physiotherapist, Ciara also left British Cycling for Welsh Cycling and shares Lewis's passion for medicine. Whatever happens at the Games, they're planning on taking an extended holiday afterwards — a sort of pre-honeymoon before their wedding in August.
Lewis has rented a Harley for a few days after the closing ceremony.
"I just love two wheels! I've always been obsessed with two wheels."
And after that? It's back to Wales for more exams.
In terms of cycling, Lewis isn't sure what the future holds. He talks about the Games potentially being his last race but having no regrets about his move from Manchester back to Wales.
"To leave what is one of the most successful teams in the world and go away and do your own thing was pretty fulfilling.
"As a result, it's made my cycling a lot better — I think it's because you sort of don't really care anymore. You're not getting wound up by the fact that you're a 1000th of a second off your personal best."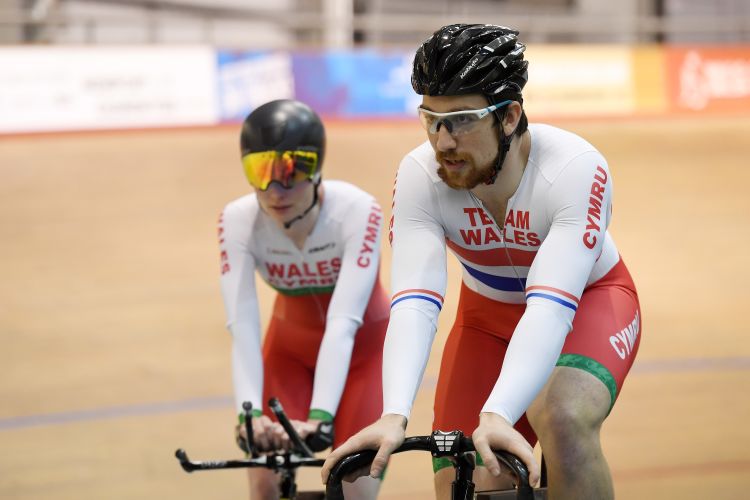 Lewis with his fiancée, fellow Team Wales cyclist Ciara Horne.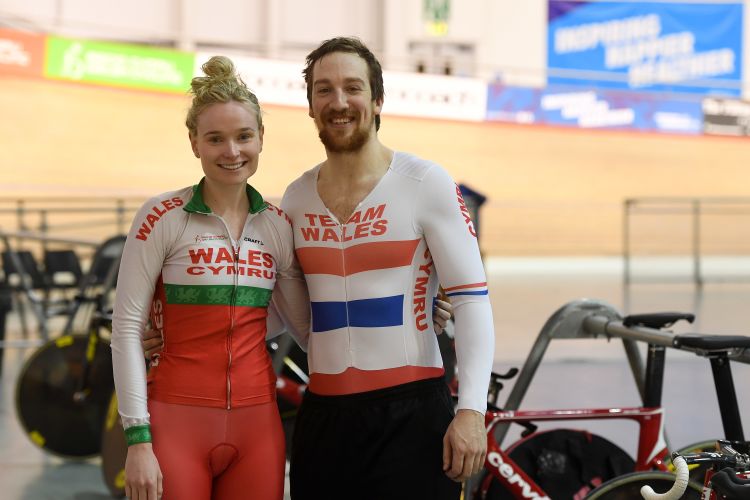 Lewis with his fiancée, fellow Team Wales cyclist Ciara Horne.