Bachelor of Nursing (Adult) Spring Intake (BN)
UCAS code: B743
Next intake: January 2023
Duration: 3 years
Mode: Full time
Why study this course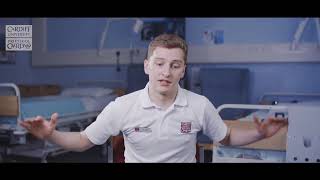 Ranked 1st in Wales and 3rd in the UK
By The Complete University Guide 2021.
A range of placements
Placements across Wales ensure a range of clinical experiences, as well as opportunities to work or volunteer abroad.
Innovative use of the latest tech
Augmented reality is utilised to teach anatomy and physiology, giving you a unique view of the internal mechanics of the human body.
State of the art facilities
Our facilities mirror the healthcare environments in which you will undertake placements and eventually work in as qualified professionals.
Join us and study at a School that is ranked 1st in Wales and 8th in the UK for Nursing in The Times Good University Guide 2020.
Adult nursing is an exciting, challenging and rewarding career. Validated by the Nursing and Midwifery Council our programme provides you with the skills and knowledge to become a registered nurse within 3 years and offers you the opportunity to make a real difference to people's lives and become part of the nursing workforce of the future.
You will work with adults of all ages who may be experiencing one or more long or short-term health conditions such as, injuries from an accident, cancer or diabetes. You will build trusting relationships with individuals in your care and their families, with the aim of improving their quality of life, whatever their situation. While you will specialise in adult nursing from the start of the programme, the integrated nature of teaching means you will learn with those studying children's nursing and mental health nursing. Sharing ideas between disciplines will broaden your perspective on healthcare and help sharpen your focus on your specialist field.
You will be taught at a Russell Group University by motivated and knowledgeable lecturers in the field of adult nursing who are influencing healthcare across Wales and beyond through engagement and research. You will be allocated both a personal tutor who will offer you pastoral support and an academic assessor who will support your professional development during the programme.
As a School we are based at the University Hospital of Wales (the 3rd largest University Hospital in the UK) and we provide courses recognised by both the Nursing and Midwifery Council (NMC) and by the Health and Care Professions Council (HCPC). This contributes to a vibrant interdisciplinary environment, with opportunities for shared learning, formative assessments with other health professionals and inter-professional education (IPE) not available at many institutions.
We have highly equipped skills laboratories in our Clinical Simulation Suite which enable you to learn in simulated wards, community, home and emergency environments. Lifelike simulations mean you can safely practice and develop essential skills, developing your proficiency and confidence before going out into placement; empowering you to provide leadership in multi-disciplinary care where innovation and technology are rapidly evolving.
A varied placement experience undertaken across the three years of the programme will allow you to integrate academic theory with practice and gain insight as to the wide-ranging employment opportunities available to you upon qualification. You will benefit from placements supported by experienced nurses to help you in becoming the best nurse you can be.
On successful completion of the programme you will be eligible to register with the Nursing and Midwifery Council (NMC) as an Adult Nurse. With this registration, you can work in a range of healthcare settings, both in the United Kingdom and abroad.
Above all else, we strive to ensure that our graduates are ready for the next step in their career and the many opportunities that await them. That's why 100%* of our nursing students are in employment or further study after 6 months of graduating (*DHLE and HECSU).
University Hospital of Wales, Heath Park, Cardiff, CF14 4XN
Entry requirements
Please see our admissions policies for more information about the application process.
Interview or selection process
We won't make an offer without an interview and no offers will be made until all interviews have taken place.
All applicants must meet the minimum requirements at Level 2 (typically GCSE) and Level 3 (typically A-level) in order to be eligible for consideration for interview. If you meet the minimum entry requirements your application will be give a numerical score based on your personal statement. Eligible applicants will be ranked according to this score and the top ranking applicants will be invited to interview
Our interview process
We use the multiple mini interview (MMI) format, which is a series of short, carefully timed interview stations that you will rotate around in turn.
The MMIs help us to determine if you:
can think on your feet
have thought about some of the issues that are important to the profession
can critically appraise information
can communicate ideas effectively.
They also focus on exploring the personal qualities and attributes that are important to your future career development.
These interviews allow us to meet you in person and assess information that isn't always readily forthcoming in the application process—they aren't intended to test the amount of prior knowledge you have about the subject or the profession.
Tuition fees for 2022 entry
Students from the UK and Ireland
A full NHS bursary, including tuition fees and a non-repayable bursary for living costs, is available to applicants from the UK. Full details, including information for applicants from the EU, are available on our NHS funding pages.
Students from the EU, EEA and Switzerland
If you are an EU/EEA/Swiss national, unless you qualify for UK fee status, tuition fees will be in line with the fees charged for international students. UKCISA have provided information about Brexit and tuition fees.
Students from the rest of the world (international)
An NHS placement is a required part of this course. The NHS only makes placements available to students who are eligible to pay UK fees. Therefore, this course is not available for international students.
Additional costs
Course specific equipment
You will not need any specific equipment.
Accommodation
We have a range of residences to suit your needs and budget. Find out more on our accommodation pages.
Living costs
We're based in one of the UK's most affordable cities. Find out more about living costs in Cardiff.
Course structure
This a three-year full-time programme consisting of 4600 hours of study, with each academic year divided into two semesters; autumn and spring. There are four core modules in each academic year, these include a portfolio module in each year which is largely taught and assessed in practice and a final year dissertation module. The programme is structured as a spiral curriculum, where modules build on each other with increasing complexity and detail in the teaching, thereby increasing the depth and range of topics learnt. There are assessed practice placements within each academic year. Students must successfully complete 360 credits and pass each of the practice placements in order to achieve the award of a Bachelor of Nursing (Hons) (Adult) and be eligible to apply for professional registration with the NMC to practice as an adult nurse.
The modules shown are an example of the typical curriculum and will be reviewed prior to the 2022/23 academic year. The final modules will be published by September 2022.
Year one
There are four compulsory modules in year one and two clinical practice placements. The modules will either be delivered over one semester or two semesters each year.
Year two
There are five compulsory modules in year two and three clinical practice placements. The modules will either be delivered over one semester or two semesters each year.
Year three
There are four compulsory modules in year three and two clinical practice placements. The modules will either be delivered over one semester or two semesters each year. The last practice learning opportunity in the programme is 14 weeks, and this is where a sign off mentor will make a judgment about the students' achievements of the required competencies for safe and effective entry to the NMC register.
The University is committed to providing a wide range of module options where possible, but please be aware that whilst every effort is made to offer choice this may be limited in certain circumstances. This is due to the fact that some modules have limited numbers of places available, which are allocated on a first-come, first-served basis, while others have minimum student numbers required before they will run, to ensure that an appropriate quality of education can be delivered; some modules require students to have already taken particular subjects, and others are core or required on the programme you are taking. Modules may also be limited due to timetable clashes, and although the University works to minimise disruption to choice, we advise you to seek advice from the relevant School on the module choices available.
Learning and assessment
Traditional face-to-face learning strategies such as lectures, workshops and seminars will be complemented by interactive online opportunities and resources designed to enhance your overall learning experience and enable you to acquire the knowledge, skills and capabilities that are a requirement of adult nursing practice. You are also afforded valuable opportunities to learn from the authentic voices of service users and carers who contribute to the programme as experts by experience.
Within the clinical environment you will be supported by Practice Supervisors and Practice Assessors as you progress towards achieving NMC proficiencies. In the academic setting you will also be allocated an Academic Assessor who will review your Professional Assessment Document (PAD) throughout the year to the point of progression to the following year of study. To support learning in practice you will also undertake simulated activities and scenarios in a purpose-built simulation suite. This will allow you to develop, practice and consolidate skills in a safe environment.
How will I be supported?
You will be allocated a Personal Tutor who is a member of the academic staff group and a qualified adult nurse. You will be encouraged to arrange meetings with your personal tutor throughout your time on the programme, during which you can access pastoral support and reflect on your overall progress. Personal Tutors will also assist in signposting you to other sources of support such as the School and Programme Student Disability Contact and University-wide services including Student Support and Wellbeing and the Academic Skills and Mentoring Team. Welsh-speaking personal tutors may be available to students whose preference is to access support through the medium of Welsh.
The School also works in partnership with Y Coleg Cymraeg Cenedlaethol to provide opportunities for Welsh speaking students to study aspects of the programme through the medium of Welsh and the possibility of a yearly scholarship. You could also learn Welsh through our Welsh for All programme where courses are designed to fit around your academic commitments and are free of charge.
The Programme Manager, Module Leads and Academic Assessor can support you in relation to your overall experience as a student of the programme, including any feedback or concerns you might have.
During practice placements, you will be supported by Practice Supervisors and a Practice Assessor who will facilitate your learning and prepare you for in-point clinical assessments. A dedicated Placement Support Team will also be available to you, alongside formal mechanisms and procedures, to support your learning and progress and address any issues or problems that may arise. The placement team will attempt to source Welsh-speaking supervisors or bilingual placement learning opportunities and, if available, Welsh-speaking named contacts from the academic setting upon request.
What skills will I practise and develop?
The Learning Outcomes for this Programme describe what you will be able to do as a result of your study at Cardiff University. They will also enable you to understand what is expected of you.
The Learning Outcomes for this Programme can be found below:
Knowledge & Understanding:
On successful completion of the Programme you will be able to demonstrate:
A comprehensive understanding of the philosophical and theoretical concepts that underpin and inform nursing practice and the importance of adherence to the Nursing and Midwifery Council Code.
A sound knowledge of body systems, anatomy, physiology, genomics and human development underpinned with relevant theory and applied to health and illness.
A critically evaluative approach to the socio-political factors and relevant policies that influence individual, local, national and global health, wellbeing and illness and inform decision making in practice.
An in-depth understanding of the core principles and values that underpin collaborative practice in health and social care, including how the role of the adult nurse contributes to interdisciplinary working in ensuring the provision of high-quality, person and family-centred services.
A sound appreciation of regulatory and professional body standards concerning, continuing professional development and reflective practice, leadership, research and evidence-based care in order to develop, deliver and evaluate safe, high quality family and person-centred adult nursing care.
Intellectual Skills:
On successful completion of the Programme you will be able to demonstrate:
Proficiency in the selection, analysis, synthesis and critical evaluation of information from a wide range of sources, drawing logical and reasoned conclusions in the formation of sound decisions and professional judgements.
A creative and innovative approach to problem-solving in the academic and practice environment, including imaginative thinking and the development of innovative solutions and ideas that will enhance health outcomes and peoples experience of nursing care.
Proficiency in contributing to a professional knowledge base through the selection, justification and application of ethically-sound research design and methods and the identification of effective dissemination strategies.
Enhanced professional reflective and reasoning skills that promotes critical review of care provision and wider organisational values and practice.
Professional Practical Skills:
On successful completion of the Programme you will be able to demonstrate:
Established professional values and behaviours in keeping with professional body expectations as described in the NMC Code.
Effective and appropriate collaborative working practices with users of services, other team members and partners, drawing upon enabling, empowering and consultative approaches and valuing diversity of experience and perspectives.
Promotion of people's safety and wellbeing through prioritising their legal rights, best interests and needs using effective risk assessment and risk management.
Sound assessment and reasoning skills in identifying and planning appropriate, evidence-based interventions and care delivery, respecting the rights, culture, spiritual needs and preferences of the people, carers and families involved and evaluating effectiveness.
Advocacy and leadership in promoting and protecting the health and wellbeing of individuals and communities in preventing ill health and recognition of a need for organisational change and service improvement.
Transferable/Key Skills:
On successful completion of the Programme you will be able to demonstrate:
Active engagement in continuing personal and professional development underpinned by critical reflection and a commitment to developing resilience and lifelong self-directed learning skills.
Effective prioritisation and management of time, working within given resources throughout the problem-solving process and assuming leadership, responsibility and accountability for management and development of self and others.
Enhanced communication skills and an ability to teach, supervise and motivate others, drawing upon leadership skills in identifying methods and strategies for effective team working and high-quality service delivery.
Accurate record-keeping, and responsible engagement with a range of digital technologies to communicate and collaborate with others and produce documentation that conveys and justifies actions.
Application of the core professional beliefs and values of professional conduct, accountability, risk management and duty of candour.
Careers and placements
Career prospects
The career options for nurses are varied and plentiful, ranging from hospital, primary care or community settings - including being based within GP surgeries - to industry or research in the UK and internationally, making this an exciting degree to embark upon.
As a School of Healthcare Sciences we are proud that 100% of our nursing graduates are in employment and/or further study six months after graduating (UNISTATS).
Career destinations include:
Adult nurse - the main point of contact for adult patients (aged between 16 and 110+) and their families, you'll play a vital role in a multi-disciplinary team.

Advanced nurse practitioner – a role for nurses who have done extra training and academic qualifications to be able to examine, assess, make diagnoses, treat, prescribe and make referrals for patients.

Health visitor – nurses who have chosen to gain additional training and qualifications as specialist community public health nurses. The additional training in public health enables you to assess the health needs of individuals, families and the wider community.

Research nurse - crucial to delivering research. You'll provide and deliver high quality patient care, deal with data collection, follow-ups, patient groups and industry.
Ward manager – you'll provide leadership and visibility at ward level important to the delivery of safe, high-quality care to patients.

Consultant nurse – you'll ensure that nurse departments are following legal constraints and protocol.

Lecturer - becoming a nurse lecturer could offer you the opportunity to make sure the next generation of nurses are competent and confident in the practice setting.
Graduate careers
Ward Manager
Lecturer
Health Visitor
Placements
All nursing students must complete a minimum of 2300 hours of supervised and successfully assessed practice placements as a requirement of the professional body (NMC, 2018). The programme includes seven full-time placements which will enable you to apply and build upon the theoretical knowledge and practical skills you will have acquired in the academic setting.
Our placement providers are primarily situated in health and social care settings across South East Wales, although students may also have an opportunity to pursue non-traditional placements in the private and third sectors.
Data from Unistats is not yet available for this course.
Data from Unistats is not yet available for this course.
---
HESA data: Copyright Higher Education Statistics Agency Limited 2020. The Higher Education Statistics Agency Limited cannot accept responsibility for any inferences or conclusions derived by third parties from its data. Data is from the latest Graduate Outcomes Survey 2017/18, published by HESA in June 2020.