Integrated Engineering (MEng)
UCAS code: H113
Next intake: September 2020
Duration: 4 years
Mode: Full time
Why study this course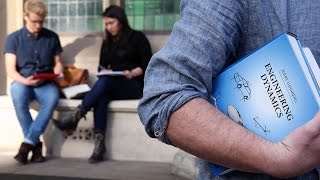 The complexity and sophistication of modern engineering requires a multidisciplinary approach. Industry is therefore seeking engineers with broad knowledge and skilled in more than one of the traditional engineering disciplines.
The Integrated Engineering degree embraces many aspects of electrical, electronic, mechanical and manufacturing engineering. By completing this course you will qualify as an engineer of the highest quality: your broad knowledge of various aspects of engineering will ensure you can interact with engineers from all the traditional engineering disciplines in any multidisciplinary environment.
You will also become familiar with the role of engineering within the business environment, as particular attention is paid to economics, management and law.
Choosing this four-year Cardiff MEng Integrated Engineering degree offers you a quicker, more direct route to Chartered Engineer status than the three-year BEng.
The MEng allows you to use the last two years to expand and strengthen your knowledge. You will benefit from advanced learning in design and management and an appreciation of the techniques needed to manage and organise a multidisciplinary engineering design project.
Other Cardiff University Integrated Engineering courses include:
A thorough grounding in the fundamentals of engineering if you choose a BEng course
The opportunity to follow a sandwich year in industry if you choose the relevant four-year BEng or five-year MEng degree option
The opportunity to study abroad at a partner institution for one semester if you choose the relevant MEng (International) degree option
The opportunity to study a language if you choose the relevant MEng degree option with a sandwich year at a university in France, Germany or Spain
Distinctive features
The distinctive features of the course include:
Fast-track route to Chartered Engineer status
The course is accredited by the Institution of Mechanical Engineers, the Institution of Engineering and Technology and the Energy Institute
The integrated course, which draws on modules taught across the School, benefits from the 'Excellent' teaching rating achieved by the School
The facilities that come with a successful research unit
The opportunity to learn from leaders in their fields, through direct access to academic staff, many of whom are Chartered Engineers or have worked in industry
An open and engaging culture between students and staff
Some external scholarships may be available from the UK Power Academy and UK Electronic Skills Foundation UKESF (Cardiff is a member of both schemes)
Accreditations
Where you'll study
Study in one of the UK's leading engineering Schools for the quality of research and teaching.
5 The Parade, Newport Road, Cardiff, CF24 3AA
Tuition fees
UK and EU students (2020/21)
| Tuition fee | Deposit |
| --- | --- |
| £9,000 | None |
Financial support may be available to individuals who meet certain criteria. For more information visit our funding section. Please note that these sources of financial support are limited and therefore not everyone who meets the criteria are guaranteed to receive the support.
Students from outside the EU (2020/21)
| Tuition fee | Deposit |
| --- | --- |
| £21,950 | None |
Financial support may be available to individuals who meet certain criteria. For more information visit our funding section. Please note that these sources of financial support are limited and therefore not everyone who meets the criteria are guaranteed to receive the support.
Additional costs
Course specific equipment
No specific equipment is needed. The University will provide resources such as computers and associated software, laboratory equipment (including any safety equipment) and a variety of other learning resources.
Accommodation
We have a range of residences to suit your needs and budget. Find out more on our accommodation pages.
Course structure
This is a four-year full-time degree. The course includes a carefully chosen balance of core modules and optional modules. Most modules are worth 10 credits, some are worth 20 and the year three and year four projects are each worth up to 40 credits. You need to earn 120 credits a year.
There are two semesters each year, each semester consisting of 11 teaching weeks, one revision week and an examination period.
The modules shown are an example of the typical curriculum and will be reviewed prior to the 2020/21 academic year. The final modules will be published by September 2020.
Year one
Year one consists of a series of lectures underpinned by practical laboratory sessions.
Year two
Year two again consists of a series of lectures underpinned by practical laboratory sessions.
Year three
Year three includes a major project, totalling 40 credits. For this you will work individually, alongside a supervising staff member.
There are other core modules and a choice of some optional modules, building upon the foundations established in the earlier years.
Year four
Year four includes two group projects, which are linked to topical research. In total, these make up half of the overall assessment.
Core modules include Management in Industry and there is a choice of optional modules.
The University is committed to providing a wide range of module options where possible, but please be aware that whilst every effort is made to offer choice this may be limited in certain circumstances. This is due to the fact that some modules have limited numbers of places available, which are allocated on a first-come, first-served basis, while others have minimum student numbers required before they will run, to ensure that an appropriate quality of education can be delivered; some modules require students to have already taken particular subjects, and others are core or required on the programme you are taking. Modules may also be limited due to timetable clashes, and although the University works to minimise disruption to choice, we advise you to seek advice from the relevant School on the module choices available.
Learning and assessment
Teaching is through lectures, examples classes and extensive laboratory, IT and practical work. The taught modules in the first two years are largely compulsory, but options are usually available in years three and four. All students must complete a 40 credit individual project in year three, for which they are allocated a supervisor from among the teaching staff. There are opportunities for interactions with potential employers.
Year 1
Scheduled learning and teaching activities
42%
Guided independent study
58%
Year 2
Scheduled learning and teaching activities
38%
Guided independent study
63%
Year 3
Scheduled learning and teaching activities
33%
Guided independent study
67%
Year 4
Scheduled learning and teaching activities
0%
Guided independent study
0%
How will I be supported?
You will be assigned a personal tutor who is a member of the academic staff associated with your degree course. Your tutor will be there to advise you on academic, non-academic and personal matters in a confidential and informal manner when you need some guidance. We aim to help you overcome any problem, however big or small, as smoothly and quickly as possible.
For the 40 credit project in year three, you will be allocated a supervisor in the broad area of research specialism and meet regularly.
You will have access through the Learning Central website to relevant multimedia material, presentations, lecture handouts, bibliographies, further links, electronic exercises and discussion circles. Opportunities for you to reflect on your abilities and performance are available through the Learning Central 'Personal Development Planning' module.
The University offers a range of services including the Careers Service, the Counselling Service, the Disability and Dyslexia Service, the Student Support Service, and excellent libraries and resource centres.
Feedback
We'll provide you with frequent feedback on your work. This comes in a variety of formats including oral feedback in classes like design and project work and via return of marked coursework.
The opportunity to test your knowledge and understanding will be provided throughout the semester via class tests in Years 1 and 2, plus feedback on written assessments. Occasionally, peer assessment of an individual's contribution to a group may be used, and you may also receive oral feedback on presentations and contributions to group activities.
What skills will I practise and develop?
This course is accredited via the Engineering Council, meaning the core competencies of UK-SPEC (UK Standard for Professional Engineering Competence) are integrated throughout the taught years of the course.
Through lab work you will develop practical skills focused on the application of a range of engineering principles to real-life technological, regulatory and ethical problems encountered in the engineering profession.
You will also:
Enhance your communication skills, both orally and in writing through a series of reports and assignments
Develop your knowledge, skills and confidence to solve multidisciplinary problems in a engineering context
Enhance your team-working skills, ability to exercise original thought and good professional judgement
Careers
Career prospects
Our integrated engineering graduates hold key positions in leading firms such as Halcrow, Atkins, BP, BAE Systems, RWE npower, Mott McDonald, Network Rail, Rolls Royce, Ford, Tata Steel, Nokia, Bosch and beyond. Our graduates have also moved on to work within local government, UK and international utility companies and organisations such as Climate Energy and GlaxoSmithKline.
Being at the forefront of engineering research means Cardiff has excellent links with industry. These links have been developed with companies, both in the UK and overseas, through our Year in Industry schemes and through consultancy work by staff. This involves advising on matters such as energy policy, bridge design, magnetic materials and semiconductor devices.
In 2015/16, 95% of the School's graduates who were available for work reported they were in employment and/or further study within six months of graduation.
Graduate careers
Civil engineer
Electrical engineer
Graduate mechanical engineer