Journalism
Huw Edwards
BA 1983, Hon 2003
Susanna Reid
PGDip 1993, Hon 2015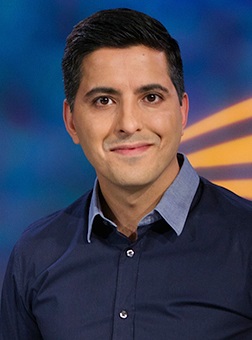 Manish Bhasin
PGDip 1998
Manish is a sports journalist and presenter. He was the BBC's primary cricket presenter, hosting highlights of the 2006–07 Ashes Series, the 2007 World Cup and the 2011 Cricket World Cup. At the start of the 2009–10 English football season, Manish was chosen to present the BBC's new Football League highlights package.
Jason Mohammad
PGDip 1997, Hon 2014
Jason joined the BBC in 1997 as a reporter for "BBC Wales Today" before becoming the anchor of "Wales on Saturday". In 2013, he became the host of "Final Score" on BBC One. He is one of the main presenters on BBC Sport. Jason received an Honorary Fellowship from the University in 2014.
James Goldston
PGDip 1991, Hon 2019
James is president of ABC News in America. Previously, he was the executive producer of Britain's most watched current affairs program, "Tonight with Trevor McDonald". During his time as producer and executive producer, the show won Royal Television Society's prestigious Program of the Year Award three times in five years.
Connect, grow your professional network, and support students and fellow alumni. Cardiff Connected is the place to find new opportunities and tap into Cardiff's global alumni community.