News
Read our latest Welsh Festivals news.
Llais y Maes (Voice of the Field), a bilingual digital newspaper run by Cardiff University covering the National Eisteddfod of Wales, returns this year with an exciting new format.
Previously Llais y Maes has been run solely by Cardiff University students, but this year it will bring together students with learners from PeoplePlus Cymru, a leading work-based learning provider which delivers traineeships and apprenticeships on behalf of the Welsh Government.
This year it is hoped that bringing together students and other learners will help create a fresh perspective on a centuries-old tradition of Eisteddfodau, and create new opportunities for young people who are seeking employment.
Llais y Maes, established by Cardiff University's Centre for Community Journalism in 2013, trains students in key journalistic skills such as creating news content, writing, video editing and social media newsgathering. Students have provided an alternative view of the festival and uncovered exclusives that have made their way into the schedules of BBC Wales, S4C and ITV.
Shelley Bird, Community Champion at PeoplePlusCymru, says: "We are very excited about our learners working together with the Centre for Community Journalism and Cardiff University students on Llais y Maes. This is a fantastic opportunity for our learners to experience being part of a network of digital journalists working bilingually at the festival. Our learners will gain a range of technical and social skills that they can take forward to help them progress into their chosen careers in the future."
Llais y Maes alumni have gone on to find jobs in organisations such as S4C and BBC Wales, helped by the skills they honed on the fields of the Eisteddfod. Sophie Gardner-Roberts, a French national who had never been to a National Eisteddfod before, took part in Llais y Maes 2015 and has since landed her ideal job as an editorial assistant at Archant, working across its portfolio of French magazines.
Sophie says: "Llais y Maes turned out to be one of the best experiences I had during my masters at Cardiff University. Working on a digital newspaper proved to be essential experience for me as digital news and online storytelling becomes increasingly important in our field and I'm already using what I learnt there in my current job. Diolch!"
Manager of Cardiff University's Centre for Community Journalism, Emma Meese (former senior producer at the BBC), and Welsh language journalism lecturer, Sian Morgan Lloyd (former ITV reporter and deputy editor of Y Byd ar Bedwar), will manage the news service, providing participants with the highest standard of journalistic training. Sian now runs the Welsh language provision at the University's School of Journalism, Media and Cultural Studies and this year students studying journalism through the medium of Welsh form a core part of the Llais y Maes team. Welsh-language students who have taken part in Llais y Maes have also chosen to take advantage of Cardiff University's new Welsh language provision for journalism studies as a direct result of their experience.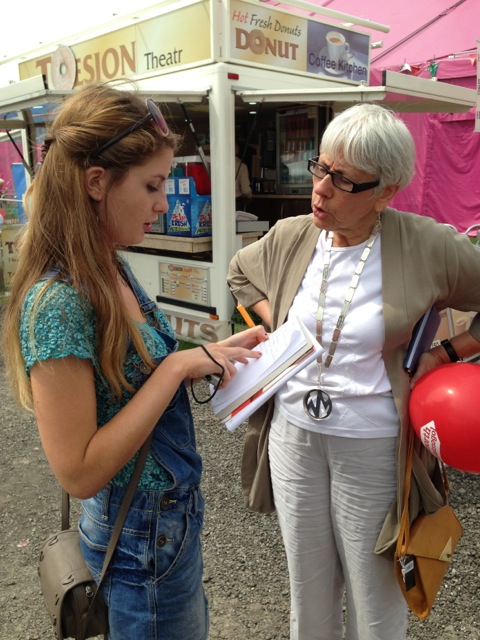 Emma Meese says: "We are delighted to bring back Llais y Maes with a brand new format, and we hope that both Cardiff University students and PeoplePlus Cymru learners will gain a lot from each other and develop new skills to help further their careers. Each year our Llais y Maes team have uncovered scoops and interviewed notable figures in Welsh life – from BBC One Show presenter Alex Jones to First Minister Carwyn Jones – and we cannot wait to see what they come up with this year."
Since being established in 2013, Llais y Maes has left a lasting legacy in the host communities for each National Eisteddfod, inspiring new community news services such as Pobl Dinefwr which was established in Carmarthenshire after the festival in 2014. Now it is hoped that a community group based in Abergavenny will similarly take on the legacy of Llais y Maes with a new hyperlocal service.
Cardiff University launched the UK's first academic Centre for Community Journalism in 2013 as one of Cardiff University's flagship engagement projects, which aim to transform communities in Cardiff, Wales and beyond. The Centre for Community Journalism researches into this growing sector and offers networking, information and training for community journalists. The University's flagship engagement projects work with communities on issues such as tackling poverty, boosting the economy, and improving health, education and wellbeing.
Ancient footprints and forests preserved on the Welsh shoreline are shedding light on past coastal communities and helping young people understand the impact of climate change.
Footprints in Time - a new engagement project from Cardiff University's School of History, Archaeology and Religion with partners Tidal Lagoon Power Ltd - gives young people in south Wales the opportunity to investigate past, present and future coastal environments in their local area.
Investigating real human footprints and pollen samples from now submerged landscapes, participants can get hands on experience of the lives of ancient people, and understand how our ancestors dealt with rising sea levels.
As well as contributing to current research, the young people will explore whether the history of coastal changes can inform our own experiences of climate change and how we have moved from physical footprints to carbon footprints.
Project lead Rhiannon Philp, whose PhD is investigating the impact of prehistoric sea level change, explained the significance of the project: "Footprints in Time is bringing current university research into the classroom. We want to raise awareness of climate change – past and present and our human responses to it."
"Using hands-on workshops, the project is aiming to engage participants in subjects that they might not have known about previously and to show how a multidisciplinary approach can improve our understanding of human experience."
In an innovative collaboration, the team is also working with Dr Tony Hayes of the University's Bioimaging Unit in the School of Biosciences to create intricate 3D printed representations of prehistoric pollen grains using confocal laser scanning microscopy.
The prints are used as a tool for teaching and engagement and will be on show at the University's tent at the National Eisteddfod in Abergavenny, which runs from 29 July-6 August 2016.
Footprints in Time is funded by Cardiff University's City Region Exchange Programme, which promotes and supports academics' engagement with city region agendas, and with a range of external partners on projects that seek to advance regional social and economic development.
City Region Exchange is part of Cardiff University's Transforming Communities programme, which works with communities in Cardiff, Wales and beyond in areas including health, education and wellbeing.
An innovative £1.8m project to collect millions of words of everyday Welsh will be showcased at the National Eisteddfod.
Researchers are gathering a 'living lexicon' by allowing contributors to record and upload the Welsh language as used in real life.
The collection of words and phrases, from formal Welsh to regional vernacular, forms part of the Corpws Cenedlaethol Cymraeg Cyfoes (CorCenCC) project, led by Cardiff University.
CorCenCC aims to develop the first large-scale evolving collection of Welsh words, representing the language as used by people in everyday life.
The project will use technologies like crowdsourcing (via a mobile app) to collect data and invite contributions from Welsh speakers of all levels and backgrounds.
CorCenCC is a community-focussed project and from the outset the project team will be asking people who use, research, learn, work and live with the language to help with decisions about the content and structure of the corpus.
Project Director Dr Dawn Knight, Reader in Applied Linguistics at Cardiff University, said: "The project is a major step on the road to gathering the first large-scale living and evolving corpus, representing the Welsh language across communication types and informed by real, current, users of the language. We will be engaging with the public in a number of ways, and using new technologies to do so."
The project brings together a range of collaborators including Cardiff, Swansea, Bangor and Lancaster universities; Welsh Government; WJEC-CBAC; Welsh for Adults and the Dictionary of the Welsh Language.
CorCenCC is backed by high-profile ambassadors including poet Damian Walford-Davies, musician Cerys Matthews, TV presenter Nia Parry and international rugby referee Nigel Owens, who was recently made a Cardiff University honorary fellow.
Nia Parry said: "CorCenCC will shape the future of Welsh language teaching and learning. It will provide a window into our beautiful, rich, exquisite, poetic, ancient language. We will learn about how we use sentence structures, mutations, slang, text talk and e-mail, how we abbreviate, what we say and how we say it.
"For future generations this will prove to be an invaluable resource and in my opinion this work is of real historic importance, not only linguistically but as a record of our essence as a nation and our place in the world."
Nigel Owens added: "The corpus will include examples of Welsh from all domains: from the rugby pitch and the TV studio, to political speeches and academic text books. Learners, dictionary makers, broadcasters and all of us who use the language every day will have a record of real life language which will help us to see how modern Welsh is actually used."
Informal presentations about the project will take place in the Cardiff University tent at 11:00 on 2 August, and in the Swansea University tent at 11:00 on 3 August.
CorCenCC is funded by the Economic and Social Research Council and the Arts and Humanities Research Council.
Experts from Cardiff University are examining the impact of an explosive political period upon Wales, at this year's National Eisteddfod.
The country is experiencing unprecedented political fall-out following the EU referendum, plans to shake-up Welsh devolution and a Welsh Assembly election.
The consequences will be discussed at several politically-focused events that will complement the University's activities looking at Welsh language, culture and heritage.
Topics include the effects of Brexit on Wales, attitudes of young people to the EU referendum and the potential impact of tax devolution in Wales.
This year's National Eisteddfod takes place at Castle Meadows, Abergavenny, from 29 July to 6 August and the University has more than 50 separate activities.
Professor Colin Riordan, Vice-Chancellor, said: "We are extremely proud to be a Welsh university that contributes an enormous amount to our country economically, socially and culturally.
"The National Eisteddfod is one of the jewels in the Welsh crown and it is a pleasure for us to play a major role each year. Please do come along and enjoy our talks, discussions, concerts and films.
"It has been a dramatic few months politically and, among our events focusing on Welsh language and culture, we will also be trying to make sense of what it all means for Wales."
Professor Richard Wyn Jones and Professor Roger Scully, of the University's Wales Governance Centre, will examine how Wales might be affected by the recent Brexit vote.
They will present their take on the dramatic referendum and its fall out in the Cymdeithasau 2 pavilion from 11:30 to 12:30 on 3 August.
Dr Sioned Pearce, School of Social Sciences, will present research on young people and politics in Wales including the EU referendum, at an event at the Cardiff University tent on 1 August from 14:00-15:00.
She will talk about issues such as voter preference, turnout, trust and media sources used during the campaign.
Guto Ifan from the Wales Governance Centre joins Professor Jones to tackle a different subject also of major importance, outlining the challenges and opportunities for tax devolution in Wales at an event at Cymdeithasau 1 from 12:00 to 13:00 on Friday, 5 August.
Outside of politics, this summer the University is celebrating work which turns its outstanding research into 'real world' products, services and spin-out companies that change the way Wales works.
Innovation brings together academics, students and private and public sector partners to build new collaborations with the wider world.
The Summer of Innovation, which runs until early October, shines a light on a wide range of the University's research.
This includes a £1.8m community-driven project, involving other universities, that aims to develop a 10m-word Welsh language resource.
CorCenCC, Corpws Cenedlaethol Cymraeg Cyfoes - the National Corpus of Contemporary Welsh - will benefit teachers, learners, translators, publishers, policy-makers, language technology developers, academics and others.
You can hear more about the project in the Cardiff University tent from 11:00 on 2 August and in the Swansea University tent from 11:00 on 3 August.
Another fascinating event focusing on the Welsh language, specifically dialects, is hosted by linguist Dr Iwan Wyn Rees, of the School of Welsh, at the Cardiff University tent from 12:00 on Friday, 5 August.
Dr Rees is examining traditional Welsh dialects that are dying out in the area hosting this year's Eisteddfod.
With the help of two respected experts, Dr Rees will also look at how traditional Welsh dialects recorded around Abergavenny differ from other parts of the country.
Other highlights include a discussion on the future of television in Wales (13:00-14:00 on 1 August) featuring a panel of political and industry experts.
The University's pavilion will be open to visitors throughout the Eisteddfod and will also feature family activities, films, music and refreshments.
A Cardiff University linguist is examining traditional Welsh dialects that are dying out in the area hosting this year's National Eisteddfod.
With the help of two respected experts, Dr Iwan Wyn Rees, of the School of Welsh, will also look at how traditional Welsh dialects recorded around Abergavenny differ from other parts of the country.
Dr Rees said: "Due to the popularity of last year's panel discussion on the Welsh dialects of Montgomeryshire, this year's session will concentrate on dialects recorded in areas around Abergavenny, including parts of Brecknockshire and the Heads of the Valleys.
"Contrary to the situation in Montgomeryshire however, the traditional Welsh dialects of these areas are extremely rare, or have died out completely, due to the decline of the Welsh language in these parts of Wales.
"Consequently, studies carried out in the second half of the 20th century by Professor Glyn Jones and Mary Wiliam, among others, are invaluable to our understanding of Welsh varieties in areas which are commonly described as 'anglicised' parts of Wales."
Professor Jones, former head of the School of Welsh at Cardiff University, and Mrs Wiliam, former curator and researcher of dialects at St Fagans National History Museum, will join Dr Rees for a panel discussion at the Eisteddfod at 12:00 on Friday, 5 August.
Dr Rees is also giving a talk on the same day at 14:00 at the Literature Wales pavilion about TJ Morgan, who was Professor of Welsh at Swansea University and father of former First Minister Rhodri Morgan, and his recordings of the "last Welsh speakers" in the Abergavenny area.
At last year's Eisteddfod in Meifod, Powys, Dr Rees used the Eisteddfod to gather information about linguistic developments in Wales.
"As somebody who has concentrated mainly on dialects in mid Wales, I am often asked by curious Welsh speakers about similarities between the linguistic features of mid Wales and those of 'Gwenhwyseg', the traditional dialect of south-east Wales," said Dr Rees.
"Without any doubt, Professor Jones and Mary Wiliam will be able to shed light on these intriguing issues, and explain also how the Welsh of Brecknockshire relates to other varieties of Welsh.

"I am also looking forward to playing TJ Morgan's recordings of what he regarded as the 'last Welsh speakers' in the Abergavenny area.
"T J Morgan carried out lots of fieldwork in areas where Welsh was in decline, and I'm sure that the vivid description that he gives in one of his belles-lettres of his encounter with the death of the Welsh language - an experience that was mystical for him at the time - will not only fascinate but astonish Welsh speakers today."
This year's National Eisteddfod takes place at Castle Meadows, Abergavenny, from 29 July to 6 August.
The University's pavilion is staging a wide variety of events and will feature family activities, films, refreshments and free wifi.
Information will be available about how the University helps boost the Welsh economy and supports communities around Wales.
Several events will form part of the Summer of Innovation, a celebration of the University's innovative work that will bring people together from academia, industry and the public sector to build and strengthen connections and partnerships.
The launch of the University's scheme to support students learning Welsh alongside their studies featured an inspirational student from Thailand who is now fluent in the language
Supachai Chuenjitwongsa, who has just completed a PhD in dental education, learned Welsh at the University's Welsh for Adults Centre.
He addressed the launch of Welsh for All in fluent Welsh as the scheme was launched by First Minister Carwyn Jones at the University's pavilion at the Eisteddfod.
Supachai said he started learning Welsh in 2011 because he wanted to be able to say the Welsh words on street signs but soon realised there were so many other benefits.
"It's about understanding local culture, local language. It also helped me a lot to integrate into the local community," said Supachai.
"I made friends through the course. I know more people and I understand what happens in Wales in terms of the history and why people think or do something in a particular way.
"It helped me understand that Wales is a separate country."
His Welsh is now so good that he was invited to speak at the launch of Welsh for All in front of the First Minister.
It was the first time he had addressed a public audience in Welsh but he said he enjoyed the experience.
"I was very nervous but I was very proud not only for myself and the language but I think the most successful thing I've done is given lots of messages about why learning Welsh is important," he said.
Supachai has a very clear message to people thinking of learning Welsh, whether they are students at the University or anybody else.
"I believe that anybody can learn Welsh and enjoy doing it. Just go for it!" he said.
Welsh language broadcasting 'has never mattered more', says BBC Wales Director
The case for public investment to support Welsh language broadcasting "has never been clearer", says the Director of BBC Cymru Wales ahead of a major Eisteddfod debate looking at the future of Welsh-medium media.
Rhodri Talfan Davies will join senior industry figures at a Cardiff University debate to discuss what some are calling the 'most serious crisis for Welsh language broadcasting since S4C was established more than 30 years ago'.
The event takesplaceat the Cardiff University pavilion on the Maes from 1200-1400 on Monday 3 August.
Speaking ahead of the debate, Mr Talfan Davies said:"Welsh language broadcasting across radio, television and the internet has never mattered more. And the case for the public investment that supports it has never been clearer.
"So it's vital that that the public have a real voice in the debate about the future of public broadcasting in Wales."
The panel will also feature S4C Chief Executive Ian Jones, Professor Sioned Davies, Head of the School of Welsh at Cardiff University, and mass media expert Dr Rhodri ap Dyfrig.
Also taking part in the event are Sara Moseley, from School of Journalism, Media and Cultural Studies, and barrister and broadcaster Gwion Lewis.
"Cardiff University has long been at the forefront of educating the UK's leading journalists and we have worked hard over the past two years, with the support of the Coleg Cymraeg, to extend what's on offer in Welsh. It is very important to us that we play our part in shaping and supporting what is a vital sector for Wales and for the Welsh language," said Sara Moseley ahead of the event.
The discussion is being staged by the University, BBC Cymru Wales, S4C, Coleg Cymraeg Cenedlaethol, which promotes the use of Welsh at universities, and the Welsh production company, Rondo Media.
It will touch upon some of the subjects raised in the Rondo-produced BBC Radio Cymru series Cyflwr y Cyfryngau, which is presented by Gwion Lewis and looks at the state of the media in Wales.
The discussion will be recorded for the final episode of Cyflwr y Cyfryngau.
Gwion Lewis said: "Welsh language broadcasting is facing its most serious crisis since S4C was established in 1982.
"There is an urgent need for a national debate about the function of public service broadcasting today in Wales, and the best way of funding it in the post-devolution age."
The discussion comes as decisions on the funding and direction of Welsh language media are reaching a crucial point.
The Welsh Affairs select committee has just announced that the future of broadcasting in Wales is to be the subject of an inquiry.
Committee chairman David Davies said it would focus on the "Welsh picture", including broadcasting in the Welsh language.
The funding of S4C has also been under scrutiny after UK ministers announced a major review of the BBC.
S4C gets most of its income from the BBC licence fee, with some from the UK government plus commercial income.
New university language learning scheme offers Welsh for All
A new scheme aimed at offering students at Cardiff University the opportunity to learn Welsh alongside their studies completely free of charge will be launched at the National Eisteddfod by First Minister Carwyn Jones AM.
From October 2015, the University's new Welsh for All scheme will offer students across all academic disciplines the opportunity to learn Welsh.
Students will be taught in groups and will have access to a range of online resources to help develop their language skills.

A language awareness resource will also be available to students which will allow them to develop their understanding of the status of the Welsh language today.

Following the first Welsh for All intake – focused on beginner-level tuition – the initiative will be developed to cater for all ability levels.
Welsh for All will complement the University's existing routes to Welsh learning, which include Welsh for Adults, the Welsh Language Sabbatical Scheme for teachers and teaching assistants (funded by the Welsh Government), and the Welsh Language Skills Certificate from the Coleg Cymraeg Cenedlaethol. The new initiative extends the provision for internal audiences and will be a dedicated programme for students only.
The School of Welsh has a long history of providing innovative opportunities to learn Welsh and about Welsh culture. One such opportunity sees students from Colgate University, New York, come to Cardiff every year where, in addition to their own degree subjects, they are able to study modules at the School of Welsh.
Welsh for All will be formally launched at the National Eisteddfod (3 August) by the First Minister.
He said: "It is important that students have the opportunity to access Welsh learning courses and enjoy our culture. In fact, many will go on to be ambassadors for Wales long after leaving University.
"Students coming to Cardiff will I'm sure enjoy the opportunity to learn the language and socialise with other students through the medium of Welsh. I'd like to congratulate Cardiff University on the pioneering 'Cymraeg I Bawb' scheme."
Professor Sioned Davies, Head of the School of Welsh at Cardiff University, said: "As a School we're committed to increasing the numbers of students across the University who have the opportunity to learn Welsh. This scheme is another example of us leading the way by delivering greater opportunities for students to learn a language alongside their regular studies.
"We're confident that the language skills students will develop through Welsh for All will be of huge benefit; particularly for those who plan to live and work in Wales. Graduation destination figures for 2013/2014 show that 42% of graduates secured employment in Wales, and clearly the demand for Welsh language skills is growing."
How technology helps rugby players to catch a ball
Cardiff University experts will be at the National Eisteddfod to demonstrate how technology is helping the stars of this year's Rugby World Cup to catch the ball, whatever the weather.
The University has teamed up with Gilbert the Rugby World Cup ball manufacturer to highlight how a polymer in the outer surface of the ball makes it water hating (hydrophobic) and sticky to the hands of the players.
Running throughout the week on the Eisteddfod Maes, children will be able to take part in our very own National Eisteddfod Rugby World Cup challenge.
Carwyn Owen, the craftsman responsible for making the 2015 National Eisteddfod Chair, has made a 4.5m wide 2m high model specifically designed to test the youngsters' rugby skills while highlighting the value of polymers.
It's all part of the University's Cardiff School of Pharmacy and Pharmaceutical Sciences and Medical Society exhibition and activities at the Science and Technology Pavilion at this year's National Eisteddfod in Meifod.
Professor Arwyn Jones, of Cardiff School of Pharmacy and Pharmaceutical Sciences, and Dr Gareth Llywelyn, of the Medical Society, are setting up an exhibit called Working Polymers.
This will highlight unique features of polymers that make them ideal components of materials we use every day, through to life saving medical devices and nanomedicines.
The Working Polymers exhibit will feature the rugby exhibit and two other exhibits - polymers in nappies and polymers in cardiac stents, which are tubes used to treat narrowed or weakened arteries.
Nappies do their job so well thanks to a water-loving (hydrophilic) polymer that has an amazing capacity to absorb water.
This keeps a baby's bottom dry and the water inside the nappy.
Those visiting the Science Pavilion will be able to perform experiments showing in a matter of seconds how this polymer absorbs water to more than double its own weight.
Cardiac stents meanwhile help improve blood supply to heart vessels but some also contain a polymer that releases medicines over time to inhibit inflammation.
How this works will be explained along with Cardiff University EPSRC (Engineering and Physical Sciences Research Council)-funded research focusing on using polymers to target drugs to cancer cells and those causing many other types of diseases. The EPSRC is also partly funding the Eisteddfod activities.
Special Eisteddfod for author of acclaimed Mabinogion translation
This year's National Eisteddfod will be a proud one for a Cardiff University academic with a particularly close bond to the host area.
Professor Sioned Davies, celebrated for her translation of the Mabinogion into English, was born and brought up in Montgomeryshire.
While she has lived in Cardiff for many years, she still thinks of Mongomeryshire as home and is "very proud" to be heading to Meifod, which is hosting this year's event from 1-8 August as part of Montgomeryshire and the Marches.
"It's a very special part of the country. It's part of 'Powys paradwys Cymru' (Powys the paradise of Wales) according to one medieval Welsh poet," said Professor Davies.
"There's a tendency to polarise when we talk about Wales – north and south. People often forget Montgomeryshire, the heart of Wales with its beautiful scenery, its fascinating history and its challenging Welsh dialect.
"When the Eisteddfod was held in Meifod for the first time, back in 2003, people were asking 'Where on earth is Meifod'? The people of Montgomeryshire certainly put Meifod on the map that year and gave Wales an Eisteddfod that they wouldn't forget."
Until the age of six she lived in the small Welsh-speaking village of Llanbryn-mair, in the west of Montgomeryshire, where her father was headmaster. She then moved eastwards to Clatter and then Welshpool, not too far from Meifod.
Professor Davies, Head of the University's School of Welsh, returns to give two talks about the Mabinogion, as well as delivering the Hedley Gibbard Memorial Lecture about the Welsh translations of Alice's Adventures in Wonderland.
Her Mabinogion translation was originally intended primarily for academic use but its accessibility has led to a revival well beyond academia.
Her detailed re-examination of the text has enabled modern audiences to understand how it would have been understood by medieval listeners and, crucially, performed.
It has led to a revival of the practice of telling the Mabinogion by contemporary storytellers, encouraged by a series of successful workshops.
In addition, Seren Books commissioned award-winning authors to reinvent the original stories in a series entitled New Stories from the Mabinogion.
The translation has also been used to develop tourism trails such as the Twrch Trwyth (Wild Boar) Trail in Carmarthenshire.
Professor Davies said: "I'm very excited about the impact that has been created by my Mabinogion research.
"It's been a wonderful experience working with professional storytellers, for example, to re-create these medieval tales and communicate them to a modern-day audience.
"And I'm really looking forward to seeing how the Fourth Branch of the Mabinogi will be re-shaped into a musical (Gwydion) at this year's National Eisteddfod.
"This all goes to show the relevance of the Mabinogion to a 21st century audience."
The Eisteddfod is this year taking place in Montgomeryshire and the Marches, at Meifod, from 1-8 August.