News
We're very pleased to announce a brand new Masterclass in Palliative Care 1-day CPD course, run in association with renowned palliative care educators, Sobell House.
Sobell House has previously run highly regarded courses in Palliative Care with other universities, and is known for its Oxford Advanced Course in Pain and Symptom Management course, which has run for over thirty years.
We are delighted to be working with them to bring a masterclass to Cardiff, based on this internationally renowned course. Dr Fiona Rawlinson, Reader/Programme Director Palliative Care Postgraduate Education at Cardiff University, and Dr Mary Miller from Sobell House, Oxford have collaborated to develop a 1-day CPD course, designed for experienced doctors and nurses who are practising in palliative care or interested in developing their skills in this field of medicine.
Topics covered in the masterclass will include:
Liver disease and palliative care patients
The management of neuropathic pain
An update on cough
Snippets of interest for practice (extracts from the Oxford Advanced Course in Pain and
Symptom Management 2019)
The Cardiff lecture: The interplay between anorexia, cancer cachexia and treatment'
Professor Anthony Byrne
This is a fantastic opportunity to enhance your knowledge and skills in Palliative Care, as well as network and share ideas with colleagues and peers.
The masterclass will run on Friday 29 November, and is expected to be very popular. Take a look at the course page for all the details you need.
Contact us
If you have any questions, please feel free to contact our friendly team:
Cardiff University welcomes delegation of 16 Chinese academics from Guizhou University for a bespoke Innovative Teaching Practice Programme.
Building on the success from the previous programme in 2018, we are delighted to welcome 16 academics from Guizhou University to undertake the 3-month bespoke programme. The aim of the programme is to assist the development and enhancement of learning, teaching and pedagogical practice. The taught elements of the programme are led by the School of Social Sciences with each academic also having the opportunity to observe teaching practices within their own discipline. This year's cohort of delegates include academics from a range of disciplines from across all three Cardiff University Colleges, including microbiology, philosophy, civil engineering and languages.
Emmajane Milton, who is the lead academic for the programme said:
'We're delighted that Guizhou University have sent more academics this year to be involved in the programme and especially pleased that heads and deputy heads of departments are also within this year's group. As a result, we have designed and added an extra element to the programme - a new module especially for them 'Leadership of Learning and Teaching'. The Guizhou academics were very dedicated with their studies last year and we thoroughly enjoyed working with them and are really looking forward to a similar experience this year'.
The programme is based around two core modules with the addition of a third new leadership module. The programme begins with two weeks of specially designed English language sessions. Following this, twice weekly English language sessions continue throughout the programme. Each week the academics also receive 'insight sessions' from professional services staff and academics from across Cardiff University, who provide a broad understanding of the many services required to support an innovative and effective teaching environment. Cultural trips and excursions also form part of the programme.
The delegates were welcomed to Cardiff University by Professor Kenneth Hamilton, Professor Wen Jiang and staff from the School of Social Sciences and the CPD Unit at an afternoon tea held at the historic main building of the University.
Programme
Module 1- Teaching and Pedagogical Practice in Higher Education
The focus of this module is the exploration of learning, teaching, pedagogical practice and student engagement in Higher Education across a broad range of disciplines. It includes the exploration of a range of learning and teaching approaches, use of innovative practices to support learning and teaching, and how to meet diverse students' needs.
Module 2 - Collaborative Professional Learning in Higher Education
This module draws upon Shulman's (2004) case-making methodology as an approach to elicit deep and critical considerations and understandings through engaging in a structured reflective learning experience. Using carefully constructed opportunities for observations in discipline specific programmes aligned to the delegates' particular interests and expertise, 'cases' will be developed using theoretical underpinnings and reflections on practice through dialogic and collaborative work.
Module 3 - Leadership of Learning and Teaching in Higher Education
This new module is designed for members of the programme who have/aspire to have leadership roles in learning and teaching. It explores the challenges associated with undertaking a teaching leadership role in an academic context. The module also explores perspectives on leadership, and considers the challenges associated with leading with influence in an academic context.
Bespoke CPD opportunities
The Innovative Teaching Practice Programme is a great example of the bespoke work that Cardiff University can offer. Cardiff University has a dedicated CPD Unit, with experts who can work with your business or organisation to create unique training plans to suit your specific requirements. We work across all Colleges at the University and can help you develop a programme, whatever discipline you work in.
Find out more about our bespoke provision here, and if you would like to speak to one of our friendly team to find out more, please do get in touch.
We are delighted to share feedback from delegates who have taken part in our Introduction to Dermoscopy online CPD training course.
Dermoscopy is a non-invasive, widely used diagnostic tool that aids the diagnosis of skin lesions and is proven to increase the accuracy of melanoma diagnosis. This 12-week online course is designed specifically for doctors who are involved in the care of dermatology patients with skin lesions, and who are interested in the management of benign and malignant skin lesions, or who wish to learn about dermoscopy to improve their skill in the diagnosis of melanoma.
This course runs twice a year and is well-regarded and popular with medical professionals from around the world. Here are a selection of our delegates' comments:
If you are interested in finding out more about the Introduction to Dermoscopy online CPD course, please take a look at the course page.
If you'd like more information, or to speak to one of our friendly team, please contact us at the CPD Unit:
As the summer begins to draw to a close, why not turn your thoughts to CPD opportunities to help boost your career and take you to the next level?
We have a great range of short CPD training courses coming up in the next couple of months - and don't forget, there's a discount of 10% off most of these courses when you book two places/courses at the same time. (Terms and conditions apply.)
| | | | |
| --- | --- | --- | --- |
| Course | Date | Description | 10% off |
| Business Writing Skills Sorry, fully booked! | Register your interest for future dates | This one day course helps you produce documents that are clear, concise and appropriate – for your business and your readers. | Yes |
| Presentation Skills | 25 October | This one day CPD course teaches you techniques to impress and engage an audience, helping you to deliver confident high-impact presentations. | Yes |
| Google Analytics | 3 October | By the end of this one day course, you will be able to open up a new Google Analytics profile and start getting actionable insights you can use to make your site and your business work better. | Yes |
| Search Engine Optimisation | 17 September | This course covers the basics of SEO to show you how to set up a strategic plan. You'll also cover more advanced topics in brief (such as measuring ROI, improving SEO rankings etc) | Yes |
| Developing a Communication Strategy | 16 September | Developing a strategy for both internal and external communications is vital in ensuring your key messages are reaching your key audiences, stakeholders and customers. Our course will show you how. | Yes |
| Introduction to Digital Marketing | 14 October | Learn how to use the main digital marketing techniques and develop a cost-effective digital marketing plan in this hands-on, 1-day course. | Yes |
| Writing for the Web | 2 October | This one-day course shows you how to produce copy that both search engines and people will love. Includes principles and techniques specific to online writing, and understanding the difference between online and offline copy. | Yes |
| Train the Trainer (2 days) | 22-23 October | Immerse yourself in two days of learning to embed the foundations of planning, preparing, developing and delivering effective work-based training. Ideal when budgets are tight! | Yes |
| Project Management (2 days) | 30 September - 1 October | A practical 2-day workshop that explores the best practice method of PRINCE2® - this course focuses on the need for a business case and structured plans, but also recognises that in the real world, things don't always go according to plan! | No |
Download our brochure
We have lots of short CPD courses coming up this autumn. If you'd like to browse all our courses, including standalone postgraduate taught modules, and bespoke training, download our brochure:
One of our Business Development Manager (for the College of Physical Sciences and Engineering) recently attended a conference on 'Best Practice in CPD Delivery within Higher Education'.
The event was a great opportunity to meet other professionals working in CPD delivery within the HE sector, share experiences and learn from best practice.
Organised by The Training Gateway, and held at the University of York, the event welcomed around 50 attendees from universities across the UK.
Topics covered throughout the day included strategy, buying cycles, developing educational and global partnerships, and and creating a customer culture within a university setting, and supporting academics to deliver CPD courses, all of which are very relevant for our CPD unit here at the University.
Kate said: "A particular highlight for me was learning about 'the buying cycle' model, which looks at the psychology of effective account management/customer relations. The model is taken from Neil Rackham's 'Account Strategy for Major Sales' and says that human behaviour around decision making falls into a predictable patterns, or stages of a cycle, and that we can use this insight to help build more effective customer relationships. Another take-away from the day was a discussion about Customer 4.0 and considering how requirements such as mass personalisation can be embedded effectively within CPD service delivery."
We've been busy filming interviews for an upcoming feature on a bespoke professional learning and mentoring programme developed for Albany Road Primary School.
The programme has been designed and delivered by Emmajane Milton, Reader in Education and Co-Director of the Wales Masters in Educational Practice (MEP) and Dr Alexandra Morgan, Lecturer in Education and Programme Co-ordinator for the MEP at the School of Social Sciences.
The aim of the programme was to support teaching staff at the school develop their pedagogical practice through reflective professional conversations engagement with research and genuine engagement with student voice. These approaches were grounded within a safe and supportive professional learning and educative mentoring context.
Over a series of sessions from October 2018 to July 2019, the programme focused on professional practice and learner experience, whilst responding directly to the specific needs of the school. Underpinned by research, and learning from the Masters in Educational Practice programme, delegates have been supported to work collaboratively to critically reflect on practice in their school and classroom in order to effect real change.
Our filming session coincided with the final professional learning session. We met with teachers taking part in the programme, as well as Emmajane and Alex, and the Head and Deputy Head Teachers of the school, interviewing them about their experiences as the nine month programme comes to an end.
It has been a very positive experience for all, empowering teachers to engage with relevant research to contextualise and to collaboratively carefully consider their teaching practices with the ultimate aims of improving learner experience and outcomes at the school.
We will be releasing the film shortly so keep an eye on our social channels for more information.
Contact us
If you would like to discuss CPD opportunities for your organisation or business, please do contact us. We can support you to scope, develop and deliver flexible CPD activity across Cardiff University.
We are delighted to announce that the University is now part of the approved Training Provider Framework for the Food Skills Cymru Programme.
The programme, delivered by Lantra, supports businesses within the Welsh food and drink processing and manufacturing industry to ensure employees have the right skills and training for their business and the wider industry.
The Food & Drink Supply Chain is important to the Welsh economy in terms of employment, income and the contribution it makes to tourism. As the largest employment sector in Wales, making up almost 20% of all employment and contributes c.£6.9bn of sales revenue into the Welsh economy, the Welsh Government have identified the Food and Drink Manufacturing Industry as a priority sector.
£1.2million of funding is available for the completion of accredited and non-accredited technical and staff development training, depending on the requirements of the business.
What the University can offer Welsh businesses
The University has a wealth of expertise available across a variety of subject areas. We have identified over 80 potential topics, drawing on the knowledge and expertise of Cardiff Business School and the wider University (including the Sustainable Places Research Institute and the Water Research Institute) where we are able to deliver cutting-edge training.
Programmes offered to businesses will be delivered in a practical, focused and accessible way, using real life examples from within the food and drink industry. The programme content and delivery will be designed to facilitate the application of new knowledge as quickly as possible when back in the workplace.
Potential topics for training programmes
Business Management and Leadership and Management
General Business Management topics currently delivered to organisations on an open and bespoke basis to clients by Cardiff Business School's Executive Education team:
Leadership and Management
Digital Leadership
Operations Management
High Performing Teams
HR and Performance Management
Finance Management
Strategic Management.
Business Management courses, currently offered on an open or bespoke basis by the Continuing Professional Development (CPD) Unit:
Business Writing Skills
Confident Communication
Presentation Skills
Workplace Coaching for Managers
Managing Performance for Results
Train the Trainer
Developing a Communication Strategy
Project and Programme management courses
Project Management training course
Managing Successful Programmes® (MSP)
Implementing organisational change
PRINCE2® Foundation and Practitioner course
AgilePM® Foundation and Practitioner course
Blended versions of PRINCE2® and MSP® courses.
Environmental Management
The following topics can be delivered drawing on the expertise of Cardiff University's Panalpina Centre for Manufacturing and Logistics Research, Sustainable Places Research Institute, Water Research Institute, and School of Geography and Planning
Development of sustainable food production
Developing sustainability into supply chains and environmental standards (drawing on the lessons learnt and examples from the recent research on banana production)
Place-based food interactions
Links between food retailers, globalisation, and the low-carbon economy
Transforming and Growing Relationships within regional food systems for Improved Nutrition and Sustainability (drawing on the learnings of the recent T-Grains project funded by the Global Food Security Programme)
Food sustainability in farmers' markets, CSA and solidarity purchasing groups
Rethinking urban-rural linkages through sustainable food systems
How to link local food production and local consumption
Understanding the issues facing small organic enterprises, and how food producers can support them
How to establish relationships of trust and mutual understanding between suppliers and producers
CSR for food producers: how to support contributions to societal and environmental goals
Developing resilient agri-food systems
The impact of climate change on future food chains
Environmental and social implications of food waste
Smart tools and methods to minimise food waste
Sustainable management of the use of water
Using water more wisely.
ICT and Sales and Marketing
Data collection and management – building from the recent work of Sustainable Places Research Institute to help organic food growing businesses in Wales improve their operations through collective data gathering and sharing.
Introduction to Digital Marketing
Advanced Digital Marketing
Website Design and Management
Google Analytics
Google Ads training course
Writing for the Web
Search Engine Optimisation.
Understanding supply chains
Future food supply chains
Forecasting and inventory control related to 'Make to Stock' production and short-shelf life issues
Dealing with Demand Uncertainty (e.g. Newsvendor Models)
Modelling of Logistics Operations
Smart Logistics for Supply Chain
Circular Economy for generating value from wastes generated within internal operations
Advanced Inventory Forecast Management
Modelling supply chains
Lean, Six Sigma, Agility for achieving high quality, speed of delivery, flexible and dependable operations
Vertical and Horizontal Collaboration
Smart Manufacturing through Data Analytics
Knowledge flows within agri-food systems
Global food security.
Embedding innovation
Big Data and Innovation with the context of food and drink production
Data Visualisation Techniques
Popular robust forecasting methods
Intelligent Manufacturing Systems.
Feeding Britain: Food Security after Brexit: how food, food security and food regulation are being addressed
Raising awareness of Agri-food policy debates following the BREXIT referendum and CAP reform post 2020 linked to Cardiff University's Rural Policy Research
Supply Chain Management (particularly nearshoring / Aldi model approach related to Brexit) – The Logistics and Operations Management section of Cardiff University (specialist areas)
Understanding European regulations and standards in Global Business
Brexit and implications on immigration for employers – Wales Centre for Public Policy
Policy and politics in uncertain times – Wales Centre for Public Policy
Industrial relations in European countries – A range of Industrial relations expertise across Cardiff Business School
Cultural Communications – range of expertise across Cardiff Business School and School of Journalism, Media, and Culture.
Further background
The Welsh Government has identified the Food & Drink Manufacturing Industry as a priority sector; subsequently, the Food & Drink Board was established to oversee the delivery of the Wales Food & Drink Industry Action Plan 2014 – 2020. A collaboration of relevant skills councils representing the food supply chain in Wales produced a detailed report on the food supply chain in Wales which concluded that a number of skills related issues need to be addressed.
Lantra has received funding through the Welsh Government Rural Communities – Rural Development Programme 2014-2020, which is funded by the European Agricultural Fund for Rural Development and the Welsh Government to deliver the Food Skills Cymru Programme. There is £1.2million worth of funding available.
How to apply
If your organisation is a food and drink processing or manufacturing business based in Wales, you can apply for funding to support your staff training and development programme.
The amount of funding available for completing training courses is dependent on the size of the business:
Micro businesses - up to 80% (1 – 10 employees)
Small and medium employers - up to 70% (11 – 249 employees)
Large organisations - up to 50% (> 250 employees)
For more information visit the Food Skills Cymru website.
Contact us
If you would like to find out more about bespoke or tailored professional development training opportunities, and how the University can work with you to help your business, please contact Phil Swan, Business Development Manager at the CPD Unit:
Spotlight on...blended learning versions of our popular PRINCE2® and MSP® project management courses.
We are very pleased to offer new flexible blended versions of PRINCE® and MSP®. These courses combine home study with a 2-day exam workshop. This workshop includes the Foundation and Practitioner exams, meaning that you leave with exactly the same accreditation as if you'd attended our traditional 5-day course.
Why choose a blended learning course?
These training courses are ideal if you don't want to commit to a full week's course. It allows for flexible learning, meaning you can study alongside existing commitments at home and at work. You will receive the eLearning materials in plenty of time to allow you to work at your own pace.
How much home-study is involved?
The eLearning element requires around 18-24 hours of private study.
When do I take the exams?
These courses are a blend of private eLearning study at home, and face to face teaching days. There are two face to face days (for both MSP® and PRINCE2® courses):
Day 1: Foundation preparation workshop, consolidating facts covered in the eLearning course, prior to sitting the exam. Followed by focus on Practitioner exam techniques and sample paper in the afternoon.
Day 2: Practitioner preparation in the morning, followed by a general review prior to sitting the exam in the afternoon.
Are there any other project management CPD courses available?
Yes - we run a number of project and programme management courses. You can choose from accredited courses where you'll work towards a qualification (PRINCE2®, AGILEPM® and MSP®) or an introductory level, non-accredited project management training course that teaches you about the PRINCE2® method. Perfect if you need to understand more about project management but you don't need a qualification. Take a look at all our project management CPD training courses.
Need more information?
Please contact us for more information and we'll help you choose the right option for your professional development.
We have a great range of management skills, marketing, leadership, and project management training courses coming up in June and July.
Take a look at what's on offer: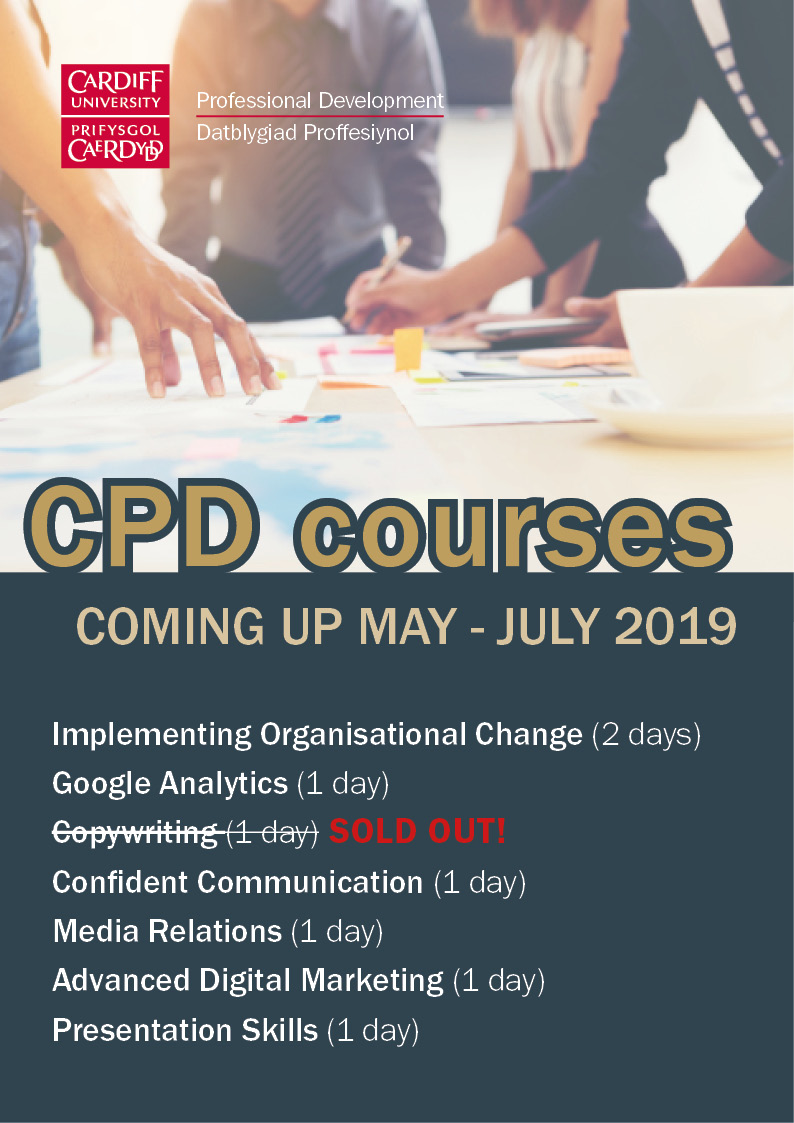 4 June 2019 | 1 day training course
By the end of this course you'll be able to set up a new GA profile and start getting actionable insights you can use to make your site and your business work more effectively. You'll be able to answer questions about your web traffic, how different parts of the site are working and make monthly reporting easier.
14 June | 1 day training course
People with excellent communication skills are more likely to be successful in their work. How well you communicate determines how you and your ideas come across and whether or not you achieve your objectives. This one day course will explore tactics and methods to improve your ability to communicate with confidence.
27 June | 1 day training course
This practical, hands-on course will focus on how to engage with the media, whether print, broadcast, online or social, in an effective and creative way. You will gain an understanding of how the media works, how to write an effective press release, pitching your story and how to implement a successful media campaign.
12 July | 1 day training course
Giving an engaging performance can really boost customer experience, sales, internal/external communication and company profile. This training course will teach performance techniques that will ensure you can both impress and successfully convey information to an audience.
6-10 August | 5 day training course
PRINCE2® (PRojects IN Controlled Environments) is a structured method for effective Project Management. The PRINCE2® method is internationally accepted as the leading 'best practice' project management approach and is widely used in the private and public sectors, both in the UK and internationally.
Take a look at our NEW PRINCE2® blended learning version of this course - perfect if you want to gain a qualification but you'd rather study flexibly at home instead of attending a full week course.
Contact us
The times, they are a-changing…and it's in our best interests to keep up. Clare Sinclair, Head of the CPD Unit, looks at some of the challenges and opportunities associated with rapid change.
We recently held a morning briefing session for local project managers and others working in the sector, on the subject of Managing Projects in Changing Times. Speakers provided perspectives from academia, politics and local business, discussing Agile working practices, flexible planning, and the volatile political and economic landscape.
The point I've been mulling over since the briefing is that all our speakers agreed long-term planning is a thing of the past. Whilst this is undoubtedly a challenge, there are significant opportunities too. Organisations which are open to change, willing to recruit and retain the best people (and invest in their future), are perfectly poised to cut through the competition and win new business.
The world is also changing rapidly in other ways; new technologies are developed every day, and it's imperative that organisations keep themselves updated. Whilst it is extremely difficult to predict exactly what the future skills requirements of a sector will be, we can still prepare for change. Embedding new technologies, and adopting innovative working practices could mean the difference between leading the field and following the pack.
So, how do we ride the wave of change?
We are heading towards the crest of another industrial revolution, and if estimates on changing labour market structures are correct, this will cause widescale adjustments in the number and nature of jobs.
Retraining of the workforce – including highly qualified adults – is likely to become ever more vital. A CPD programme can be the catalyst for transformational change; by working collaboratively, education institutions and business can prepare for and adapt to, quickly altering situations.
Academics from Cardiff University's Institute for Compound Semiconductors recently worked with Newport Wafer Fab Ltd to develop and deliver the first in a programme of short courses to enhance staff's understanding of electronics and photonics. The collaboration gave Newport Wafer Fab direct access to academic insights and specialist knowledge to support their future business growth. The success has led to discussion for further CPD advanced courses and engagement in other areas including support for PhD students, student placements and tours.
How can the University help you?
The CPD Unit is a dedicated team at the University, with a clear remit to develop a diverse range of training opportunities for businesses and individuals.
We listen and work collaboratively with you, from identification of your business issue through to course design, delivery and beyond. This partnership approach ensures you receive the best learning solution and opportunities to engage fully with the university in all that it offers.
Working together, sharing knowledge and expertise, we can prepare and adapt. We cannot stop the waves of change but we can learn to surf! (Thanks to Jon Kabat-Zinn for the analogy!)
Work with the University
Contact the CPD Unit to find out how we can support you or your organisation. Our dedicated team will act as your gateway, supporting you to access Cardiff University's world-class expertise and research.
View updates from our events and learn more about our professional development opportunities.