Sustainability award for Hadyn Ellis Building
12 July 2012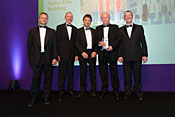 The University's new Hadyn Ellis Building, under construction at Maindy Park, has won a major award for its sustainability.
The Building, which will house state-of-the art University research, won the Higher Education category of the Building Research Establishment Environmental Assessment Method (BREEAM) Awards Wales 2012.
The award was presented by John Griffiths AM, Welsh Government Minister for Environment and Sustainable Development, to the University's Estates Director Stephen Duddridge at the Constructing Excellence Awards Dinner at Cardiff's SWALEC Stadium.
The Hadyn Ellis Building, named after the University's late Deputy Vice-Chancellor, will house the University's flagship European Cancer Stem Cell Research Institute and Neuroscience and Mental Health Research Institutes. There will also be laboratories for the MRC Centre for Neuropsychiatric Genetics and Genomics. The building will also house the University Graduate College, a 150-person theatre and a public exhibition space.
Lead contractors on the building, BAM Construction and architects Nightingale Associates, are delivering the highest standards of sustainability, both in the design of the Building and construction methods. The completed Building will make full use of natural energy for its heating and light.
The Building Research Establishment makes BREEAM Awards to the highest scoring buildings to have been rated as "excellent" for their all-round approach to the environment.
Mr Duddridge said: "When we first started planning the Hadyn Ellis Building, we set ourselves the target of BREEAM excellence for sustainability. I'm delighted that with our partners BAM and Nightingale Associates, we have not only achieved this standard but been recognised with this Welsh award. The Hadyn Ellis will be a building Wales can be proud of not only for its high-quality research but for its environmental standards."
Watch progress on the Hadyn Ellis Building via webcamhttp://hadynbuild.cf.ac.uk/view/index.shtml