Improving doctors' well being
6 August 2012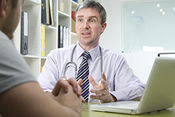 A new university collaboration which aims to improve the health and wellbeing of doctors in Wales has been unveiled.
A new face-to-face counselling service developed by Dr Debbie Cohen, School of Medicine, is the first phase of the Health for Health Professionals (HHP) Wales service - a collaboration between the Welsh Government, Betsi Cadwaladr University Health Board and the University's Centre for Psychosocial and Disability Research, Cardiff University.
The service will provide doctors with access to British Association of Behavioural and Cognitive Psychotherapies (BABCP) accredited therapists in their areas, as well as other appropriate services.
Launching the new service, Welsh Government Health and Social Services Minister, Lesley Griffiths AM, said: "Evidence suggests doctors have high levels of mental health issues such as depression and anxiety. We also know doctors deal with their ill health and access support in a different way to the general population.
"Improving support is, therefore vital and I am delighted we are able to introduce this new service which has been led by Dr Debbie Cohen, OBE from the School of Medicine, Cardiff University.
"Good health and wellbeing of staff is also linked with improved patient safety, satisfaction and effectiveness of care and means it is doubly important we tackle this important issue."
The new service is based on a recommendation by Professor Sir Mansel Aylward, School of Medicine, Director of the University's Centre for Psychosocial and Disability Research who chaired a task and finish group looking at the provision of occupational health services in NHS Wales.
It also helps meet the aims outlined in Working Differently – Working Together, a strategic workforce and organisational development framework, to fully support and engage staff in delivering excellent care.
Dr Cohen is a Senior Medical Research Fellow and Deputy Director of the Centre for Psychosocial and Disability Research.
She is also director of the individual support programme at providing assessment and remediation for doctors and medical students.
Dr Cohen is an expert in clinical issues related to health in the workplace and provides advice to Public Health Wales and the Welsh Government relating to clinical fitness to practice and on remediation.
Dr Cohen was awarded an OBE in the Queen's 2012 Birthday Honours list in recognition of her outstanding contribution to medicine.