Britain in 2014
10 December 2013
Research at the Cardiff School of Social Sciences is featured in the latest edition of the Economic and Social Research Council's flagship magazine 'Britain in'.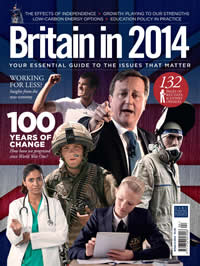 Britain in 2014 showcases the breadth of research that the ESRC funds through 132 pages of news, opinions and features from influential academics, journalists and opinion-formers. It covers a range of social science issues important for the public, politicians, policymakers and the media.
Research carried out by Professor Jonathan Scourfield on passing faith to the next generation is included in the magazine (p.101). Professor Scourfield's recently published book 'Muslim Childhood' is based on a study funded by the ESRC/AHRC 'Religion and Society programme. Statistical analysis shows that Muslims are for more successful than Christians at passing on their faith to the next generation and the book sets out to explore why this might be.
In the 'Culture, Media & Sport' section of the magazine is an article on the innovative research being conducted by COSMOS (the Collaborative Online Social Media ObServatory) on hate speech in social media. 'Why the Hate?' (p.113) highlights the ESRC-Google funded project that aims to create a computational tool to help forecast the spread of hateful content over digital networks. Read an extract from the Britain in 2014 article about this research.
COSMOS research has also been picked up by 'Research Fortnight' in an article on how social scientists can respond to the rise of corporate Big Data. The articles in these publications, both of which reach a large audience of research and public policy stakeholders, reflect on the rise of digital social research and substantive research projects that are being conducted at Cardiff University.
Finally, the Centre for Economic and Social Aspects of Genomics (Cesagen) is mentioned in an article about the ESRC Genomics Network (p.82-83); one of the most significant groups of centres for research on the impact of new developments in the life sciences.