Shifting Sands: New research by Cardiff University environmental scientists and international collaborators changes how we understand dust in Earth's systems
1 September 2023
Professor Adrian Chappell unveils new insights into how dust emission seasonally shifts internationally and affects global energy balance and climate.
Earth's energy balance system is profoundly affected by sand transport and relocation of dust. Dust carries minerals from different sources, organic material, pathogens and pollution with negative impacts on human healthbut positive impacts for fertilising agricultural regions and ocean productivity.
Increasing aridity due to global warming and reduced vegetation cover associated with anthropogenic activity can combine to extend drought and desertification and increase dust emission. Raising awareness of these climate related risks is important given the annual United Nations World Day to Combat Desertification and Drought on the 17th of June.
Mineral dust type (size and colour) is different from each source region. However, dust was thought to originate mainly from North Africa and the Middle East. However, our recent results indicate that more dust comes from other regions including East Asia and North America with different mineral contributions. Dust emission is much larger than previously thought in the southern hemisphere mainly from iron-rich Australia. Since atmospheric dust is not exchanged between hemispheres, this large dust source provides new opportunities to explain Southern Ocean productivity related to quartz and iron deposition from dust.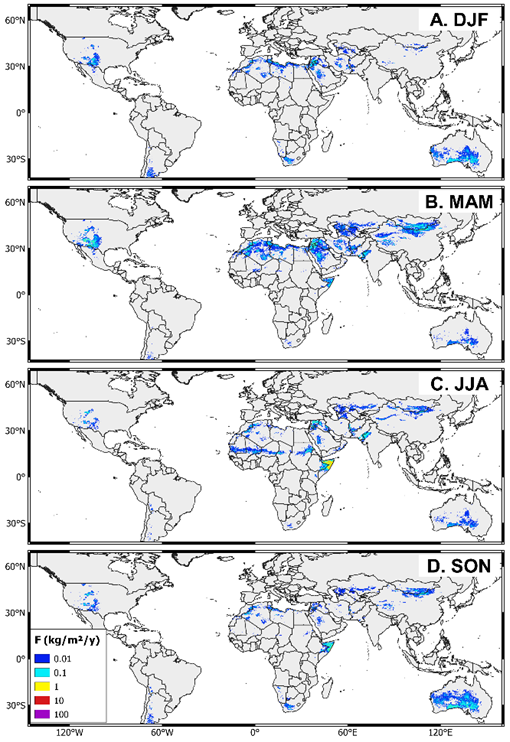 Professor Chappell and team used satellite remote sensing to confirm that global dust in the atmosphere is largest over North Africa and the surrounding countries. However, new dust emission modelling, validated by satellite dust emission point source data shows that dust emission is seasonally dominant in different parts of the Earth, including the southern hemisphere. This is a significant shift in our understanding of dust emission with implications for its transport and deposition. The southern hemisphere had been previously thought to be very "quiet" in terms of the volume and transport of dust.
The difference occurs because the dust emitted from the North African and Middle Eastern deserts hangs around in the atmosphere for much longer than in other regions. Consequently much less dust emission is thought to be emitted to the atmosphere. Much more dust is likely to be reaching the Southern Ocean and much more diversity in mineral dust types is likely to cause very different heating and cooling of the Earth's atmosphere (radiative forcing of the atmosphere) than is currently understood in dust-climate projections.
Society is facing unprecedented and immediate challenges from global climate change. Changing the way we predict the heating and cooling of dust in the atmosphere is important to meet global environmental challenges presented by climate change and the sustainability of our environment. Consequently, it is crucial to re-evaluate our interpretations of data and our systems understanding and be open to radically different thinking to inform our geoscientific practices.
Measures to accurately predict, capture and record geoclimate are crucial to a robust, technologically-driven and adaptable strategy for future geosciences. These measures ensure our interactions with our planet represent the latest and cutting-edge knowledge and understanding leading to sustainable development for our environment
Research projects like these are why Cardiff Earth and Environmental Sciences remains a leader in teaching and research. Cardiff academics like Professor Chappell challenge our understanding and encourage more swiftly adaptable data capture which informs changing, better, geoscientific practices.
Adrian Chappell is a Professor in Climate Change Impacts and focuses on wind erosion and dust emission to improve regional and global carbon, dust energy and water cycles for CO2 emission and human impact on global climate change.
Watch this excellent video from the Guardian for more information.