Cardiff welcomes Chinese delegates for 12 week programme
26 June 2018
Pro-Vice Chancellor welcomes 106 Chinese delegates to Cardiff University's Management and Innovation Programme
Mid and senior level leaders representing a total of 83 Chinese universities arrived at Cardiff University this weekend at the start of a 3-month Management and Innovation Programme
Monday 25 June saw the first full day of activities and lectures, rounded off by an event at Aberdare Hall where Professor Omer Rana, Dean of International for the College of Physical Science and Engineering greeted delegates and spoke a few words.
Host Professor Nora de Leeuw, Pro Vice Chancellor International and Europe at Cardiff University, and Mr Jianhui Xia, Counsellor of Education Section from the Chinese Embassy also gave speeches during the event, welcoming the delegates to Cardiff University.
"We're talking about transformation and change"
Mr Jianhui Xia spoke about the ongoing collaboration between Wales and China, particularly the work that has gone into delivering this innovative, educational programme to assist the development of the University sector in China. He highlighted what he described as a great opportunity for the 106 delegates, saying, "This programme is a result of hard work on both sides, and is a symbol of the educational collaborations and the open era between our two great nations."
"Nurturing new relationships and existing partnerships with universities in China"
Professor Nora de Leeuw talked about the global challenges that we all face, and the strength that can be gained from a collaborative approach amongst professionals, highlighting the importance of exchanging knowledge and ideas across the world. She said "China is a key strategic focus for Cardiff University, particularly taking into account the quality and impact of research and the rapid pace of development of the Higher Education system in the country. There is much we can learn from each other, and I look forward to nurturing new relationships and existing partnerships with universities in China represented in the delegation."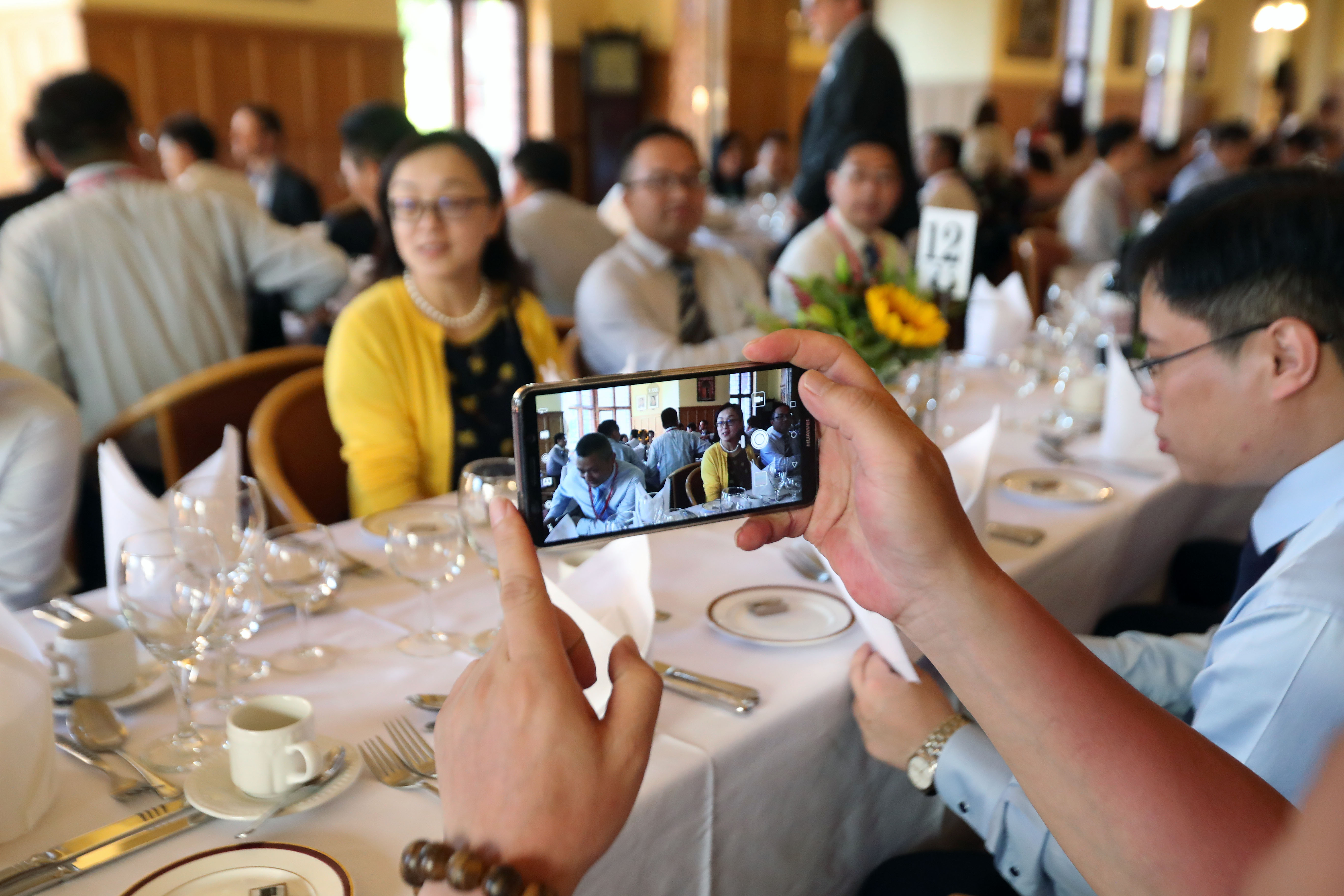 A night of food, speeches and song
The guests enjoyed a three course British-Chinese fusion meal at the University's stunning Aberdare Hall, and were treated to a performance by the Cardiff University Staff Choir, led by Sue Ellar. The choir are a group that meets regularly to sing in order to boost their wellbeing and happiness at work. Singer Rachel Jones said, "Everyone in the choir has thoroughly enjoyed performing tonight, thanks for inviting us! Singing in the staff choir gives me a real lift and I always get back to work feeling relaxed and happy. The sessions are fun with a community feel, and promote a real sense of wellbeing."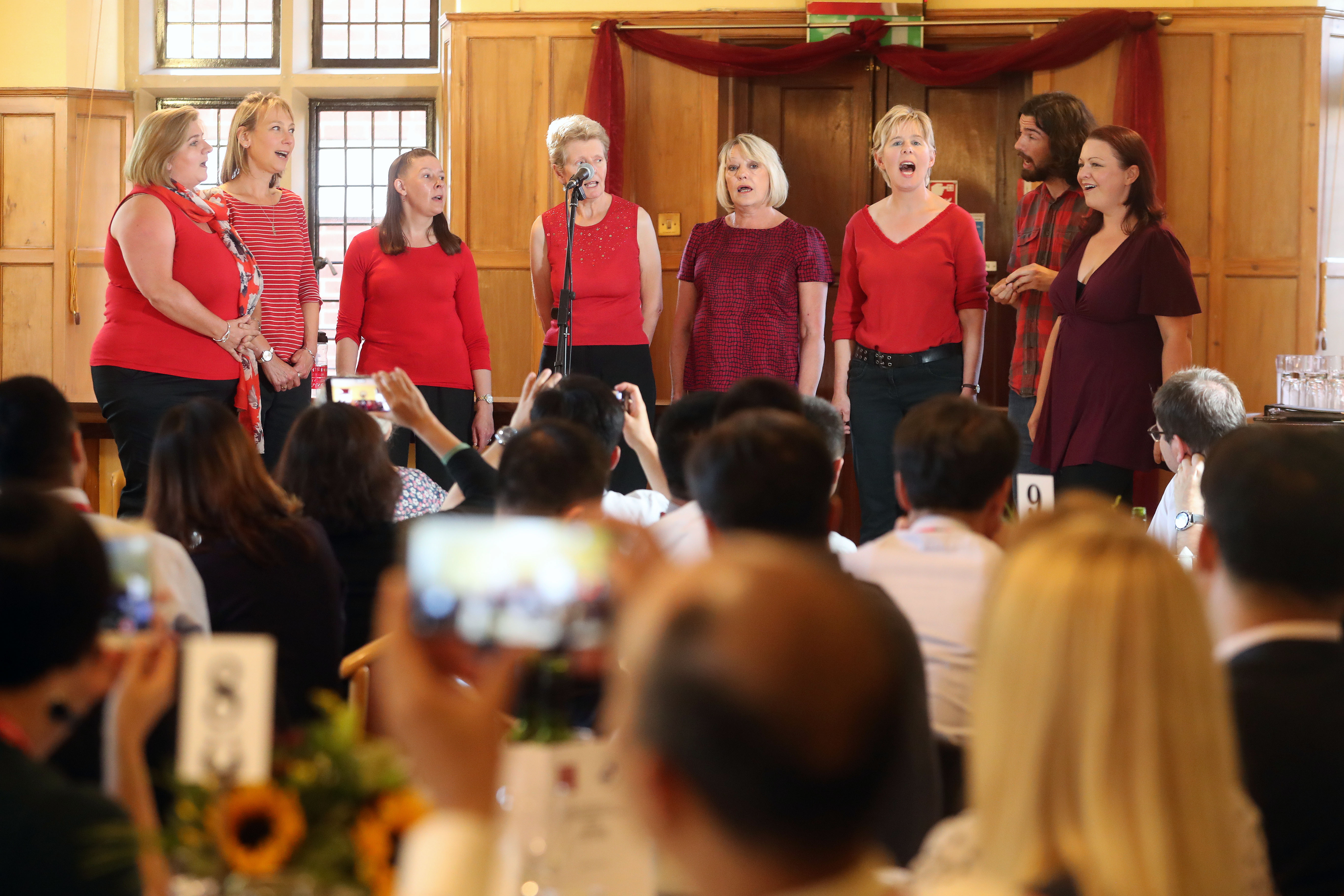 A long-standing partnership
Cardiff University has an established relationship with China, fostering many formal academic links and strategic partnership agreements with universities across the country for both research collaboration and student exchange.
The University's partnership with the China Scholarship Council stretches back several years and has seen scholars progress from postgraduate studies into senior academic positions. The successful University Management and Innovation programme runs annually and is the result of a Memorandum of Understanding signed in 2015, in the presence of China's Vice Premier, Madam LIU Yandong during her visit to Wales. 2018's event marks the third consecutive year that the programme has been held at Cardiff University and has seen double the number of participants taking part compared to last year's event.