News
Miscarriages of justice took centre stage this March at a conference held at the School of Law and Politics.
Non-profit campaign, Innovation of Justice, chose the School as the location for their second conference, 'Reviving the Criminal Justice System'. Innovation of Justice was set up by Liam Allan and Annie Brodie Akers.
Liam, a 23-year-old student, was falsely accused of rape by his ex-girlfriend in 2017. The charges against Liam were dropped as evidence to prove his innocence wasn't disclosed until the last minute. The Metropolitan Police apologised to Liam following the case and admitted that a "lack of knowledge" by police and prosecutors was to blame for the error. Liam's case was the centre of the 'disclosure crisis' covered in national news.
With co-founder Annie Brodie-Akers, Liam is now determined to bring the right people together: practitioners, legal professionals and those who have been falsely accused and convicted of crimes, to discuss how the criminal justice system can be improved for the better. Innovation of Justice will be holding a series of conferences around England and Wales, to educate the public and raise awareness of wrongful convictions and the detrimental effects they have on people's lives.
This year's conference included speakers Michael O'Brien, who wrongfully served eleven years in prison for the murder of a Cardiff newsagent, Michelle Diskin-Bates, the sister of Barry George, who was convicted for the murder of Jill Dando and subsequently acquitted, and our own students who are part of Cardiff University's Innocence Project.

Watch a video which documents the Innovation of Justice conference, Cardiff, March 2019
The Cardiff University Innocence Project is the only such project in the UK to have successfully overturned a conviction. In 2014, they were the first ever UK university innocence project to successfully bring a case to the Court of Appeal. Dwaine George had already served 12 years in prison for murder.
In December last year, they helped to quash the wrongful conviction of Gareth Jones who had served three and a half years in prison after working on the case then waiting for the appeal, which took more than six years.
Speaking after the conference, Liam Allan said, "We were eager to bring an event like this to Cardiff, given the School's recent success with overturning a conviction and the wealth of experience their innocence project has. It felt as if there was a personal touch for speakers such as Michael O'Brien, to bring it to a place they felt at home and really begin to gather support for Innovation of Justice. It's fantastic to see that everywhere we go, we are always having more people join the family, join the fight, to ensure justice is given to all those that find themselves caught up in the criminal justice system."
Co-founder of Innovation of Justice, Annie Brodie-Akers, echoed her colleague by saying, "It was a pleasure to work alongside the School of Law and Politics, and the Cardiff University Innocence Project, on the second Innovation of Justice conference. We work to campaign and raise awareness for those who have suffered a miscarriage of justice, and it was a special moment to work with the teams who have overturned convictions first hand. We have received very positive feedback from the attendees of this event and would happily work with the School of Law and Politics again."
A group of Cardiff law students recently presented at a conference dedicated to Joint Enterprise law.
The students Flore Gustave, Ruth Osibanjo, Maddy Semple, Antonia Wilkinson (LLB) and En Soon (BPTC) travelled to London on 25 March to take part in the conference which was organised by Joint Enterprise – Not Guilty by Association (JENGbA), a grass roots group who campaign for changes in the law on Joint Enterprise.
Joint Enterprise cases usually see more than one person being convicted of a crime. This often means that individuals who are present when a crime is committed can be found guilty of the crime even though they may not have been the person who struck the blow or pulled the trigger.
This year, the School of Law and Politics has been involved in JENGbA's Joint Enterprise Appeals Project and our students have been looking at the potential for appeal in five different cases. The students have been supervised by Maria Keyse of the School's Centre for Professional Legal Studies (CPLS) and the project has formed part of the School's pro bono activities.
The group presented their findings at the conference and also had the opportunity to meet and talk to Gloria Morrison one of the co-founders of JENGbA.
Speaking after the conference Maria Keyse, project supervisor said, "It was wonderful to see all five students stand up and present their findings at the JENGbA conference. I know they were nervous but they all did brilliantly. Joint Enterprise is a such a complicated element of UK law so seeing our students talk about it in such a knowledgeable and informed way is fantastic. They also had the opportunity to talk to family members of prisoners who have been convicted of crimes they insist they did not commit so this really brings home the importance of the work our students carry out with JENGbA in giving hope to those wrongfully convicted."
A symposium to test the hypothesis of a Cardiff Law Professor's latest book was held this April in London.
The symposium, which took place on 3 April, took place at the Honourable Society of the Middle Temple and was held to discuss Professor Norman Doe's latest book, Comparative Religious Law: Judaism, Christianity, Islam (Cambridge University Press, 2018).
Chaired by Mark Hill QC, Honorary Professor at Cardiff, participants included leaders from Jewish, Christian, and Muslim faith communities, as well as the Master of the Rolls and the Master of the Temple. The event was also attended by Professor Doe and Head of Law, Professor Urfan Khaliq.
The event was a collaboration between the Temple Church and Coexist House, whose chair of trustees, Sir Bernard Rix, former judge of the Court of Appeal, was also present.
Following evensong at the Temple Church, there was a launch of Professor Doe's book, and those attending included Sir Andrew McFarlane, President of the Family Division (and alumnus of the Cardiff University's LLM in Canon Law) and Lord Woolf, former Lord Chief Justice.
Professor Doe's book proposes the formation of a charter of principles of religious law common to the three Abrahamic faiths for greater mutual understanding and collaboration between these three religions.
A School of Law and Politics Professor has recently attended a private meeting with the Head of the Greek Orthodox Church worldwide.
Professor Norman Doe met with His All Holiness Bartholomew, Ecumenical Patriarch of Constantinople in Istanbul on 16 March 2019 to discuss the work of an ecumenical panel of religious leaders, jurists and theologians of which he has been a member since 2013. The panel has members from ten Christian traditions worldwide – Catholic, Orthodox, Anglican, Lutheran, Methodist, Reformed, Presbyterian, Baptist, Old Catholic and Pentecostal.

The Panel's Statement of Principles of Christian Law (Rome 2016) was suggested and initially drafted by Professor Doe on the basis of his book Christian Law: Contemporary Principles (Cambridge University Press, 2013).

The Statement (2016) is being fed into the work of the World Council of Churches and its Faith and Order Commission, which in 2017 established at Geneva a partnership with the panel. National events to use the Statement to foster greater understanding between institutionally divided Christians have been already taken place in for example Uppsala, Amsterdam, Melbourne, Sydney, and Cardiff and further such events are planned for the coming months in Oslo, London, and Rome.

His All Holiness Bartholomew welcomed the Statement as a "means of unity and collaboration" between Christians of different traditions.
A Cardiff University academic has been named National University Mentor of the Year.
Professor Roger Awan-Scully, Head of Politics and International Relations at the university, collected the prize at the National Mentoring Awards in London.
Judges said the award recognised his "years of dedicated and outstanding work with students of all levels, as well as with junior academic colleagues."
Professor Awan-Scully said: "I was deeply honoured to be given the award of National University Mentor of the Year. It was also a privilege to attend the awards ceremony, and hear about the inspiring work of so many amazing people mentoring others across all walks of life. It was great to be a small part of such an extraordinary event."
The awards ceremony, which is a national celebration to honour mentoring excellence, was attended by over 300 of the UK's top mentors from every sector of business and society.
Professor Awan-Scully is one of the UK's foremost experts in devolution, public opinion and party politics. His analysis of the Welsh Political Barometer polls, carried out by Cardiff University's Wales Governance Centre in collaboration with ITV Cymru-Wales and YouGov, has informed political debate and helped provide an understanding of public opinion in Wales. He has also led the last two Welsh Election Studies, funded by the Economic and Social Research Council of the UK.
Former colleague Dr Einion Dafydd said: "This award is richly deserved. Ever supportive and considerate, Roger mentored me from my time as an undergraduate, through my PhD years, my time as a lecturer at Cardiff University, and we remain friends now that I work for the Welsh Government.
"Scores of current and former students and colleagues will be forever grateful to Roger for his support – and this award is a special recognition of his long-standing commitment to mentoring those in his care."
Taxpayers in Wales are paying more money for fewer services as local authorities attempt to plug a funding gap of nearly £1bn, research reveals.

The latest report from Cardiff University's Wales Governance Centre shows that Welsh local authorities received £918.5m less from Welsh Government grants in 2017-18, compared to 2009-10.

Researchers say the cuts are a knock-on effect of a reduction in UK Government spending and that local authorities have steadily increased Council Tax rates in response. But this has only partially filled the shortfall, leaving councils with £577m less in 2017-8, compared to 2009-10.

As a result, spending on public services fell by 10.4% over that period - the equivalent of £232 less being spent on each person in Wales.

Issued by the Wales Fiscal Analysis project, researchers examined local government revenue and expenditure data since 2009. Their findings come as local authorities in Wales publish their budgets and set council tax levels for the year ahead.

Guto Ifan, Research Assistant at the Wales Governance Centre, said: "This report outlines how nearly a decade of austerity has significantly changed the financing and spending patterns of local authorities in Wales. It's clear from our findings that taxpayers are effectively paying more money for fewer services..."
Other significant headlines in the report include:
In 2017-8, Council Tax accounted for 19% of local authority gross income, up from 13.8% in 2009-10.
School spending per pupil is £324 (5.5%) lower in real terms than in 2009-10*;
Despite increasing last year, per person spending on older adults' (over 65s) social care has still fallen by £157 (14.8%) since 2009-10;
Spending on children in care has risen by £95.9 million (33.2%) in real terms since 2009-10, while at the same time, the number of children in care has increased by 1,710 (36.4%);
Spending on social services**, a 'protected' area of provision, has increased by £106.4m (6.5%) in real-terms. Social services and education now account for 73% of council spending, compared to 68% a decade ago;
During the same period, 'unprotected' services such as planning and economic development have been cut by 55.4%, libraries, culture, sport and recreation by 36.3%, and transport by 28.5%;
37,000 local government jobs have been lost in Wales in this period, equivalent to 19.9% of the total workforce. It should be noted that Welsh authorities have cut fewer jobs than England (32.4%) or Scotland (20.6%).
Welsh Government has reduced funding to local authorities in response to cuts to the budget allocated by the UK Government. While their budget is set to grow over the next five years, researchers say any increases are likely to be allocated to high-priority areas such as NHS and social services.

Guto Ifan added: "The results show that 'unprotected' areas of local spending have been most severely affected by these cuts. Avoiding further deep cuts to these areas will require yet more rapid increases in Council Tax, limiting growth in other areas of spending, or increasing the size of the Welsh budget through Wales' new tax powers. None of these options are politically easy.

"A serious debate is needed about the future of local government finance and Welsh public finances more generally. Policymakers must now consider what services local councils should provide in the future, and perhaps even more crucially, how they will be paid for."
*Schools funding has increased but a growth in the number of primary school pupils means the per pupil figure has decreased.
**Excluding Flying Start spending.
The first book in a new collection, Leading Works in Law has been published and includes chapters by School of Law and Politics staff.
The book, Leading Works in Law and Religion, features chapters by Professor Russell Sandberg, Dr Sharon Thompson and members of the School's Centre for Law and Religion, Frank Cranmer, David Pocklington and Ed Morgan.
The Leading Works book series is published by Routledge and is designed to explore the development of law and legal sub-disciplines by firing critical light at the way in which they understand themselves and perpetuate their identity. Created and edited by Professor Sandberg, each book focuses on a different legal sub-discipline and asks leading and emerging scholars in the field to select and analyse a 'leading work' and how it has or should have impacted upon the development of the sub-discipline.
Professor Sandberg commented, "Law schools are currently undergoing considerable change and facing a number of challenges. It has therefore never been so important to take a step back and to analyse how areas of law have developed, what they have included and excluded and how they can develop in the future. The Leading Works series provides an innovative way of doing just that. It is the academic equivalent of Desert Island Discs!"
Leading Works in Law and Religion, explores the emerging field of Law and Religion series with Professor Sandberg contending that the rise of specialist journals and conferences may have led to the 'ghettoisation' of the field with experts on Law and Religion not interacting with wider developments within Law and other cognate disciplines. Chapters in the collection highlight the value of international, historical and feminist approaches that have the potential of overcoming this.
Professor Sandberg commented, "Cardiff University has been at the forefront of the development of Law and Religion as a field of study in the UK. It is fitting therefore that the first book in the series revisits this and explores how Law and Religion can develop from here. The book contains passionate and often provocative chapters from some of the finest minds in the field. I am especially grateful to Professor John Witte from Emory University and a good friend of Cardiff's for providing an afterword to the volume".
It is hoped that the Leading Works collection will, in time include a book on all legal sub-disciplines. Several further volumes in the series are currently under contract or review but should you be interested in editing a book in the series in future please contact Professor Sandberg
The first Cardiff Business School Breakfast Briefing of 2019 got underway in contradictory manner as Professor Laura McAllister announced: "sport is important because it isn't important!"
And so began a masterclass in the intricacies of sport and governance from the Wales Governance Centre's expert in Public Policy.
A former Wales football international and national team captain with 24 caps, Professor McAllister told a packed out briefing that sport has a unique place in our national psyche, our collective consciousness, especially in a small nation like Wales, and therein lies its considerable reach.
A different and untapped power
Drawing on her experiences as Chair of Sport Wales, Board membership of UK Sport and as Director of the Football Association of Wales Trust, Professor McAllister argued that, for a nation such as Wales, sport has a different and untapped power.
"It's often said we lack a seductive global USP. Well sport could fill that gap. And after Brexit, if it happens, then we'll certainly need it to show that we are a nation that punches above its weight on things like trade and policy..."
In step with society
Professor McAllister shared lessons from her experiences in leadership roles across Welsh sport, covering passion, shelf-life, foresight and the need for sport to march in step with society.
For this to happen, sport needs to be taken seriously she argued, it needs to be diverse, leadership needs to be effective and only then will it play its crucial part in responding to some of the intractable challenges of our time: mental health, childhood obesity and equality and diversity.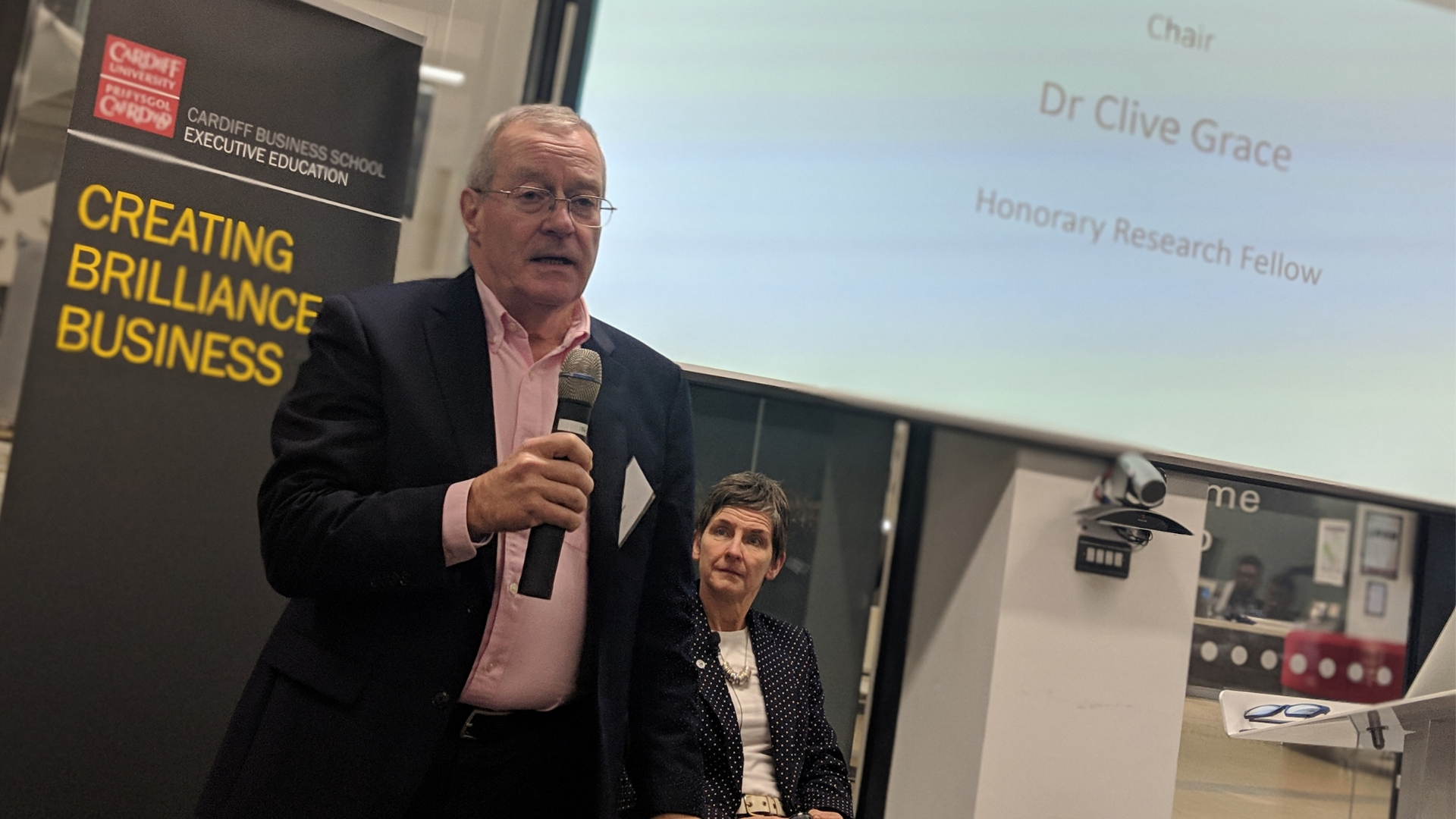 Following Professor McAllister's presentation, Dr Clive Grace, who chaired the event, invited questions from the audience, which saw the former Wales international share her opinion on topics, including: sport board membership, sport in schools, elite and amateur sport, facilities, mental health and duty of care.
The Executive Education Breakfast Briefing series is a network that enables business contacts to find out more about the latest research and key developments from industrial partners.
If you were unable to attend, catch up with this live stream of the event.
The next briefing, entitled The Magnificent Seven, is on Tuesday 19 February 2019 and will see Darrell Mann consider what the age of artificial intelligence means for the financial services industry.
To secure a place, register now.
Wales has the highest imprisonment rate in Western Europe, according to research by Cardiff University's Wales Governance Centre.

'Sentencing and Immediate Custody in Wales: A Factfile', published today (Wednesday Jan 16) provides a detailed statistical comparison of sentencing and immediate custody figures in Wales and England.

It is widely accepted that England and Wales jointly has the highest imprisonment rate in Western Europe. But this is the first time the figures for each country have been analysed separately.

When using the home address of each offender to differentiate between the two countries, the research found a higher proportion of Wales' overall population was serving time in prison than England for every year since 2013, when data became available.

In 2017, there were 154 Welsh prisoners per 100,000 of the Welsh population. This compared to a rate of 141 English prisoners per 100,000 of the population of England.
The report also shows that while the total number of custodial sentences handed out by courts in England fell by 16% between 2010 and 2017, the number increased marginally at courts in Wales by 0.3% during the same period. This is despite the fact that police recorded crime in Wales was lower than England every year between 2013 and 2017.

Dr Robert Jones of the Wales Governance Centre, said: "It is well-established that England and Wales has the highest imprisonment rates in Western Europe. But this report, for the very first time, singles Wales out within that jurisdiction. It shows that Wales in fact has a higher rate of imprisonment than England.
The report uncovers a number of other significant disparities between Wales and England, including:
In 2017, the average custodial sentence length for all offences in England was 17.2 months. This compared to an average custodial sentence length of 13.4 months in Wales.
A higher percentage of sentences of four years or more were handed out in England (8.9%) than in Wales (6.2%) between 2010 and 2017.
A greater proportion of short-term custodial sentences were handed out in Wales than in England between 2010 and 2017. 68.1% of all custodial sentences in Wales were for less than 12 months compared to 63.9% in England.
Women in Wales are more likely to receive short-term custodial sentences than men. More than three quarters (78.6%) of all women sentenced to immediate custody in Wales between 2010 and 2017 were handed sentences of less than 12 months. This is compared to 67% of male offenders sentenced in Wales. One in four (24.8%) women handed an immediate custodial sentence in Wales were sentenced to one month or less in prison between 2010 and 2017.
Welsh and English prisoners from a White ethnic group were under-represented in prison in 2017, with the level of racial disproportionality higher among the Welsh prison population than the English prison population.
White offenders sentenced to immediate custody in Wales had the lowest average custodial sentence length in 2017 (13.2 months). Black offenders in Wales recorded the highest average sentence length (21.5 months), followed by Asian (19 months) and Mixed race (17.7 months).
Welsh-only and English-only prison population data were obtained from the Ministry of Justice using the Freedom of Information Act.
Dr Jones added: "Gradually, a detailed picture is emerging of the justice system in Wales and how it is quite different to that of England.

"A thorough debate is needed on why these kinds of sentencing and custodial patterns occur in Wales and whether these are the outcomes that the UK and Welsh Governments want to see from the criminal justice system."
Senior Lecturer in Law, Dr Sharon Thompson, will feature in a new BBC Radio 4 series entitled The Battles That Won Our Freedoms.
The series tells the stories of battles in British history that helped to win liberties often taken for granted in British society, bringing together historians and people still engaged in those struggles today. Episodes cover issues such as freedom of religion, freedom of information, gay rights, freedom of the press and Catholic emancipation.
Dr Thompson features in episode eight of the series which is focused on the Married Women's Property Act 1882. She meets Julie Arnold, to discuss how the outcome of Ms Arnold's 2017 divorce case Sharp v Sharp was influenced by the doctrine of separate property in English law. Dr Thompson tells the story of Victorian women's struggle to win wives a crucial freedom: the right to own their property after marriage.
This account of a nineteenth-century landmark is connected to her current Socio-Legal Studies Association (SLSA) funded research on married women's property in the twentieth century, which aims to take a socio-legal and historical approach to tell the untold story of the Married Women's Association and its campaigns for economic equality in marriage.
The episode will be broadcast on 16 January at 1.45pm and available thereafter on BBC Sounds.