News
Professor of sociology and philosophy of law, Jirí Pribán was recently profiled by the Times Higher Education (THE) to coincide with the publication of his new book.
Professor Pribán has released a collection of essays on contemporary European politics entitled The Defence of Constitutionalism: The Czech Question in Post-national Europe.
More than a century after the publication of Czech politician Tomáš Garrigue Masaryk's study The Czech Question, Czech politics—instead of the nation's historical struggle for survival and independence—has become a pragmatic question of democratic constitutionalism and civility.
Subsequently, Professor Pribán's book demonstrates that this new understanding involves both technical questions of power making and critical questions of its meaning. Democracy is the process of permanent self-correction. It possesses both the capacity to respond to unexpected problems and crises and intrinsic tensions between principled arguments and everyday administrative processes.
Defending constitutionalism, therefore, draws on principles of civil rights and freedoms, limited government, and representative democracy, the validity and persuasive force of which are at stake not only in the Czech Republic, but also in the post-national European Union and our global society at large.
Professor Priban's THE interview not only discusses his latest publication but also talks about the books he plans to read, those that have influenced him throughout his life (in and outside academia) and those he would share with others.
Cardiff University academics are playing a pivotal role in assessing the impact of Brexit.

Since the result of the referendum nearly two years ago, experts from the institution have been carrying out detailed and extensive research – in subject areas ranging from politics and economics, to the environment and journalism.

As well as explaining the context behind the historic vote, their work is also giving a better understanding of what life will be like for people living in the UK once the country begins its separation from Europe in a year's time.

Research at Cardiff University is demonstrating Brexit's impact on many areas, including:
Other key areas of research include crime and security, technology, health and social policy.

Professor George Boyne, Pro Vice-Chancellor for the University's College of Arts, Humanities and Social Sciences said: "Our academics are using their extensive knowledge and expertise to inform the debate around Brexit. Their detailed research and analysis is broadening our understanding of what this decision means for the UK, both at home and internationally.

"As we get closer to this fundamental change in the UK's relationship with the EU, I have no doubt their work will continue to have a huge influence on policy-making and on public perceptions of Brexit."
A Law-studying duo are celebrating success after coming first at this year's National Negotiation Competition.
Charles Wilson and Sophie Rudd, who are in their second and final years respectively at the School of Law and Politics, were named winners of the competition which took place in London on 24 March 2018.
The competition, which is sponsored by the Centre for Effective Dispute Resolution (CEDR), sees twelve teams pitted against each other in a variety of situations designed to test their negotiation skills. The competition focuses on collaborative-based discussion instead of legal argument and requires a confident awareness of wider interests, creative options, and how to persuade the other side of the mutual benefits of a proposed deal. While preparing for the competition the teams developed their teamwork, persuasion, and analytical skills
The competition is open to Undergraduate, Legal Practice Course, Graduate Diploma in Law, and Bar Professional Training Course teams and is always fiercely competitive.
For the competition, Charles and Sophie faced a three-way negotiation involving a serious personal injury claim at a drag-racing track and two other negotiations involving new management of a zoo and a potential dissolution of a company. To assist with their preparation, CEDR generously provided a training day where all twelve finalists were able to develop their skills.
Charles and Sophie had put huge effort into their preparations and received positive feedback from the judges throughout the day despite the challenge of conducting three high-pressure negotiations back-to-back.
Organiser Frederick Way, of CEDR, praised all of the teams and noted that the results were very close, with only one point separating the top three teams. With nine judges seeing each team over the course of the day, this demonstrated the depth of ability that was on display at the event. Every team received a certificate marking their qualification for the Nationals and the top three teams received additional prizes. They were announced in reverse order, with the University of Reading finishing third, the University of Plymouth finishing second, before Cardiff were announced as the winners and were presented with the trophy.
This is the first time that a team from Cardiff have won the competition and is recognition of the hard work that Charles and Sophie put into developing their skills and adapting them to the individual circumstances presented by the evolving scenarios.
The team will now go on to represent England and Wales in the International Competition which, by a twist of fate, will be hosted in Cardiff by the School of Law and Politics on 26 – 30 June 2018. They will be compete against teams from around the world, including the United States of America, Canada, New Zealand, Japan, Indonesia, Singapore, Norway and Germany.
The team was coached by Matthew Parry, PhD student at the School of Law and Politics.
A School of Law and Politics lecturer gave testimony at the House of Lord's International Relations Committee.
Dr Andrea Calderaro, Director of the Centre for Internet and Global Politics and lecturer in International Relations was invited to speak on 28 February 2018 at the meeting entitled 'How is cyber and new technologies impacting international affairs?' in the context of the Parliament's consultation on "Foreign policy in changed world conditions".
Dr Calderaro specializes in Internet and International Affairs, with a particular focus on internet governance, cybersecurity, and cyber capacity building. On this occasion, he discussed the increasing centrality of cybersecurity in Foreign Policy, and how this is challenging governments' diplomatic capacity and international relations. The video and the transcript of the meeting are available via Parliament Live TV.
Of his involvement at the meeting Dr Calderaro said, "We will never be able to develop deterrence strategies by treating cyberattacks as a military attack among states. We rather need to develop cyber diplomacy strategies, aiming at securing the internet as a whole, beyond national borders and sovereignty."
Two Law students have recently been appointed as ambassadors for Welsh medium education by the National Welsh College, Coleg Cymraeg Cenedlaethol.
Nest Jenkins and Gwenllian Owen, who are respectively in their first and second years at the School of Law and Politics, competed for the ambassadorial roles against hundreds of students across Wales who are carrying out their studies through the medium of Welsh.
Coleg Cymraeg Cenedlaethol works with universities across the country to ensure learning opportunities for students who wish to carry out their studies in Welsh. They also provide training and funding opportunities for Welsh medium lecturers and offer undergraduate and postgraduate scholarships.
To help promote their work and the opportunities available, Coleg Cymraeg Cenedlaethol appoint a group of ambassadors each year to represent them at universities, UCAS events and Eisteddfodau. The ambassadors also carry out presentations at schools in order to give younger pupils a taste of a Welsh medium student's life.
The choice of Welsh medium courses available to students has expanded significantly in recent years. There are currently approximately 1,000 courses for Welsh medium students across the country, along with over 150 undergraduate scholarships awarded to students annually.
The School of Law and Politics is committed to providing its students with a range of Welsh language opportunities. Modules taught in Welsh are available for all Law and Politics and International Relations students and we also offer the module, Devolution in Wales which is taught wholly through the medium of Welsh. Students can also undertake their final year dissertations through the medium of Welsh.
All of our degrees are eligible for the main Coleg Cymraeg Cenedlaethol scholarship and Incentive Scholarships.The Law & Welsh LLB is also eligible for the prestigious William Salesbury Scholarship. The scholarships provide financial awards of up to £1000 a year, work experience, and an opportunity to take the Welsh Skills Certificate.
New ambassador Nest has taken full advantage of the opportunities offered to her by Coleg Cymraeg Cendlaethol and was the proud winner of the William Salesbury Scholarship in 2017. The closing date for Coleg Cymraeg Cendlaethol's Incentive Scholarships is 8 May 2018, and the closing date for applications for the William Salesbury Scholarship is 20 March 2018.
Speaking of her new role, Nest said, "I am very fortunate to receive the financial support from the Coleg Cymraeg Cenedlaethol therefore being an ambassador for them is a privilege. In this upcoming year, I would like to continue with the good work of the Coleg by marketing the potential opportunities for prospective students and current students."
Her fellow ambassador Gwenllian echoed Nest's sentiment and said, "I feel very privileged to have been chosen to be an ambassador. I feel it is very important to use the Welsh Language as it can open so many doors for you. During my time as an ambassador I hope to promote the work of the Coleg Cymraeg. I particularly want to encourage students from non-welsh speaking families not to worry about doing a course through the medium of welsh because the Coleg Cymraeg offer you so much support."
"Rydw i'n teimlo anrhydedd mawr o gael fy newis fel llysgennad. Rydw i'n teimlo ei bod yn bwysig iawn defnyddio eich Cymraeg gan y gall agor llawer o ddrysau i chi. Rwy'n edrych ymlaen at hyrwyddo'r gwaith arbennig mae'r Coleg yn ei wneud. Rwy'n arbennig o awyddus i annog pobl ifanc o deuluoedd di-gymraeg i beidio ag ofni dilyn cwrs yn Gymraeg achos bod y gefnogaeth sydd ar gael yn ardderchog."
Questioning and listening skills, empathy and commercial awareness were all tested this month at the annual Client Interviewing Competition.
Law students Eleanor Murphy and Jonathan Adcroft, who are both in their second year at the School of Law and Politics, were chosen to compete at this year's regional competitions which took place simultaneously in Sheffield, London and Bristol.
The Client Interviewing Competition involves teams of student lawyers interviewing new clients for the first time. Their goal is to develop a rapport with the client, discover as much relevant information about the client's concerns as possible, ensure that they understand the problem, give pertinent and relevant legal advice and provide a practical set of options for the client to choose from.
This year's regional competition took place on 10 February and was entered by 39 universities across England and Wales. Entrants were notified that the topic of law would be contracts: mistakes and other forms of non-performance before the event but were given very limited further information in order to prepare. Entrants had to consider what might emerge, including areas of law as diverse as duress, misrepresentation, unfair terms and conditions and damages.
On the day of the competition Eleanor and Jonathan were required to deal with a complicated legal analysis of quantum of damages from a client who had been forced to cancel a holiday, and an emotionally fragile client who had been left vulnerable by a supplier defaulting on an obligation.
Eleanor and Jonathan dealt with their cases and the range of issues that surfaced with clarity and compassion. Despite performing consistently well throughout the day and scoring highly, they finished fourth out of twelve, narrowly missing out on qualification for the national final of the competition.
Matthew Parry, solicitor advocate, PhD student and trainer for the Cardiff team said, "Eleanor and Jonathan worked with passion and determination to develop their skills and, while preparing, threw themselves into every challenge that I set them, no matter how obscure it appeared, to enhance their chances of success at the competition. They represented Cardiff as ambassadors superbly and should be incredibly proud of their performance and commitment."
The Client Interviewing Competition is just one of the opportunities provided by the School of Law and Politics to help our students develop transferable skills which will be of use in their careers after graduation. Information on our Pro Bono schemes and placements are available on our School website.
Leader of the House of Commons and Lord President of the Privy Council, the Rt Hon Andrea Leadsom MP, has visited Cardiff University to talk with students from the School of Law & Politics.
A group of postgraduate students from the School had the opportunity to talk with the Leader about parliamentary democracy, the forthcoming centenary of the Representation of the People Act and the UK's exit from the EU.
Andrea Leadsom said: "The students I met at Cardiff University had an impressive technical knowledge of current affairs and it was a great pleasure talking with them. Their views were very thought-provoking, which just goes to show that in our parliamentary democracy those who engage in politics can make a valuable contribution."
Michael Woodland is studying for a Master's in Politics and Public Policy at the University. He was interested to hear about politics in a real-world context: "The Leader of the House listened to our opinions on issues ranging from political engagement, the future of devolution and the continuing challenges associated with the Brexit process. This led to some lively discussions amongst the students and with the Leader herself.
"It was very interesting to hear about political topics that we hear and read about in the news from the perspective of a high-ranking member from inside the government. The experience was really fulfilling and helped to deepen our understanding of the topics we study at Cardiff."
Professor Karen Holford, Deputy Vice-Chancellor of the University, and Professor René Lindstädt, Head of the School, also attended.
Professor Holford said: "It was a pleasure to host the Leader of the House of Commons and very interesting to gain her insights on Brexit, the democratic process and women in politics..."
Dr Lydia Hayes' book Stories of Care: A Labour of Law has been shortlisted for the Hart SLSA Early Career Prize.

The book offers an innovative and timely insight into the day-to-day sexist attitudes and class-bias that homecare workers encounter in their working lives. Dr Hayes' purpose was to explore how and why employment rights are often ineffectual in forms of employment which are typically undertaken by working-class women. Her monograph provides the first in-depth ethnographic study of homecare workers in the UK and places employment law at the heart of her analysis of care workers' lived experience.
Stories of Care is based on empirical and doctrinal research carried out by Dr Hayes while she was funded by the Journal of Law and Society fellowship award at the School of Law and Politics.
Framing the UK's twenty-first century crisis of social care in the context of a longstanding, gendered crisis in the regulation of work, Dr Hayes argues that there are few better examples of the extent to which the state disrespects working-class women than the fact that homecare jobs offer among the worst of wages and working conditions.
The central message of the book is an appeal for labour standards to be more widely understood as fundamental to the future of social care. The work sheds light on what Dr Hayes refers to as the 'institutionalised humiliation' of the homecare workforce to show how the intellectual reasoning and values expressed in employment law serve to justify poor treatment, low pay and insecurity.
The Law and Gender research group at the School of Law and Politics in conjunction with the Feminist Legal Studies Journal is to host a major conference on 10 to 11 May 2018. The conference will mark 30 years since the publication of Carole Pateman's seminal work The Sexual Contract (Stanford University Press 1988).
Carole Pateman, Distinguished Professor Emeritus at the University of California at Los Angeles (UCLA), will open the conference by speaking about her work. The event will involve presentations by a number of academics from a range of academic disciplines exploring how Pateman's work has inspired their scholarship.
The conference aims to stimulate discussion of how Pateman's critique of the orthodox social contract continues to have significance and relevance for a diverse range of themes, such as the marriage contract, the employment contract, the prostitution contract, the surrogacy contract, the settler contract and 'new' contracts inspired by but not appearing in Pateman's work (including the welfare contract; the 'justice' contract, exploring access to justice issues; feminism and the environmental contract; debt as sexual contract).
A call for papers has now been launched. Papers are encouraged from contributors of any career level. If you are interested in presenting a paper at the conference, please submit a title and abstract of 250 words one of the organisers: Dr Sharon Thompson, Dr Lydia Hayes or Dr Dan Newman.
The deadline for receipt of abstracts has been extended to 1 March 2018. Those whose papers are accepted should prepare a presentation of 20 minutes with 10 minutes for questions and discussion.
Further details about the event will be published in due course. It is supported by the Centre of Law and Society as this years' key annual event.
The formal launch of a research centre that focusses on law, justice and globalization took place this November at the School of Law and Politics.
A day of events took place on 3 November to celebrate the work of Cardiff Law and Global Justice, which was formally approved as a research centre in 2017.
The Centre's work contributes to the integration of law, international relations and politics within the School by working closely with the International Studies Research Unit and the Centre for Law and Society. The centre focusses on the global south and is informed by post and anti-colonial perspectives, delivering high quality research in law, justice and globalization.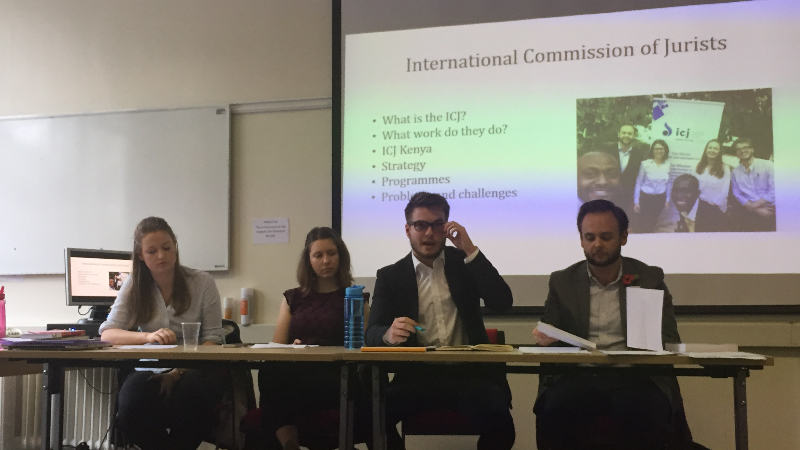 The launch day started with a presentation at the School by four students from the Centre's pioneering Transnational Pro-Bono Law Clinic. The clinic works to support law firms on human rights cases overseas. Supported by Cardiff University's Global Opportunities programme, Josie Hebestreit, Hannah Greep, Thomas Ikin and Jack Pankhurst all travelled to Nairobi, Kenya in September 2017. They held internships at the Katiba Institute for Constitutional Change, working closely with its lawyers on land rights and electoral governance. They were also received at the International Commission of Jurists and gave a lecture at the University of Nairobi on our Law Clinic at Cardiff.
The students' presentation on their visit was warmly received by staff and students, who were joined by Professor Ken Hamilton Dean of International Affairs, AHSS College, and Rose Matthews from the University's Office of International Affairs. Given the success of this trip, and with renewed support from Global Opportunities, the Centre is extending its placement scheme in 2018 to enable a group of students to take up internships in India, as well as Kenya.
Members of Cardiff Law and Global Justice then met the centre's advisory board for a planning and review meeting. Professor Diamond Ashiagbor (Institute of Advanced Legal Studies, London), Professor Gillian Hundt (University of Warwick), Professor Nick Johnson (African Prisons Project) and Dr Surabhi Ranganathan (University of Cambridge), all contribute to the work of the centre with their experience of academic leadership, clinical legal education, research in the global south and critical scholarship.
The launch day moved on to the historic Temple of Peace in Cathays Park, where the Centre co-hosted a colloquium on Global Justice: the Basics. Written by Centre member Dr Huw Williams and Dr Carl Death (University of Manchester) this is an innovative and accessible book on justice activism around the world and the contribution that philosophy can make to it.
Before a large crowd drawn from Cardiff University, the NGO community and members of the public, the authors first described the aims and scope of the book. They were joined by Professor Ashiagbor, Professor Johnson and Dr Ranganathan as discussants, who spoke about the book's relevance to their own work and experience. All agreed that Global Justice: the Basics expresses key ambitions and values of the Centre. The discussions were concluded with an address from Marie Brousseau-Navarro, Director of Policy, Legislation and Innovation at the Office of the Future Generations Commissioner for Wales. She noted how the law to promote sustainable development has put Wales at the forefront of policy and practice for global justice. The presentations were followed by a lively audience debate and a wine reception for all hosted by the Welsh Centre for International Affairs.
Professor of Political Philosophy and International Relations, David Boucher commented, "The Centre for Law and Justice is a timely and inspiring initiative at the cutting edge of practice based research, informed by firm theoretical commitments. It places Wales firmly in the cause of global justice, and is preparing the new generation of law and politics students to view world problems with a social conscience."