News
An annual negotiation event which sees students from Japan, Brazil, South Korea and Qatar compete in Cardiff is being held at the School of Law and Politics this month.
The International Negotiation Competition Final 2018 sees law students compete in pairs to negotiate deals with teams from other countries. Cardiff students Sophie Rudd and Charles Wilson, who were winners of the England and Wales Competition earlier this year, now get to compete on the international stage against teams from 26 different countries.
The international competition is a highlight of the Law student calendar and it is an honour for the School to be hosting it this year. Last year the competition was hosted by the University of Oslo and next year it will take place at the University of Tokyo.
The international event starts this year with a masterclass on Tuesday 26 June, partly facilitated by sponsor, the Centre for Effective Dispute Resolution.
Keynote sessions include:
Negotiating conflict, diversity and change: Lessons from South Africa with Felicity Steadman, expert in dispute resolution
Hostage Negotiations: Lessons from a parallel world with Philip Williams, former Head of the Scotland Yard hostage and crisis negotiation unit
Brexit Negotiations and Wales, with Professor Mark Drakeford AM, Cabinet Secretary for Finance, Welsh Government.
There will also be a series of seminars to hone practical skills, including:
"To Ask or Not to Ask- and HOW to Ask - That's the Question"; and "Number me up, baby": Why understanding maths is critical to negotiate.
The competition takes place over three rounds which start on Wednesday 27 June. Guests will also have the opportunity to visit various tourist attractions during the event including Caerphilly Castle and Big Pit. Results will be announced at an awards dinner on the Saturday evening.
Professor Julie Price of the School of Law and Politics said, "We are very grateful to our primary sponsors, CEDR, for their major part in putting together this marvellous international event, and to law firm Latham & Watkins, the Law Society and the Welsh Rugby Union Group for supporting it too. We look forward to our guests experiencing the famous friendly Welsh welcome."
Matthew Parry, a PhD student and Solicitor/Higher Rights Advocate, who has organised the event said, "Thank you to colleagues and experts who have kindly agreed to be on judging panels in what will no doubt be a competitive few days".
The full list of countries competing is:
Australia; Brazil; Canada, Denmark; England and Wales; Estonia; France; Germany; India; Indonesia; Ireland; Italy; Japan; South Korea; New Zealand; Norway; Northern Ireland; Poland; Qatar; Russia; Scotland; Singapore; Slovakia; Switzerland; United States.
The School of Law and Politics would like to wish all competitors the best of luck in the competition and hope they enjoy their time here in Cardiff. To follow activity throughout the competition please visit this year's dedicated website and follow the hashtag #futurenegotiators on social media.
A group of Law academics from the School of Law and Politics are seeking proposals for a new book series which aims to place the historical study of law at the heart of the law curriculum.
The series, published by Routledge, will be edited by Dr Lydia Hayes, Dr Katie Richards, Dr Russell Sandberg and Dr Sharon Thompson of the Law and History research group which is part of the Centre of Law and Society.
The series is designed to showcase scholarship which uses historical theory, approaches or methods to analyse law and legal change and is aimed, not exclusively at legal historians but at general legal readership, exploring and expanding the historical dimension of key fields of legal scholarship.
Dr Sandberg, Head of Law commented, "A historical approach enables an understanding of social and legal change and the complex relationship between change and continuity. Indeed, a historical approach is necessarily subversive. It forces law students and scholars to rethink their assumptions about law and legal institutions. It shows that every dividing line drawn in the law is arbitrary, human-made and a product of the society in which it is formed."
"I'm delighted to be working with colleagues – whose research achievements cover a number of areas of law – on this ambitious series which will provide a home for bold and innovative work which uses history to shed new light upon law. Given the rise of interdisciplinary work in law schools, heralded by Cardiff's Journal of Law and Society, the case for placing a historical approach at the centre of legal research and teaching is long overdue. It is about time"
All proposals for publishing within this series can be directed to Dr Russell Sandberg
Cardiff University's Wales Governance Centre has today (Tuesday 5 June) published 'Imprisonment in Wales: A Factfile', a set of Wales-specific data examining the prison system.
For the first time, this report gathers a range of data to reveal the performance of prisons in Wales, the status of all prisoners from Wales and where they are being held.
Much of the information was generated through Freedom of Information requests, before being analysed and presented as a single resource.
There are five male prisons in Wales that each hold a mixture of convicted, unconvicted, sentenced and unsentenced prisoners. Prison capacity has steadily increased since 2010. The prison population in Wales was 4,291 at the end of April 2018.
Key findings from the report include:
Prisons in Wales are performing less well than prisons in England on a range of safety measures. The number of recorded self-harm incidents and prison assaults in Wales has increased at a higher rate than prisons in England since 2010.
There were more prison disturbances at HMP Parc in 2016 and 2017 than at any other prison in England and Wales.
Despite an increase in prison capacity in Wales, 39% of all Welsh prisoners were being held in English prisons in 2017. In a large number of cases, Welsh prisoners are placed in establishments far away from home; Welsh prisoners were held in 108 different prisons in 2017.
The number of Welsh women handed immediate custodial sentences has increased by almost a fifth since 2011. The majority of Welsh women sentenced to immediate custody have been convicted of non-violent offences. Three quarters of all Welsh women receiving immediate custodial sentences in 2016 were given sentences of less than 6 months; this rate is higher than the England and Wales total.
The number of Welsh children in custody has fallen by 72% since 2010. 45% of all Welsh children in custody were being held in establishments in England during 2017. The distances facing children in prison have been shown to reduce the number of family visits, hinder 'through the gate' support services, and increase the sense of alienation and isolation that children experience in prison.
The report's author, Dr Robert Jones of the Wales Governance Centre, said: "The aim of this report is to make Wales-only imprisonment data accessible to a wide audience for the first time.
"With a particular focus upon prison safety, it provides the most up-to-date information on a range of challenges facing prisons in Wales and also Welsh prisoners being held in England. Above all, Imprisonment in Wales offers a statistical overview of the prisons system at a time when both Welsh and UK Governments are working to improve justice policy in the country.
"This comprehensive overview could only be generated at considerable effort, including through using the Freedom of Information Act. More regular and transparent Welsh data will be required if the public and politicians are to be able to better scrutinise how well the system is working."
A panel of experts met this May to draft chapters for a volume of essays on Christianity and Law.
The panel has been meeting since 2013 when they came together in Rome to explore the category principles of Christian Law which were proposed by School of Law and Politics Professor, Norman Doe in his book Christian Law (Cambridge, 2013). Since then, the panel, which includes members from eight historic churches worldwide has agreed on a Statement of Principles of Christian Law, based on drafts by Professor Doe, and unearthed the unifying potential of church law in the global ecumenical endeavour.
In 2017 the panel met in Geneva with the Director of the Faith and Order Commission of the World Council of Churches, to discuss how to feed the statement into the work of that Commission, with which an informal partnership was established.
Interest in the project has been extensive. This May's meeting took place in Corpus Christi College Oxford, where Norman Doe was a visiting scholar in 2015. Professor Doe chaired the working sessions which saw the group draft chapters of a volume of essays for possible publication in the series Cambridge Studies in Christianity and Law. The editor-in-chief of the series, Professor John Witte, Center for Law and Religion, Emory University Atlanta, attended the roundtable. The book, Christianity and Juridical Ecumenism, edited by Professor Doe, will explore critically the project from the perspective of the legal systems of churches across the traditions of the participants. The church leaders, lawyers and theologians on the panel welcomed two new members: Angela Berlis (Berne), coming from the Old Catholic tradition, and Paul Rochester (London), from the Pentecostal tradition.
The panel next meets in Rome in November 2018, with members of the World Council of Churches Faith and Order Commission in attendance, to debate aspects of the Statement of 2016 and to finalise arrangements for national events to debate the project in the Netherlands, Sweden and the United Kingdom in 2019.
The value of learning languages in Brexit Britain comes under the spotlight as part of Cardiff University's Cardiff Series at this year's Hay Festival.
Professor Claire Gorrara chairs a panel discussion which will consider whether speaking only English could hinder Britain's attempts to forge a brave new world of trade and commerce.
Cardiff Series talks also include the rise of "angry populism" in the Trump era, learning lessons from recent terror attacks on the UK, understanding the genetic disorder Huntington's disease, and exploring the power of lightning.
Cardiff University experts are involved in other Hay debates and talks, from Welsh women in public life, to the power of the Welsh diaspora, to the launch of a new bilingual collection of poetry.
This year's Hay literary festival runs from 24 May to 3 June 2018 in the Powys town of Hay-on-Wye.
Professor Gorrara, from the University's School of Modern Languages, says that many politicians and commentators believe speaking only English is enough for Britain in the post-Brexit world of trade and commerce.
"Evidence points to the cognitive, cultural and economic power of language learning in Britain. Britain is always and already multilingual – why can't we see and recognise this?" she said.
The panel will consider questions such as: What are the cultural and political benefits of language learning for Britain's 'soft power'? How could a greater focus on language learning support Brexit Britain's economic aspirations?"
Why Bother Studying Modern Languages – Everyone Speaks English is on Friday, 25 May at 14:30.
Professor Martin Innes, from the University's Crime and Security Research Institute, has been studying reactions to terrorist attacks, particularly in light of the four major attacks on UK soil in 2017.
He will consider what can be learnt about ourselves, society and the perpetrators in a talk entitled Terrorism as a Teachable Moment on Wednesday 30 May at 14:30.
The rise of Donald Trump can be seen as part of a broader trend in "angry populism" which has seen UK voters back Brexit and the success of right wing populist parties across Europe.
Professor Karin Wahl-Jorgensen, Director of Research Development and Environment at the School of Journalism, Media and Culture, will examine this shift in how we talk about, and are governed by, emotions.

"Trump challenges conventional understandings of the presidency as an institution characterised by reason and experience," she said.
"Instead, he has ushered in an era of angry populism, where political life is now increasingly interpreted through the lens of the anger of Trump, as well as his supporters and his opponents.
"This highlights the shift towards a negative emotional politics which has significant consequences for the tone of public debate."
The Emotional Politics of Donald Trump and the Rise of Angry Populism takes place on Friday 1 June at 17:30.

Dr Emma Yhnell, from the School of Medicine, will talk about her research into brain training for people with the rare genetic disorder Huntington's disease.

Dr Yhnell said it was vital to raise awareness and understanding of the "devastating" neurodegenerative disease.
Her talk Huntington's Disease takes place on Thursday 31 May at 10:00.
Dr Daniel Mitchard's talk on lightning promises excitement with live demonstrations and images of exploding piggy banks to look forward to.
Dr Mitchard will give a brief tour of lightning research from generating powerful lightning bolts in Europe's only university-based lightning laboratory to the role of new materials in protecting commercial aircraft from direct strikes.
Me and my Lightning Machine takes place on Tuesday 29 May at 19:00.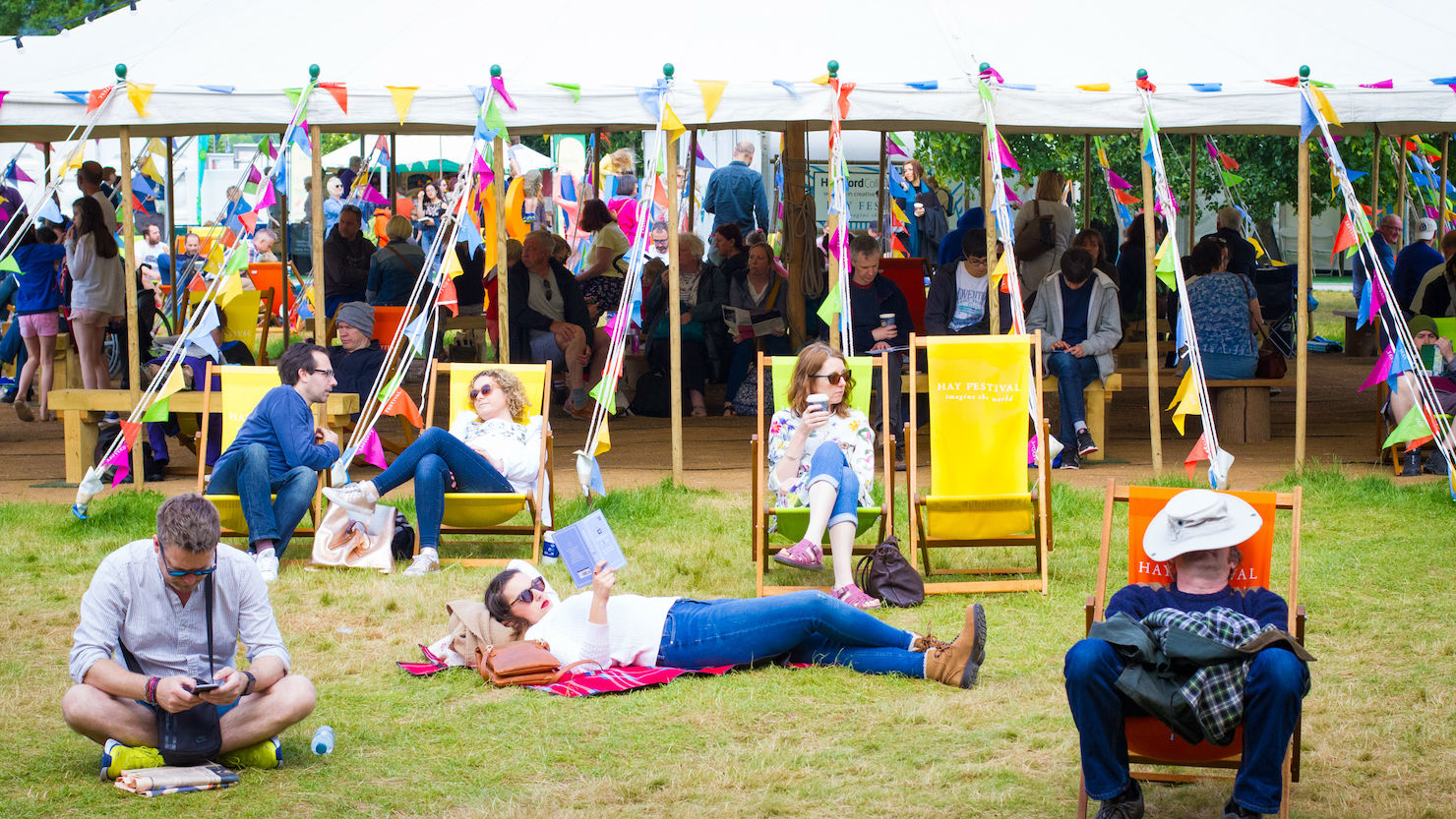 Cardiff University experts are also contributing to other events at Hay, including Professor Laura McAllister, from the School of Law and Politics, who takes part in an Institute of Welsh Affairs debate, Wales Women and Public Life, taking place on Thursday 29 May at 17:30.
Dr Rachel Minto, from the University's Wales Governance Centre, will join panellists to discuss the untapped potential of the Welsh diaspora, particularly in the context of Brexit (Thursday 31 May at 16:00), and Professor Damian Walford Davies, School of English, Communication and Philosophy, chairs the launch of a new bilingual collection of poetry by National Poet of Wales, Ifor ap Glyn (Wednesday 30 May at 19:00).
The work of Dr Sharon Thompson has been discussed in a House of Lords debate on the Divorce (Financial Provision) Bill 2017-2019.
The Bill, a Private Member's Bill introduced by Baroness Deech, proposes three main changes to divorce law: the equal division of net matrimonial assets, the curbing of periodical payments to a maximum of five years (unless this would lead to 'serious financial hardship') and binding prenuptial agreements (subject to standard procedural safeguards such as independent advice, cool-off periods and disclosure).
Dr Sharon Thompson, a senior lecturer in law at Cardiff University, is an expert on divorce, family property and prenuptial agreements. She is author of Prenuptial Agreements and the Presumption of Free Choice (Hart, 2015).
Her submitted evidence to the House of Lords was discussed in the debate on the second reading of the Divorce (Financial Provision) Bill 2017-2019 on Friday 11th May. Baroness Bottomley of Nettlestone commented that: "Improving predictability on the settlement process is a valuable outcome. But what about the distribution of effects that the Bill is likely to have for those in marriages where there is economic inequality between spouses, as in probably the majority of cases? All will have read the comments by Dr Sharon Thompson, of Cardiff University, who said that removing judicial discretion may prove disadvantageous for the economically less-advantaged spouse by diminishing the judicial flexibility to meet their needs through a division of non-matrimonial property."
Dr Thompson has recently authored a number of articles that have been critical of the stance of Baroness Deech's Bill including an article with Russell Sandberg on 'Common Defects of the Divorce Bill and Mediation Services (Equality) Bill' (2017) 47 Family Law 425 and 'In Defence of the Gold-Digger' (2016) (6) (6) Onati Socio-Legal Series 1225.
Her work argues that, although the reforms found in Baroness Deech's Bill would result in legal certainty, the provisions would replace judicial discretion with fixed rules which would disproportionately harm women.
Dr Thompson commented: "Ring-fencing non-matrimonial property and removing judicial discretion from property adjustment would result in a double blow to the non-moneyed spouse because it would remove flexibility to divide non-matrimonial property so that spousal needs are met and it would remove flexibility to recognise the value of non-financial contributions to the family in long marriages."
She continued: "Limiting periodical payments to a maximum of five years unless serious financial hardship can be established would provide a further blow to the non-moneyed spouse. The effect upon care giving spouses would reinforce structural inequalities between men and women in the family."
Dr Thompson is also critical of the Bill's provisions on pre- and post-nuptial agreements: "The Bill's proposals on nuptial agreements are more extreme than in jurisdictions where such agreements are enforced. There is no facility to account for changes in circumstances after the agreement has been signed. The Bill's provisions run the risk of exacerbating gendered inequalities between spouses both during marriage and on separation."
The Divorce (Financial Provision) Bill 2017-2019 is to be considered next by a committee of the whole House of Lords on a day to be determined.
Dr Russell Sandberg, Head of Law at the School of Law and Politics is to be the editor of a new book series entitled Leading Works in Law.
The series, which is published by Routledge, will look at how particular legal sub-disciplines have developed by exploring the leading works that have shaped, developed and, on occasions, confined fields of study such as Family Law, Contract Law, or Sports Law.
Books in the series will see leading and emerging scholars discuss particular 'leading works' as a way of exploring, analysing and critiquing the development of areas of law. The series is designed to unpack and evaluate the architecture of Law School understandings of law and or legal sub-disciplines.
Two books are already under contract with the series. Leading Works in Law and Religion, edited by Dr Sandberg, is currently at the editing stage and is due to be published late 2018/early 2019 and work has also begun on Leading Works in Family Law which will be edited by Dr Sharon Thompson, a senior lecturer at the School of Law and Politics.
Dr Russell Sandberg commented, "At a time of significant change affecting teaching and research in law, it has never been so important to ask what we do and why. I'm delighted to be the series editor of Leading Works in Law which will question how legal sub-disciplines have developed and can develop by reference to works that have had, or should have had, an influence."
"It is appropriate that Cardiff is the home of the series given our rich tradition of socio-legal and doctrinal scholarship that questions the law and places it within both its practical and societal context. It is also fitting that the first two books will cover sub-disciplines that Law academics in Cardiff have shaped and continue to shape. The ambition is that over time every legal sub-discipline will be covered and I am looking forward to working with editors and contributors from around the globe to achieve that'.
Dr Sandberg is a reader in Law at the School of Law and Politics and a prolific author and editor. His research focuses upon interdisciplinary approaches to law, with particular reference to the interaction between law and religion and the role of history. He is author of Law and Religion (Cambridge University Press, 2011) and Religion, Law and Society (Cambridge University Press, 2014). Dr Sharon Thompson is a senior lecturer in Law at the School of Law and Politics and is the author of the book Prenuptial Agreements and the Presumption of Free Choice: Issues of Power in Theory and Practice (Hart Publishing, 2015).
Leading researchers in the field of law and gender will discuss how sexism can be stamped out for good.
The conference marks the 30th anniversary of the publication of 'The Sexual Contract' written by Carole Pateman, an Honorary Professor at Cardiff. The ground-breaking work, which remains a key text for students, highlighted ways that women continued to be subordinate to men, despite the myth that all citizens are equal under the social contract.
One of the organisers of the conference, Dr Sharon Thompson, a Senior Lecturer in Law, said: "Three decades on, the issues that arise in this book are as relevant now as ever. Gender inequality continues to be present in all aspects of life. It is therefore vital that research in this area continues so academics can provide insight and analysis to inform the debate."

The event on May 10 and 11 is hosted by the Law and Gender research group, part of the Cardiff Centre for Law and Society and Feminist Legal Studies, a leading journal. Scholars from the UK, US, Europe, Australia and Canada inspired by the book's conclusions will explore its relevance today as well as new understandings of various contractual relationships including marriage and employment.

Law lecturer and conference co-organiser, Dr Lydia Hayes added: "As socio-legal scholars, The Sexual Contract has been formative in, and transformative of, our understandings of law and gender. Our conference is a great opportunity to celebrate this feminist masterpiece and engage with our keynote speakers Professor Carole Pateman and Professor Joan Tronto."

Dr Russell Sandberg, Head of the Law Department, said: "The discussions around gender inequality happening today mean it is important that we reflect this in our research and teaching. I am thrilled that our Law and Gender research group - led by Dr Lydia Hayes, Dr Daniel Newman and Dr Sharon Thompson - is leading the field with its work."
A new book designed to help practitioners of family courts has been co-authored by a Cardiff Law lecturer.
Transparency in the Family Courts: Publicity and Privacy in Practice has been written by Law lecturer at the School of Law and Politics, Dr Julie Doughty,practising barrister Lucy Reed, and Head of Product Development and Online Content at the Incorporated Council of Law Reporting (ICLR), Paul Magrath. Sir Andrew McFarlane, recently announced as President of the Family Division of the High Court from July 2018, has contributed a foreword to the book.
The law on publicity and privacy in family court proceedings has been subject to considerable change during the past 15 years but, rather than being clarified, has probably become more complex. To help with this issue, Dr Doughty's new book aims to provide practitioners in family courts, representing all parties, with an explanation of the relevant law in different types of cases and circumstances, so that they are well-equipped to advise their clients on their remedies, rights, and obligations with regard to what is now popularly referred to as 'transparency'.
Transparency is a multifaceted issue in family justice. Accusations of 'secret' courts and unaccountability generate distrust, but concerns have also been raised about the potential risks to children involved in cases that are reported about within the public domain.
The book sets out the law and practice about how much publicity is lawful and proportionate in cases which are held in private or relate to private information.
Dr Doughty is an expert on the issue of transparency within family courts having carried out a research project in 2016 which was funded by The Nuffield Foundation. This study analysed patterns in published judgments; media coverage of the family courts; and the views of key stakeholders.
As Dr Doughty explains, "There is a considerable misunderstanding about what can and cannot be shared, reported and published from family courts regarding cases that range from divorce to child protection. While our book is designed primarily for legal practitioners, we hope that it will also help journalists and social workers engage with the issues of safely reporting on family justice, especially in the internet era, where almost anyone can be a publisher."
Further information on Transparency in the Family Courts: Publicity and Privacy in Practice can be found on the Bloomsbury Professional website where it is also available to purchase.
World leaders must join together to ensure new technologies do not become a means of harm, according to an influential academic in the field of internet governance.
Dr Andrea Calderaro, based in the University's School of Law and Politics, believes a more connected approach from decision-makers is vital to ensure computer mediated communication do not breach governments, companies or individuals.
The director of the Centre for Internet and Global Politics said: "The issues surrounding cyber-security and how this key issue is approached in the broader internet governance debate are serious ones that aren't going away. The allegations involving Cambridge Analytica and Facebook and debates around how data is used only signal the start of a much larger discussion around digital policy-making.
"The internet, social media, internet of things, and artificial intelligence hold great potential and are a huge part of modern life. But as recent events have demonstrated, the ways in which these platforms are used pose many urgent questions. Emerging voices from newly connected countries must develop awareness of these issues and have a say."
"It is vital that those making decisions about how people access the internet work closely to ensure it remains a resource that benefits everyone."
Questions surrounding how to develop sustainable cyber-security capacity building strategies, will be discussed by key academics and policy-makers during a conference being held at Centre for Internet and Global Politics at Cardiff University this week. This year, the Multidisciplinary Conference on Global Internet Governance Actors, Regulations, Transactions and Strategies (GIG-ARTS 2018), which is being chaired by Dr Calderaro, addresses "Overcoming Inequalities in Internet Governance: framing digital policy capacity building strategies".
Representatives from the European Commission, UK Foreign and Commonwealth Office, Chatham House, International Telecommunication Union (ITU), ICANN, UNESCO, DiploFoundation and the Global Commission on the Stability of Cyberspace, will be present. As well as hearing opinions from key scholars, they will have the opportunity to discuss how they can work together to answer some of the most pressing problems around cyber security.
Dr Calderaro, who recently gave evidence at the House of Lords's International Relations Committee, addressing the relation of cyber-security to foreign policy, said: "This is the first conference where we are trying to really identify what cyber capacity building is all about.
"Bringing leading academics and policy-makers together will help shape unified strategies to support newly connected countries as they form their digital policy frameworks, and further develop their active role in the overall global internet governance debate."
During the conference, there will be an opportunity to discuss the preliminary outcomes of two key projects which the Centre for Internet and Global Politics is contributing to. The EU Cyber Capacity Building Handbook, soon to be released by the European Commission (EC), will be the first time the EC has provided guidelines on how to develop cyber capacity across the globe.
Unesco's Internet Universality Indicators, will help measure a country's progress in achieving key principles based on accessibility and inclusivity.