Optometry with a Preliminary Year (BSc)
Subject area: Optometry
UCAS code: B511
Next intake: September 2023
Duration: 4 years
Mode: Full time
Why study this course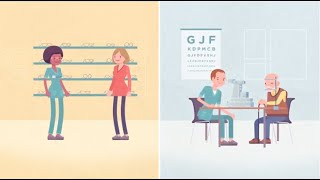 Ranked No 1
We were ranked 1st for optometry in the Complete University Guide 2022.
£22 million optometry facility
Our School is housed in a dedicated £22 million optometry facility with in-built eye clinic.
98% employment
98% of our graduates were in highly skilled jobs 15 months after their course ended.(Graduate Outcomes 2018/19 survey)
Optometrists are trained to examine the visual system and establish its health through investigating for defects in sight, ocular diseases and problems relating to general health. Where necessary, they provide a refractive correction using optical appliances such as spectacles and contact lenses.
This degree allows you to gain the knowledge and skills required of an optometrist to satisfy the eye care needs of the public. As part of this degree, you will undertake a Preliminary Foundation Year and will need to pass each module in order to progress to the three year Optometry BSc.
This course also aims to provide you with the knowledge and transferable skills needed by any student of the health and life sciences. This approach prepares you for the changes in the profession, and it enables you to undertake and enjoy lifelong learning and continuing professional development. Such an approach means you will not be isolated from other career options.

GOC registration is required in order to practice optometry. Achieving a Second Division Honours Degree (2:2) or better and achieving a Certificate of Professional Competence at Stage 1 will allow you to enter your pre-registration placement. A Certificate of Professional Competence at Stage 2 (the end of your pre-registration placement) is required to be placed on the GOC Register. 
This course contains syllabus recommendations from the General Optical Council (GOC) and the Optometric professional body, the College of Optometrists.
Accreditations
Maindy Road, Cathays, Cardiff, CF24 4HQ
A level
ABB-BBB. Including a maximum of one science subject from Biology, Chemistry, Maths, and Physics.

Extended/International Project Qualification: Applicants with grade A in the EPQ/IPQ will typically receive an offer one grade lower than the standard A level offer. Please note that any subject specific requirements must still be met.
---
This grade range reflects our typical standard and contextual offers. We carefully consider your contextual data (the circumstances in which you've been studying) upon application. Eligible students applying for this course will be given an offer at the lower end of the advertised grade range.
International Baccalaureate
32-31 overall or 665 in 3 HL subjects. Must include a maximum of one science subject from Biology, Chemistry, Maths, and Physics.
Baccalaureate Wales
From September 2023, there will be a new qualification called the Advanced Skills Baccalaureate Wales (level 3). This qualification will replace the Advanced Skills Challenge Certificate (Welsh Baccalaureate). The qualification will continue to be accepted in lieu of one A-Level (at the grades listed above), excluding any specified subjects.
Other qualifications from inside the UK
BTEC
DDM in a BTEC RQF Extended Diploma in Applied Science with Distinction in each of the Core/Mandatory units.
T level
D in Health, Healthcare Science, or Science
Qualifications from outside the UK
International equivalencies are not accepted for this course. Please contact the International Office for information about entry requirements from your country.
Please view your country page for information on our entry requirements, funding opportunities and who our local advisors are.
Additional entry requirements
GCSE
Grade C or grade 4 in GCSE English Language.
IELTS (academic)
At least 6.5 overall with a minimum of 5.5 in each subskill.
TOEFL iBT
At least 90 overall with minimum scores of 17 for writing, 17 for listening, 18 for reading and 20 for speaking.
PTE Academic
At least 62 overall with a minimum of 59 in all communicative skills.
Trinity ISE II/III
II: at least two Distinctions and two Merits.
III: at least a Pass in all components.
Other accepted qualifications
Please visit our English Language requirements page for more information on our other accepted language qualifications.
You must have or be working towards:
- English language or Welsh language at GCSE grade C/4 or an equivalent (such as A-levels). If you require a Student visa, you must ensure your language qualification complies with UKVI requirements.
- GCSE Maths grade C/4 or equivalent qualification (subject and grade). If you are taking A-level Maths (or equivalent), GCSE Maths is not required. Core Maths may also be accepted in place of GCSE Maths.

We do not accept Critical Thinking, General Studies, Citizenship Studies, or other similar equivalent subjects.
We will accept a combination of BTEC subjects, A-levels, and other qualifications, subject to the course specific grade and subject requirements.
You will be required to complete a DBS (Disclosure Barring Service) check if your application is successful. If you are applying from certain countries overseas, a Certificate of Good Conduct may be required.
If you have a relevant criminal conviction, this will be stated in the check and may affect your ability to enrol on the course. Applicants who are on the barred list should be aware that applying to this course is likely to be considered a criminal offence.
Please see our admissions policies for more information about the application process.
Interview or selection process
If we can't make a decision based on the information you provided in your application, we may contact you for clarification or ask you to attend an interview.
Tuition fees for 2023 entry
Your tuition fees and how you pay them will depend on your fee status. Your fee status could be home, island or overseas.
Learn how we decide your fee status
Fees for home status
We are currently awaiting confirmation on tuition fees for the 2023/24 academic year. Fees for the previous year were £9,000.
Students from the EU, EEA and Switzerland
We are currently awaiting confirmation on tuition fees for the 2023/24 academic year.
Fees for island status
Learn more about the undergraduate fees for students from the Channel Islands or the Isle of Man.
Fees for overseas status
We are currently awaiting confirmation on tuition fees for the 2023/24 academic year.
Additional costs
Course specific equipment
At the start of the course we will loan you the equipment necessary for the programme. A £220 deposit is required for this equipment and will be fully refunded at the end of the programme provided the equipment is returned in good order. All other equipment is provided within our clinical facilities.
Accommodation
We have a range of residences to suit your needs and budget. Find out more on our accommodation pages.
Living costs
We're based in one of the UK's most affordable cities. Find out more about living costs in Cardiff.
Course structure
We are currently working with our students to update and improve the content of this course. The information shown below reflects the current curriculum and is likely to change. The review of the course is expected to be completed by August 2023 and this page will be updated by end of October 2023 to reflect the changes.
Following the preliminary year, this course takes three years of full-time study, with each year divided into autumn and spring semesters. All modules are taught across both semesters, with coursework and practical assessments distributed throughout semester time, and final written assessments in the spring examination period.

The preliminary year gives you basic clinical experience, providing hands-on work in preparation for the remainder of the course.
The modules shown are an example of the typical curriculum and will be reviewed prior to the 2023/2024 academic year. The final modules will be published by September 2023.
Preliminary year
You will study six modules during the preliminary year. This prepares you for subsequent years with relevant background scientific knowledge and by encouraging you to develop academic skills necessary for success in a science-based discipline at undergraduate level. You will study the following modules:
Human Development
Systemic Pathology in Optometry
Biochemistry for Optometry
Optometric Physics
Introductory Optometry
Written and Communication Skills
Teaching is delivered through a combination of lectures, tutorials, workshops and laboratory practicals. You will also be introduced to clinical and dispensing practical work during the year.
Year one
In year one you will discover a new way of life and a new way of learning. This year is designed to give you a sound foundation in the discipline, with clinical and dispensing techniques introduced at the beginning to enhance your clinical skills. Modules include lectures, tutorials, and clinical practice. Particular attention is given to developing the academic skills you need for a university undergraduate degree.
Year two
Year two develops all the main themes of the optometry degree. You will receive lectures on binocular vision, contact lenses, physiology of vision and pharmacology. Clinical studies and dispensing techniques will continue and during this year you will, with close supervision, be introduced to your first patient.
Year three
In year three modules in advanced optometric topics are introduced. You will carry out a staff supervised project which may be laboratory, clinical or library based. About eight hours per week will be spent with patients in our clinic, and in hospital clinics. Lecture courses include abnormal ocular conditions, binocular vision, visual psychophysics, and paediatric optometry, which are designed to complete the integrated course.
The University is committed to providing a wide range of module options where possible, but please be aware that whilst every effort is made to offer choice this may be limited in certain circumstances. This is due to the fact that some modules have limited numbers of places available, which are allocated on a first-come, first-served basis, while others have minimum student numbers required before they will run, to ensure that an appropriate quality of education can be delivered; some modules require students to have already taken particular subjects, and others are core or required on the programme you are taking. Modules may also be limited due to timetable clashes, and although the University works to minimise disruption to choice, we advise you to seek advice from the relevant School on the module choices available.
Learning and assessment
Teaching at the School of Optometry and Vision Sciences has been independently assessed as 'Excellent' and it has been awarded the highest category of excellence for research. Our outstanding facilities include new and refurbished clinics and laboratories, all fitted with state-of-the-art equipment.

We are extremely proud of our undergraduate teaching and its research contribution to knowledge of how the eye and visual system work. Positive influence of active research on student learning cannot be emphasised enough. New concepts and ideas filter down rapidly to ensure that students are up to date, and teaching is fresh and vibrant. Active involvement of staff in research also ensures that the teaching programme is flexible and constantly changing. This equips graduates with the skills needed in a rapidly evolving profession.

Most of the academic content is delivered by lectures, which are typically supported by small-group seminars or tutorials. There are also practical elements to the course which are typically lab based in the early years. As you progress, more emphasis falls on supported and supervised clinical learning, with exposure to real patient episodes. This forms a significant proportion of teaching in the final year.

The Optometry course at Cardiff is designed to be stimulating, comprehensive and relevant to a career in Optometry. It will provide you with the scientific and clinical knowledge needed as a foundation to becoming a fully qualified and practising Optometrist. Emphasis is placed on practical aspects and students spend considerable time in the purpose-built clinic. Our clinic is open to members of the public who require eye examination, as well as children and adults with special needs.
How will I be supported?
You will be allocated a personal tutor and additional support is available from the School's Senior Personal Tutor. You will be able to access support materials either via Learning Central (Cardiff University's Virtual Learning Environment) or from study packs developed for selected modules.
Feedback
We are proud of the feedback we provide to students on their performance in all types of assessment, and recognise its importance in developing and improving student ability. Where appropriate, generic feedback is given to the student group on issues identified across the group as a whole. Generic feedback may be delivered in lectures, labs or clinics related to the coursework or online. Alternatively, one-to-one feedback on coursework or exam performance is available as required. In the final year, direct and immediate one-to-one feedback is given on all patient episodes, and feedback is also given on all assessments of clinical competencies.
How will I be assessed?
In all years of the programme, there are end-of-year written exams. All exams must be passed to gain the necessary credits for progressing to the next year, or for graduation.
Virtually all modules also have coursework credits, which may be based upon a single component or multiple components. You must pass the coursework component for each module to progress to the next year, or to graduate. The nature of these components changes as you progress. In the first year, emphasis is on written lab reports and/or essays, class tests, as well as online tests and basic practical and clinical skills.
In year two and year three, which both contribute to your final degree classification, the emphasis of coursework shifts to reflect your clinical performance. Multiple examples of practical ability and professional competence are assessed by direct observation of clinical practice. Lab reports and/or essays, class tests, as well as online tests continue to be used when appropriate. In the final year, this includes assessment of real-patient episodes and demonstration of the required clinical competencies.

The University welcomes applications from disabled students and we may be able to offer alternative assessment methods. However, this may not always be possible, for example where strictly specified procedures are required to demonstrate a recognised clinical competency. Such competence standards may limit the availability of adjustments or alternative assessments, but you should refer to the module descriptions for details.
What skills will I practise and develop?
You will acquire and develop a range of valuable skills, both those which are discipline specific and more generic 'employability skills'. These include all of the 'Stage 1 Core Competencies' described by the General Optical Council as necessary for a student entering the next stage of their clinical training, the pre-registration placement

www.optical.org/en/Education/core-competencies--core-curricula
You should also demonstrate the ability to:
effectively communicate with patients and colleagues, particularly by keeping comprehensive and accurate clinical records and writing clear referral letters
flexibly address clinical problems of an unfamiliar nature
understanding the application of IT to practice management
review the evidence-base for clinical interventions and having sufficient statistical knowledge to critically evaluate clinical research findings
critically review major issues relevant to the future development of optometric practice.
Computing, statistics and communication skills developed should mean that you are able to:
clearly maintain accurate and appropriate records
effectively communicate by written and oral means and relate to various social and ethnic groups
evaluate data generated through audit and research
critically evaluate relevant literature
effectively manage your time and organise your workload
solve problems using data manipulation and other technologies.
As a result of engaging fully with this course, you should have the following:
knowledge and understanding of the fundamental scientific principles relevant to the practice of optometry in the context of primary eye care. You should be able to apply these principles to the following subject areas:
human Biology – the detection, recognition, diagnosis, prevention and management of systemic diseases;
ocular and Visual Biology – detection, diagnosis, recognition, prevention and management of ocular disease and trauma;
visual Perception and Psychology – the perceptual and behavioural aspects of critical periods in visual development and interpersonal communication in optometric procedures;
optics – the detection, treatment, prevention and management of refractive, oculomotor and sensory integrative conditions.
ability to examine patients safely and competently under the supervision of an experienced
optometrist, applying knowledge of basic science and their undergraduate clinical experience to the prevention, diagnosis and management of visual disorders;
awareness of the normal development of the visual system and the disruptive effects on development of congenital and infantile abnormalities;
competence in the diagnosis and management of functional and developmental visual anomalies of a non-pathological nature, such as refractive errors, presbyopia, heterophoria, and heterotropia;
familiarity with the design, materials and optical principles of spectacles, low vision aids and contact lenses.You will be able to dispense these appliances, instruct patients in their use, monitor progress and assist patients to achieve maximum visual performance;
ability to advise patients on occupational, sporting and protective ophthalmic appliances and to dispense the appropriate appliances to the required standards;
understanding of the optical principles of widely used ophthalmic instruments;
knowledge to distinguish morbid ocular and visual conditions from normal variations;
ability to use principles of visual physiology and pharmacology in the management of ocular abnormality;
ability to make appropriate management decisions including referral for medical opinion;
understanding of the general principles of pharmaceutics, pharmacology and toxicology, and familiarity with common systemic medications;
ability to monitor and report on the ocular side effects of systemic medications;
detailed knowledge of the pharmacological principles underlying the use of drugs in the diagnosis and treatment of ocular disease, and the law relating to the sale and supply of ophthalmic preparations;
understanding of common systemic diseases that may have ocular manifestations and awareness of adverse ocular reactions that may be induced by medical management of common systemic diseases;
an awareness of your role within the NHS and the healthcare framework;
ability to sustain lifelong learning and continuing professional development.
Careers and placements
Career prospects
Qualified optometrists can choose a career in private practice, the hospital eye service, universities conducting research and teaching or various options in industry. Registration also opens possibilities to work abroad as an optometry qualification from the UK is highly regarded worldwide.
In 2015, 99% of the School's graduates were in employment following graduation, while others were engaged in further study or took time out to travel. Employers included universities, various NHS Trusts, multiple and independent optometrists and companies such as Astra Zeneca and Johnson & Johnson.

Cardiff University optometry graduates are significantly ahead of the national average in gaining their professional qualifications. To make the transition from a student to a professional optometrist, trainees are required to complete a pre-registration period governed by the College of Optometrists. The 2015 average pass rate for graduates from Cardiff University's School of Optometry and Vision Sciences is 92%, compared to the national average of 74%.
After graduating you must complete a period of supervised practice if you wish to register with the UK's General Optical Council (GOC). This is called your pre-registration placement and you must gain at least a Lower Second Class degree (2:2) to enter this training. Our graduates rarely have difficulty securing pre-registration positions, a process that begins in your second year. Many employers visit us to recruit future graduates, and are familiar with the high calibre of Cardiff students. Several of our graduates are successful each year in gaining much sought after hospital pre-registration positions.
You will become UK qualified after satisfactory completion of the pre-registration period (normally 12 months), where you will undertake work-based assessments to demonstrate Stage 2 competencies, and which will conclude with a final assessment. The pre-registration placement and final assessment is administered by the College of Optometrists.
Graduate careers
Optometrist
Vision Sciences Researcher
Placements
During the course you will have extensive clinical placements within our public Eye Clinic. You will also gain experience through placements in hospital eye departments.
---
HESA Data: Copyright Higher Education Statistics Agency Limited 2021. The Higher Education Statistics Agency Limited cannot accept responsibility for any inferences or conclusions derived by third parties from its data. Data is from the latest Graduate Outcomes Survey 2019/20, published by HESA in June 2022.