Managing Anaesthesia Care (MSc)
Duration: 3 years
Mode: Part time
---
Why study this course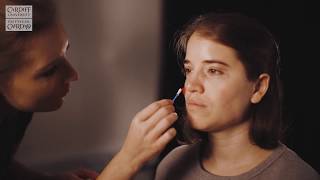 Our programme will help to enhance your skills, build on your current clinical knowledge and increase your ability to influence change in the anaesthesia environment.
Are you currently working in an anaesthesia environment as an Operating Department Practitioner, Anaesthetics Technician, Nurse or Respiratory Therapist? Our programme will help to enhance your skills and build on your clinical experience and knowledge.
Your role can be challenging and dynamic, providing care to patients undergoing anaesthesia. Our programme has been designed to provide you with the knowledge and understanding to work at an advanced level, managing patient care in anaesthesia environments.
We offer the opportunity to develop your advanced critical thinking and problem-solving skills, and to apply them to management in anaesthesia care. You will cover research methods and have the option to delve further into areas such as managing care in anesthesia, plus patient safety and clinical risk. In order to take your understanding of managing care further, you have a choice of dissertations, work based project, systematic review or empirical study which will increase your ability to influence change in the field of anaesthesia care and take the next step in your career.
You will have the opportunity to learn from expert educational staff who have experience in anaesthesia practice. You will be assigned a designated personal tutor who will support you throughout your studies.
Our programme will enhance your professional decision-making and critical judgment and help you to develop a body of knowledge that will influence your practice and the practice of others in your professional sphere. You will also be part of a group of students who come from a variety of clinical and professional backgrounds which also enhances your learning experience and you will be encouraged to share ideas and experiences.
Undertaking our programme will support your personal and professional development as well as influencing and informing healthcare across your country and beyond.
Be part of something life-changing and take on a new challenge today.
Distinctive features
Join a School that puts an emphasis on independent learning in a research-led environment and is ranked 4th in the UK for research assessed by REF (2014). Here are some of the key features of why we think our programme is the right choice for you:
Benefit from a large range of equipment specially designed to enhance your learning; to include specially designed theatres and operating suites.
The involvement of research-active and clinical staff in course design and delivery. Making sure you are learning the most relevant and up to date skills.
You will have academic support and be assigned a designated personal tutor throughout your studies.
The opportunity to learn in a School which is an accredited Joanna Briggs Centre.
You also have the ability to tailor your one optional module choice in a way that best fits your needs.
The opportunity to become a student representative and shape future educational provision.
Benefit from learning alongside a globally diverse group who are studying at various points in their career.
All University teaching sessions are captured on video and made available online* for students to review and revisit their learning (*where appropriate to do so).
If your first language is not English, there are open access English Language courses available
Where you'll study
Our courses are designed to provide you with the knowledge and experience you need to embark on a professional healthcare career.
University Hospital of Wales, Heath Park, Cardiff, CF14 4XN
Admissions criteria
Applicants should normally hold an Honours degree in either Operating Department Practice or Nursing and be practicing within the following areas;
operating department practitioners
nurses within an anaesthesia role
respiratory therapy
critical care or anaesthesia technician
Applications are judged on a 'personal statement' where a judgement is made on your suitability for the programme.
You must address the following points in your personal statement, this list is not exhaustive:
Why have you selected this programme?
What interests you about this programme?
Any relevant experience related to the programme or module content
How you plan to use the qualification in your career
How you and your profession will benefit from your studies
Why you feel you should be given a place on the programme
Find out more about English language requirements.
Applicants who require a Tier 4 visa to study in the UK must present an acceptable English language qualification in order to meet UKVI (UK Visas and Immigration) requirements
Criminal convictions
You are not required to complete a DBS (Disclosure Barring Service) check or provide a Certificate of Good Conduct to study this course.
If you are currently subject to any licence condition or monitoring restriction that could affect your ability to successfully complete your studies, you will be required to disclose your criminal record. Conditions include, but are not limited to:
access to computers or devices that can store images
use of internet and communication tools/devices
curfews
freedom of movement
contact with people related to Cardiff University.
Course structure
The MSc Managing Anaesthesia Care programme is modular, students must complete 120 credits in the taught component of the programme and a further 60 credits in the dissertation component.
In the taught component 90 credits are core modules and must be undertaken, and 30 credits are optional.
The modules shown are an example of the typical curriculum and will be reviewed prior to the 2021/22 academic year. The final modules will be published by September 2021.
Year one
In Year One you will complete two core modules (60 credits).
Year two
In Year Two you will complete 1 core and 1 optional module (2 x 30 credits).
Year three
In Year Three you will complete your dissertation by undertaking one dissertation module of a choice provided.
The University is committed to providing a wide range of module options where possible, but please be aware that whilst every effort is made to offer choice this may be limited in certain circumstances. This is due to the fact that some modules have limited numbers of places available, which are allocated on a first-come, first-served basis, while others have minimum student numbers required before they will run, to ensure that an appropriate quality of education can be delivered; some modules require students to have already taken particular subjects, and others are core or required on the programme you are taking. Modules may also be limited due to timetable clashes, and although the University works to minimise disruption to choice, we advise you to seek advice from the relevant School on the module choices available.
Learning and assessment
How will I be taught?
The programme is designed to be stimulating, flexible and relevant to the needs of an anaesthesia practitioner.
Diverse learning and teaching methods are used throughout, reflecting module content, and growing your expertise. All modules have a formalised teaching and learning structure which will develop your knowledge. This can take place through tutorials, to student led seminars, dialogue, problem-based learning, appreciative inquiry, skills workshops, self- directed study, discussion and debate and expert led lectures.
The face-to-face taught component of the modules will also provide an opportunity for you to meet and develop insights into your own and each other's roles and experiences. You and other students will enter the programme with a wide range of skills and experiences and levels of seniority. All of these experiences will be used to enhance the learning process.
Postgraduate degree level study involves you taking responsibility for your own learning and we will encourage this throughout the programme. In order to support your learning, you will be assigned a designated personal tutor.
How will I be assessed?
You will be assessed through a variety of assessments including written assignments, oral presentations, seminars, dissertations, and completion of portfolios. This enables you to demonstrate your ability at analysing and evaluating a situation but also to use a variety of ways to present your ideas and abilities. The dissertation is a culmination of the development of all these skills.
How will I be supported?
Cardiff University offers a wide range of services and activities designed to support students. These include a student counselling service, a student advisory service, day care facilities, sport and exercise facilities, as well as campus information, library and IT services.
Our programme gives you the opportunity to share ideas with health professionals. As well as developing your own intellectual abilities, sharing of ideas enables you to learn and benefit from the experiences of others. Opportunity is given for this sort of discussion and exchange of ideas through seminars and tutorials.
You are given a named personal tutor following registration onto the programme, who is able to assist you with any pastoral care as well as advice on writing style, grammar and academic mentoring.
All modules within the programme make extensive use of Cardiff University's Virtual Learning Environment (VLE) Learning Central, on which students will find course materials, links to related materials and assessment exemplars.
If your first language is not English, there are open access English Language courses available.
Our student app allows you to access Cardiff University services and personalised information in one place in a simple and convenient way from a smartphone via the app store.
Features include:
Campus maps
Student library renewals, payments and available items
Student timetable
Find an available PC
Access to help and student support
Student news
Receive important notifications
Links to launch other University apps such as Outlook (for email) and Blackboard (for Learning Central)
Links to recommended apps such as Nextbike to help make the most of your student experience.
What skills will I practise and develop?
The Learning Outcomes for this Programme describe what you will be able to do as a result of your study at Cardiff University. They will help you to understand what is expected of you.
The Learning Outcomes for this Programme can be found below:
Knowledge & Understanding:
Demonstrate enhanced analytical clinical knowledge and skills and apply these critically to your practice,
Develop a holistic approach to managing complexity and improving patient outcomes.
Develop a practical understanding through critical evaluation of research knowledge and the implementation of research findings into professional practice.
Evaluate the position of your profession in healthcare practice and critically appraise advances or changes in professional practice.
Initiate and lead in the management of change and the advancement of the profession.
Intellectual Skills:
Critical analysis of research.
Reflection and critical analysis of your practice profession and of your own practice.
Professional Practical Skills:
The application of theory to clinical practice is covered throughout the taught content and assessment process.
Transferable/Key Skills:
Communicate clearly, concisely and persuasively in writing and speech.
Manage workload priorities in order to meet deadline effectively
Develop practical research skills
Tuition fees
UK and EU students (2021/22)
Fees will be invoiced by module. Normally, invoices will be released shortly after enrolment for each individual module. For more information please refer to our tuition fees pages.
Students from outside the EU (2021/22)
This course does not currently accept students from outside the UK/EU.
Career prospects
The programme is aimed at healthcare professionals currently working in the field of anaesthesia practice, including, but not limited to, Operating Department Practitioners (ODPs), Anaesthetic Technicians Registered Nurses (RNs) and Respiratory Therapists. 
It offers the opportunity to develop advanced critical thinking and problem-solving skills, and to apply them to the management of anaesthesia care. You will have the opportunity to develop, through the process of research, advanced practical and theoretical knowledge and understanding of managing care and the ability to influence change in the field of anaesthesia care.
This could then lead to personal and professional development, and career progression within the clinical area. Our graduates have gained roles including; 
Theater manager
 Lecturer
Head of Anaesthetic Departments